War Thunder teaches an important lesson: some tanks are best driven backwards
Gaijin's WWII MMO puts its own spin on tank combat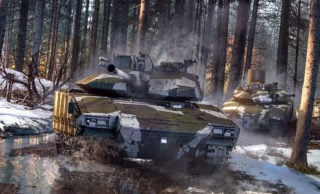 Stockholm is a curiously exposed city. It may be the cultural heart of Sweden, but it sits on a series of islands just off its east coast. It's not uncommon to walk down a narrow alleyway between tall buildings and find yourself suddenly staring out at the Baltic Sea, unprotected from the elements.
It's much the same with Swedish tanks. War Thunder players will tell you that driving into battle in an armoured column makes you feel invincible the first time – but the game soon has a way of making you aware of your vulnerabilities.
Typically, all of a tank's best armour will be pushed up against the front, cushioning the blows likely to come from whatever you're shooting at. But in order to move, that tank needs an engine, which represents a weak spot – usually at the back. And in order to steer, it needs a crew, who are often at risk of being knocked out by a hit on either flank.
When it comes to the Stormpjas fm/43-44, a tank destroyer added as part of the new Viking Fury update, the contrast is almost comical. The 50mm of armour covering its front and turret presents a formidable face to the enemy. Sneak around the back, though, and you'll find it completely open – like a patient in a hospital gown, the Stormpjas shows its arse to the world.
Drive it in third-person and you'll spend much of the time staring at the three crewmen crowded around the cannon in their berets and headphones, listening to whatever the 1940s equivalent of AC/DC was. Anything to take their minds off the aeroplanes zipping overhead, looking to strafe them. And yet the Stormpjas is a dangerous weapon in the right hands.
For starters, that naked rear end swings out with just the slightest nudge, like the spoiler of your Ferrari in OutRun. With practice, a little tank-yo drift can save your crew from a surprise attack at the back, turning you to face any threat. While your cannon can't be turned very far and takes an age to reload, that basically makes the Stormpjas a shotgun on treads, and it can be treated as such – using your superior acceleration to run literal rings around conventional tanks, staying ahead of their guns, before twisting on a ten kronor coin for a well-timed blast.
More exposed even than the Stormpjas is the Luftvärnsterrängdragbil m/40. So you've mastered a tank destroyer that's completely open on one side; how about a flatbed truck with a gun glued to the top of it?
It wouldn't be true to say that the m/40 is completely unarmoured; it has a shield strapped to its cab that looks like it was ripped from the arm of a medieval knight. On a battlefield shared with actual tanks, though, it may as well be built from balsa wood. The gunning platform couldn't withstand a direct hit from a conker on a string, so if you see a 37mm cannon turning your way, the best idea is to put your foot down until you find a well-covered parking spot and wait.
Wait, that is, until you hear the buzz of enemy planes overhead, which is your signal to let rip with the punchy anti-aircraft weapon on the back. There's not much more satisfying than bringing down a wreck at the feet of your operators – mere mortals meddling on the field of the gods.
"Drive it in third-person and you'll spend much of the time staring at the three crewmen crowded around the cannon in their berets and headphones, listening to whatever the 1940s equivalent of AC/DC was."
The Swedish must have been saving all their armour for the Stridsvagn 103. This battle tank is shaped like a doorstop, and best wedged in some urban corridor where it can halt practically any advance. Its quirk is extreme, though: since it has no turret, its gun fires in whatever direction the tank happens to be facing, rather than moving independently. The rules are all there in the old nursery rhyme, The Grand Old Duke of York: when you're driving up a hill, you fire up; when you're driving down, you fire down.
In practice, that means you need to time your attacks with the natural bounce of your reticule, and resist the urge to turn the camera to face the source of every boom – since your treads will go with it, revealing your flank.
My favourite exception to the piddly plating of Swedish tanks, however, is the Stridsvagn m/31 – the beast that bites at both ends. Oh sure, this light tank doesn't stand out in the hangar, when it's static. But once it starts moving, you'll see that it's deadly not just at the front, but at the back too. Its chunky rear armour and high reverse speeds means it can feasibly fight in both directions.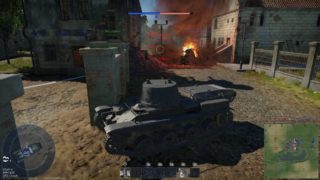 That's how I found myself driving backwards through the tight streets of War Thunder's 'Sweden' map. Based on Stockholm's Gamla Stan district, "the town between the bridges", it mimicks the tall, block-coloured buildings and beautiful blue water.
Is it tricky to handle a tank in reverse, having spent hours pressing the opposite button to turn a corner? A little. But when I emerge from between the buildings and find myself facing down a column of tanks across the harbour, it helps to know I'm just a little less exposed.