The Crysis Remastered Trilogy is a reminder of an era of bold, original shooters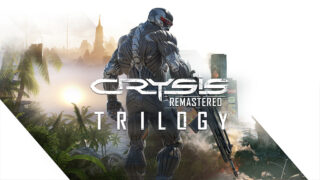 In an era where service-based, free to play first-person shooters are currently extremely popular, and something that every developer is desperate to have their own version of, it makes us long for the days of bold, original first-person shooters.
While they exist somewhat, Bethesda's Doom and Wolfenstein reboots being two popular examples, they're also based on legacy franchises that are ingrained in gaming. It's been a long time since a publisher has launched a new, original first-person shooter with the confidence of Crysis.
The Crysis trilogy is made up of games that instantly conjure tired cliches about how hard they were to run on PC, and while that was the case, that was far from their most interesting element. Far from the brilliant graphics and inventive weapons, it was the bold, bombastic story that first had you exploring a lush jungle island and concluded with you… well, let's just say that the things you do at the end of Crysis 3 will make you realise why the games are so fondly remembered.
While digging out your old consoles or getting them to run on your PC may have been a barrier, the Crysis Remastered Trilogy is a convenient way to experience the games for the first time, especially for those that have been hearing about them for so long, but haven't been able to play what are essential entries into the canon of modern FPS games. There is so much in games like Titanfall, Fara Cry and other first-person juggernauts that can be traced back to Crysis.
If you've already bought the first game, Crysis Remastered, which was released in 2020, you can buy the two sequels separately, and considering the scale at which they increase their set pieces and storytelling, they're essential for anyone that enjoyed the first jungle adventure. On the PlayStation 5 and Xbox Series X they'll also run targeting 4K60 FPS, capturing the impressive visual experience first experienced by players over 15 years ago.
It makes us wonder why more publishers aren't taking big swings on original first-person games, unless they fit the very specific live service model. Sure, the profits from a live service game are always going to outweigh that of a game that players may be finished with after 15 hours, but the later titles are always going to be much more acclaimed and memorable.
I couldn't tell you what happened 6 months ago in a battle royale game, but I can remember the Central Park finale of Crysis 2 as clearly as when I first played it on PlayStation 3.
It even managed to escape the era of bland modern military shooters with an identity of its own. Yes, there were plenty of regular soldiers, but everything from the weapons you use, the various abilities you earn like being able to cloak yourself, to the legendary suits that adorn the front cover and have become icons are unlike anything from the time.
"It makes us wonder why more publishers aren't taking big swings on original first-person games, unless they fit the very specific live service model."
When so many other franchises were chasing Call of Duty, Crysis was just trying to make a better Crysis game, and the Crysis Remastered Trilogy is a great way to experience that.
Hopefully, the release of this trilogy and the new audience that will get to experience it for the first time will serve as a call to arms that players want new franchises in the genre that they can sink their teeth into. They also want to be able to do that without committing a full time job's worth of time to being up on the latest live events.
There's a lot to be said for a series of rock-solid single-player experiences that can be played, enjoyed and completed without worrying that you're going to miss some limited-time item. Crysis was a game before its time, and now in 2021 the Crysis Remastered Trilogy will show that off to a whole new generation, in a collection that's never looked better.