Review: Link's Awakening is wonderfully familiar
A memorable, if staunchly traditional adventure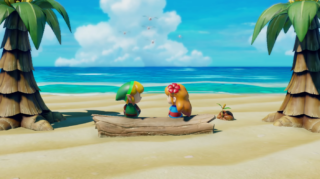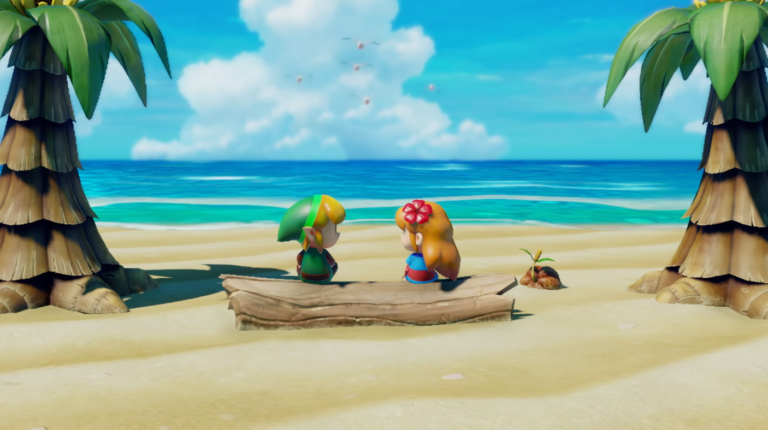 The Legend of Zelda series is known for its weird and wonderful spin-offs, and 1993's Link's Awakening is the series' original detour into the absurd.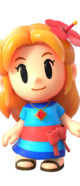 Long before Majora's Mask and Minish Cap, the 1993 Game Boy classic was baffling and delighting players in equal measure with its bizarre storyline – Link is stranded on an island and must wake a sleeping, magical whale inside of a giant egg in order to escape – and oddball cast of characters.
Link's Awakening has heart, melancholy and Mario and Kirby baddies wandering around its dungeons, so it's no surprise that it's fondly remembered by those old enough to have experienced it the first time around.
The adventure's latest remake (it was 'remastered' once before on Game Boy Color), with its cutesy art style and wonderful soundtrack, is as equally memorable as the original, even if mostly for its striking presentation.
Developer Grezzo (which was responsible for the 3DS remasters of Ocarina and Majora's Mask) has done a wonderful job creating a 2D Zelda for the HD era, even if it's slightly marred by the more-than-occasional performance hit.
The Japanese studio has crafted a charming, beautiful world full of seemingly endless detail. Exploring the plastic playground of Koholint Island is like tinkering with your very own adventure playset, the doll-like art direction channelling a sense that the whole thing is playing out as a child's make-believe toy session.
The soundtrack, which was already a classic in its 8-bit form, is just as beautiful, with more than a few nods to the beeps and bops of the original Game Boy hardware.
"While Link's Awakening looks and sounds like a modern adventure game, for better or worse its gameplay sticks closely to the design of the Game Boy original."
But while Link's Awakening looks and sounds like a modern adventure game, for better or worse its gameplay sticks closely to the design of the Game Boy original. Don't expect bold new ideas, or franchise formula flipped on its head: this is a staunchly vanilla Zelda adventure that while memorable, isn't going to greatly surprise players even if you're experiencing it for the first time.
The adventure sees hero Link stranded on a tropical island after his ship is wrecked in a storm. Immediately you're introduced to Marin, a love interest of sorts and one of the Zelda series' most iconic characters for a while.
With Marin's help, along with a mysterious owl, Link must seek out and conquer eight dungeons (there's also a ninth, 'secret' dungeon from the Game Boy Color version) and recover the magical instruments within. Once all instruments are retrieved, Link will be able to play the Ballad of the Wind Fish to wake the aforementioned flying whale and escape Koholint Island.
If that structure sounds familiar, it's because it is, although what's there is strong, including a wide roster of enjoyable side quests. Overall, 2013's a Link Between Worlds does a much better job of channelling nostalgia while adding its own ideas. However, while Link's Awakening doesn't reinvent the rules, there are still some elements (beyond its brilliant, bonkers setup) that make it unique.
The Mario influences extend beyond the Goombas and Piranha Plants that roam its dungeons and the game itself could be called something of a hybrid. Early in the adventure Link acquires the ability to jump and it immediately becomes one of the most used mechanics in the game, with the occasional outright platforming section pushing this unique element even further.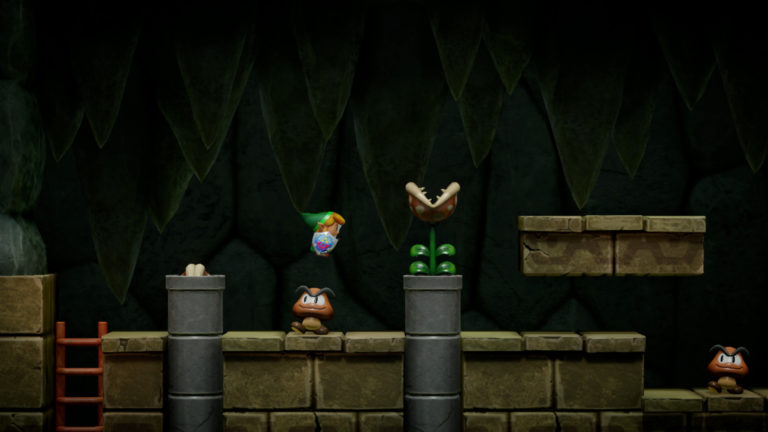 There's also the ability to create your own dungeons by placing rooms together on a map-like grid. The gravedigger Dante will challenge players to assemble dungeons with a specific number of requirements (a chest room here, or a staircase room there) and after completion, players can keep the rupees they collect. It's a welcome distraction, but ultimately lacks the depth required to amount to more than that.
Link's Awakening 2019 is not the definitive 2D Zelda: that title still belongs to 2013's excellent A Link Between Worlds. But while it may not surprise, it certainly does delight in a way that even the Nintendo 3DS game doesn't always manage. It's a charming reimagining of a classic adventure, and it's definitely weird enough to stick in your memory.
A charming reimagining of a classic 2D Zelda adventure, with gameplay that can't quite match its striking presentation.
A charming, beautiful world full of seemingly endless detail
Beautiful soundtrack
A memorable adventure
Sticks closely to the formula and unlikely to surprise
More-than-occasional performance issues
4 / 5
Version tested
Nintendo Switch
Related Products
Other Products
Some external links on this page are affiliate links, if you click on our affiliate links and make a purchase we might receive a commission.