Review: Xenoblade Chronicles – Definitive Edition is polished to perfection on Switch
A love letter to one of the best JRPGs of the last 20 years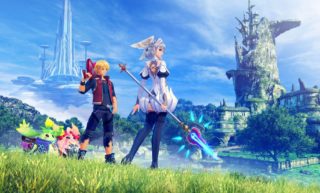 It may seem odd that Nintendo is revisiting Xenoblade Chronicles, given that it's a game all about looking to the future.
At the tale's heart is the Monado, a hefty lump of a sword that allows its wielder, Shulk, to view glimpses of events to come. It both powers the story, as our heroes struggle against its dire predictions, and doubles as a cool combat hook as it warns you of incoming death blows and gives a few seconds to trigger a shield or speed boost to alter your fate. But just as our warriors prove tomorrow needn't be set in stone, this handsome Switch remaster shows us that yesterday can be changed for the better, too.
Released in 2010 for the Wii, Xenoblade Chronicles got around technical limitations with sheer scale and ambition. It distracted from rougher details with the neck-craning height of its valleys and waterfalls that make Niagara look like a garden pond. Its impact was never in question. What the Switch remaster does is bring everything into focus. Sharper textures, a cleaner interface and redrawn characters give the impression of a massively revamped world, where direct comparison reveals most of this was here, just lost in CRT fuzz.
Resolution is still something Xenoblade battles with. It dynamically shifts to smooth busier action, and quite visibly so in heated moments. It's like developing cataracts every time you get excited. If you played Switch sequel Xenoblade Chronicles 2 you'll recognise the haziness in portable play. And as bosses get bigger, and moves get flashier, it can still chug in handheld and docked. Less so than its Wii or New 3DS versions, but it's still impressive that Nintendo has yet to find a machine capable of taming their virtual titans.
That none of this really matters speaks to the underlying brilliance of Monolith Soft's world-building and the game's natural fit for Switch. This is every bit the meaty RPG that can fill a TV for day-long binges, but, outside of a few long cutscenes, it can also be nibbled at in portable play. No other JRPG has nailed the balance of linear story and open-world exploration quite so well. Each region is stuffed with unique monsters, side quests and entire areas you won't uncover until you return with a character powerful enough to fight through to them.
Side activities are also much improved in Definitive Edition. Relevant items and monsters are now marked on the map and a breadcrumb trail shows a route to objectives – a godsend in some of the knottier dungeon areas. One of Xenoblade's greatest strengths was how accommodating it was. You can instantly teleport to any location in the world, can flick day to night with a button press and death simply drops you at a nearby landmark with all your items and XP intact. A friendlier map fixes one of the few things it didn't get right.
To counter any claims that it now nannies adventurers, a new expert difficulty slows levelling by banking XP earned from side quests or location discovery, to be applied manually at a later point. Think of it as a riff on Xenoblade Chronicles 2 inn levelling. It basically prevents characters from over-levelling and steamrolling the story, which is easy to do given how many activities are in the world. It lets you level down heroes too, to help you rediscover the combat's bite should you surpass it. It's a neat solution.
Combat is unchanged, but clearer. You control one member of a party of three, auto-attacking and unleashing combat 'arts' on cooldown timers. What initially looks simple quickly blossoms. Some arts reward positioning and others stack to topple and daze bigger foes. Performing the former powers up chain attacks, where you take control of other party members to manually deliver your dream combos with the latter. On Switch, all these moves are now marked when you are in place or a combo is ready – it's so much smoother to play.
"This is every bit the meaty RPG that can fill a TV for day-long binges, but, outside of a few long cutscenes, it can also be nibbled at in portable play. No other JRPG has nailed the balance of linear story and open-world exploration quite so well."
A new time trial mode is also an inspired touch. Found through portals, these battles are a great place to discover the power of new party combinations. One of the most underrated features of Xenoblade is how differently each hero handles in battle. Our default star, Shulk, may get Monado powers, but shifting to Sharla, a healer who has to manage her gun's heat, or Dunban, with his timed button press combos, reveals whole new rhythms and tricks to learn. Tricks that quickly emerge as you try to skim off seconds to win bonus items.
Given the strength of the cast – both on battlefield and in cutscenes – the one misstep in Definitive Edition is focusing a new epilogue chapter on just two of them. Called Future Connected, this ten-hour adventure takes us to a new bit of Bionis – a huge shoulder blade with more than a hint of Guar Plain about it – and deals with Shulk and Melia trying to turf out a squatter from her former home. Maybe there are some big Melia fans out there, but short of making the story about Riki (a terrible Ewok-type creature), there isn't a character we care about less. Your mileage may vary.
Perhaps it's a case of expecting too much. With a name like Future Connected there were rumblings that it might connect Xenoblade 1 and 2 together more explicitly, or set up an obvious Xenoblade 3. But after salivating for weapons-grade fan service, it unfolds as an inconsequential chapter in the history of Bionis. Yes, a few new hidden memories (replacing heart-to-hearts) see our heroes chatting about old friends and adventures, but this only emphasises their absence. When you find yourself missing the gormless battle cry of "It's Reyn time!" you know something has gone very wrong indeed.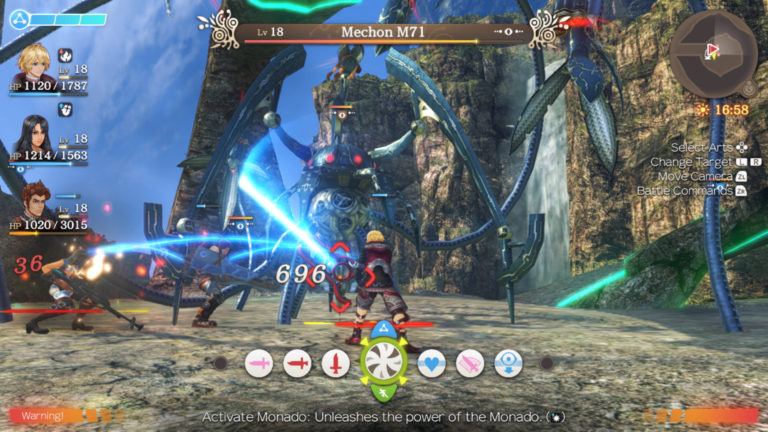 The chapter's not without its charms. There's a bizarre side quest to rescue a band of Nopon prospectors (the aforementioned terrible Ewok-type things) that sees each rescued fuzz ball join a conga line behind you and contribute special attacks in battle.
By the end of the chapter, where you have an army of the things following you over cliff edges like gormless lemmings, it becomes pretty amusing. Removing chain attacks to accommodate their daft special moves does make you hanker for the smarts of the main campaign, although completing Future Connected does then unlock a few extras to discover in that earlier story.
Future Connected also earns its place with an absolutely banging jazz-infused battle theme that wouldn't be out of place in Persona. In fact, Xenoblade Chronicles' entire soundtrack is the stuff of legends – composed by a JRPG supergroup including Yasunori 'Chrono Trigger' Mitsuda and Yoko 'Just About Every Other RPG Ever' Shimomura.
For many fans, the reorchestrated music will be worth the price of admission. (Side note: They've butchered one track: they've changed the singing in Engage The Enemy to an opera singer and it's terrible. We realise this is a niche complaint and it hasn't factored into the final score.)
That Xenoblade Chronicles has a fanbase that can lose their minds over some extra trumpets speaks to the passion the game instils. It probably explains why this is its third release in ten years; think of all the Nintendo legends that don't get a second shot. And short of a complete Final Fantasy VII Remake do-over, it's hard to see what else there is for Monolith Soft to tweak and polish.
For returning fans it's a love letter to one of the best JRPGs of the last 20 years, and for newcomers, the start of that love affair. Whatever the future holds for Xenoblade, its past has never been easier to appreciate.
Still the best of Monolith Soft's three Xenoblade games, tweaked and polished to perfection.
An epic world suited to the couch and the bus.
Heaps of tweaks make it smoother to play.
A legendary soundtrack sounds even better.
Still looks a little soft in handheld mode.
5 / 5
Version tested
Nintendo Switch
Related Products
Pokémon Scarlet and Violet Dual Pack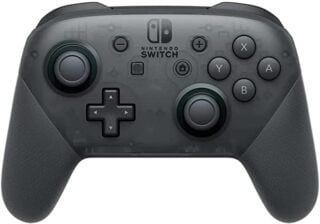 Nintendo Switch Wireless Pro Controller
Other Products
Some external links on this page are affiliate links, if you click on our affiliate links and make a purchase we might receive a commission.