The Witcher 3 on PS5/XSX is the definitive version of one of the best RPGs ever
CD Projekt delivers the excuse you've been looking for to replay one of the best games of the last decade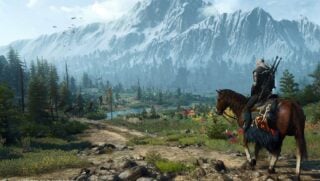 How can you tell that someone's favourite game is The Witcher 3? Don't worry, they'll tell you first.
You aren't reading this to determine whether or not The Witcher 3 is good. You're reading this because you've been dying to go back to it, and you're wondering if this latest update,  which brings the games to modern consoles, is worth sacrificing the next 6 months to 2 years of your free time.
The Witcher 3 is an iconic title and one of modern gaming's most beloved stories, but most people have already played it multiple times and bought it for multiple consoles. Is it worth spending dozens, if not hundreds of hours with Geralt again?
Well, we were skeptical, but after our first night with the PS5 version, which saw us staying up till 4 AM in a "one more quest," trance, the answer was simple. I'm afraid you're going to play The Witcher 3 again.
The game offers two graphical modes, a performance mode which will rigidly lock the game to 60FPS, with a dynamic resolution and a ray tracing mode. The ray tracing mode is perfect if you're going on a photo mode adventure throughout the world, but practically, it's pretty unstable.
In busy areas, or when multiple enemies are attacking you, forcing the players to swing the camera wildly, the frame rate is erratic. Funnily enough, it's similar to playing the game at launch on a base PS4, although orders of magnitude prettier.
The 60FPS mode is where the game excels. You don't get the full resolution of the ray tracing mode, but the cleaned-up graphical bells and whistles are mostly included, and anything that's lost is a small price to pay for how much better the game plays at 60.
It's not all bells and whistles, there is some new content in this update, including a quest to fetch armour inspired by Netflix's The Witcher series (presumably left lying around by Henry Cavill after leaving the role to Liam Hemsworth.) It's not a massive quest, but it does cleverly use an area of the map that had been left empty originally, which must have been some shift considering every other square foot of the game seems to be bursting with quests.
Outside of that, the joy in this update is that it's an excuse. An excuse to back to this absolute full-time job of a game that, even years later, has layers that 99% of players have yet to unpeel. Didn't finish the brilliant expansions? Didn't even finish the game? Left tons of the map uncovered? This is the excuse you need to dive back in over the festive break.
It had been a good few years since we last played it, and, while it's potentially foolish to say about one of the most beloved games in years, but it's still incredible just how much the writing holds up. It's like one of those TV shows you can still go back to, even if you know every line, and just how they're said, and they still completely hook you.
However, the Witcher 3 is starting to show its age in a few areas. While the world itself still holds up, and a spectacular kaleidoscope of colour palettes elevates it further depending on what region you visit, some of the character models are beginning to grow slightly tired.
Any time we noticed something like that, or an edge that's a bit less round than it would be in a modern game, it got us daydreaming about what the time will do with The Witcher going forward. While Cyberpunk stuttered out the gate in many ways, the things that couldn't be questioned, the world, the art, and the vibe all shone. It's going to be extremely exciting to see how that'll all apply to CD Projekt's bread and butter.
"The joy in this update is that it's an excuse. An excuse to back to this absolute full-time job of a game that, even years later, has layers that 99% of players have yet to unpeel."
An early quest in the game sees Geralt enquire at a local tavern about the location of his raven-haired situationship, only to be greeted by three not-too-friendly locals. After deep frying them and swiftly separating their heads from their shoulders, we left the bar to find almost the exact same three NPCs standing outside waiting for us.
This is utter nitpicking, but it goes back to the idea of how exciting it will be to see this team release a Witcher game on stacked hardware. A future where all of the minor NPCs are procedurally generated to avoid any duplication and eliminate that immersion break doesn't feel too far away.
The combat, something that most Witcher 3 fans will concede isn't a highlight of the game, also suffers from the quality of its peers. It's inelegant and can feel unbalanced at times. At its base, it's practically an Assassin's Creed 2-style dance while you wait for your opponent to attack. This is fun against sword-wielders, but we've never found it hugely engaging during monster battles.
Again, this isn't an update that will grab many new fans of the game, and these are all issues that Geralt season ticket holders have made their own peace with, but it's what we noticed coming back to the game after a few years. It's The Witcher 3, but it looks much better. You already know if you're into that.
The Witcher 3 is gaming's definitive fantasy RPG for modern times. As influential and as cited by other developers as DeusEx for immersive sims, Doom for shooters, and Dark Souls for everything else. It's a game that launched CD Projekt into superstardom, in a similar way that GTA 3 did for Rockstar 20 years ago. While some cracks are beginning to form around the edges, the people who've played the game 10 times already won't care, and will be thrilled to hear that the next-gen version of the game provides a definitive console experience and a great reason to head back out into the wilds.
The definitive console version of a modern classic
Rock-solid 60FPS mode
Unimpeachable writing
Dozens of stellar characters
The high watermark for side content in modern games
Ray tracing mode is unstable in dense areas
Character models are starting to show their age
5 / 5
Version tested
PlayStation 5
Related Products
Other Products
Some external links on this page are affiliate links, if you click on our affiliate links and make a purchase we might receive a commission.