WarioWare Switch Review: Get It Together is hit and miss
The microgame classic is still bonkers, but its platforming twist doesn't always work well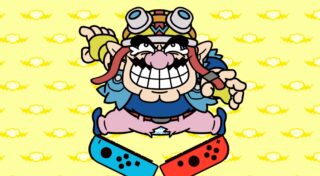 Just like its quickfire mini-games, WarioWare is a series that evolves with every appearance.
Since the very first game on GBA (2003), Nintendo's Intelligent Systems studio has consistently changed the method with which players interact with its surreal and bonkers gameplay. 2004's GBA sequel Twisted! introduced a tilt sensor, while Touched! for DS had players poking the touch screen, Smooth Moves used the Wii Remote and now, the Switch version changes it up again.
For the newcomers, WarioWare works by attacking players with an endless succession of five-second microgames, each varying in setting and gameplay. WarioWario's mini-games are notoriously odd, requiring players to pluck a man's armpit hair or escape a giant trash bag, and discovering them is half the fun. The further you get, the faster they get, until you've barely got a second to complete each nonsensical task.
For the first time in the series, Get It Together's microgames introduce elements similar to a 2D platformer. At the start of each round, players are prompted to assemble a small team from a roster of 18 platforming characters. Once the game has begun and the microgames start firing, you'll then cycle between your characters as you tackle the various rapid-fire challenges.
Yet again, the WarioWare series delights here with its unique – and slightly surreal – personality, with its short-but-sweet story campaign (it can be completed in around two hours) providing a humorous narrative and tons of replayability. However, the game's core concept isn't quite as consistent as we would've hoped.
The idea is that, because each character controls differently with their own abilities, players can replay microgames repeatedly and adopt new strategies each time, depending on which character they control.
In the series' classic nose-picking microgame, for example, Wario would need to fly up to the nostril and barge into it. In comparison, 18-Volt, who can't move at all, would need to shoot a projectile from the floor being careful not to miss, while 5-Volt would need to teleport directly into the nostril.
It's a novel idea that initially works well, but when the complexity ramps up, the concept starts to feel slightly at odds with the series' simplistic, quickfire gameplay, with latter stages requiring players to juggle adjusting to both different microgames and whatever character they've been handed to complete them.
The roster is also uneven, with many characters feeling too specialised to certain situations and others that are objectively better than the rest. Dribble & Spitz, for example, are flying characters who can only shoot in a single direction, whereas Ashley can shoot in 360-degrees. Meanwhile, Kat and Ana can also shoot in a single direction but they're stuck in a permanent jumping loop.
9-Volt can only sling his yo-yo directly upwards but, because his skateboard is always on the move, expert timing is required. However, Mike – who also fires directly upwards – can shoot far faster and can move freely across the screen. In a game where wrong movements can result in instant failure, you're likely only picking one of these two by choice.
"The character roster is uneven, with many feeling too specialised to certain situations and others that are objectively better than the rest."
If different microgames were built around each character's intricacies, these limiting quirks could have potentially resulted in some compelling challenges – especially with some of the later character unlocks who come with even more obtuse abilities.
But instead, Get It Together makes sure its games can be completed by all characters, regardless of ability, and by its own admission some are better suited to certain games than others (when revisiting individual microgames, the character select screen will grade characters based on whether they're a good fit or not).
For example, if your protagonist can't jump or fly, grapple points will appear on screen allowing them to pull themselves up, but it always feels like an awkward compromise so that your choice of hero can stutter through a scenario clearly better suited to other choices.
Get It Together's 200 mini-games still power a wonderfully weird pick-up-and-play package that's sure to delight fans – especially those willing to play again and again to chase high scores – but for solo play at least, the Switch version's most compelling elements remain its personality and the thrill of discovering new games.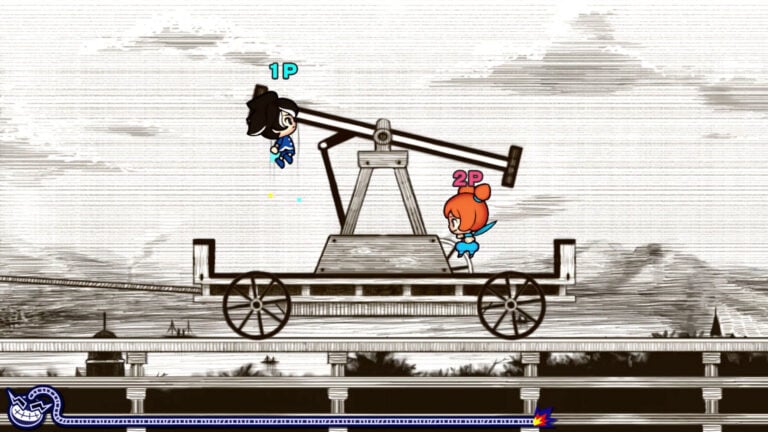 Like previous instalments, players shouldn't expect to get more than a few hours from the Story. Thankfully, there's more replayability in the extra modes, which include certain 'endless' mini-games and the ability to level up your crew for higher score multipliers. There's even a rotating challenge called the Wario Cup in which players must compete in a different weekly contest in an attempt to climb the online leaderboards.
Thankfully, the platforming concept is far more effective in multiplayer. For the first time in the series, WarioWare's games can all be tackled in co-op mode, and the character system works well here as players can more clearly read the screen and see who's doing what, and embrace the unpredictability of their abilities.
And characters that felt limited in solo play, such as Dribble & Spitz and their single-direction shooting, present new opportunities for collaboration in co-op, as each of the two shoots towards different sides of the screen.
The side-scrolling characters are also used to power a really unique roster of modes. One setup has players competing in a large game of air hockey, with the player character who sinks the puck getting to compete in a microgame for points (while the others attempt to obscure their view).
Another has players inflating a balloon by pushing air pumps, with each character taking turns competing in a microgame inside the balloon. Whoever's inside when the balloon pops loses. These games are only possible because of the new platforming setup and genuinely feel like a big step forward on previous WarioWare games' multiplayer offerings.
Get It Together is arguably a better multiplayer game than a solo one, then. But that's hardly a surprise considering the name on the box and because, let's be honest, previous games were also far more enjoyable with friends.
The Switch game's attraction is the same as it's always been for the WarioWare series – personality, replayability and humour – with the added bonus of a strong multiplayer suite. Its latest gimmick isn't as strong as in previous entries, but it's not enough to spoil the throwaway fun.
Get It Together's attraction is the same as it's always been for the WarioWare series – personality, replayability and humour – with the added bonus of a strong multiplayer suite.
WarioWare's personality and replayability is here
Excellent multiplayer suite
The character roster is uneven
Platforming becomes overly complex
3 / 5
Version tested
Nintendo Switch
Related Products
Other Products
Some external links on this page are affiliate links, if you click on our affiliate links and make a purchase we might receive a commission.