Review: Triangle Strategy is an enormous but enjoyable tactical RPG
Square Enix's latest 2D-HD game doesn't do things by halves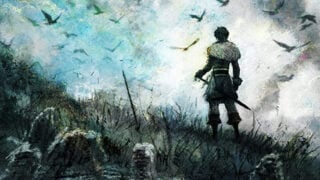 The Switch certainly isn't lacking when it comes to tactical role-playing games, not least of all Nintendo's own Fire Emblem: Three Houses.
It would take something special to sit near the top of the pile – Triangle Strategy absolutely manages this, but in true tactical RPG style, it takes a while to accomplish this mission.
In our previous hands on of the game's first three chapters (which can be downloaded for free on the eShop if you want to get a feel for it yourself), we noted that Triangle Strategy had the potential to be a great game but was taking a while to get going.
"Thankfully, by the time we had reached the third chapter and were travelling to different lands, things had picked up a bit and the conversations taking place had become significantly more engaging, to the extent that we're now really keen to see where the story goes," we said last month.
We can now happily report that the story certainly goes places, and then some. From its fourth chapter on Triangle Strategy doesn't let up, as the continent of Norzelia becomes embroiled in a huge conflict when an unsteady tri-nation alliance breaks down.
Due to unfortunate release timing, some of the themes may feel a little on the nose – much of the game involves controlling a small group of heroes doing their best to resist a significantly larger invading army, and it's hard not to associate that with real-world events.
Regardless, it's a thoroughly compelling story once it gets going, and the game does a wonderful job of ensuring that every character in the party is given enough of the spotlight, so the player can emotionally relate to each of them.
Tactical RPGs may not exactly be few and far between, but rare is the game where a player has a personal connection to every unit in their squad, and genuinely wants to see them come good out of the situation they find themselves in, often through no fault of their own.
The reason Triangle Strategy manages this – and it's one which could put off some players – is that this is a game that doesn't hold back when it comes to lengthy dialogue. Anyone who's played through the Prologue will have already experienced a deluge of text, as characters discuss the delicate political situation in great detail with anyone who cares to listen.
While it may originally seem that this is only the case at the start because it's necessary to establish the plot, and that it could perhaps ease up as the game progresses, that doesn't really happen. This is a game where people like to talk. A lot. From beginning to end.
Prolonged discussions take place after every battle, and in between key moments the player is often given the chance to explore the world map and bring up even more optional dialogue-only scenes, allowing them to see what characters in other regions think of new developments.
"Anyone who's played through the Prologue will have already experienced a deluge of text, as characters discuss the delicate political situation in great detail with anyone who cares to listen."
Those who don't get along with talkative types may find this all a bit much, especially given that the game insists on using a slightly prohibitive 'ye olde' style of writing for no apparent reason (like 'demesne' and 'gaol' instead of 'domain' and 'jail'), especially when they sound the same when read by voice actors.
Speaking of voice acting, there's a wealth of it here and it's of a generally high quality despite the initial awkwardness of listening to American voices reading out Old English era dialogue.
That so few of the game's text lines don't have audio equivalents is a testament to the level of work that's gone into this game – we can't imagine how many hours of dialogue are in here, especially given that the story can branch out in a number of wildly differing paths, requiring numerous playthroughs to see everything in the game.
When a skirmish does eventually break out, the combat mechanics are rock solid, if conventional. Units take more damage if enemies attack them from behind, so players have the option to choose which direction they're facing when their turn ends. Units can also team up with a partner if they surround an enemy from opposite directions, triggering attacks from both of them, so attacking someone from behind then sending a second unit at them head-on for a one-two attack is a viable tactic.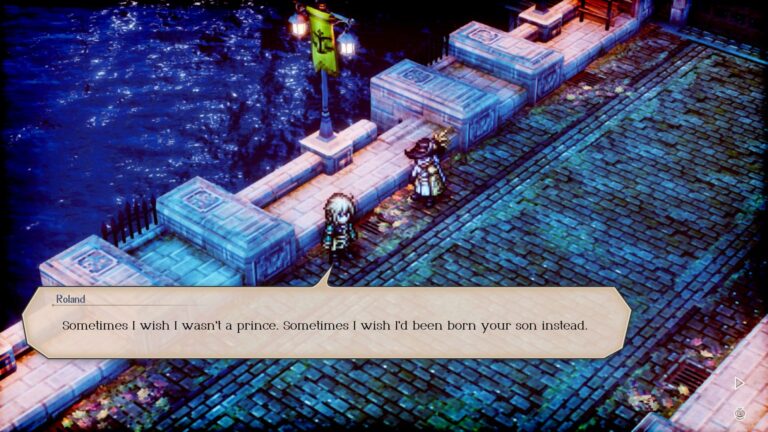 Many of the battlefields have notable verticality to them too, and units on a higher level can do more damage to enemies below them. Often, attacking enemy-inhabited lookout areas and putting your own archers there can be key to winning a battle.
The game also does a great job of showing players how each move could play out. Selecting a unit shows which squares are safe and which are potentially open to enemy attack. Move them to the latter and the game will draw red lines showing which enemy units can reach them with their next move, letting players figure out: "Well, I can move them there, and they'll be fine as long as I can take that guy out before his next turn".
The combat is solid, then, the story is epic – if a little too much at times – and there are multiple wildly different plot routes (often guided by the 'Scales of Conviction' gimmick, in which the player has to try to convince other members in their party to go along with their decision).
Add to this the fact that completing the game unlocks a New Game+ mode, which encourages multiple playthroughs, and there's potentially hundreds of hours of content here for any players willing to take it on.
Triangle Strategy is an enormous tactical RPG with a solid turn-based battle system. Its epic plot and lengthy dialogue may be a bit overbearing, but anyone willing to take on an extremely detailed story will have a wealth to do here.
An enormous story, with lots of detail
Solid, user-friendly battle mechanics
Multiple, genuinely different alternative story routes
Another great use of Square Enix's 2D-HD art style
The NPC sections may be too slow for some
4 / 5
Version tested
Nintendo Switch
Related Products
Other Products
Some external links on this page are affiliate links, if you click on our affiliate links and make a purchase we might receive a commission.