Review: The Wonderful 101 Remastered doesn't try to fix what wasn't broken
Platinum's eccentric action game is as entertaining as ever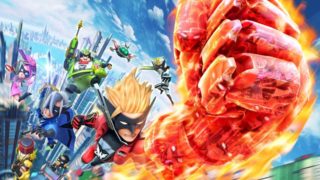 Believe it or not, The Wonderful 101 isn't a reference to the number of people who bought the original Wii U version of the game.
It wouldn't be surprising, mind you: selling a little over 5000 copies in its first week in Japan and failing to reach the top 20 in the UK, it's safe to say that Platinum's action game didn't quite get the audience many feel it deserved.


Given that the Switch seems to be some sort of resurrection machine where last-gen games queue up for a second chance at the limelight, however, it could be argued that it was only a matter of time before The Wonderful 101 got another crack at success.
For those new to the game – which we've already established is most people – The Wonderful 101 is a sort of overhead hack 'n slash game where the aim is to make your way through a variety of stages, fighting through all manner of enemies and comically large bosses.
The central gimmick is the Wonderful Ones, a team of 100 superheroes from all around the world who've joined forces to defeat the evil-doers. While you can run around on your own and fight enemies, that won't last you very long: the key to success is gathering the other heroes together and joining up with them to form various objects (called Unite Morphs) like swords, guns, giant fists and the like.
As you progress through the game you learn and buy new Unite Morphs, each of which have their own special ability. Most Unite Morphs are triggered by drawing specific shapes on the screen: a straight line for a sword, a circle for a fist, an L shape for a gun and so on. Others that require quicker input – like turning into a jelly to deflect enemy attacks – are mapped to controller buttons instead.
In the original Wii U version, Unite Morphs could be drawn directly onto the Game Pad's touchscreen: that option is available again on the Switch if you're playing in handheld mode. Otherwise, you have to use the right stick to draw the shapes instead: while this generally works okay in practice it can lead to some mistakes in high pressure situations. It can be frustrating cancelling and redrawing a shape while a bunch of enemies are breathing down your neck.
The other notable Wii U feature that threw up potential issues was the use of the GamePad as a second screen. This problem has been 'solved' (to an extent) with the ability to bring the secondary display up whenever you like by pressing the minus button. Sadly, it's as makeshift as it sounds.
To Platinum's credit, it's done its best to let the player customise this second screen in the best way that suits them: you can move it around the screen as a semi-transparent overlay and adjust its size, or you can choose to show both screens next to each other, increasing and decreasing the size of each as you see fit. Neither is satisfying enough: you're left with either a large watermark or a smaller main screen respectively.
The latter is particularly troublesome given that the game's characters aren't exactly monolithic to begin with. In order to give things a grandiose scale, Platinum made the decision to pull the camera so far back in The Wonderful 101 that your army of heroes looks more like a bunch of Lemmings.
"To Platinum's credit, it's done its best to let the player customise this second screen in the best way that suits them… but neither is satisfying enough: you're left with either a large watermark or a smaller main screen respectively."
For the most part, this is a great move: it absolutely does make the various set-pieces and boss battles look truly epic, and also gives players an easy means of keeping track of where their large group of characters is. The bird's-eye view only really becomes an issue with both screens side-by-side, or in handheld mode on the Switch (or, even worse, side-by-side in handheld mode).
In either of these modes the reduction in screen size starts to make it harder to tell what's going on: tracking your heroes, locating enemies and generally keeping tabs on everything becomes tricky. If you're mainly thinking of buying this because you want a handheld version of The Wonderful 101, prepare for eye strain.
That aside, Wii U owners may also be surprised that the 'Remaster' element of this game only just manage to fit the definition. To the best of our knowledge and as far as our humble eyes can see, the Switch version appears to have a resolution boost from 720p to 1080p and an improvement in frame rate (though it still isn't a solid 60 fps). At launch there's no extra game content that we could find, although DLC is planned.
Despite the fact that its return was eagerly awaited by its cult following, the players who will get the most out of The Wonderful 101 Remastered are actually those who didn't play the original game in the first place. It's a fantastically eccentric action game that, although not without its flaws, is well worth playing.
The Wii U classic is just as entertaining as it was back in the day, even if it's more of a port than a remaster.
Still a gloriously silly, over-the-top hack 'n slasher.
Improved resolution and frame rate.
A wonderful (ahem) soundtrack.
It misses Wii U's second screen.
4 / 5
Version tested
Nintendo Switch
Related Products
Other Products
Some external links on this page are affiliate links, if you click on our affiliate links and make a purchase we might receive a commission.