Super Nintendo World review: A guide to Universal's Mario mecca
Super Nintendo World's wristband gamification is a triumph, but its rides can't quite live up to the polish of the park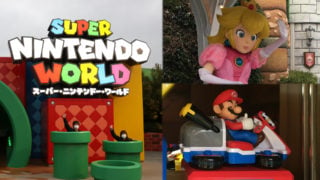 This article was originally published in March 2021.
Visiting Super Nintendo World for the first time feels just as joyful as booting up Super Mario's greatest hits.
Built straight from the imagination of master designer Shigeru Miyamoto, it's a disservice to refer to Super Nintendo World as a simple attraction: it feels totally unique among the other offerings at Universal Studios Japan – the theme park which houses it – especially in terms of its attention to detail, and how engaging the park is with its visitors. You don't feel like a visitor, but a player.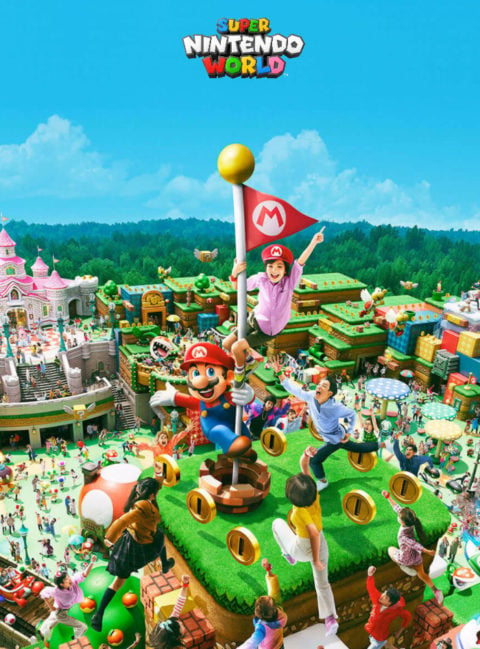 Thanks to the combination of a smartphone app and special wristbands, interactive elements and secret Easter Eggs are littered everywhere around Nintendo World's colourful Mushroom Kingdom-inspired landscape, with all the imagination and attention to detail we've come to know from the Japanese giant's greatest games.
The rides themselves, while a thrill to experience (especially Mario Kart), don't quite live up to the quality bar set by the park itself, but as a vehicle for Nintendo World's app gamification, they're a definite success.
Super Nintendo World officially opened in Osaka on March 18, 2021, but VGC was able to visit the park early for three days as part of a technical rehearsal. Here's everything we learnt about Universal's Mario Wonderland…
Videos included in this feature were supplied by GameXplain.
Update
Universal Studios Hollywood's Super Nintendo World will officially open on February 17, 2023, the park has announced.
When it opens, America's first Nintendo World will house an augmented reality Mario Kart ride set within Bowser's Castle, a Toadstool Café and a 1-Up Factory merchandise store.
In addition, visitors will be able to purchase Power-Up Bands to play interactive games around the park and track their scores via the Universal Studios app.
However, it will not include the Yoshi ride featured in the Osaka, Japan World.
Super Nintendo World Guide Coverage
Travelling to Super Nintendo World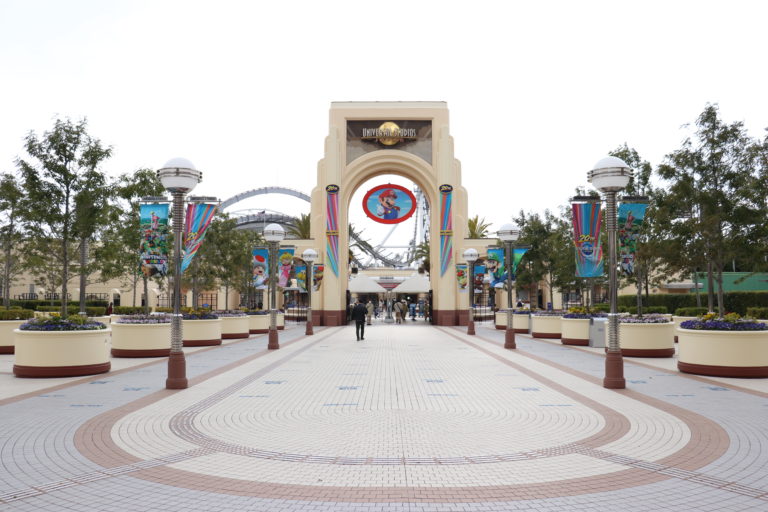 Getting to Super Nintendo World is simple. First, make sure you're staying in Osaka: many fans we spoke to indicated they were preparing to visit Tokyo to attend the Grand Opening prior to the pandemic. However, Tokyo is several hours away from Osaka by Shinkansen or flight, and will cost about $400 to travel between the two. Make sure you make proper travel arrangements.
From Osaka Station (not to be confused with Shin Osaka Station, where the Tokaido Shinkansen stops), you take the Osaka loop to Nishikujo and then transfer to Universal City.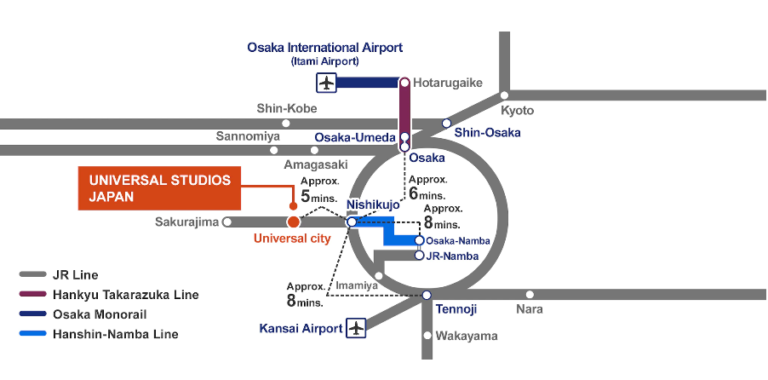 Please note the train that heads to Universal Studios is the middle train on this platform, with doors that open on both sides, so there's no need to head down to reach the correct platform. In fact, Nintendo has sponsored ads on trains on the Osaka loop, so it's tough to miss (just look out for the plumbers).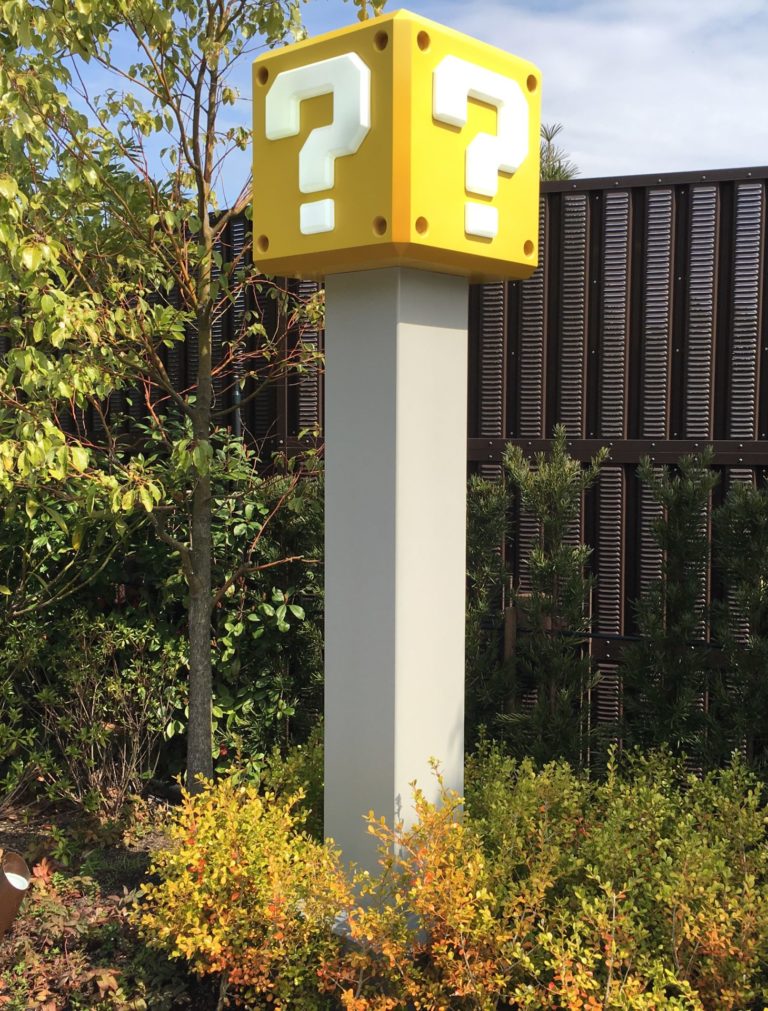 Once at Universal Studios, follow the signs to get to the main gate. Super Nintendo World is located towards the back of the park, past the Jurassic Park area, near Waterworld. A timed ticket will be required to enter, with later entries having to participate in a lottery to enter, so make sure you arrive early.
As you'd expect, the leadup to Super Nintendo World's entrance is surrounded by fun Mario references, including high scores etched into the path, representing the release dates of all of the major Mario games, and the (original) opening date of the park.
In the middle of this street, you will be stopped to show and scan your Super Nintendo World ticket, which you will receive upon registering at a reservation kiosk located nearby in the park. You can only get reservations for the same day.
After passing through this area, you'll eventually find the main entrance to the park itself, which is flagged by a giant Super Nintendo World sign and three warp pipes: your first photo opportunity of the day.
Here, you'll also have the opportunity to buy a Super Nintendo World Power-Up Band before entering the park, but there are also venders inside if you want to avoid any potential queues.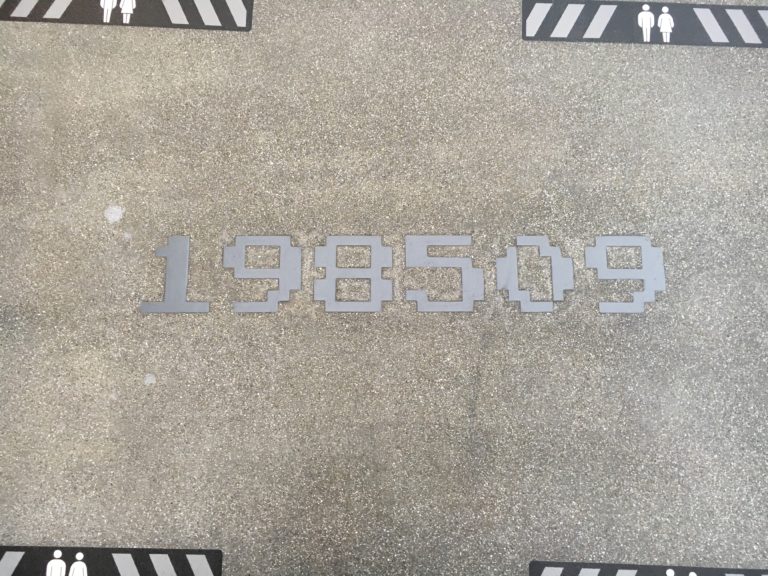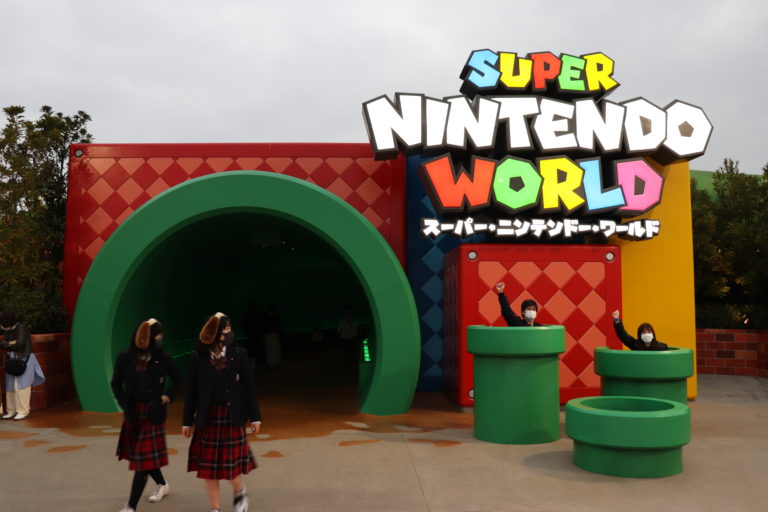 When you're ready, you can head nto the warp pipe and enter Super Nintendo World. After a short, dramatic transition featuring lasers and Mario's iconic warp pipe sound effect, you'll find yourself in another interior before entering the park proper; Peach's Castle, complete with two 3D paintings referencing Super Mario 64.
The paintings portray graphics of areas including Bob-Omb Battlefield and Tiny-Huge Island. Sadly, you can't jump into them, but based on your perspective they'll change appearance, thanks to their lenticular design. From here, once you're ready, you can take your first step into Super Nintendo World!
Entering Super Nintendo World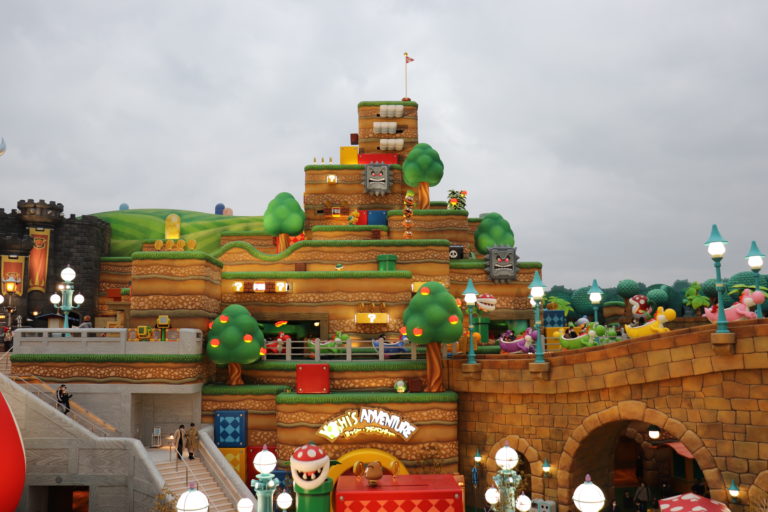 When you first exit Peach's castle, with your eyes adjusting to the incredible vista of colours and movement, you'd have to be stone-hearted not be infused with childlike excitement. From a distance, Super Nintendo World is a sprawling, complex Mario level brought to life, and it's an impressive sight for fans and non-fans alike.
While the park itself is relatively small, the level of detail lavished on the space more than makes up for it: There's no area inside the park that doesn't feel handcrafted and totally convincing, making visitors feel like they're living inside of a physical Super Mario level.
Directly across from the entrance, you can see a mountain in the distance, with a flag perched atop, already having been claimed by our hero. Just nearby, to the left, you'll see Bowser's imposing castle, where you can make a bee-line to queue for the park's most popular attraction, Mario Kart.
To the right of the entrance, just beyond Peach's gazebo, you can find an elevator to the lower level. There are also stairs and a balcony directly in front of Peach's Castle, where a large Super Mushroom logo floor is found. These stairs lead to the same place as the elevator. If you're interested in Yoshi's attractions and food, you should head down first. If you're more interested in the Mario Kart ride and Bowser Jr. challenge, you'll be heading to the left from where you enter the park.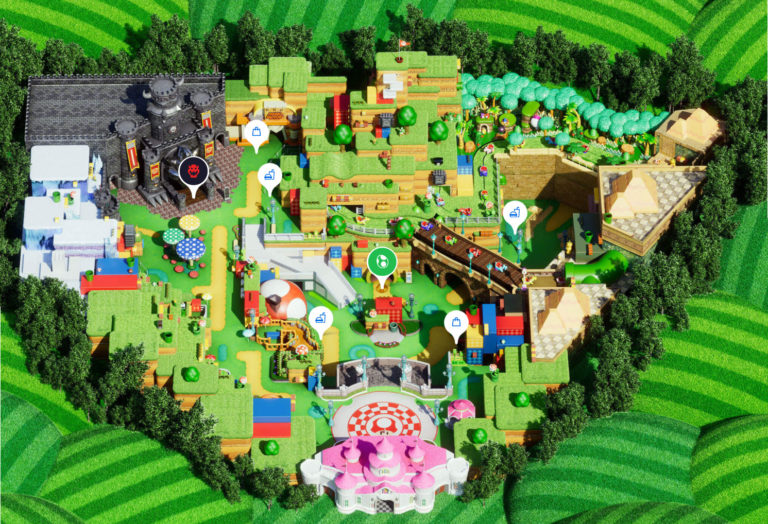 You'd be forgiven for deciding – like we did – to spend a moment exploring the park and taking it all in, before getting down to the business of its many rides, shops and interactive attractions. Like many top theme parks, there's so much to see and do here that it will require excellent time management to do everything in a single day or even a weekend. We visited on three consecutive days, and it still felt like we'd missed some of the park's secrets.
The best path follows the park design, starting from the upper floor and then circling down. The upper level is mostly related to rides and activities,while the café, Yoshi ride and photobooth are located on the lower level. Here's how we recommend breaking down your first trip to Super Nintendo World:
Get a Power-Up Band
Ride the Mario Kart Ride
Play the five key mini-games
Get a snack
Fight Bowser Jr.
Meet Peach
Meet Mario and Luigi
Get lunch
Ride Yoshi's adventure
Check out the giftshop and photobooth
What we like most about Super Nintendo World's design is how well it conveys perspective. It's difficult to make a small park look large, but Universal seems to have done the trick. Many who have watched online videos of the park have commented that they believe it's too small, and while it indeed isn't the largest of attractions, because of its clever use of lighting and colour design, it actually has a feel of being large when you're standing in front of Bowser's imposing fortress and other attractions.
The rolling hills and other tall structures are painted in a way to look blurry near the bottom and more defined at the top, which gives them the appearance of being far away, although they are quite small up close. Additionally, the various enemies and blocks placed outside of reach make the park feel more alive, as if you're only in a small area of an even larger world. 
At night, the lighting makes everything feel like a vignette painting. In fact, many of the photos taken of Peach's Castle at night make it appear as though the sky isn't real because of how well the castle is highlighted on the sky. The atmosphere of the park changes at night, from the lively Mushroom Kingdom to a beautiful, serene park. It was a more relaxing experience once the sun set and everybody had stopped rushing into lines to play mini-games and check out the rides.
The build quality of everything feels really solid, and there's little sign of mundane park apparatus other than a few cameras doing their best to blend in with the scenery. Regarding the many (MANY) moving enemies and objects, you'd have to be a real killjoy to point out any of the mechanisms used to move these features. Usually, these are well hidden so that guests cannot see them, but a few times, you may catch a glimpse of the magic at work. 
It's a wonderful idea to have implemented these moving items both in the background and in the park's many mini-games, making the world that much more enjoyable and engaging. We believe the cushions used to punch Mario's trademark ? Blocks may have to be replaced over time, however, as they will no doubt show wear and tear relatively quickly, based on how often guests are punching them – and they punch HARD.
The blocks are as satisfying to smack as you'd expect, especially because they make sounds every time you hit them, and grant coins for the park's smartphone app. They're clearly addictive, as one park visitor we spotted going to town on a coin block was STILL there when we circled around ten minutes later. We kindly ask that you remember that there are many guests in the park, and everyone deserves a turn on the blocks.
Another element that makes exploring Nintendo World a joy – just like the games – is its soundtrack: the park has two unique songs in the main area, one is the main theme, present at the entrance and other areas, and the other is Bowser's theme, which takes on a more malevolent tone. Elsewhere in the park, you'll hear a host of familiar classics from the Mario games, and mentally connecting them to their video game origins never gets old.
Overall, we were really impressed by both the quality and design of the park. It doesn't appear as any corners were cut in the building process. It would have been nice to have been able to get even closer to some of the moving parts on the mountain face overlooking the park, but it does a wonderful job of making the world feel more alive and real.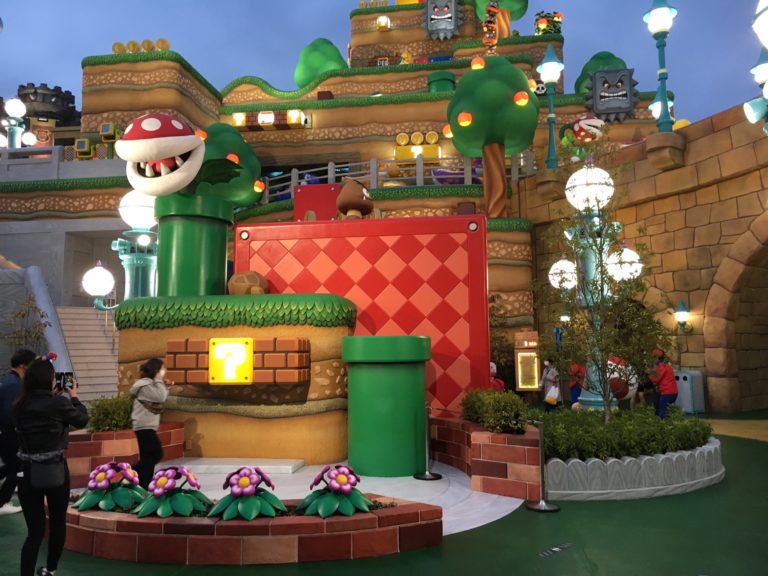 Super Nintendo World's Power-Up Bands are the Star Attraction
So, what should you do first in the park? Regardless of which attraction you're interested in checking out first, you absolutely need to get a Super Nintendo World Power-Up Band to enjoy most of the activities Nintendo World has to offer.
A Power-Up Band costs 3,200 yen ($29 / £21) and while it's not required to enter the park, it's really not optional if you want to enjoy Super Nintendo World properly. You cannot play the park's mini-games or earn points from completing activities or going on rides without a band, for example.
There are six designs to choose from; Mario, Luigi, Yoshi, Toad, Peach and Daisy. While they all have the same general functionality, you'll be divided into a team for points based on the character you choose. Additionally, they also function as amiibo for relevant games.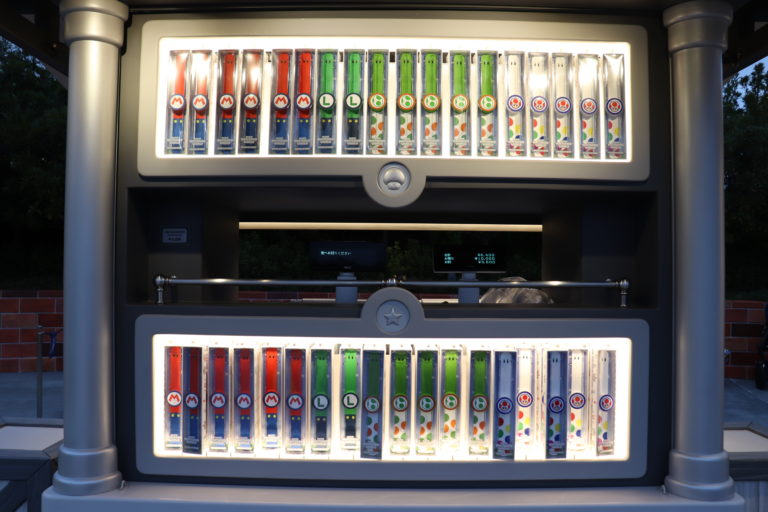 The other thing you'll want to make sure you have before entering the park is the Universal Studios app on your smartphone, which will allow you to track your points total, daily and hourly team points total, and collect special Stamps for completing activities around Nintendo World, such as hitting every coin block or collecting every key.
The Stamps in particular are a wonderful addition to the park-going experience and introduce a feeling of completionism that is often present in video games, especially the collectathon platformers that Super Mario has championed.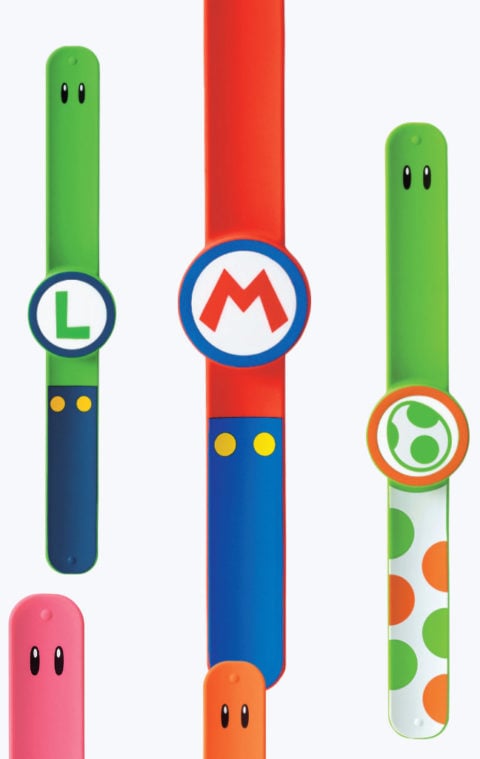 There are 170 Stamps to unlock at the time of Super Nintendo World's opening, and just like video game Achievements or Trophies, they encourage visitors to experience all elements of the park in order to unlock them. Others taking the environment itself into a game, by encouraging visitors to punch every block in the park or to meet all four mascot characters.
However, the Trophy Hunters among you should be aware that many of the Stamp challenges will take multiple days to accomplish, or even longer, so don't expect to unlock many of them in a single visit.
And in terms of unlocking them all, it's basically impossible for anyone other than a seasoned local visitor, since there are multiple Stamps related to visiting at certain times of year (such as Christmas or Halloween). According to our calculations, you'd have to visit Super Nintendo World at least five times during the year to have a chance of unlocking all the Stamps.
Somewhat irresponsibly, there's even a Stamp for visiting during the launch month, when Japan will be both closed to foreign tourists and very much in the middle of a pandemic.
Even outside of the time-related Stamps, there are others that require you to use the ride five times. With Mario Kart's wait time at an estimated 2 – 3 hours, you can do the math on how long that could take.
Thankfully, a map on the Universal Studios Japan app allows users to easily track the locations of blocks, activities, keys and more. You can find a list of all 170 Stamps over on our full Super Nintendo World Stamps Guide.

One of the most engaging aspects of Super Nintendo World's Power-Up Band and app integrations are the daily leaderboards, which track and rank the coins (points) visitors have collected around the park in realtime.
There are two daily leaderboards on the app; one for character teams (which also refresh hourly) and another for individual visitors. In addition, there are all-time rankings for visitors, as well as leaderboards for Mario Kart and the Bowser Jr. boss battle.
It's worth noting that your 'team' is determined by the character Power-Up Band you choose and cannot be changed without purchasing a different character band, so if you want to unlock the Stamps for being on the winning team, you probably shouldn't pick Daisy. Just saying.
The main thing you'll be using the Power-Up Bands for in the park itself, other than bashing coin blocks until your knuckles are sore, is to unlock and track the various mini-games around Nintendo World, which have visitors challenging five Bowser minions and collecting the virtual keys that they drop.
Pressing the face of your Power-Up Band against a special tap point will kick off the mini-game, such as one which has you pressing a POW block in time with a moving shell to knock it into a Koopa Troopa. Once completed, the key will be saved onto your band.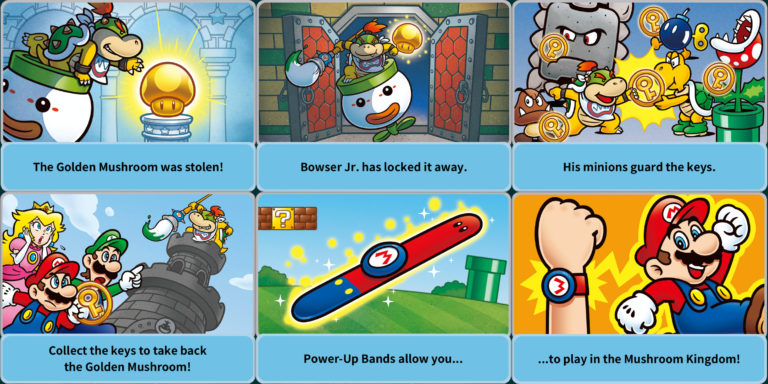 These mini-games aren't really designed to be played more than once, unless you lose, or what to collect absolutely every Stamp. They're cool additions, but mainly serve the main story of the park for defeating Boweser Jr.  There are hints in the Stamp list that extra difficulty levels can be unlocked, but there was no indication of how this was used during our trip. After you collect at least three keys, you can enter the dungeon to take on Bowser Jr, who is the main antagonist of the park's narrative.
Other mini-games in the park (which are not related to the Bowser Jr. plotline) include a Super Mario 3D World slot machine, a music note block challenge, and two pairs of AR binoculars.  As well as giving you something to do outside of the main attractions, they also do a great job of enhancing the atmosphere of the park and crucially, increase your overall park score and unlock Stamps when you use them.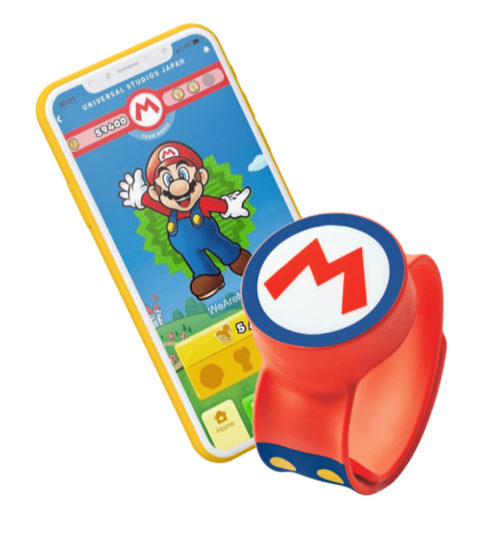 The slot machine functions the same in the park as it does in-game; three blocks scroll through images of various Mario power ups, and you have to correctly time your punches in an attempt to lin them up. Line enough of the same icon up and you'll win coins, which translate to points on the leaderboard. Of course, different icons reward different points, with Starman giving the most points. The slots seem to go at different speeds after every round, so you might get lucky and get one that moves slow.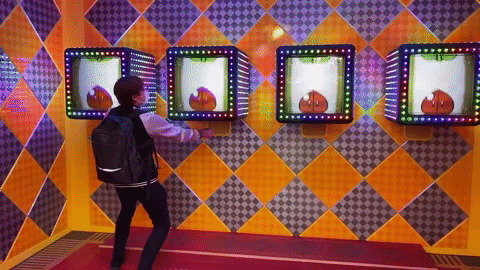 The music note block challenge is similarly simple: you stand under several note blocks and hit the one that glows. After successfully hitting several in a row, a classic Super Mario song will play based on the notes you've hit. Sadly, the music blocks predetermine the song that will play, so you don't have any actual creative freedom, but the Stamps list does hint at more than one secret tune.
However, since there's a line to participate, it makes sense to limit what options players have. The songs include: underwater music, Super Mario World music, Underground music, Super Mario 64 Bob-omb Battlefield music, and Super Mario Bros. 2 level 1 music.
Finally, the binoculars offer a cool AR experience that young visitors will likely enjoy. Glancing inside the visor will reveal a host of 3D characters high above the park, including flying Koopa Paratroopas, Bullet Bills and even a Chain Chomp scuttering around on top of a nearby mountain. There are plenty of secrets to spot too, which will unlock Stamps on your smartphone app.
While novel, the binoculars serve only to give more personality to the park, and are fun for a few seconds while you discover some secrets, so don't expect a complex activity.
In addition to the core attractions, there are several secret mushroom touch points hidden around the environment, and you can hover your Power-Up Band over them to make something happen: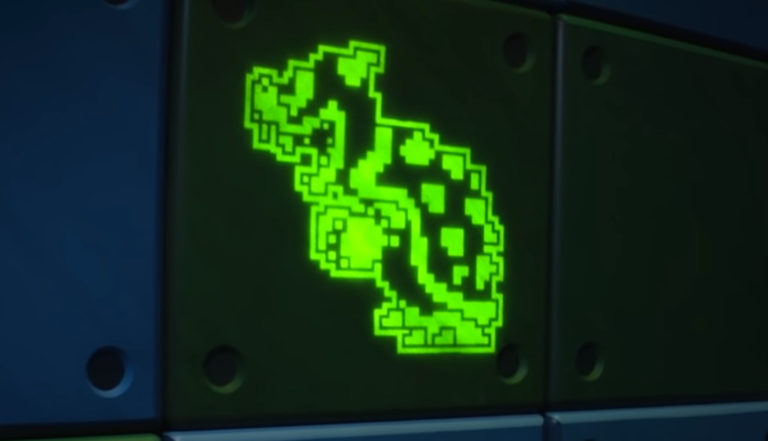 The effect ranges from a light silhouette of a character appearing on a nearby wall, or allowing you to hit coin blocks or bricks, which also gives you points and unlocks a Stamp (good luck finding them all!)
The interactivity powered by Super Nintendo World's Power-Up Bands is undoubtedly its most unique aspect, but it also shows that the park definitely wasn't designed with the current pandemic in mind.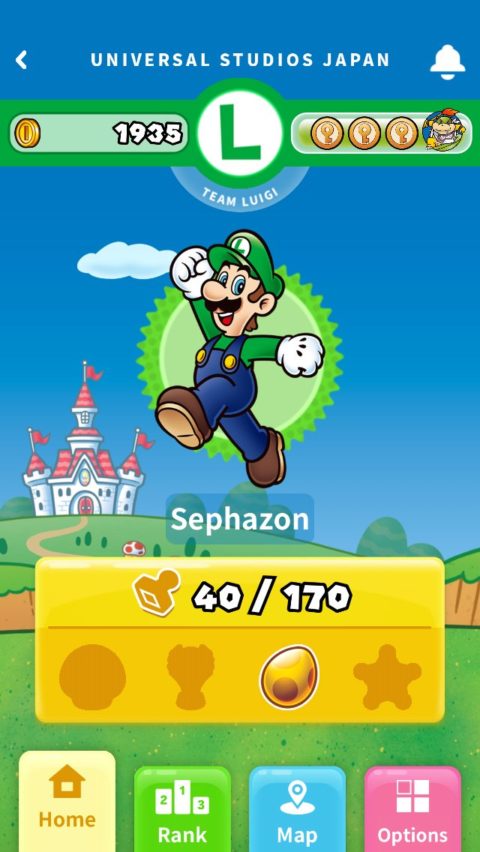 Super Nintendo World was very much created for pre-pandemic entertainment and as such we'd be lying if we said it didn't feel awkward to have to touch so many things and be in such close proximity to other people.
The biggest problem is how nearly everything encourages visitors to touch: from question blocks to mini-games, there's a lot of physical interaction in Super Nintendo World, which could in theory result in easy spread of coronavirus.
Thankfully, during our visit (admittedly ahead of the official opening) staff were visibly wiping down surfaces after each interaction, while hand sanitiser stations are everywhere around the park and in queues.
Staff seemed to be taking the touching element very seriously, as even holding items in the stores was discouraged. Mask use is required to get into Universal Studios Japan, and people may be ejected for not complying. Furthermore, your temperature is taken when entering the theme park.
However, even ahead of the big opening, there was a distinct lack of social distancing in queues. Typically, you'll find spots on the ground for where to stand for social distancing, however, this is completely absent from Universal Studios Japan in general. The park is rather popular, so this may cause an issue when it's at max capacity, especially during the opening months.
You can read more about Universal Studios Japan's Covid-19 precautions over on its website.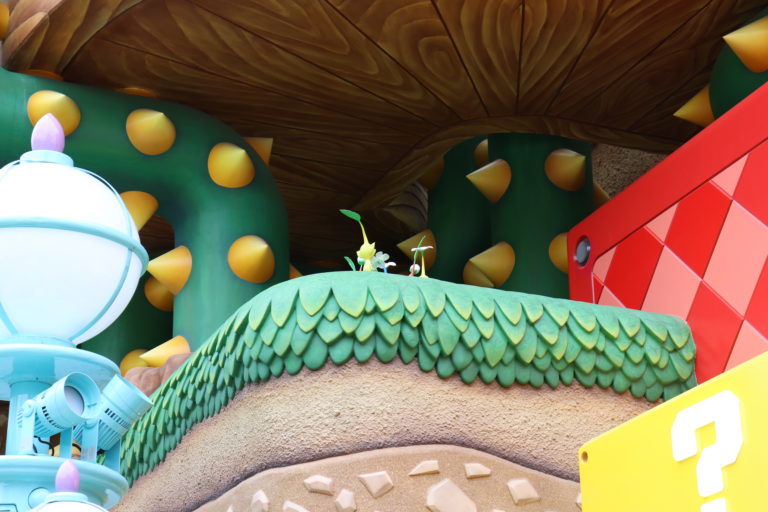 Unfortunately, it looks like America's Nintendo World parks won't be ready for a few years, and currently, Japan is not allowing foreign tourists into the country, so those overseas will have to look on in envy for now.
In Japan, you can expect to spend about 8,000 yen ($73 / £52) just to enter the park for a single day, which is about the same price as buying a new video game. However, when you take into account food and a Power-Up Band, you should expect to spend significantly more when visiting Super Nintendo World.
To some, the price may not seem worth it, especially considering that it's possible to 'fail' many attractions and rides in the park. If you mess up in Mario Kart, you can expect to stand in line once again for another 2 hours in order to unlock its Smartphone rewards, losing valuable time that could be spent exploring other parts of the park.
However, this isn't a complete loss, as you'll always find something new and fun easter eggs in even the queues of the rides and attractions.
Also, it's worth noting that you're paying for access to Universal Studios Japan. The cost of entering Super Nintendo World is covered by this ticket, so even if you have some free time or complete everything in the park, you still have access to the other areas, such as Harry Potter and Jurassic Park.
We recommend spending at least two full days in the park, and believe it's worth the 16,000 yen just to get into Universal Studios Japan. That said, anything over that is difficult to recommend. The experience is certainly not cheap, but it's also not priceless.
It's unfortunate that the park was completed during a pandemic, and we wish that it had a better environment to thrive in. It's worth the price of admission for a few days. We left wanting more, but were not at all disappointed with what we did get. In that way, Super Nintendo World is an absolute success, and we'll definitely be back again soon.
Mario Kart: More AR shooter than racer
The queue for Mario Kart is absolutely monstrous, larger even than the main hub of the park itself. Here, Universal and Nintendo are really showing their pride and belief that it will be among the most popular rides in all of Universal Studios Japan.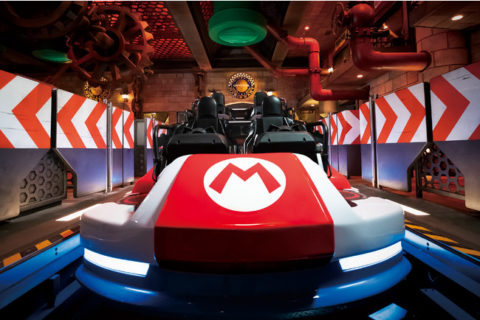 While we didn't have to stand in line too long to ride Mario Kart (around 40 minutes in the morning, during the tech rehearsal), we can imagine that these features will be a good distraction for those waiting the estimated two-to-three-hours for the ride, once the park opens properly. There are also drinking fountains available in the line, but during the pandemic, we didn't feel comfortable using them.
Attraction Requirements
Guest experience: Approx. 5 minutes
Capacity (per car): 4 persons (2 rows, 2 people per row)
Height requirements for unaccompanied riders: at least 122 cm tall
Height requirement for riders with a supervising companion: at least 107 cm tall
Thankfully, for those facing a lengthy wait to don their AR glasses and jump in a kart, the environment inside Bowser's Castle – which houses the ride – is impressive and fun to travel through.
There are many secrets and surprises to uncover, such as banners showing off the various courses in the Mario Kart series, the trophies from Mario Kart 8, racing uniforms and more. You can even watch as some of Bowser's mechanical minions, such as Bob-ombs and Mechakoopas, are designed and constructed in televised displays around the queue.
The queue does a convincing job of recreating Bowser's lair, down to his many sketches on how to defeat his greatest nemesis (spoiler: he doesn't win.) Just like the outside of Super Nintendo World, there's so much personality and creativity poured into the queue that it feels like an attraction by itself, which is unsurprising considering that the ride is reportedly the result of a six-year collaboration with the creative team at Nintendo, including input from Miyamoto himself.
Near the front of the queue, the crowd is handed Mario cap headsets. Once you reach the karts themselves, the AR glasses then attach to the headset, which Universal says will be sanitised after every use. Combined with projection mapping on the walls of the course, this allows users to see various game elements as they race around a linear track in a physical four-person kart.
Six four-person karts run parallel with each other on two tracks – one for each team – and you're encouraged to help your team win not by placing first, but by earning the most points by shooting AR opponents and collecting coins.
The ride is sold as a genuine Mario Kart experience but plays more as an on-rails shooter than a racing game. The race doesn't really exist: everybody finishes at the same time in the same place every time. You win coins by hitting virtual Koopalings and baddies and lose them by hitting Mario characters. You never see other human players, because, from the ride's perspective, they don't exist.
The real experience is in the effects and interaction powered by the AR glasses: players can 'aim' by turning their heads, and then fire shells using buttons on the top corners of their steering wheel. The controls are very intuitive, and you're frequently given a healthy amount of shells.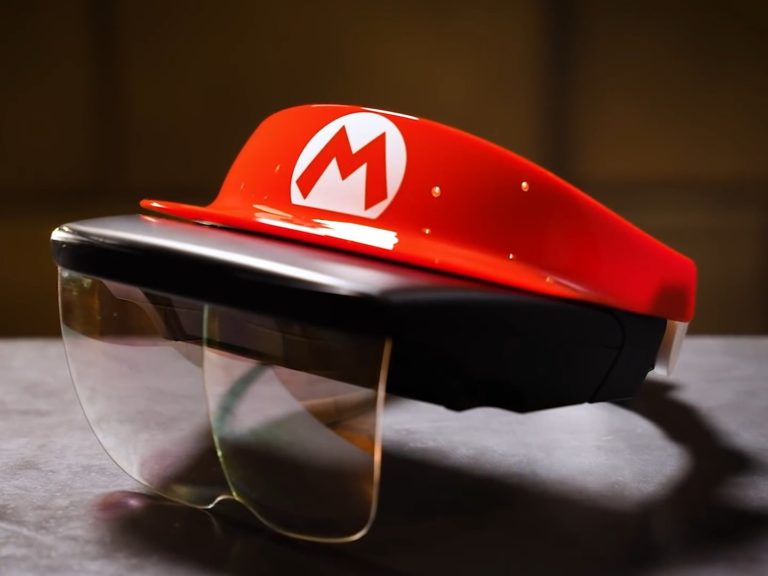 At certain points arrows will appear on the screen, pointing left or right, and turning your steering wheel correctly will make the kart 'drift', earning coins and avoiding virtual obstacles such as Thwomps. But like most element of the Mario Kart ride, it's all an illusion.
But even though Universal didn't opt to build its own Rainbow Road in the sky, the experience of riding the virtual one is still a thrill. The course takes players through a racing loop, underwater, haunted mansions, Bowser's castle, and, of course, Rainbow Road. The action is chaotic, with virtual baddies swarming the course.
Beyond the virtual visuals, there are also physical effects like wind and the movement of the karts themselves. While this enhances the experience to make it more engaging, it also has the potential to disorient players, which was a common complaint we heard when speaking with fellow guests.
Once you reach the end, the huge track-side projections announce the winning team and provide a breakdown of how many coins each rider earned. As well as beating the rival team, players are challenged to earn over 100 coins in order to 'win' the ride and unlock its main Stamp. There are many, many additional Stamps that will require you to ride Mario Kart multiple times – and be very skilled and shooting.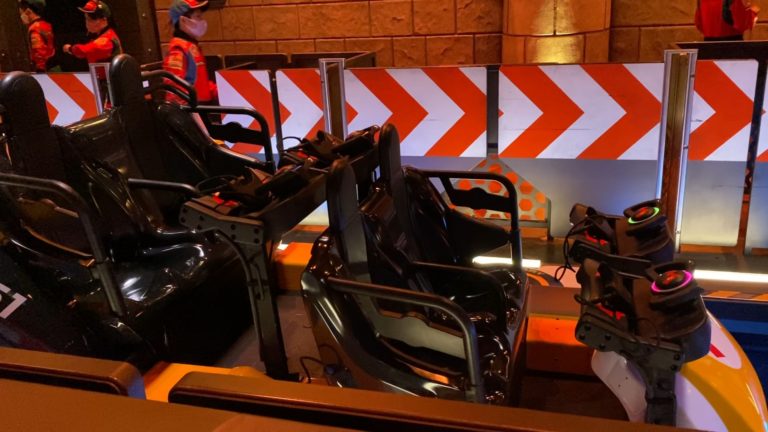 Reaching the 100 coin total required to 'win' is not really an unmanageable challenge. Even the aiming system, which feels inspired by motion controls from Nintendo Wii, works rather well, and we never really found ourselves missing a target, unless it was down to our own bad aim.
The Mario Kart ride is good fun overall and definitely worth the wait. The AR effects are top-notch and it was a genuine thrill to feel in the middle of a chaotic battle straight from the games.
However, there's no escaping the slight disappointment that the experience is very much a shooter rather than a racer: there aren't any special items, you don't win by passing the finish line first and you're stuck on a linear track you have no control over.
We would've preferred a proper karting experience, but also appreciate that the AR elements would have to be significantly dumbed down to cater for freedom of movement, less visitors end up crashing all over the place in pursuit of a virtual item box.
Yoshi's Adventure: A relaxing (and a little dull) tour
Compared to the virtual chaos Mario Kart, Yoshi's Adventure is a far more peaceful ride, where visitors can take in the sights and sounds of Super Nintendo World on the back of a mechanical dinosaur, high above the main park area.
It doesn't offer anywhere near the interactivity of its counterpart, but Mario fans will definitely enjoy the atmosphere and many references to past games (there's even a – shock – Super Mario Galaxy 2 Easter Egg), while younger visitors will enjoy spotting the colourful characters along the course.
Attraction Requirements
Guest experience: Approx. 5 minutes
Capacity (per car): 2 persons
Height requirements for unaccompanied riders: At least 122 cm tall
When you arrive in the queue area, you'll notice it isn't quite as creative as Mario Kart, but that's because you'll spend far less time in it than the expected 2-3 hours of the latter.
In total, we'd wager that the Yoshi's Adventure queue is only a third of the length of Mario Kart's. It has its charm, however, and gives off a definite Yoshi's Island vibe, with music and the chalky palette to boot.
Even Todette makes a guest appearance in the forest area of the queue, where she talks about various elements of the area. The keen-eyed will spot a fun secret above her house: two red Pikmin carrying off one of Yoshi's many berries.
Once on the back of your Yoshi (unfortunately, you can't choose your favourite colour), the ride itself takes you on a tour of the northern part of the park, elevated above the rest of the visitors. Here you can take in the scenery of the upper levels, which are usually difficult to see from the main floor area.
The Yoshi 'kart' has three different coloured egg buttons to press. According to the narrative, you're out to find Captain Toad's three missing Yoshi eggs, and pressing the corresponding egg colour when you spot it on the course will unlock the item in your USJ app. You also can find Captain Toad himself, who's discovered the legendary golden Yoshi egg. We're still not sure if this is canon.
The laidback pace and relative lack of engagement in Yoshi's Adventure makes it feel far more simple than Mario Kart. It would've been interesting to have tried a version of this with the latter's AR glasses, especially because special binoculars around the park already display virtual characters such as bullet bills around the main park.
Yoshi's trail takes you outside, into a small room, back outside and that's really it. We wouldn't say it was disappointing – it was a welcome break from the carnage of the main park – but we definitely didn't feel the need to ride it again, while Mario Kart had the appeal of increasing our high score.
The engagement is also low with what little activity there is on the ride – you can press eggs that make sounds when the same coloured egg is nearby. It's not really the pinnacle of excitement, especially when compared to the rest of the park.
Young fans will love spotting characters, but if you had to choose between queuing for one of the two rides, we'd definitely opt for Mario Kart.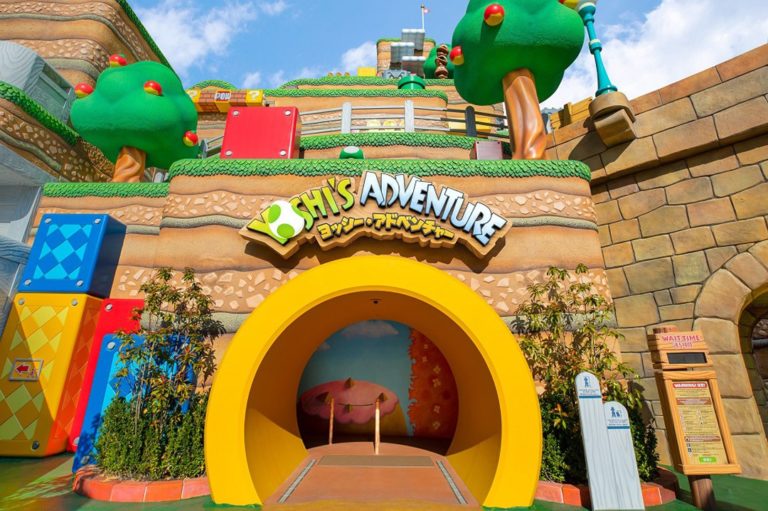 Meeting Mario
The character meet and greet is another popular and engaging element of Super Nintendo World, because who doesn't want to meet Luigi and Princess Peach?
Peach can be found in a fancy gazebo located directly next to her castle at the park entrance. Mario and Luigi, meanwhile, can be found in the center stage in the lower area. Toad can be found in several places, but always in the lower area, usually near the center stage.
We won't lie: even as grown adults, meeting Mario, Luigi and Peach was a blast. The quality of the mascots is impressive and they have a lot more personality than rival mascots at other parks – and even in USJ itself – thanks to their integration with the Power-Up Bands.
Official photos are available, but this being an amusement park, you should be prepared to shell out a pretty penny for the privilege. Photos come in several pricing packages and can include both a physical card as well as digital downloads of images and animations featuring the characters.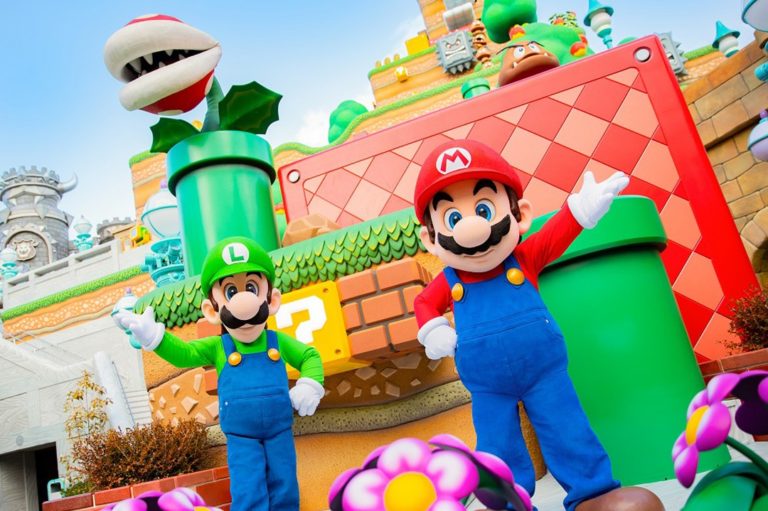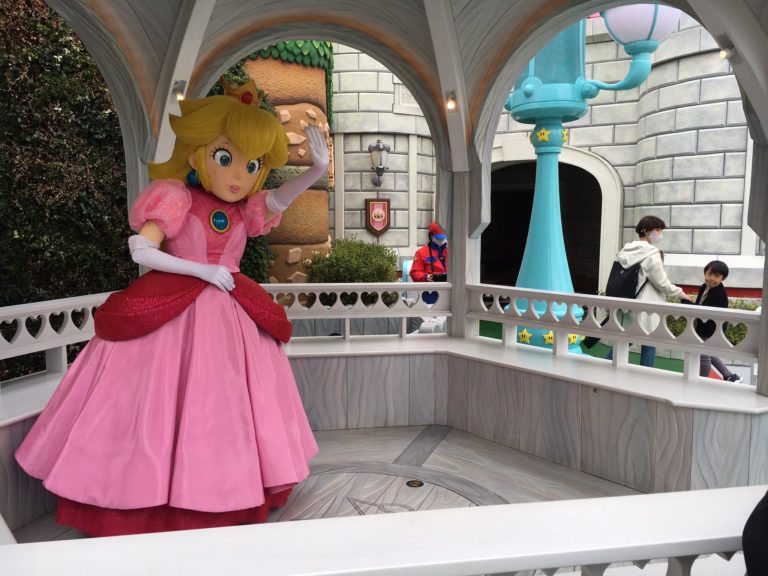 When meeting the mascots, you are directed by staff on where to wait and what to do. If you have a Power-Up Band, it will be scanned by staff, and characters will talk with you based on your most recent experiences, which are saved to your band as well as a separate server staff can access. The voices are all in English, featuring the original voice acting. You'll also unlock Stamps for 'meeting' each character.
Mario and Luigi definitely have the most personality and their portrayal is absolutely on point for how you'd imagine seeing them in real life to be. Peach and Toad, however, are less convincing: Peach is portrayed as a traditional 'Disney princess' and her mannerisms didn't quite match what we expected from the character. But maybe that's just us – and her costume looks great.
Toad, however, doesn't have any personality at all: he's just kind of there. Which, to be fair, is how I imagine Toads to be in general. Again, not much of a criticism and more of an amusing aside. You could remove Toad entirely and the park as a whole probably wouldn't notice. Personally, we'd prefer meeting Bowser instead, and would wager he'd definitely be more popular than Toad.
Super Nintendo World Merchandise and Food
Let's talk about the thing that most fans have on their mind: the merch. Super Nintendo World is full of it. There are two dedicated shops in the park itself, with several others which carry merch near the entrance of Universal Studios Japan's Main Street while still inside the main park. In fact, if you're staying at a local hotel, you may actually be able to find Super Nintendo World merch in the Universal Studios Japan gift shops located in the hotels.
With items ranging from keychains to underwear, there's enough stuff here to make a Super Mario Bros. theme park in your very own living room. In fact, there are so many items that when we asked staff, they not only didn't know how many products are currently available, but they said items will continuously be swapped out for new merch in the future.
The quality of the merchandise is generally high, but the items are also relatively expensive. A single t-shirt can easily run you over 5,000 yen ($45 / £33), with jackets approaching 8,000 yen ($73 / £53). The small toys are cheap enough, and the pressed coins are 200 yen ($1.80 / £1.30) each.
The star of the show are the TokoToko Mario toys that Shigeru Miyamoto showcased during the Super Nintendo World Direct in December. These are each 3,200 yen ($29 / £21) and are very high quality. In the store where they are sold, the 1Up Store, they even have their own area and dedicated commercial display.
The toys work by pushing a trailing shell to make Mario 'walk'. They're fun to play around with but also make for a wonderful shelf piece. These would make a perfect gift for any friend you may have back home if you visit from overseas. As an exclusive, they're an absolute must-have for every visitor.
There are several unique watches available at Super Nintendo World, themed after the park itself, Mario and Mario Kart. They're relatively cheap for a themed watch – just under 10,000 yen ($91 / £66) – yet are just as functional as they are fashionable. We feel that wearing a Super Nintendo World watch is the perfect way to keep track of how long you have before you're kicked out of the store at closing time.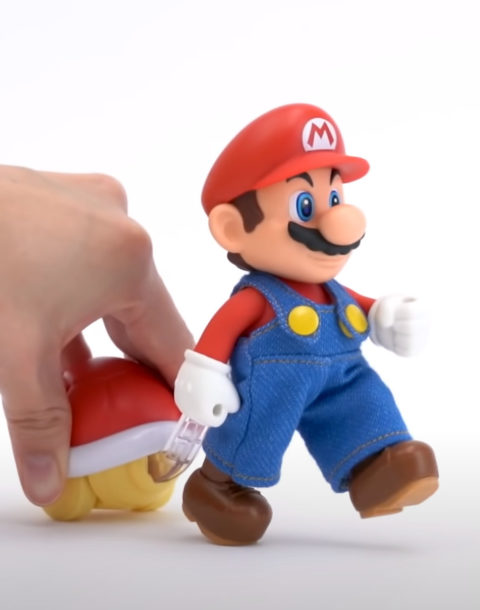 Another highlight are the Metallic Nano Puzzles of Peach's Castle and Koopa's Fortress (Bowser's Castle), which piece together to form brilliant 3D recreations of the Super Mario 64 and Super Mario Kart landmarks.
Hitting our nostalgia buttons even more firmly is the wonderful Stained Art Jigsaw Puzzle, which pieces together to create the stained glass window from Super Mario 64, which traps Princess Peach. Brilliantly, this jigsaw has a genuine translucent effect like a real window: it's so nice you could – like the display in the store – frame it and place it around your home.
However, the most popular item is definitely the Mario Kart jacket. This unique clothing item is exclusive to the park and has various patches that shout out Mario Kart events, such as Mario Kart TV.
It's a very cool item and an absolute necessity for winning your next Mario Kart tournament. Every time staff restocked this jacket, more people would storm in and purchase them – and that's during the technical rehearsal stage. We think that when the park officially opens, this may become quite difficult to get your hands on.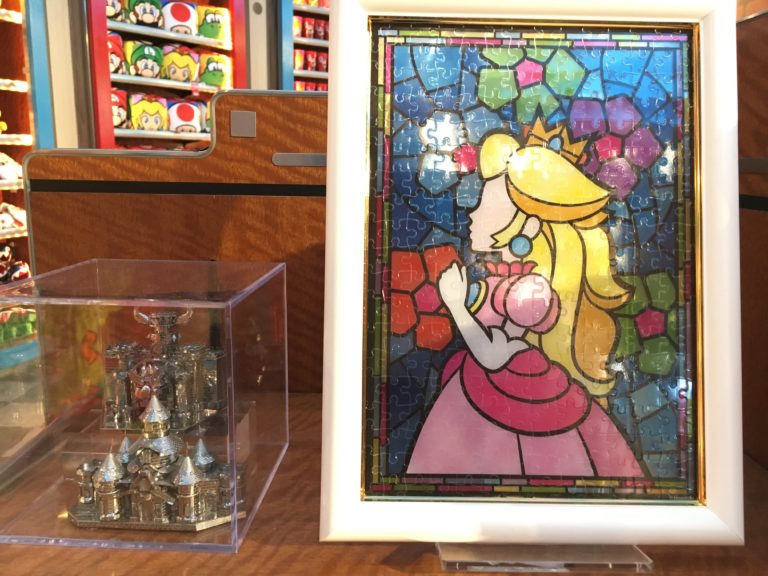 You can find a more detailed breakdown of the items we liked in our Super Nintendo World merchandise guide, an article that will make your credit card visibly tremble with anxiety.
When you eventually get hungry inside Super Nintendo World, you'll have several options for getting your hands on Mario-themed grub. The popcorn at the park is a real highlight, and comes in a pair of incredible themed popcorn holders.
Caramel peach and salted mushroom are the flavours, which you can purchase alongside a Starman or Mario Kart popcorn bucket, which also grant discounts on future popcorn purchases. Likewise, the Yoshi stand offers drinks in both 1Up and Power Mushroom mugs, which, like the popcorn buckets, offers discounts on future purchases.
Then there's the Kinopio Café, which is an experience in-and-of-itself. When you first enter the café, you'll be given a menu detailing the food and drinks available. We recommend the Mushroom Soup and Power Star Chicken Curry.
Unsurprisingly, every item is themed on Super Mario. Theme cafés are very popular in Japan, and you receive your food pretty quickly, which is brought directly to your table. Unfortunately, you can't keep any of the cool dishes your food is served in, and we didn't fancy our chances sneaking them past the Koopa Troopa security staff.
The food selection at the cafe is wide and varied, but you're unlikely to be able to customise your order, so if there's something on a dish you don't like you may be unable to remove it. The cafe can also get extremely busy, and while you should have no problem finding a seat once your meal's ready it may take you anything from 20 to 40 minutes to get your food.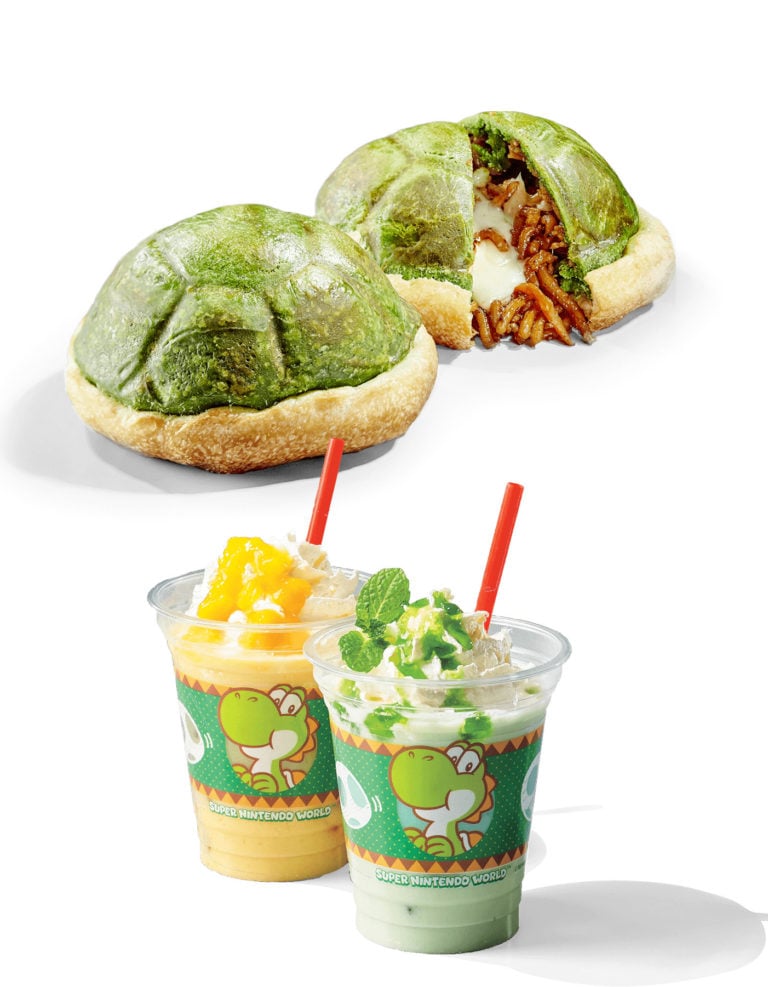 The dessert designs really shine, particularly the Question Block Tiramisu, which contains a little goodie inside. Our favourite dessert, however, is the flagpole cake: it's definitely the most creative of the desserts, although it doesn't quite make sense as a food item.
A lunch for two at Kinopio's Cafe will set you back around ¥4,000 yen ($36 / £26), which is pretty standard in Japan for eating out. Of course, at a place like this you aren't just paying for the food itself, you're paying for the experience and the way they look. In that respect, they're a success.
While dining, you can watch the Toads prepare your food in window displays, and watch the outside Mushroom Kingdom. Occasionally, Bowser will attempt to overthrow the area on the displays, and cause chaos in the kitchen, forcing the Toads to scatter and flee. Luckily, the day is quickly saved by none other than Mario and Luigi, and the atmosphere returns to normal.
The smallest of the three food areas in the Super Nintendo World section, Yoshi's Snack Island is a great choice if you're looking for a quick snack or drink in a (comparatively) cosy and calm part of the park.
The menu is very limited and there are no seating options here: it's more of a food stand than a proper dining area. The food is still good, though, and should still fill you up.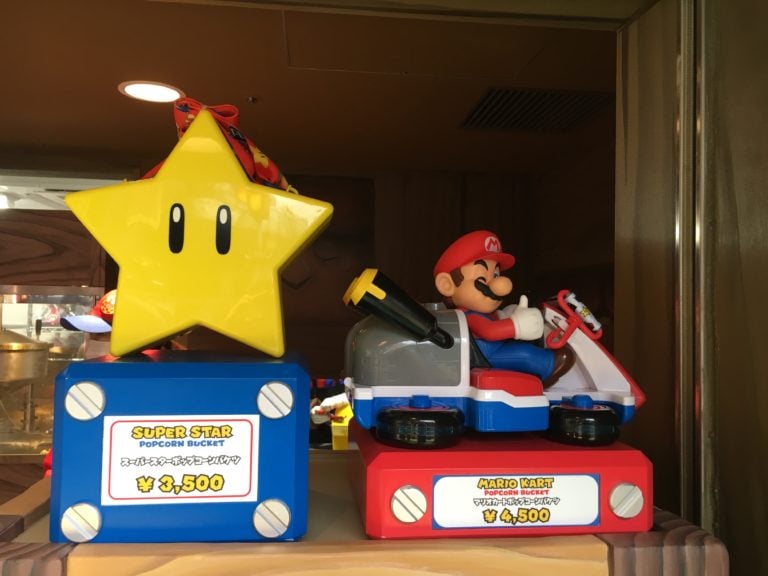 The drinks on offer include Yoshi's Lassi (mango or melon) and Yoshi's Hot Apple Tea. They also have traditional soft drinks, as well as optional Super Mushroom and 1-Up Mushroom drinks bottles – the latter are ¥1,800 ($16 / £12) each.
In terms of food, there's a very cool looking Koopa shell snack with yakisoba in it. Be warned, though: while tasty, it's also pretty messy.
Luckily, there are restrooms on the ground level near the photoprint booth so you can clean yourself up in there, and there are also garbage cans hidden in plain sight. You may not even notice the bins until you need them – we actually hesitated to use them in case they were fake.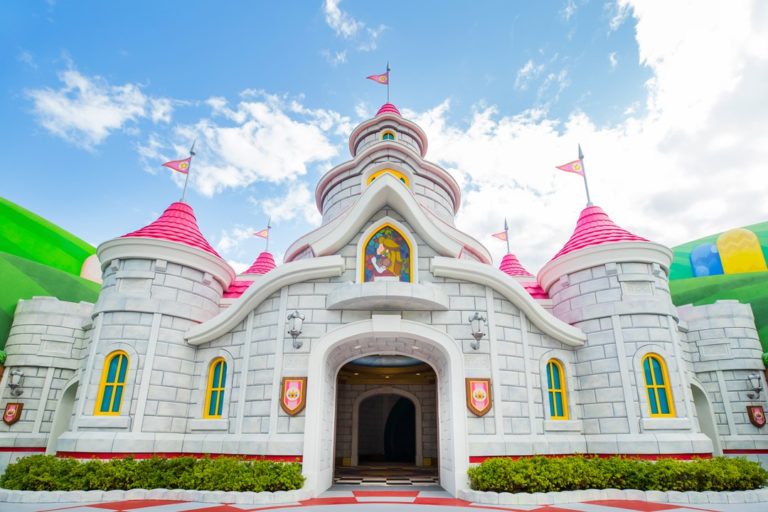 A Super Mario Wonderland
Unsurprisingly, considering Shigeru Miyamoto's direct hand in its creation, Super Nintendo World's triumph is in the gamification of its environment. The challenge-oriented smartphone app combined with the many activities you can interact with using your Power-Up Band makes for a very compelling, video game-like experience that feels unique among theme park worlds.
Just like how players scour Super Mario levels hunting down every last collectable, Super Nintendo World's collectable Stamps and daily leaderboards will have you seeking every last coin block and mascot until you've mined them all of their valuable points.
Combined with the impressive production values of the park – it truly is a beautiful, animated world to inhabit – Super Nintendo World feels as engaging and joyful as playing Super Mario's greatest hits. You don't feel like a visitor, but a player.
For this reason alone, it's an essential pilgrimage for any big fan of the series. The park is clearly designed with families in mind, but there's no doubt that Nintendo fans of all ages will enjoy the experiences it has to offer.
Currently, Japan is not allowing foreign tourists into the country, but when it eventually opens its doors to the world, and it's safe for tourism to continue, this is one pilgrimage every fan should have on their post-pandemic bucket list.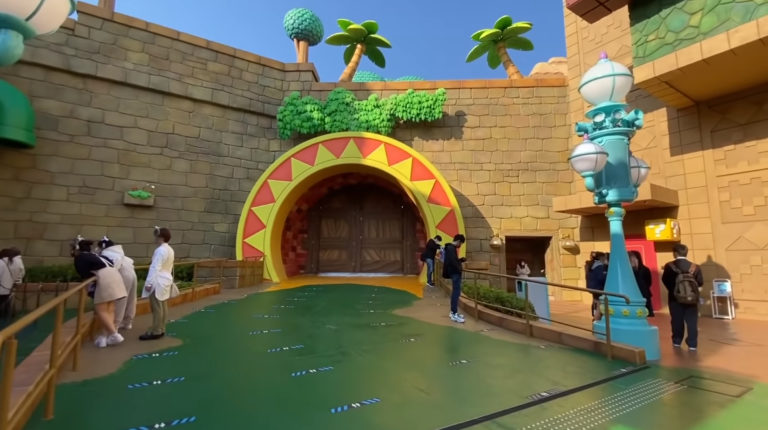 A DK-themed entrance door can be found in the park.
For now, the park's two rides don't quite live up to the high standards set by the general park itself, but they still provide a memorable experience. Mario Kart's AR attraction, while a genuine thrill to experience in a purely aesthetic sense, doesn't feel authentic to the game series thanks to its focus on shooting, while Yoshi's Adventure is barely interactive at all.
It's clear that, in this area, the interactivity and imagination of Super Nintendo World could be pushed much further, and we're excited to see how it evolves both in Japan and at the forthcoming US locations.
Currently, the park is more Super Mario World than Super Nintendo World, with a few Pikmin hidden around the environment being the only hint of anything outside of the Mushroom Kingdom. Undoubtedly, there's huge potential to apply the park's concept to other Nintendo IPs in the future.
Expansions into other Nintendo properties could elevate Super Nintendo World from a great experience to a truly world class one, pushing the compelling collectathon nature of its app even further.
A future Legend of Zelda park is surely a given, and with the incredible popularity of Animal Crossing, an expansion based on that would make a lot of sense. Excitingly, construction has already begun on a Donkey Kong expansion – hinted at by earlier design leaks – and you can even spot a DK-esque doorway marking where the new area will connect.
With its interactive spin on the theme park, Nintendo has a fantastic concept established and certainly the skill and experience to take it further. We can't wait to see how future expansions, and indeed the forthcoming Florida and Hollywood versions, help Super Nintendo World level up.
---
Super Nintendo World Guide Coverage
Super Nintendo World feels as engaging and joyful as playing Super Mario's greatest hits. You don't feel like a visitor, but a player.
An interactive an engaging Mario land that feels like a video game brought to life
The Power Up Band gamification turns the park into its own challenge
The best Mario merchandise in the world in one place
The two rides aren't as impressive as the park
Be prepared to spend a lot of money
Related Products
Other Products
Some external links on this page are affiliate links, if you click on our affiliate links and make a purchase we might receive a commission.