Super Mario 3D World + Bowser's Fury review: Inventive, expanded and unmissable
Wii U's classic is as wonderful as ever, while Bowser provides an entertaining – if less inventive – bonus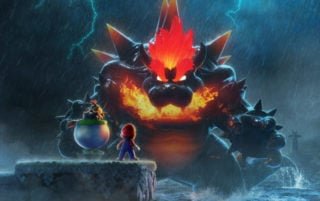 Just like the energetic mascot himself, 3D Super Mario games have barely stood still since a polygonal plumber first burst from a pipe and into the third dimension nearly 25 years ago.
Partly influenced by declining sales compared to the 2D games, the mascot's 3D lineage evolved beyond 64 and Galaxy to incorporate the accessible appeal of the side-scrollers, with Galaxy reverting to simpler – but still spectacular – compartmentalised levels, with spherical environments which required less camera management and fewer opportunities to get lost.
Nintendo eventually returned to the open-world template and got it right with 2017's 20 million-selling Odyssey. But in the decade-and-a-half since Sunshine, it had perfected a third branch of Super Mario; not 2D, not fully-fledged 3D, but a bit of both, with linear stages channelling a caffeine-fuelled cabaret of Mario imagination and brilliance: all Bullet Bill, without the fill.
Super Mario 3D World feels like an outlier next to the series' greatest hits, yet it also channels the best bits of all of them. It's a game that's absolutely bursting with fresh ideas, but which also arguably sticks closer to its pure platforming routes than any other 3D outing.
Compared to the brass-scored bravado of Galaxy, 3D World has a far more relaxed opening. A brief cut-scene establishes that Bowser's up to no good again, and Peach, Toad, Luigi and Mario are quickly dropped on a familiar world map to get on with the fun.
This is the first hint that 3D World is a game that trims away the fat and gets to the core of the Mario fun; stages are totally linear and involve overcoming obstacles to reach the flagpole at the end, collecting the hidden green stars and hidden stamp (used in the new photo mode) along the way, should you happen to find them.
If the setup initially feels like a step back from the freedom of Galaxy, those fears are quickly put to rest by what's best described as a barrage of gameplay inventions, with seemingly every stage introducing a new mechanic or a setup for players to master before promptly dropping it for the next.
In one stage you'll be tasked with conquering a platforming assault course, before the next introduces a race across a Mario Kart track using boost pads, a ride on the back of a dinosaur, a maze navigated entirely by your shadow, a multi-layered time trial challenge, a shooting section on a speeding train, or a 3D puzzle explored by a jump-shy Captain Toad…
"If the setup initially feels like a step back from the freedom of Galaxy, those fears are quickly put to rest by what's best described as a barrage of gameplay inventions, with seemingly every stage introducing a new mechanic"
It's fair to say Nintendo EAD left nothing on the cutting room floor for 3D World's stages – and the power-ups are just as inventive. Cat Mario is the star, allowing players to scamper up walls and slice through enemies with their newly-sprouted claws. Meanwhile, the Double Cherry somehow makes the on-screen action even more chaotic by duplicating your hero each time you collect one – placing up to four Marios on screen, in addition to up to three other players.
3D World is a game that never sits still. Yet for an adventure with such wild pacing and so many disparate takes on the genre, the chaos feels refined and focused, like a Michelangelo's David carved using pipe bombs.
Add another three players to the action, and the game because a different beast entirely, with previously methodical platforming sequences replaced with utter carnage as four family members knock shells, fireballs and themselves in every direction, as each member of the group races to conquer the end-stage flagpole first.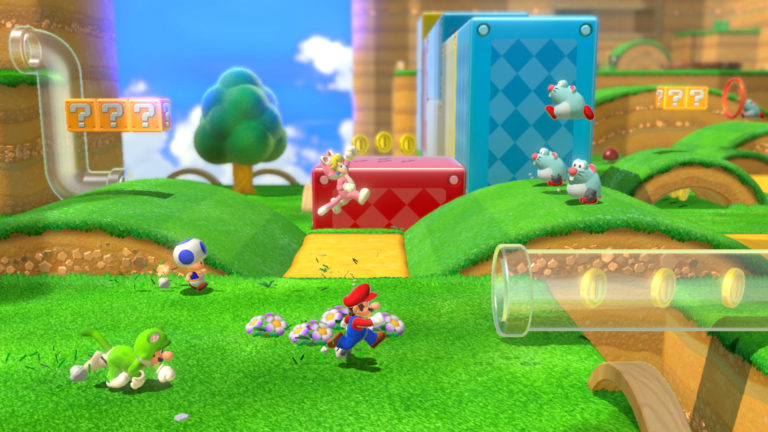 The game itself sometimes struggles to keep up with the frantic pace of four-player mode – even more so on Switch, since movement speed has been slightly increased compared to the Wii U version. If one player races ahead, the camera will leave the others lingering off-screen, eventually dropped back into the action via floating bubbles.
And you can almost forget about finishing the latter stages when the difficulty really ramps up; the finesse required to slide down a slide of blocks, with each half turning on and off in time with the music, becomes a nightmare with three other heroes vying to push you off the side from laughs. It works much better with two players, when the concept of collaboration at least remains a possibility.
The Switch version also introduced online modes, which during the review stage offer throwaway fun with friends locked inside of their own homes, but the small-but-noticable amount of input lag will likely be enough to put you off playing through the whole game this way. In a game in which provision needs to be pin-point accurate in order to nail jumps and attacks, any sort of lag can quickly spoil the experience.
3D World is as wonderful as ever, a no-nonsense platforming triumph from a developer at its creative best. If you haven't played the Wii U original, it's an utterly essential Mario game that will blow your socks off. But on Switch, that's only part of the story: Bowser's Fury is the new standalone adventure introduced for the 2021 version, a short spin-off that offers 3-to-6 hours of additional platforming challenges wrapped in a free-roaming package.
Outside of its bizarre premise, which has Mario attempting to turn gigantic in order to pummel a Godzilla-sized Bowser, the game ultimately presents more of the same gameplay you've already seen from 3D World, but it's an enjoyable distraction and definitely worth checking out.
Fury's most interesting aspect is its premise: it has Mario visiting Lake Lapcat, an open-world environment more akin to an Odyssey level than the linear stages from 3D World. Right at the center of the world is Fury Bowser, a colossal variant of Mario's archenemy who sleeps during the day and awakes at night to rain fire down on the plumber.
Players must team up with Bowser Jr, an ever-present character who can also be controlled via a second player in co-op to smack enemies and find collectibles. The pair must travel across various islands to collect Cat Shines. By collecting Shines, players reignite lighthouses which reveal new terrain or send Fury Bowser back to his slumber if he's awake and breathing fire at you.
In terms of gameplay, it feels like a mash-up of Mario Odyssey's open-world adventures, and the more linear platforming of the main 3D World game. Lake Lapcat is essentially a series of linear 3D World courses connected together on one map as islands. In between is the vast lake, which players can navigate on the back of Plessie from 3D World.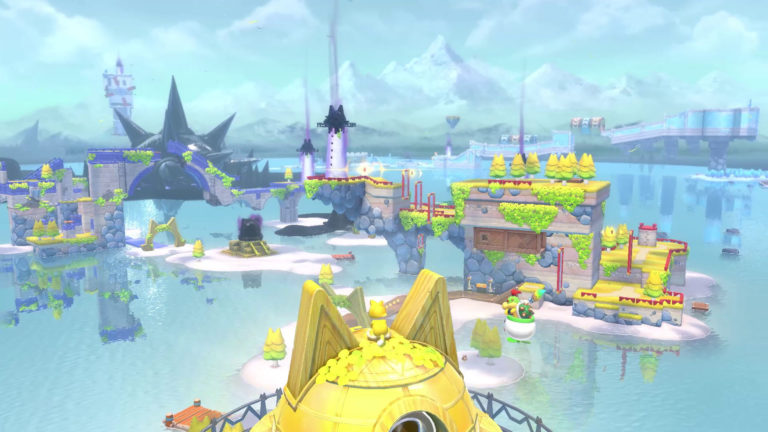 Once you've collected enough Shines you can collect the Giga Bell, which allows Mario to grow to Fury Bowser size and kick off a boss battle. These encounters happen several times and grow the world map with each successful pummelling.
Fury Bowser presents a welcome change from the core 3D World challenges, though the tension created by the fact that he can turn up at any time during your tricky platforming challenge makes for some odd pacing.
The challenges themselves are comprised virtually entirely by 3D World mechanics, so you'll encounter pads that flip each time you jump, ice skate assault courses, boss fights with Koopalings, bounce pad arenas and more. So really, Bowser's Fury is a particularly extravagant DLC pack, but when the mechanics are this much fun – and so underutilised in the main game – we can't imagine many people will complain.
Bowser's Fury is a decent excuse to revisit one of the pound-for-pound most enjoyable 3D Mario games of recent years. Like Mario, it's a game that doesn't stand still – and if you didn't pick it up the first time on Wii U, neither should you.
3D World is Nintendo EAD at its imaginative, brilliant best and remains a platforming triumph. Bowser's Fury, while not nearly as inventive, offers hours of additional challenges and a welcome excuse to revisit a classic.
The most inventive Mario ever
Plenty of challenge for veterans
Multiplayer is accessible and chaotic
Bowser's Fury adds hours of new challenges
Lag can spoil online play
5 / 5
Version tested
Nintendo Switch
Related Products
Other Products
Some external links on this page are affiliate links, if you click on our affiliate links and make a purchase we might receive a commission.