Review: The Super Mario Bros Movie is the best video game film ever, despite playing it safe
Illumination's movie doesn't take bold risks but is a faithful adaptation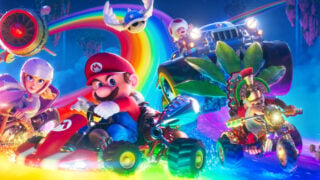 Review by Bex April May
'The greatest video game movie of all time' – to crown a film with such a title sounds like damning with faint praise, the epitome of their bad reputation being the 1993 live action Mario movie, which was so bad it turned Nintendo off big screen adaptations for almost thirty years.
But, if anyone can make a successful family film out of Mario, it's Minions creator Illumination Entertainment, of which everything it touches turns to yellow, banana-scented gold dust. So, can it add some winning Mario Stars to the reputation, too… and be awarded the grand title of the genre in the process?
An origin story in the simplest way possible, the film paints the Mario brothers as two struggling yet plucky plumbers in New York City, voiced by Chris Pratt and Charlie Day. That is, until they discover a pipe a little different to their usual water mains, and warp into the magical Mushroom Kingdom, where they meet its fearless ruler and leader of the Toads, Princess Peach, voiced by Anya Taylor-Joy.
However, when Luigi gets lost and captured by baddie Bowser in the process, it's up to our other heroes to traverse the lands of the mad world to rescue him and save the Mushroom Kingdom from Bowser's devastating plans.
Of course, Mario games are not about the plot. Authentically, neither is the movie.
What follows is an affectionate lampooning of the bonkers world of Super Mario, which really can't be explained – so why even bother? Instead, Shy Guys are left to simply look creepy, because, well, they just do, and Peach trains Mario in using Power Ups without need for much more exposition.
"You don't drive on rainbow roads?" Peach asks fish-out-of-water Mario during an action-packed Rainbow Road kart race. "Next you'll tell me turtles aren't evil!"
"Of course, Mario games are not about the plot. Authentically, neither is the movie."
There's lots to enjoy about the ridiculousness, with one of the best examples being Bowser, voiced brilliantly by Jack Black. Leaning into both the original games' plots and Black's Tenacious D talents, the iconic baddie is a piano-playing, hard-rock loving, all-powerful lovesick villain, who just wants to be liked by Peach and marry the princess. It's sweet and laugh-out-loud funny, and a joy every time the torturous turtle comes on screen.
The role reversal of Luigi being captured while Peach goes on the quest to save him is a welcome change to the usual, while Peach also gets an origin story, of sorts, with a short background on how she came to rule the kingdom, and a mystery there undoubtedly waiting to be built upon in the future.

Controversially, Mario is voiced by Guardians of the Galaxy star Chris Pratt and not by original Mario voice actor Charles Martinet – though the latter does appear in other roles. Mario's new American accent is explained within its first moments – though it's unclear why the Bros continue to exclaim "mamma mia" throughout the film after apparently leaving it behind early on.
A good deal of inspiration for this version of Mario's world comes from 2013's Super Mario 3D World, in its settings and in it having Peach as a playable platformer character. A faithful rendition, recognisable power ups pepper the movie's worlds, including outings from Cat Mario and Mario's Tanooki suit ("why are you dressed like a bear?" asks Luigi, with no good answer to be had).
Mario Kart and its iconic Rainbow Road also bring action to the adventure, complete with gliders and a kart selection scene that will make anyone who has played the games smile.
Elsewhere, Nintendo fans should keep an eye out for references to Jumpman, the original moniker for the the character, as well as more overt references to the Donkey Kong games and a tease of adventures even further afield with a nod to Super Mario Galaxy.
Aside from specific references, the whole thing does a good job of feeling like an authentic extension of a Mario game – floating platforms abound, the hero's journey takes us through various forms of action platformer and battle scenes, with side-scrolling 2D angles between scenes adding to the stepped-into-the-Switch vibe.
At the same time, one of the biggest joys of the film for Mario fans will be the vast array of recognisable NPCs, fan-favourite characters and adorable inhabitants which bring life to the lands. When you leave the cinema, you'll be itching to dive into a game of Super Mario Odyssey.

Despite the colourful cast, however, there's one glaring omission. While Toad, who is voiced totally lovably by Keegan-Michael Key, takes the self-proclaimed role of Mario's best friend on their quest, Yoshi is sadly missed.
Cinematically, The Super Mario Bros Movie doesn't do anything particularly unexpected or advance the art of cinema. But as a faithful adaptation of the games, we're okay with that, and your kids will be too.
From the moment you hear Mario's iconic tunes as an orchestral, cinematic score, it's impossible not to smile your way through this take on the Mushroom Kingdom and beyond. Though it doesn't do anything unexpected with the series, families are going to love its silly take on an already silly world.
Perhaps what makes The Super Mario Bros Movie succeed where all other video game films before haven't is that it doesn't try and pretend that there is no video game which instituted its creation, painstakingly retell a plot we already know, or act as though the games have come from a result of the movie.
Instead, the movie gives its audience the grace that yes, we have all played the Mario games and we all know who Bowser is – now let's just enjoy the ride. And if you haven't? Then you probably won't go and see the film, anyway. The secret was in giving audiences a bit more credit to their game playing oeuvre (and in allowing Bowser some power ballad time).
And the answer to that big question? Yes, this is the greatest video game movie adaptation of all time, faint praise be damned.
The Super Mario Bros Movie may not take any major risks, but it's a faithful adaptation of the games and will appeal to children and fans of the series alike.
Jack Black's Bowser is a real highlight
Lots of knowing references for fans to spot
Subverts the usual 'rescue Peach' storyline
The score will make Mario fans smile
There's no deep plot or major surprises
4 / 5
Related Products
Other Products
Some external links on this page are affiliate links, if you click on our affiliate links and make a purchase we might receive a commission.