Review: The Making of Karateka is a superbly curated interactive documentary
Digital Eclipse's latest retro retrospective continues the high standard set by Atari 50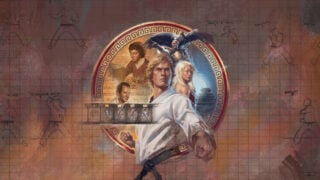 Over the past few years, Digital Eclipse has cemented its status as the leading developer and publisher of retro compilations.
While some other studios are content to gather a bunch of game ROMs and bundle them with a rudimentary emulator, Digital Eclipse supports its games with a wealth of features and supplementary materials, to the extent that even if you don't care about the games being featured in one of its compilations, you'd still be wise to pick it up.
The pinnacle of Digital Eclipse's achievements to date has been Atari 50, a mind-boggling journey through the history of Atari which takes place over a number of interactive timelines and contains video interviews, high quality imagery and no fewer than 103 Atari games to play.
Atari 50's structure was so well-crafted that Digital Eclipse has wisely decided to replicate it for the Gold Master Series, a new line of titles that takes individual titles and gives them the 'interactive museum' treatment as seen in Atari 50.
The first of these is The Making of Karateka, based on the first published game by Prince of Persia creator Jordan Mechner. And if it's an indicator of how the rest of the Gold Master Series is going to go, retro gaming enthusiasts should be extremely excited.
What you get for your $19.99 / £16.74 is, much like in Atari 50, a set of timelines that follow the story of key moments in the making of the game. The first deals with Deathbounce, the first major game Mechner tried (and ultimately failed) to get published.
The second timeline covers the early planning stages for Karateka, the third has a close look at the rotoscoping animation technique he used for the game, the fourth focuses on the global marketing the game received, the final timeline looks at Karateka II, the never-released sequel.
The term 'interactive museum' is used a lot for retro compilations – we've already used it in this review, after all – but the timeline structure used in The Making of Karateka (and Atari 50 before it) really does feel like the sort of thing you'd see in a special limited-time exhibition at a media museum.
Luckily for our sake, Mechner has held onto a wealth of material over the years, meaning these timelines are filled with family photos, design documents, passages from his journal and copies of letters from his back-and-forth conversations with publisher Broderbund.
These are also accompanied by around 15 videos containing interviews with other video game luminaries, but mainly focusing on a conversation between Mechner and his father Francis, whose ability to recall memories of his son's early career from around 40 years ago is heartwarming.

The highlight of the package is another surprisingly heartfelt sequence. The first timeline, which focuses on Mechner's unpublished game Deathbounce, is a fascinating look at the evolution of a game from idea to abandonment.
Brilliantly, Mechner kept hold of his prototype disks of Deathbounce all these years, and the compilation lets you not only see them but play them, allowing for a truly engaging way to follow the progress of the game.
From the early prototype, which feels like nothing more than a basic Asteroids knock-off, you'll read Mechner's letters to Broderbund and the feedback they sent him back, and play the numerous iterations that would follow as a result of these conversations.

It's truly fascinating to see Mechner trying to take the publisher's notes into account while still trying to keep elements of his original design intact. It's a warts-and-all look at an 18-year-old developer trying to nail the formula. You can see when he's being stubborn, you can pinpoint the moment when he makes the game too complicated, but as the game takes shape you can't help rooting for him, even though the intro already tells you it was never to be.
And then, brilliantly, the first timeline ends with Deathbounce: Rebounded, a modern-day take on the game developed by Digital Eclipse with Mechner's input. Not only is this 'final' version a joy to play, it's hard not to have a warm feeling at the realisation that having, received all those rejection letters more than four decades ago, 18-year-old Mechner's game has finally been completed and published just before he turns 60.
In all, there are 14 pieces of software to play in this compilation, but given the nature of the package these aren't 14 separate games, they're deep dives into a handful of specific titles.
"In all, there are 14 pieces of software to play in this compilation, but given the nature of the package these aren't 14 separate games, they're deep dives into a handful of specific titles."
As well as the four prototypes of Deathbounce and the modernised Deathbounce: Rebounded, there are also two very early games Mechner made for the Apple II, Asteroid Blaster and Star Blaster.
Karateka is obviously the start of the show here, and as well as three prototypes in varying stages of completion, you also get the final Apple II, Commodore 64 and Atari 8-bit versions of the game as well as Karateka Remastered another Digital Eclipse revamp.

It's not without its flaws. Naturally, the decision to focus on a single game (well, two games if you count Deathbounce) means it was never going to be as diverse as Atari 50 with its 103 playable titles, so if you haven't picked that up we'd probably recommend that as a starting point before moving onto this if you love the structure.
Another frustrating thing is Mechner's abysmal handwriting. There are a wealth of design documents included, which are a treat, but some of them are practically impossible to read and would have benefited greatly from optional captions clarifying what he says.
Of course, there's also the matter of Karateka itself, which as a nearly 40-year-old fighting game may not quite hold up to some player's modern tastes.
By the time you reach the game in the timeline most will already be invested in it, and one would hope most players engaging in software like this would accept that context is key, but it still has to be said that focusing on a single game is always a gamble if the player ends up not clicking with that game.
Ultimately, though, as the first entry in what will hopefully be a lengthy series, The Making of Karateka is a fascinating way to present the story of a single game. At $20 the price is right, too, making it a difficult proposition for anyone interested in the history of the medium to turn down.
The Making of Karateka is a powerful statement of intent for what promises to be a superb series of interactive documentaries. Not everyone will click with the idea of focusing on a single game rather than your typical retro compilation, but those interested in the creative process will be fascinated by the content provided here.
Retains Atari 50's brilliant timeline structure
A wealth of photo, written and video content
Playable prototypes are a fantastic touch
The story of Deathbounce is a welcome surprise
Lacks the diversity of Atari 50 (by definition)
Many of Mechner's design docs are illegible
Karateka itself may not click with everyone
4 / 5
Version tested
PlayStation 5
Related Products
Other Products
Some external links on this page are affiliate links, if you click on our affiliate links and make a purchase we might receive a commission.