Review: The Atari 2600+ is a stubbornly faithful recreation of a '70s legend
This HDMI revamp favours authenticity over adaptibility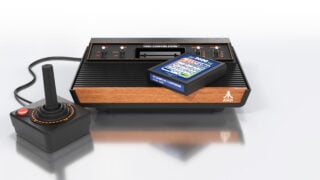 The Atari 2600's importance in the history of video games can't be understated.
These days, internet historians will enthusiastically explain how the 2600 (or the Atari VCS, as it was originally called) was responsible for the video game crash of 1983 and almost brought the entire hobby to its knees until Nintendo stepped in to save the day.
Putting aside the fact that this take is extremely America-centric – Japan didn't have a crash and Europe was doing just fine with the ZX Spectrum and Commodore 64, thanks very much – it also overshadows the fact that the Atari 2600 played a huge part in making video games popular in the first place.
It's now been 46 years since the console was first released, and it stands as the video game equivalent of the Lumière brothers' early movies. Just as audience members in 1896 shrieked in terror at the sight of a giant train pulling up in front of them, so too did players in 1977 whoop with joy at Combat, its bundled two-player tank game.
Place either work in front of today's generation and they'll wonder what all the fuss was. The Atari 2600 may well be the shoulders atop which countless other consoles have stood pyramid-style over the decades, but in the 2020s they look less like shoulders and more like big squares.
Put a game like Adventure, Haunted House or Yars' Revenge in front of many of today's players, and they'd not only likely mock how basic they look (like the pesky whippersnappers they are), but even if they decided to give them a go they'd struggle to get into them.
And yet, there remains an ever-ageing generation of players who still fondly remember the formative years of the medium, and are happy to overlook the primitive nature of these games because they still remember how groundbreaking they felt back then, at a time when the sheer fact that you were controlling what was on TV was a thrill.
It's this audience that the Atari 2600+ is quite clearly aimed at, so here's a slightly belated disclaimer – if you have no interest in playing extremely basic games from more than 40 years ago, pretend there's a one-star rating at the bottom of this review and move on because there's nothing here to change your mind.
Indeed, there's barely anything here at all, by design. The '+' in its moniker aside, you are getting exactly what the name suggests here – this is a modern release of the Atari 2600 console, with no extra bells or whistles beyond an updated video output and a safer power supply that benefits from 40+ years of innovation.
Whereas the original 2600 had a hardwired RF cable that had to be tuned into your TV through its aerial connection – resulting in the sort of fuzzy picture that was fine back then but would drive those with modern sensibilities crazy – the 2600+ has a simple HDMI cable (an Atari-branded one at that), resulting in a crisp image.
Similarly, gone is the enormous power brick that makes us nervous these days every time we turn on our old 'heavy sixer' launch era console. Replacing it is a simple USB cable requiring minimal power draw – we plugged ours into the PS5's front port.

Set the console up and turn it on, and you'll get the Atari logo then… nothing. No front-end, no menu screen, just a message saying there's no cartridge inserted. When we said this was an Atari 2600 with no bells and whistles, we meant it.
The console comes with a 10-game cartridge, which itself doesn't have a menu. Instead, the 10 games are stored in separate 'banks' on the cart, and you choose which one you want by flipping a set of dip switches, meaning it essentially acts like 10 separate cartridges (and would therefore likely work on the original hardware too). The 10 games are:
Adventure
Combat
Dodge 'Em
Haunted House
Maze Craze
Missile Command
RealSports Volleyball
Surround
Video Pinball
Yars' Revenge
It's a reasonable selection, especially given that many of the best 2600 games were third-party or licensed and therefore wouldn't have been available here.
However, the inclusion of Combat is a little cheeky, since it's strictly a two-player game and the console only comes with one joystick, meaning you'll need to buy a second one for $25 / £20 to get much use out of it. Similarly, while a couple of Surround's game modes let you play against the CPU, it's so mindless that to all intents and purposes it's a two-player game too.
Speaking of the joystick, the 'new' CX40+ is a near-perfect replica of the original CX40 sticks, for better or worse depending on personal taste. The movement is just as stiff and spongy, the single fire button is just as clicky, and the DB9 connector is the same one used on the original console, meaning the new joystick will also work on your old Atari, and your old sticks work on the 2600+.
The same goes with the CX30+ paddle controllers, which offer analogue control. These too have been recreated and re-released, with $40 / £30 getting you two of them and a four-game cartridge (including Breakout, Canyon Bomber, Night Driver and Video Olympics). As with the joystick, the CX30+ is a practically identical replica, and is interchangeable with the original '70s hardware.
It's this backwards compatibility which is the console's main selling point – most notably, its ability to play old Atari 2600 and 7200 cartridges from back in the day, not just the new ones Atari's released.
"It's this backwards compatibility which is the console's main selling point – most notably, its ability to play old Atari 2600 and 7200 cartridges from back in the day, not just the new ones Atari's released."
We dug out our collection of 30 or so Atari 2600 games, many of which haven't been played in decades, and tried them all out on the 2600+. Pretty much all of them worked, making the real benefit of the console obvious. If you already own a bunch of Atari 2600 cartridges from long ago, there's an odd sense of magic in seeing these games suddenly working again on modern hardware.
We say "pretty much" all of them worked, but one (River Raid) failed to load. This may be an issue with the age of the cart – maybe there was some corrosion there preventing it from working. It certainly should have, given that River Raid is listed as compatible with the hardware.
Which brings us to one of the console's main weaknesses – while to all intents and purposes this runs like a modern recreation of the Atari 2600, the reality is that the box is running an emulator. Specifically, it's running Stella, an open-source emulator that has seen countless improvements since it first launched on PC more than 25 years ago.
What's bewildering, then, is that not every game works on the 2600+, even though Stella has had practically full compatibility for years now. As the console's compatibility list shows, the vast majority of official cartridges should work, but a handful won't (including Atari's own RealSports Boxing) and a lot haven't been tested by Atari so there's no guarantee they'll run.

Substituting the real thing for emulation is far from a mortal sin, but it's frustrating that none of the usual benefits that come with emulation are included here. Such is the console's stubborn dedication to behaving like a real Atari 2600 that there are no menus, no TV settings, no CRT filters, no save states. You put the cartridge in, turn it on, play it and you're done.
This accurate-to-a-fault dedication to authenticity extends to the need to be close to the console most of the time while playing. The joystick cable isn't the longest, and even if it was you have to use the switches on the console to select your game type, and in some occasions to start the game. Again, this is how it was back in the day so in that sense it's not a fault.
It's just that it's not 1977 anymore, and we'd have at least liked the option of quality of life improvements. We'd have loved an extra button on the side of the joystick, for example, that brought up a menu that let us tinker with the display or trigger the console's switches from a distance.
"It's just that it's not 1977 anymore, and we'd have at least liked the option of quality of life improvements. We'd have loved an extra button on the side of the joystick, for example, that brought up a menu that let us tinker with the display or trigger the console's switches from a distance."
Some games (like the included Maze Craze) are really wide and take up a small portion of the screen, and we'd have liked to be able to stretch the display vertically – sacrilege to some Atari devotees, perhaps, but even so.
Instead, the only real modern improvements added here are the HDMI output and the USB power, and those almost feel like they're here out of necessity.
What's equally bewildering is that just two years ago Atari already attempted to revive its old hardware with the Atari VCS, a console that was significantly more powerful than what's on offer here and cost $199 versus the $125 of the 2600+.
Given that the 2600+ runs emulation, and that the VCS had its own modernised, wireless take on the classic joystick, we'd have perhaps taken a new version of the VCS with a cartridge slot over this. At least then you'd have had access to a front-end, a digital store and the like.
Ultimately, though, the Atari 2600+ is designed for one purpose, and it does accomplish this well. If you're a long-time retro gaming fan who already has a collection of Atari games, and all you want is a new version of the Atari 2600 so you can play those old physical games on your modern TV, this will absolutely provide you with what you're looking for.
If, however, you're newer to Atari and were hoping the 2600+ would introduce you to an iconic brand, it probably won't scratch that itch.
To be clear, it's an itch you should definitely scratch. As previously noted, Atari's reputation is perhaps considered more negative than positive these days, but it was a pioneer in this hobby we all adore so much, and its contributions to video games – and therefore our lives – should be celebrated.
Thankfully, there's already a way to do that – buy Atari 50 instead. Last year's incredible release by Digital Eclipse (which Atari now owns, incidentally) gives Atari the reverence it deserves and, crucially, gives these games – these, and I mean this in the most respectful way possible, cave paintings – the context they deserve to ensure that today's players can better understand their importance. It's the difference between finding an old Roman coin in your garden and seeing it in a museum exhibition about ancient Rome.
To be entirely fair to the Atari 2600+, it's not trying to do what Atari 50 does. It assumes prior knowledge and knows its role isn't to preach to the converted, but to renovate their church. In that respect, as long as you have the games for it, it delivers.
The Atari 2600+ is a surprisingly faithful recreation of the original 2600 hardware, but therein lies both its strengths and weaknesses. If all you want is a new box to play your old games on a modern TV, this is absolutely the solution, but if you're looking for something like a SNES Mini designed to introduce you to Atari, get Atari 50 instead.
HDMI output brings the 2600 to modern TVs
Plays most original cartridges
Joystick is just as pleasantly squishy as before
No display options, despite running emulation
No front-end makes the experience authentic but barebones
No attempt to contextualise anything for newcomers
3 / 5
Related Products
Other Products
Some external links on this page are affiliate links, if you click on our affiliate links and make a purchase we might receive a commission.