Review: No More Heroes 3 is a faithful follow-up, for better or worse
Travis Touchdown's return is as unashamedly offbeat as ever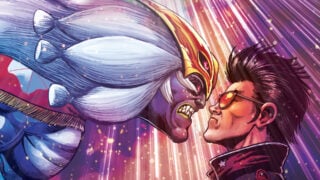 No More Heroes fans have been waiting 11 years for this moment.
Although 2019 spin-off Travis Strikes Again went some way to satisfying the series' fanbase by bringing back their hero Travis Touchdown, its top-down arcade-style gameplay wasn't quite a 'proper' follow-up to the Wii pairing of No More Heroes and its sequel Desperate Struggle.
The wait, however, is finally over and No More Heroes is now officially a trilogy, with the third game in the series arriving exclusively on the Switch.
For those who've been waiting to see if designer Suda 51 could make lightning strike thrice, allow us to cut to the chase by confirming that he has. No More Heroes 3 absolutely feels like the authentic third game in the series, and plays just like its predecessors – for better or worse.
The game is set 9 years after the events of No More Heroes 2, and sees Travis once again trying to make his way to the top of a leaderboard of assassins. The twist this time is that the assassins all come from outer space, and Travis is trying to defeat them in order to reach an evil alien called FU and stop him from taking over the world.
Although the second No More Heroes ditched a number of the first game's core concepts, the third game restores some of them, meaning it plays more like the original.
The open world structure has returned, with Travis exploring Santa Destroy and a number of other cities, taking on numerous tasks in each one.
These range from menial jobs like cutting grass, repairing toilets and… um, shooting alligators to Designated Matches, which teleport Travis to a self-contained arena where he fights a group of enemies.
All these tasks earn the player cash, and once you earn enough you can head to an ATM and pay the entry fee for the next boss fight, so you can kill them and move another place up the leaderboard.
This will be entirely familiar to fans of the first game, but so will some of the issues that also rear their head again. The open worlds are as utterly devoid of hustle and bustle as they were in the first game, with hardly any traffic to be found.
"This will be entirely familiar to fans of the first game, but so will some of the issues that also rear their head again. The open worlds are as utterly devoid of hustle and bustle as they were in the first game, with hardly any traffic to be found."
The performance in the open world sections can be clunky too, with the game often struggling to hit its 30 frames per second target. It's hard to see why at times – while the fact Travis can visit numerous cities mixes things up a bit, they're hardly packed with landmarks.
One area is basically a wasteland, seemingly inspired by Mad Max, while another is a Call of Duty spoof which puts Travis in a small European-like town with barbed wire fences blocking some paths and a ropey old movie filter placed over the screen. It's hardly Los Santos.
Although the return of open world exploration leaves us feeling a bit lukewarm, the return of the series' trademark combat is familiar in a more pleasant way, as it's still immensely satisfying to plough through enemies with your beam katana.
While stopping to charge it can be a bit of a chore, the fact you can now turn motion controls off means you no longer have to look like you're committing a dodgy act of self-love while doing it (which was clearly the original joke in the first place).
The combat wasn't particularly complex in the original games and that's the case here too. There's a variety of enemies to fight, but while they each have their own unique attacks most of them can be conquered by diving out of the way and unleashing a barrage of slashes.
To be clear, there's nothing wrong with this – while there isn't much diversity in combat it's still a hell of an entertaining time every time you get into a scrap. Fighting enemies is easily the highlight of the game.
The series' trademark gore, which was a contentious topic when the first game was released, is present here too but not as endlessly gratuitous as you may expect. While there are certainly plenty of opportunities to make your opponent explode in a shower of crimson, because you're regularly fighting aliens the blood isn't always red.
Sometimes it'll be green, sometimes it'll even burst out into what looks like rainbow confetti. It's a cool effect, but given this is a series that has happily courted controversy in the past it does feel a tad tame, if characteristically eccentric.
It's this eccentricity that still carries the game, as it had in the past. No More Heroes has always been a case of style over substance and that's no different here.
"It's this eccentricity that still carries the game, as it had in the past. No More Heroes has always been a case of style over substance and that's no different here."
From Travis's Switch-inspired power glove, to the occasional giant flying mech battles, to the comedy cutscenes – this is the only time you'll ever see aliens discussing bubble tea – the game's more boring elements are made more tolerable when you know something absurd is just around the corner.
That said, we don't know if we've just become accustomed to it or if the game just isn't as laser sharp as its predecessors, but some of these moments fall a little flat this time. The regular podcast sections in which Travis and a friend discuss Takashi Miike films raise a smile the first time but then get a bit repetitive.
Meanwhile, the occasional old-school visual novel sections designed to look like Apple II era games, monochromatic green display and all, return from Travis Strikes Again and are less entertaining this time (especially given that they made more sense before in a story about Travis being trapped in various video games).
It's also hard not to wince at some of Travis's dialogue. Society has moved on a fair amount in the 14 years since the first game was released, so having Travis tell a scantily clad female boss to "keep it shut b****, or get knocked the f*** out" certainly won't fly under the radar like it would have in the first game.
He's supposed to be the hero, after all, and while he was never the most tactful protagonist, what may have been considered a comically ignorant character trait in the 2000s feels a lot less endearing in the 2020s.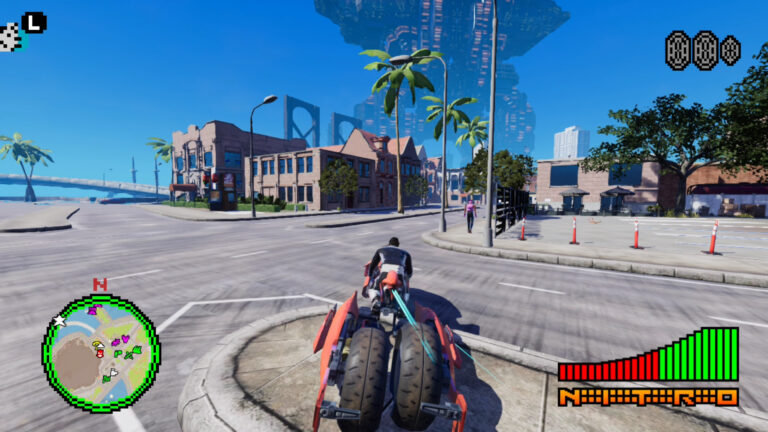 This all sounds fairly negative – and rightly so, in the last example – but the reality is that No More Heroes as a series has always been a divisive one. There were always those adored its quirky nature and considered Suda 51 the Tarantino of gaming, and those who just didn't get the appeal.
The series has always consisted of gameplay that most would agree is generally quite average (its entertaining combat aside), but with an extremely stylised, rebelliously offbeat layer of creativity on top of it, and that's very much the case here.
There are still plenty of moments here that are so left field that part of the appeal of playing it is so you can say "well, I've never seen that before" (and you will, numerous times, before the credits roll).
For fans of the series it's an easier sell, because it's more of the same. It may not pack the initial punch of originality the first game did, and it may not mix things up the way the sequel did, but it still slots perfectly in and wouldn't feel out of place if you were to play through all three games in sequence. If you wanted more No More Heroes, you've got it here.
In spite of its myriad issues, No More Heroes III is still more than the sum of its parts, delivering a solid action game whose unconventional story and presentation escalate it to an entertaining one.
Its appeal will primarily be aimed at established fans of the series, and there are plenty of twists here that they won't see coming. It really does require a love for this specific type of presentation, though – and more importantly, it requires a tolerance for an abrasive protagonist that may not sit well with some players in this day and age.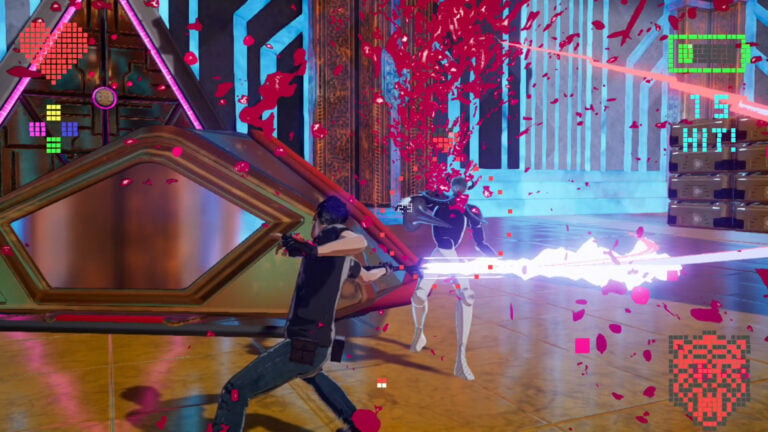 Although no prior knowledge of the series is needed to figure out what's going on here, if you're new to it we recommend checking out the original No More Heroes, which is available in an HD remaster on Switch for $19.99 / £17.99.
If you enjoy that (and its sequel, which is on there too for the same price), then you'll be good to go with the third game, happy in the knowledge that its style, gameplay and – most importantly – its tone are very much the same.
If, however, the first game's barren open world and (literal) toilet humour don't sit well with you, then you've only wasted $20 instead of the third game's $59.99 asking price.
No More Heroes 3 is exactly what fans of the series have been waiting for – an authentic sequel that continues the story of Travis Touchdown. If you loved the previous games, you'll love this. However, it doesn't offer anything new to improve on the series' flaws,, meaning anyone who isn't a devotee may want to try the original first to see if its quirky, sharp-tongued style is for them.
Just as stylish and over-the-top as ever
Combat is still satisfying
Plenty of surprises in the plot
The open worlds are still dull and barren
Some of the more eccentric moments don't quite hit like they used to
3 / 5
Version tested
Nintendo Switch
Related Products
Other Products
Some external links on this page are affiliate links, if you click on our affiliate links and make a purchase we might receive a commission.