Review: Nitro Deck is the perfect Switch handheld accessory
CRKD's debut peripheral upgrades Switch portable play with a comfortable and drift-free design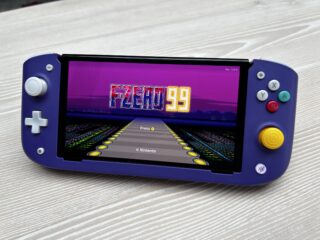 There's no shortage of peripherals for Nintendo Switch, but it's fair to say we haven't seen anything quite like the Nitro Deck.
Created by CRKD – a new gaming gear company founded by Embracer's Freemode label – the striking add-on is billed as "a professional handheld dock" for Nintendo's console.
Users place their original or OLED model Switch console inside of the Nitro Deck, and it wraps around the screen like a beefy, feature-filled controller.
The dock includes a pair of impressive Hall effect thumbsticks – which effectively means they'll never suffer from drift, because they work using magnets rather than touching parts – with toppers that are easily swapped out to suit your preference.
The rear of the device includes four re-mappable back buttons, ports for charging and wired mode, and a sturdy stand should you want to play with an external controller.
It also looks great. We received the not-so-subtly GameCube-themed version, which a pleasing purple and colourful buttons, and it immediately felt like the screen popped just that bit more compared to the standard Joy-Con setup, when your hands are right next to the display.
CRKD has a variety of other colour options available, including designs themed on the US version Super Nintendo, but this one will easily be the favourite of retro types like myself.
Ignoring the bullet point list for a second, by far the most appealing reason to pick up a Nitro Deck is simply the feel of the device. Especially for those with larger hands, it's just far more comfortable to use than the standard Switch and its tiny Joy-Cons.
The larger sticks and generous shoulder buttons give the Deck the feel of a great console controller, and for those who play handheld gaming a lot, it offers a far more comfortable experience for prolonged periods of play.


The Deck is missing some minor features compared to the standard Joy-Con controllers; NFC is gone, so you'll have to swap out the device whenever you want to scan Amiibo for easy Tears of the Kingdom pickups.
The device force feedback also doesn't feel quite as good as the 'HD Rumble' of the original controllers, but ultimately these feel like small issues compared to the benefits of the peripheral.
Nitro Deck ultimately succeeds or fails based on its ergonomics, and in this sense it's definitely a big success. The device levels up handheld gaming with a far more comfortable experience than the standard setup offers, while at the same time fixing one of the console's biggest issues in stick drift. If you're a big handheld player, Nitro Deck is definitely the upgrade you're looking for.
Nitro Deck levels up handheld Switch gaming with a far more comfortable experience, while fixing one of the console's biggest issues in stick drift
The most comfortable way to play Switch in portable mode
No more stick drift
Colours look great
No NFC
Weaker force feedback
5 / 5
Related Products
Other Products
Some external links on this page are affiliate links, if you click on our affiliate links and make a purchase we might receive a commission.