Review: Disney Dreamlight Valley is a wonderful Animal Crossing alternative
Gameloft's life sim is packed with content and stories at launch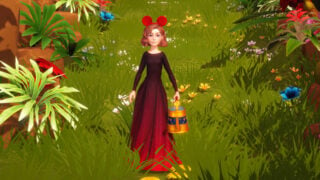 When covering a life sim, it can be hard to fully sum up its pros and cons after just a couple of days of analysis.
Games like this, where checking in regularly and establishing a daily routine is part of the design, require the player to invest a reasonable amount of time before it's clear whether the gameplay loop will hold their attention over the course of multiple sessions.
We've now been playing Disney Dreamlight Valley – Gameloft's answer to the question "what if Animal Crossing had Disney characters in it" – for a month, and the fact we're still enjoying lengthy sessions on a daily basis means we can now come to the conclusion that yes, this one has us hooked.
The Animal Crossing comparison may be reductive but it's appropriate, since so many elements of Dreamlight Valley feel a lot like Nintendo's global blockbuster.
It's still about the player's character arriving in a village, getting a modest home and then being given free reign to play the game how they see fit.
There are still villagers to interact with, and some of these are still anthropomorphic mice and ducks (albeit more globally recognised ones this time).
There's still a money-hungry entrepreneur in the village, but this time instead of Tom Nook and his family it's (rather appropriately) Scrooge McDuck who runs the shop and deals with upgrading your home.
Despite all this, it should be noted that this isn't simply a shameless clone of an immensely popular game. While there are certainly plenty of similarities with Nintendo's lockdown-easing escapism sim, to dismiss Dreamlight Valley as a simple imitation would be to do it a massive disservice.
For starters, the game is far more mission-focused than Animal Crossing, giving players an actual plot to follow should they wish. Without going into too much detail, it revolves around the Forgetting, a mysterious force that has affected the once harmonious Dreamlight Valley and its residents.
The Forgetting caused a load of spiky Night Thorns to infest the land, and wiped away all the good memories tied to the Valley. This caused the residents to flee the Valley in their droves, heading off to different lands in search of a new life.
When the player arrives at the Valley, it turns out they have the ability to use magic to remove these thorns, so Merlin from The Sword and the Stone comes to the conclusion that they may be the one who can drive the Forgetting away and convince the castaway cast to return and restore things back to the way they were.
"While there are certainly plenty of similarities with Nintendo's lockdown-easing escapism sim, to dismiss Dreamlight Valley as a simple imitation would be to do it a massive disservice."
You can probably already guess the twist from this information alone, so it's a good thing that most of Dreamlight Valley's more interesting story content revolves around individual stories tied to the 17 characters available in the game at launch (with more to come).
Each character has their own set of missions which the player can take on by chatting to them as they wander around the valley. At first there are only a handful of characters living there, so the overall aim for those who want to 'complete' the game is to bring everyone back to the valley then complete each of their individual storylines.
Some of these are quite in-depth, too. After managing to convince Elsa from Frozen to move back to the valley, she feels homesick at first and needs to be cheered up with food made from her homeland of Arendelle. After this she discovers an ice cavern, with the odd siren-like voice from Frozen 2 calling from inside it. Thus begins a multi-part puzzle where players take on a number of fetch quests as they and Elsa try to solve the cavern's mystery.
That there are 17 individual stories at launch means there's a wealth of content to play through, and completing each story rewards the player with a unique item, such as Donald Duck's sailor outfit or a gold statue of Maui from Moana.
It's clear that Gameloft also plans to drastically grow the game as time goes on. The large castle in the middle of the map contains special portals to different Disney realms, and it's here where you can find some of the characters and convince them back to the valley.
At launch there are four of these – Moana, Frozen, Ratatouille and Wall-E – and we already know there's Lion King content on the way followed by a Toy Story realm. But the castle has 24 unused panels where portals could be placed, meaning even if one was added per month there's a potential two years of content there.
That's the unique story-based stuff, but even the elements that are more similar to Animal Crossing are handled well, and even do a better job at times. You're given all your tools right away and while some story missions improve them further – your pickaxe can be enhanced to break ice, and your watering can can be used to dissolve giant infected mushrooms – they never break.
Tasks like harvesting fruit from trees, managing inventory and the like are intuitive and make performing the daily routine a breeze. Furniture storage appears to be infinite, and clothing seems to be either locked or unlocked, meaning collectophiles can aim for all 973 pieces of themed furniture and 716 pieces of clothing (at launch, at least) with relative ease.
Your home can also be expanded way beyond what's possible in Animal Crossing. Our current home has 12 floors and 48 rooms in total, and can still be expanded beyond that, meaning obsessives who want rooms themed to match every Disney film could theoretically do that (despite the thousands of hours it would take to collect everything).
There are a couple of things that give us pause at this stage and prevent us from declaring Dreamlight Valley a revolution in the life sim genre. The game is still in Early Access stage and as such has more than its fair share of bugs, for example.
By all accounts, the Xbox Series X/S version (which is the version we reviewed) is the most stable, but even it has some annoying quirks like one of our character's legs suddenly going really thin when we walk, water-based characters like Ariel having glitchy animations and Goofy sometimes not appearing when we visit his stall. That said, most issues we've encountered were fixed by rebooting.
This being a Gameloft game, it also remains to be seen how monetisation will come into play. At the moment it's not an issue in the slightest. There are tell-tale signs, though, that this was originally designed to be fairly money-hungry, such as the player's stamina meter, which decreases as you perform strenuous tasks like digging, fishing or using the pickaxe.
As it stands now it can be easily topped up by eating fruit (which is plentiful), or simply entering your home to fill it instantly, making it more of a minor and slightly pointless inconvenience at this stage. But we can easily imagine a prototype version of this game where that stamina meter was once set to a timer, which would have been infuriating.
This may seem like paranoia, but Gameloft is also responsible for Disney Magic Kingdoms, a mobile title that was released in 2016 and is almost unplayable for new players at this stage thanks to its near-infinite supply of timers, energy bars and obscenely overpriced content.
"This being a Gameloft game, it also remains to be seen how monetisation will come into play. At the moment it's not an issue in the slightest."
We'd like to hope Gameloft has learned some lessons since then, and so far Disney Dreamlight Valley is almost entirely financially unobtrusive, the only notable paid content being a season pass where the player can complete tasks to earn unique items (the first of these is Pixar themed, with the likes of a Lightning McQueen bed and a replica of the house from Up available). This is also reasonably paced – we were able to unlock everything with around 10 days to spare.
But it would remiss of us to fail to acknowledge that this is still an Early Access game, and at the moment the only way to play it is via Xbox Game Pass or by paying for one of its Founder's Pack editions which start at $30. Gameloft may be playing it safe for now, given that all of its players are paying to access the game in some way or another.
When Early Access ends in 2023 and the game goes free-to-play, it's going to be interesting (and worrying) to see if monetisation becomes more intrusive as Gameloft looks for ways to cash in on what's already proven to be a social media sensation – TikTok is currently full of Dreamlight Valley videos.

For now, we're pleasantly surprised at how much depth there is to Dreamlight Valley. It's easily one of the most viable Animal Crossing alternatives available on any system, and in some respects – most notably the fact it launches with 17 separate quest-based storylines to play through – it even outdoes Nintendo's title.
As it stands right now, we heartily recommend Dreamlight Valley if you've exhausted everything Animal Crossing has to offer, don't have access to it anyway or are just a big Disney fan and love the idea of sharing a village with the likes of Rapunzel's mum, Kristoff from Frozen and Prince Eric from The Little Mermaid. And who wouldn't?
If this continues as it's going and keeps adding new characters, items and story content with optional 'season pass' content to keep the game profitable, it has the potential to become one of the best Disney games ever made. Don't fail us, Gameloft – so far you've nailed it.
Dreamlight Valley is 'Disney meets Animal Crossing', but there's more to it than that. With a healthy supply of quests on top of the usual foraging, crafting and house-building, there's a proper story here too for any players who want a goal to aim towards.
17 characters at launch, each with their own individual quest-based story campaigns
Home decoration is impressive, with infinite storage and many more rooms than Animal Crossing
Wonderful soundtrack incorporating each character's respective Disney films
Only monetisation (so far) is an unobtrusive season pass
Has enough bugs to give Timon and Pumbaa indigestion
4 / 5
Version tested
Xbox Series X | S
Related Products
Other Products
Some external links on this page are affiliate links, if you click on our affiliate links and make a purchase we might receive a commission.