Returnal review: PS5's first brilliant post-launch exclusive isn't for everyone
Housemarque's action-packed rogue-lite shooter redefines 'one more go'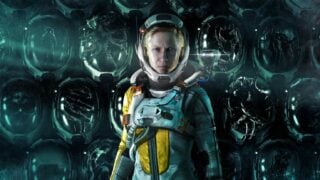 The post-launch lull is a long-running problem that's affected most systems over the years, but world events have made it feel noticeably longer for next-gen consoles this time around.
After a positive launch line-up, PS5 owners have had slim pickings when it comes to high-profile exclusives so far, the main exception being the underwhelming Destruction Allstars.
Housemarque's Returnal is a welcome release, then, and thankfully it delivers for all of those PS5 owners out there craving an original first-party blockbuster. However, its high level of difficulty and occasionally repetitive gameplay may not be to everyone's tastes.
The game puts you in the suit of Selene, an ASTRA space scout who's crash-landed on an alien planet called Atropos. When Selene begins exploring the planet, she finds another ASTRA scout lying dead on the ground, but is stunned (though oddly not that stunned) to discover that it's her.
The aim of the game is to not only make your way through Atropos's hostile landscapes and battle the grotesque creatures that inhabit it, but to find out what's going on and discover more about Selene's backstory.
Returnal offers an interesting spin on the rogue-lite genre, in that while it's procedurally generated to an extent there's still clear level design in play here.
Each of the planet's six biomes (stages) is made up of a series of areas separated by doors, similar to Hades or the Metroid Prime games. Each of these areas is a preset, pre-designed area, and the first time you start playing you'll think nothing of it – as far as you know you're playing a typical third-person action adventure.
When Selene dies, however, you're shown a (skippable) cutscene of her ship crashing again and find yourself right back at the start of the game, but this time the planet has changed and the world map is now completely different.
While this gives the impression of a procedurally generated game, in reality it's not quite that complex: after each death, the game chooses from a selection of pre-designed rooms and shuffles them around, joining them together in different configurations almost like pieces of track in a train set.
"The aim of the game is to not only make your way through Atropos's hostile landscapes and battle the grotesque creatures that inhabit it, but to find out what's going on and discover more about Selene's backstory."
The result is that while the game technically feels different with every play cycle, over time you do still begin to learn the best strategies and secret areas in each of the rooms because you'll eventually start encountering them multiple times. It's an interesting balance that keeps things fresh while still ensuring the player can adapt and improve over time.
The rogue-lite element is more obvious in other ways. The weapons and items you come across are different during each run, and the enemies you encounter in each room are also randomly chosen (though they do at least fit the biome you're playing in). As in many examples of the genre, it's possible to have a 'lucky' run where everything goes your way, as well as the opposite.
To beat the game, you generally have to find and defeat the boss in each biome then find a way to travel to the next one. Although the map is randomised each time, the game still has preset objectives that guide you through the game and its plot.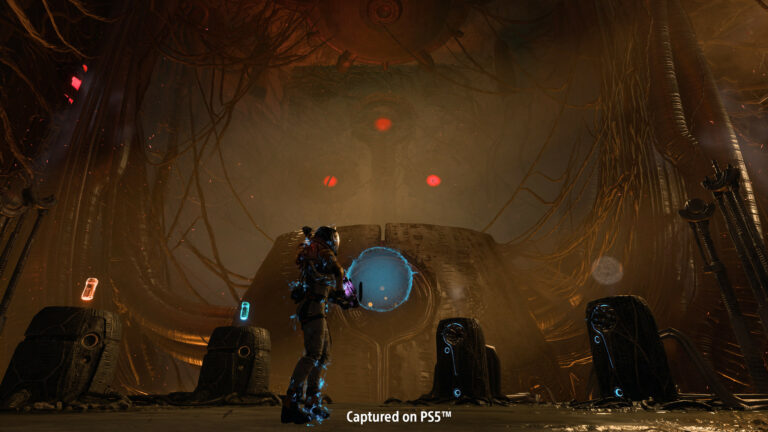 While dying causes you to lose practically all of your items and weaponry, there are some permanent upgrades that, when found, are kept forever. This adds a Metroidvania element to the game too, as these are often required to clear some of the main objectives.
Without spoiling much, an important section in the first biome is stuck behind a huge, glowing 'xeno wall'. Only once you find the sword weapon elsewhere in the stage can you then cut through this wall and move on to the next section. The sword then stays with you forever, essentially unlocking the ability to perform melee attacks in the process.
All this would be a bit pointless if the game itself wasn't engaging or entertaining, but Returnal is relentless with its action and has that 'one more go' factor that's crucial in a game where death is designed to be a regular occurrence.
"Returnal is relentless with its action and has that 'one more go' factor that's crucial in a game where death is designed to be a regular occurrence."
Developer Housemarque is perhaps best known for its shoot 'em ups like Resogun, Alienation and Super Stardust, and while a third-person action game may not immediately sound like a perfect fit, it actually feels surprisingly like a shoot 'em up too (Housemarque is referring to it as a bullet hell game, and we can see why).
Each of the game's different enemy types has its own specific attack style, and the majority also have a tendency to fire off huge rounds of bullets at you in a certain way. Success, then, involves learning each character's attack patterns and dodging them as you attack them (preferably using the dash dodge move, which is extremely satisfying to pull off and gives you a split second of invincibility).
Player movement is fast and responsive, and the shooting controls are suitably tight. When it all comes together and you're sprinting from room to room gunning down alien scum, there are few experiences as compelling as Returnal.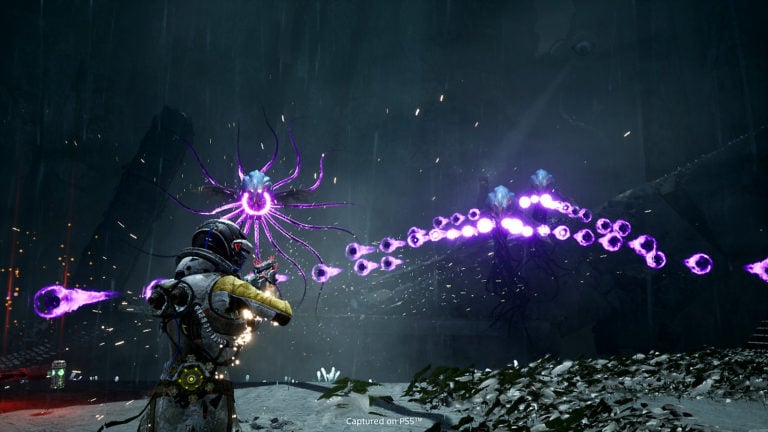 Special note must also go to the way the game makes clever use of the DualSense's adaptive trigger functionality to essentially add extra buttons to the controller. The L2 trigger acts as your precise aim button as in many shooters, but when you press it the resistance kicks in about halfway down, 'locking' it.
You can then press harder and 'snap' through the resistance to push the trigger all the way down, which instead activates your weapon's alternate shot mode. The best way to describe it is like this: Housemarque has used the resistance to turn a PS5 trigger into a GameCube one, and it's an impressive trick.
In case it isn't already clear, Returnal is a fantastic game, but it's also worth bearing in mind that it's not an easy one. There's obviously nothing inherently wrong with this but Returnal is designed to kill you numerous times as you try to figure out the intricacies of each biome and work towards the run that will finally get you past its boss.
With no difficulty settings on offer, anyone who doesn't consider themselves an experienced player may struggle to enjoy themselves here, because things get incredibly intense right from the first stage.
Losing to the first boss, which you will almost inevitably do the first time, can be a disheartening experience if it was a struggle for you to even reach it in the first place, given that the game by its very nature has no checkpoints and you have to start all over again.
Even if you have no issue with a game that will kill you numerous times, you may still start to feel some repetition the more you play. Although Returnal tries its best to mix things up, there are still a finite number of rooms and enemy types and so eventually, each time you die there may be periods where you feel like you're just going through the motions.
Despite these issues, Returnal is another compelling and entertaining action game from Housemarque. It certainly won't be for everyone, but as long as you like a challenge and don't mind retracing your steps, it's a worthy pillar in the PS5 first-party calendar.
Returnal's constant action and clever semi-procedural structure make it an engaging adventure, not to mention a visually stunning one. The lack of any difficulty levels may unfortunately exclude less experienced gamers, but anyone who doesn't mind dying a bunch of times will thoroughly enjoy themselves.
Fast, relentless action supported by tight and responsive player controls
Keeps things fresh without relying entirely on procedural generation
Looks fantastic and the 3D audio is a joy
Makes extremely clever use of adaptive triggers
Gameplay can become repetitive, especially if you struggle
4 / 5
Version tested
PlayStation 5
Related Products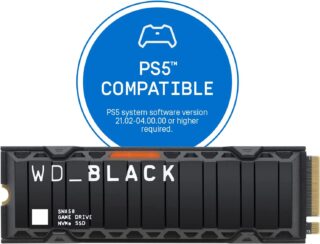 WD_BLACK 500GB M.2 SSD with Heatsink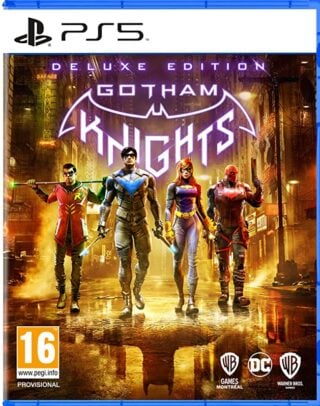 Gotham Knights - Deluxe Edition (PS5)
Other Products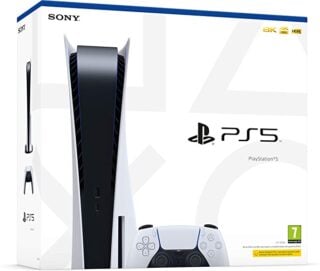 PlayStation 5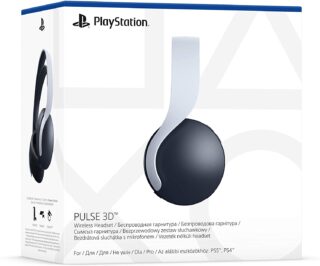 PlayStation 5 PULSE 3D Wireless Headset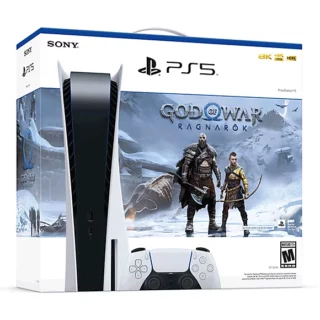 PlayStation 5 Console – God of War Ragnarök Bundle
Some external links on this page are affiliate links, if you click on our affiliate links and make a purchase we might receive a commission.