Resident Evil Village Review: Capcom takes seven, adds four, and turns it up to eleven
Capcom's horror adventure is a deliciously hammy hybrid of past glories, with some real series highs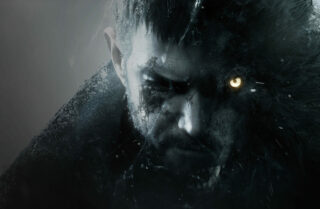 For Capcom, seven plus four equals eight.
Resident Evil: Village, the eighth entry in the mainline series, follows on from its immediate predecessor, but splices its DNA with that of 2005's seminal Resident Evil 4. It's a volatile cocktail of formidable forces that slowly congeals into a potent combination.
Direct continuity comes foremost in the shape of protagonist Ethan Winters and Village's adherence to his first-person viewpoint. It also reworks the core concept of Resident Evil 7's Baker family, this time in its cast of four 'lords' and their mysterious leader. As with the Bakers, each lord comes with a very distinct personality and favoured methods of murder.
The habitats of these villains cluster around a snow- and blood-caked village in the middle of East European nowhere. It's here that Ethan finds himself searching for his kidnapped daughter Rose (yes, this is yet another of gaming's desperate dad stories), whisked off by none other than series star Chris Redfield, who turns up unannounced at Ethan's home one night, shoots his wife Mia and steals the baby.
The place is a decaying mess when Ethan arrives, with few survivors, but plenty of conspiracy to uncover. To butcher an old saying, it takes a village to erase a child.
This time, however, that claustrophobic first-person perspective isn't designed so much to scare you witless each time Ethan reaches for a door knob. Village seldom cares about creeping fear. Instead, like Resident Evil 4, action takes centre stage. Your Ethan's-eye-view becomes a means to intensify face-offs against mobs of beast-man lycans, asking you to hold your nerve until their roaring heads fill the screen and you can pop them off with a shotgun blast.
Don't expect the speed of an FPS – there would be nothing Resident Evil about that – but expect a briefcase overflowing with guns and a ton of expended ammo. Expect collectible currency and upgrades and a merchant on hand to sell you more firepower. And expect a commitment to the kind of breathless escalating set pieces that made Resident Evil 4 so memorable.
Well, eventually. Because Village doesn't hit its stride immediately. Early lycan encounters feel mechanical and lacking in impact, as they sidestep to outfox your aim and shrug off initial pistol shots. Then, when they gather for a more concerted attack, in a scene that recalls the village siege in Resident Evil 4, the result is more confusing than terrifying. The game does a poor job at communicating what you need to do to survive, and there's nothing to match the dread of hearing that infamous chainsaw motor into life.
Indeed, there's an awkward rhythm to Village for the first couple of hours. In between neat little moments – a tense creep through a field of rustling long grass – you're too often a passenger, running through scripted escape sequences or watching as gruesome punishments are visited on Ethan without your input. Village doubles down on the other reason for Resident Evil 7's first-person view – the shock of witnessing Ethan's hands getting pierced, mangled and chewed.
"Village doesn't hit its stride immediately. Early lycan encounters feel mechanical and lacking in impact, as they sidestep to outfox your aim and shrug off initial pistol shots. Then, when they gather for a more concerted attack, the result is more confusing than terrifying."
You are soon given something meaty to get your own teeth into, as you enter the castle that looms over the village. But even that falls a little flat. This opulent abode is laid out like a National Trust attraction, at least above stairs. It's mazy and intricate, but feels quite empty as you rifle through its drawers for keys and solve mildly diverting puzzles. It's like an aristocrat redesigned the original Resident Evil mansion but couldn't bear to see zombie riff-raff soiling the good carpets.
Of course, there is an aristocrat in residence – the giant lady of the house Madame Dimitrescu, along with her three vampiric 'daughters'. They are for sure a deliciously hammy presence, not least the incomparably classy Dimitrescu herself, immaculately robed as she stalks the halls, stooping through doorways, announcing her intention to slice you to shreds.
Yet as entertaining as the bloodsucking nobles are, Village doesn't find much interesting for them to do. Dimitrescu herself becomes a persistent pursuing enemy like Resident Evil 2 remake's Mr X, but swaps the latter's chaotic brutality for a sophisticated poise that fails to cause similar levels of anxiety. Much of the time she's too easy to simply avoid.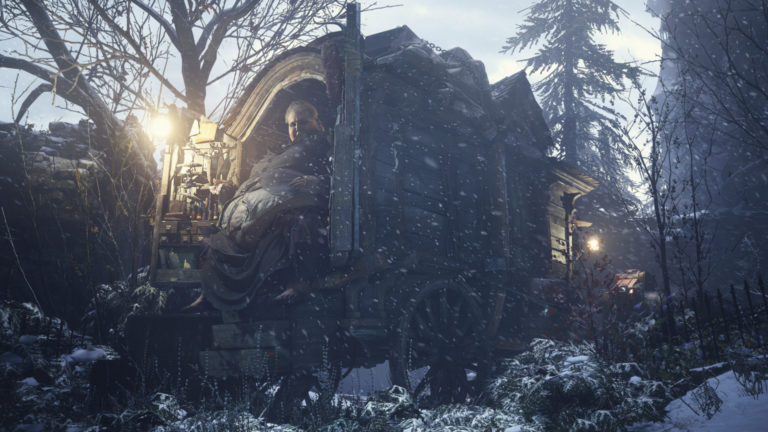 With hindsight, however, it's at least possible to appreciate how this lumpy opening act works as part of the whole. Once you escape the castle, it comes to feel like the calm before the storm, as Village's full structure unravels before you, its trump card a refusal to settle on any single play style, with each lord ousting you from the comfort zone established by its predecessor.
The rest is by turns creepy, disgusting, explosive and wonderfully silly. As the momentum of the macabre plot builds, Village revels in the swagger that Resident Evil has earned through decades of experience. This is a game that can indulge in a sequence of quiet building dread, where the cracks and creaks of a dusty old house spear you with chills, then flip to pull off heated shoot 'em up battles.
And naturally, as your armoury expands, those battles become increasingly feisty. With a beefed up rifle and shotgun, lycan packs that once forced you to retreat into shelter are now swiftly laid flat with clinical weapon switches and reloads. While larger fiends loaded with medieval weaponry, power tools or very sharp teeth require heavier ordnance or a judicious aim to make them stop.
"As the momentum of the macabre plot builds, Village revels in the swagger that Resident Evil has earned through decades of experience. This is a game that can indulge in a sequence of quiet building dread, then flip to pull off heated shoot 'em up battles."
It's made more succulent by the game's bold principal cast. The other lords may not have Dimitrescu's charisma, but from the pitiful to the egomaniacal to the horrifically unhinged, they all put in an unforgettable contribution. The travelling merchant, the Duke, is larger than life in total contrast to Resident Evil 4's shadowy equivalent, bulging from his cart in broad daylight, or spreading out his wares in corner rooms adjacent to the action.
As for Ethan, he remains a credulous everyman foil, always seemingly just behind the curve. "You shouldn't be out here. It's not safe," he calls to a black-robed old crone carrying a staff adorned with human skulls. His ability to parse otherworldly events like a far more ordinary disaster helps stop the whole thing descending into incomprehensible madness.
The other grounding element is the village itself. While much of the game plays on past glories, there's a good reason why this Resident Evil deserves its subtitle. New and all important here is how the rural settlement functions as a hub, linking the disparate parts together and evolving with each visit.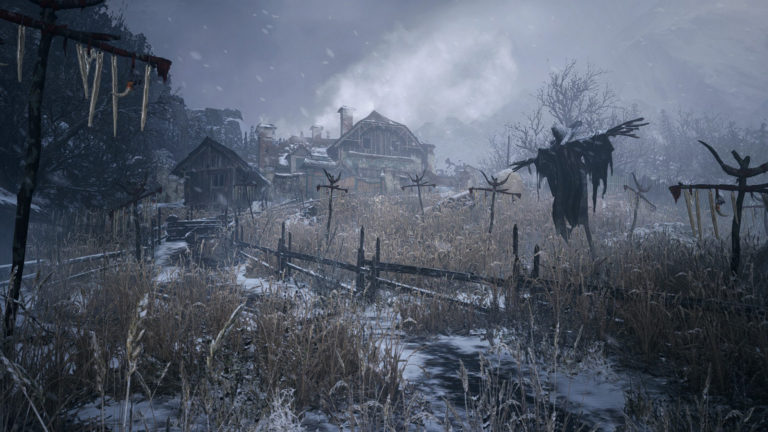 What initially presents itself as a mess of abandoned shacks unveils hidden layers as you return with new key items. Alternative paths snake round to homes that were previously out of bounds, where treasures lie hidden in wells and behind combination locks, or straggling livestock might prove irresistible to a hungry traveller.
Sometimes there's another habitation branching off the beaten track with its own resident monster to despatch, if you have the will and the ammo to spare. As bold as the game's satellite areas are, it's the village that's the centre of its mystery and lives up to its star billing.
It's a structure that also ensures Village is a more substantial adventure than those of Resident Evil 7 or the remakes of 2 and 3. Our first leisurely but hardly comprehensive run on Standard difficulty clocked in it at 11 hours, and there's very little padding – every section feels tight and distinct. With all there is to find and unlock, further runs certainly feel worthwhile, not to mention the welcome return of a post-credits Mercenaries mode, which promises more high-score chasing longevity than comparable content in recent releases.
The only real drag throughout the campaign is excess time spent scouring for items. All the shooting, crafting and trading in the game equates to a huge quantity of stuff to pick up, and it deadens the pace and atmosphere when every room becomes a mini-treasure hunt. The neat quality-of-life feature that shows on the map when each area is exhausted almost seems to taunt you as you fussily nose through every last crevice seeking a last piece of scrap.
Indeed, barring a few suspenseful sequences, the atmosphere in Village overall remains a little underwhelming for a Resident Evil title. That's partly because the Standard difficulty is overly forgiving, with Ethan able to withstand a surprising amount of damage. But even replaying on a higher setting, we haven't experienced much of the tension that even action-focused entries such as Resident Evil 4 managed. 
Should Village be more scary? Probably. But it's hard not to succumb to its charms all the same. This is a big, hammy crowd pleaser, a Resident Evil greatest hits that also remembers to throw in a few tricks of its own. It's varied yet harmonious, always evolving rather than repeating, shifting its demands and configurations. It takes seven, adds four and – mostly for the better – eventually figures out how to turn that up to eleven.
Resident Evil: Village is a powerful monster, bolting together parts from Resident Evils 7, 4 and more besides. It's longer than recent games in the series, yet still feels trim and sculpted as it shifts between it wide range of locations and set pieces. The downside of its eclectic approach is some unevenness and less tension, especially in a relatively weak opening act. But its eventual blend of parts is gloriously big, daft and fuelled by the finest of nightmares.
Loads of variety in the different domains
The village is a cleverly crafted evolving location
A delightfully hammy cast of characters
Plenty of fine monsters and weapons to shoot them with
Gets off to a slow start
Scouring rooms for items can be tiresome
4 / 5
Version tested
PlayStation 5
Related Products
God of War Ragnarök (PS5)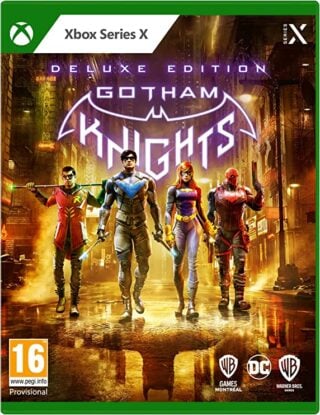 Gotham Knights - Deluxe Edition (Xbox Series X|S)
Other Products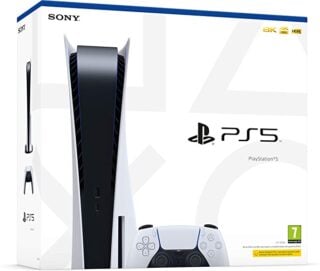 PlayStation 5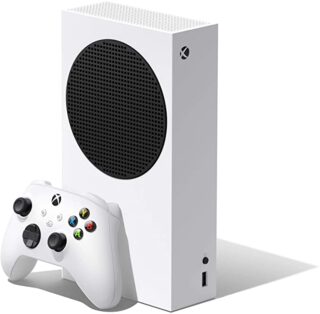 Xbox Series S
Some external links on this page are affiliate links, if you click on our affiliate links and make a purchase we might receive a commission.