Review: RAD proves there's plenty of life left in roguelike
With its twisted spin, Double Fine brings a fresh take to the roguelike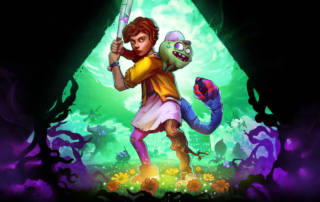 In the dire circumstances of our present climate, it's easy to sink into despair. So when RAD places you in a world that's been destroyed not once but twice already, you might wonder what's the point of even bothering.
Yet it's to Double Fine's credit that this bizarre post-post apocalyptic roguelike draws you in with its offbeat charm. This is a world where everything already went to hell in the 1980s, which might explain how cassette tapes and floppy discs aren't only still relevant but your currency, while the game bathes itself in neon comic book aesthetics and a synth-laden score.
In this backdrop, your teenage protagonist is tasked with saving what's left of your town by embarking on a journey through the unforgiving radioactive wastelands.
Frankly, you're not well-equipped for the task, given a baseball bat that might look cool but lacking in power and range when the earliest enemies can already deal AoE damage. Fortunately for you, by coming into contact with the toxic flora and fauna, your body also succumbs to random mutations, which serve as the game's power-ups.
Although the mutation mechanics feel familiar, their designs are nothing short of outlandish. Your arm might mutate into massive claw you can throw like a boomerang, or your head becomes a flaming skull that can be chucked as a grenade before another grows in its place, or a deformed baby grows on your back, which can then be deployed like a turret – and that's just the starters.
Along with passive skills, there's a huge variation of builds you could end up with for each run, meaning your play style is constantly adapting to the tools you're dealt with. And you'll definitely be experimenting with the variations in no time at all, as death comes easily and sends you back to start from scratch every time with just the lousy bat.
"RAD feels both atmospheric and absurd, and just as the desolate ground where your feet touch springs back to life, there is a surprising sense of optimism among the devastation."
It's not a complete loss, since you have a chance of returning to the town hub at the end of each level to bank your cassette tapes, while experience earned each run also unlocks new items or features, including more skins of other teens being sacrificed for this endeavour.
Progressing through each level also involves more than just opening up the main passage as there's even alternative routes that help you skip ahead. Nonetheless, you're better off exploring for additional loot and upgrading your mutations if you're to stand a chance against enemies that grow in number and difficulty.
For every tense run where you're down to just a quarter of a heart, you're just as likely able to cruise through a few levels only to get caught off guard by an ambush or environmental hazard that costs most of your health.
It's also in these moments of panic where the isometric perspective can also get in the way of readability, as your character's obscured by a tree one moment then dead the next.
Yet as merciless as things get, there's a real compulsion to keep trying for another run, to inch closer to the next level, and see what other wacky form will sprout from your body. RAD feels both atmospheric and absurd, and just as the desolate ground where your feet touch springs back to life, there is a surprising sense of optimism among the devastation.
With its twisted style and humour, RAD offers a fresh take on the roguelike, proving there's plenty of life in the genre.
Vibrant 80s-neon comic book visuals and music
Some truly inspired and deranged mutations
Adapting to mutations makes each run feel different
Perspective can make some enemies and environments difficult to read
4 / 5
Version tested
PlayStation 4
Related Products
Other Products
Some external links on this page are affiliate links, if you click on our affiliate links and make a purchase we might receive a commission.