Launch review: PS5 is an exciting console built for blockbusters
DualSense and instant loads dazzle at launch, but the longterm potential of Sony's console is greater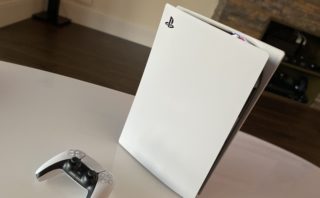 Booting up PlayStation 5 for the first time is a totally different experience to Xbox Series X.
Compared to Microsoft's iterative, PC-style approach, which has seen it push Series X as a super-charged extension of previous Xbox consoles, Sony is selling a revamp, with evocative new imagery and unfamiliar mechanics directed at players from the very moment you hit the power button.
PS5 greets users with a flurry of particles and a melodic fanfare, signalling that this is definitely not the console you're used to. Sony's machine features a totally new interface, with unfamiliar sounds and icons, navigated with a radical new controller we've never seen the likes of before.

There's no denying Sony's PS5 approach is exciting, if only because all that ceremonial flair makes the console feel new and 'next-gen'. With Spider-Man: Miles Morales, Demon's Souls and the excellent Astro's Playroom (which comes pre-installed for free), there are also a number of compelling launch games which show off next-gen visual features such as ray-tracing.
But underneath the bells and whistles, the PS5 hardware also has some surprising similarities with its rival at launch. Like Microsoft's box, virtually all of your last-gen games are ready and waiting to be re-downloaded on PS5, with drastically improved load times and higher framerates.
Most new PS4 releases are offering free next-gen upgrades too, which leaves PS5 feeling not at all like the clean break Sony was talking up during the road to launch, which is a pleasant surprise.
At launch –  just like Xbox Series X – PlayStation 5 is selling potential which may or may not come to fruition as developers get to grips with it.
In 2020, PS5 defines itself through a handful of features – such as the fantastic DualSense controller – and in the philosophy of its creator, which is pushing a year of big blockbuster games like Gran Turismo 7, Horizon Forbidden West and God of War Ragnarök.
PlayStation's traditional fanbase will be more than satisfied with what PS5 has to offer at launch, but beyond that, it's less clear if the console will achieve the full potential of its SSD and DualSense controller, or how it might stack up compared to a fully-firing Series X, which on paper is the more capable machine.
PlayStation 5 tech specs
Dimensions: 390mm x 104mm x 260mm (width x height x depth)
Weight: 4.5kg (3.9kg for Digital Edition)
Optical Drive: 4K UHD Blu-Ray (Standard Edition only)
Ports: 1x HDMI 2.1 port, 3x USB Type A (1 x Hi-Speed), 1x USB Type C, Ethernet
GPU: 10.3 TFLOPs, Custom RDNA 2, variable frequency up to 2.23 GHz
CPU: 8X Cores @ 3.5 GHz (variable frequency) Custom Zen 2 CPU
Memory: 16GB GDDR6
Storage: 825GB, 5.5GB/s Read Bandwidth (Raw)
Wireless Network: IEEE 802.11 a/b/g/n/ac/ax
Sound: "Tempest" 3D AudioTech
PlayStation 5 launch game reviews
Bigger and bolder
First, let's address the elephant in the room, which is to say, your PS5. Sony's new console is a monolithic beast and easily the largest console hardware since the original Xbox. Its size is not necessarily the issue here – we'd much prefer bulk over the deafening cooling fans of PS4 Pro – but the fact that it also sports a bold, conspicuous design with huge white panels and LED lights, surrounding an incredibly shiny black box.
Whether you like it or not, PS5 will instantly become the centrepiece of your lounge, its white faceplates barely squeezing inside a standard television cabinet. It looks slightly better placed vertically – if only because it doesn't fall off the flimsy stand each time you touch it – but there's no denying that any future hardware iteration has a lot of work to do to make PS5 more attractive.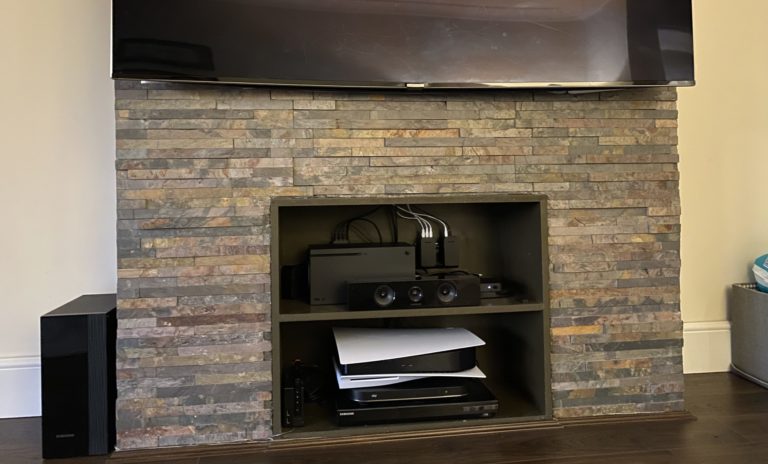 Thankfully, the design of PS5's controller is a revelation. Based purely on its aesthetics, the DualSense is already a step up on DualShock 4, with a weightier, larger design and premium finish sporting the feel of a high-end piece of technology. However, the real genius of Sony's controller is not something you can see, but feel when you're playing next-gen games.
DualSense's flagship feature is haptic feedback, which utilises a myriad of tiny vibrations to add a variety of powerful sensations during gameplay, such as the grittiness of driving a car through mud or the sensation of different floor textures as your character traverses the environment.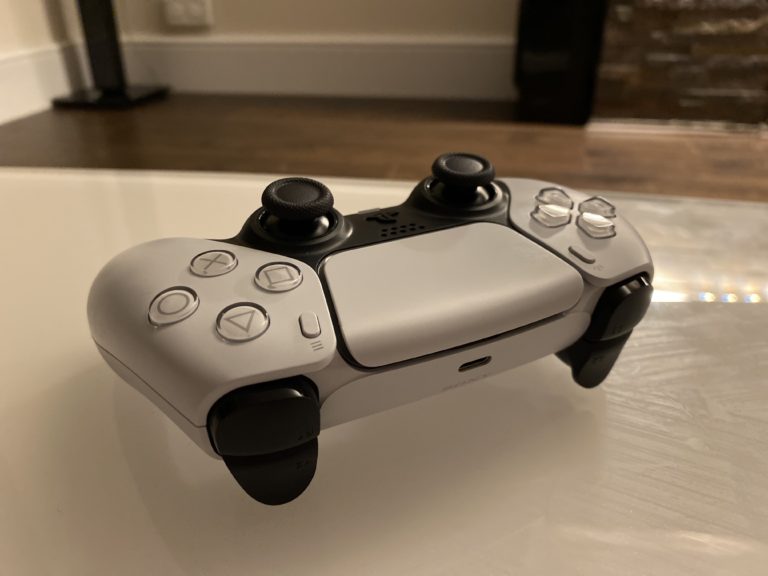 Haptics are paired with another sensory feature, 'adaptive triggers'. Essentially, developers can adjust the pressure of DualSense's triggers during PS5 gameplay, creating a variety of tactile illusions such as a jammed gun in an FPS game, or the tension of aiming a bow and releasing an arrow.
These features are incredibly difficult to sell in a television commercial or written article such as this, but trust us that when you first experience DualSense they're simply magical.
Astro's Playroom is DualSense's killer app, sending players through a series of sensory platformer playgrounds comprised of pitter-patter raindrops, windy meadows and sun-kissed beaches that will leave most players wondering how on Earth a piece of plastic managed to create the illusion of sand.
When Astro's robot protagonist tugs on a loose wire, you can feel the tension in the controller, and it feels like magic. Another launch title, Spider-Man: Miles Morales, features a variety of electricity-based attacks which whirl and crackle in your hands with each attack. It's not hyperbolic to state that DualSense is a huge step up on traditional force feedback and, arguably, the first truly next-gen experience.
Speed Demon
While DualSense presents a difficult sell for those unable to physically pick up the controller, PS5's other tentpole feature has been paraded in videos and forum tables for nearly a year. The console's high-bandwidth SSD is, on paper, significantly faster than anything else available today and its early impact on PS5's launch games is impressive.
In the first-party titles we've been able to test so far (Astro and Spider-Man), PS5's SSD doesn't so much reduce load times as remove them entirely.
Miles Morales transitions from its start screen to gameplay in a ridiculous two seconds, after which players are able to navigate the game's huge open-world city without interruption. Meanwhile, in Astro's Playroom players can instantly load to any section of any level directly from the game's pause screen, with only a momentary delay.
Just like Xbox Series X, fast load times are one of the absolute best features of PlayStation 5, only Sony's machine is even more impressive at launch thanks to the roster of first-party games specifically optimised for the feature.
"PS5 developers will be able to create far more expansive environments without fear of memory issues, Sony claims. But right now that's potential – and there's no guarantee it will ever be realised, outside of a few flagship releases."
However, we're not entirely convinced this will be a long-term point of differentiation between the two consoles. Unoptimised legacy games are currently loading at similar speeds on both PS5 and Series X – if not a little faster on the Xbox – and Microsoft will likely optimise its own first-party games to perform similar load-free witchcraft, once it actually gets around to releasing some.
Speed of access is a big focus of both consoles at launch. While PS5 doesn't replicate Xbox Series X's excellent Quick Resume feature, it does introduce big in-game UI improvements with the Control Center, a new menu which overlays gameplay and provides quick access to a myriad of system features without having to leave your game. Likewise, plenty of features can be displayed via picture-in-picture, such as a friend's shared screen or in-game tips.
This includes the Switcher, which allows players to easily jump between recent software, as well as friends and party options which can finally be utilised without having to swim through treacle to get to them.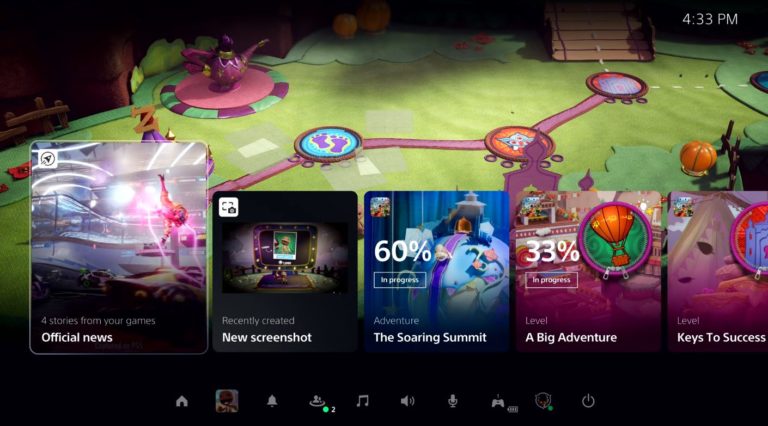 Another big addition are the Activity cards, which allow you to launch directly into a specific section of gameplay, perhaps to unlock a close-to-completion trophy or join a friend's activity.
However, the most exciting aspect of PS5's storage tech is not the impact it will have on load times, but in how it could potentially shape the way in which future games are made.
The fact that Sony's SSD is able to load 2GB of data in one-quarter of a second could fundamentally change how developers build their game worlds, once they get to grips with PS5. Instead of hiding environments behind scenery or lengthy corridors designed to mask load times, PS5 developers will be able to create far more expansive environments without fear of memory issues, Sony claims.
But right now that's just potential – and there's no guarantee it will ever be realised, outside of a few flagship releases.
The Blockbuster Box
And with all the potential wrapped in those platform-exclusive features, PlayStation 5 feels like a machine built for Sony's own blockbusters. The platform holder spent the PS4 era cultivating a rich library of cinematic, single-player franchises to great commercial and critical success, and now it's created a console comprised of features that will almost certainly benefit them the most.
In the first year alone, Sony is releasing games based on Spider-Man, Ratchet & Clank, Gran Turismo, Horizon and God of War, and you can be confident that games from the likes of Naughty Dog and Media Molecule won't be far behind.
Xbox's and Sony's SSD tech provides impressively swift load times, but as we're already seeing at launch, it takes properly optimised software to benefit most from this technology and remove gaps between gameplay almost entirely. And that's before we even begin to think about the theoretical SSD monsters of the future, where gigabytes of environmental data will be streamed like YouTube cat videos.
And just like SSD tech, we're yet to see any third-party PS5 games that make anywhere near as much use of the impressive DualSense controller as Sony's first-party games.
This could just be an issue of time, of course, but history shows us that beyond their launch windows, many great console features have been totally overlooked by multiplatform games (see PS4's touch pad or Switch's HD rumble), with developers often unwilling to make special effort for a single platform.
On paper, Xbox Series X is a more capable machine, although there's certainly no suggestion of a power gap at launch. Sony has placed its faith in the value of DualSense and an even faster SSD – two exceedingly impressive features at launch – and it will be hopeful they're able to fulfil their potential – especially if the tech comparison videos of the future start leaning in Microsoft's favour.
Just like Xbox Series X/S, PS5 has the potential to offer much more than it currently does at launch. However, Sony's console does deliver compelling next-gen excitement on day one, with a fantastic controller and strong launch titles which will certainly satisfy traditional fans until the bigger guns arrive.
With a fantastic controller and compelling launch games, PlayStation's traditional fanbase will be more than satisfied with what PS5 has to offer at launch.
DualSense is a wonderful controller
SSD is very impressive for first-party titles
A compelling roster of launch games
Control Center is a welcome addition
The console is obnoxiously bulky
Around 660GB of storage won't last long
Related Products
God of War Ragnarök (PS5)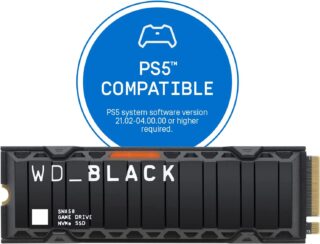 WD_BLACK 500GB M.2 SSD with Heatsink
Other Products
Some external links on this page are affiliate links, if you click on our affiliate links and make a purchase we might receive a commission.