Review: Pokémon Legends: Arceus is the series' best game in years
Game Freak has finally delivered the open-world adventure that so many fans have been asking for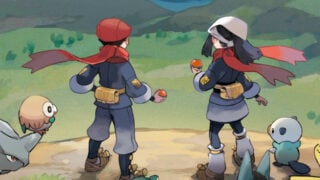 "Gotta catch 'em all." Not just a catchphrase, but a mantra that a certain generation of Pokémon fans – the older ones, mainly – lived by.
Over the years, however, it's a slogan that Nintendo and The Pokémon Company have quietly tucked away, hoping nobody would realise that it's no longer the series' central focus.
The reason why is clear: catching 'em all was a manageable task when there were only 151 and the most extreme measures players had to take were doing some trades with friends in the playground or going to a certain shop to get Mew.
These days there are over 900 individual species (nearer 1300 if you count the likes of Mega Evolutions and alternate forms in different games), meaning the concept of completing a Pokédex has started to feel more like a badge of obsession rather than honour.
Pokemon Scarlet and Violet Guides:
Pokemon Scarlet and Violet walkthrough, tips, and Pokemon locations | How to invite friends online Pokemon Scarlet and Violet | How to breed eggs in Pokemon Scarlet and Violet | Where to get the Master Ball in Pokemon Scarlet and Violet| How to change outfit Pokemon Scarlet and Violet
Pokémon Legends: Arceus is a fascinating release, then, because it involves going back in time in more ways than one. Not only is the game literally set in the past – a time when the Sinnoh region from Diamond & Pearl was known as Hisui – but it also harks back to the days when catching 'em all was the priority.
This has allowed developer Game Freak to reflect on the very core of what makes a Pokémon game, and the results of its tinkering are simply wonderful.
For what feels like decades now, fans have been begging Game Freak to change the Pokémon formula and give us a 'true' open-world game that doesn't just feel like yet another simplified (albeit charming) JRPG. Pokémon Legends: Arceus is that game.


Here, nearly every element of the Pokémon formula has been refined for a smoother and more satisfying experience: catching mechanics are revamped and brilliantly satisfying, Pokémon are reinvigorated and full of character, while the whole experience has a fast and fluid feel that's a breath of fresh air in this series.
It's almost as if Game Freak has consciously compiled a list of every annoying niggle the Pokémon series is known for and removed them all to make the most entertaining and engrossing Pokémon game in years.
Arceus's central focus is filling in the first ever Pokédex. We'll spare the plot details to avoid spoilers – if you've managed to avoid the leaks up to this stage you'd be wise to keep doing so – but as a member of the Galaxy Expedition Team, the player is tasked with studying the wild Pokémon that roam the land and creating a record of every species.
It's the first time, then, that progress is mainly determined by catching rather than battling.
This time there are no Gyms to visit or Badges to collect. Instead, players have a star ranking system in which the aim is to gain all ten stars. You do this by filling your Pokédex and getting points for doing so – as you hit certain points milestones you receive a new star, which gives you a promotion, lets more powerful Pokémon obey you and gives you new types of Pokéball to craft. Yes, craft.
Because Nintendo has been oddly hesitant to show much of the game even at this late stage, there are still a lot of people who can't quite pinpoint exactly what game Legends plays most like.
The obvious comparison is Breath of the Wild, given that one of its early trailers showed that now-common trope of the protagonist standing over a cliff viewing a vast expanse of fields in front of them. And yes, it has to be said that Zelda certainly does appear to be one of the main influences.
That's not to say it's a straight imitation, though: instead, Legends takes bits and pieces from various different open-world games and incorporates them into one glorious mash-up.
At times it does indeed feel like Breath of the Wild, as you run around its vast expanses, collecting berries, seeds and other ingredients and juggling them in your inventory so you can craft items to help you in your quest.
At other times, though, it feels more like Monster Hunter, as you continually return to your home village and take on a sizable series of side-quests, many of which have you heading out to certain parts of the world to track down a specific target then return for your reward.
Most often, though, it feels a lot like Xenoblade Chronicles, in that its large, open areas are sprawling with creatures freely wandering around, and for the most part, you can choose which ones to engage with and which ones to ignore. It's this aspect that makes Legends feel more like a living, breathing world than any other Pokémon game before it.
Legends is a game that defies typical Pokémon conventions in several ways, but our favourite is the fact that simply catching all the Pokemon isn't enough to get the job done.
Because this is the very first Pokédex of its kind, there's no prior knowledge on any of these creatures and what they do, so while spotting them adds them to your list and catching them fills in their basic information, there's now a third tier to the Pokédex which involves fully completing research on each species.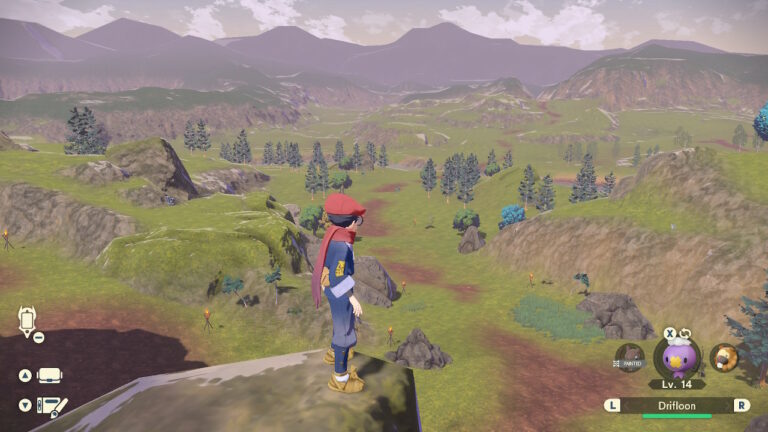 This is done through a brilliant method that involves each individual Pokémon getting its own list of tasks, almost like a mini achievement system.
Before a Pokémon can be considered fully researched, players have to tick off some of these tasks – be that catching a certain number, battling a certain number, catching them without them spotting you, catching them at night, watching them perform a certain move a set number of times, and so on.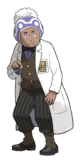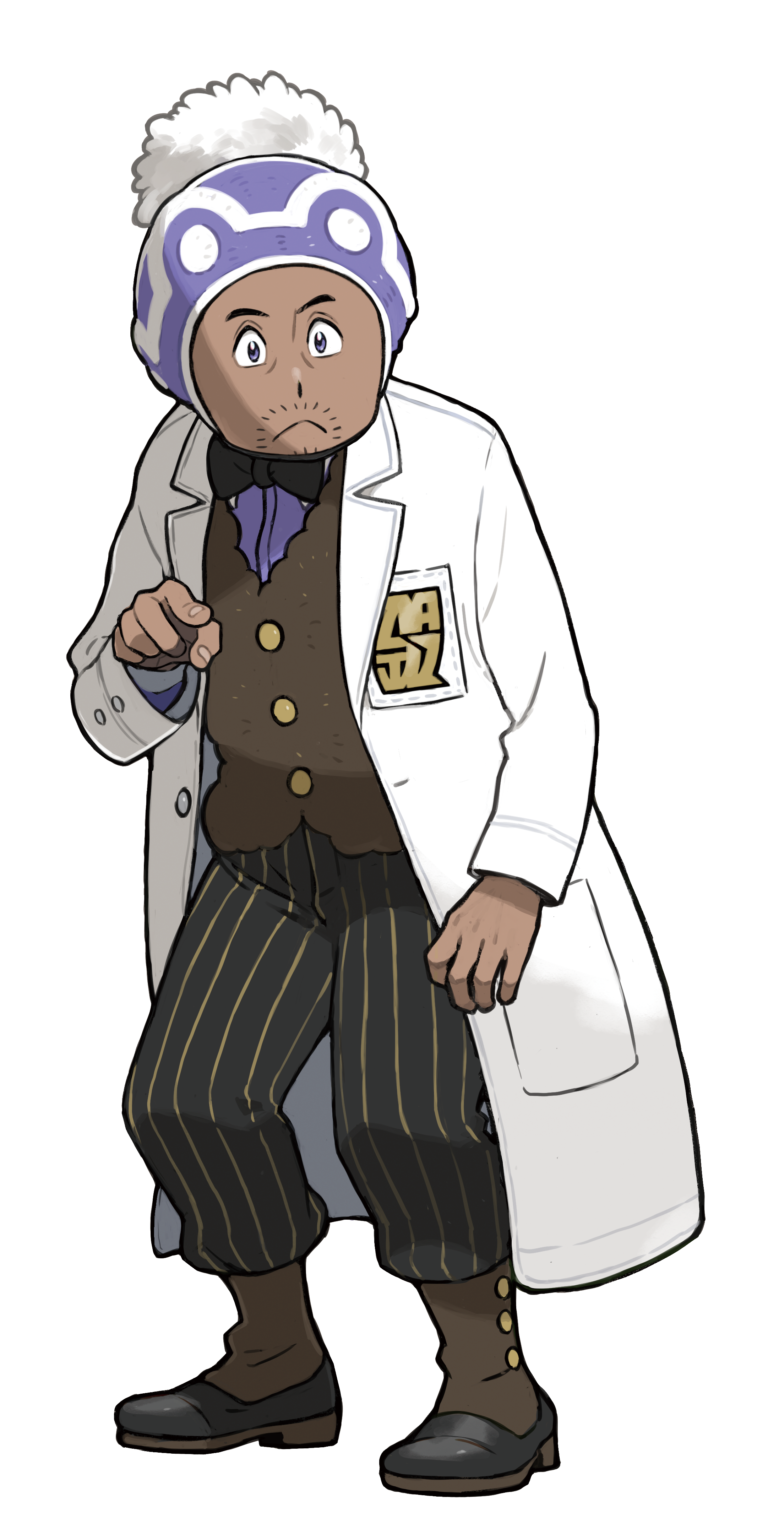 Crucially, players don't have to complete all the tasks to fully research each Pokémon: you just have to tick off enough to reach 10 research points for each one, which means you can still approach the Pokédex in a way that best suits your playing style.
If you're the stealthy type who wants to try to catch loads of them sight unseen, you can do it that way. Or, if you're more of a battler, you can wade in all Pokémon blazing and still rack up research points by battling certain species numerous times.
The great thing about this is that players can still get research points even if you're dealing with an exceptionally rare Pokémon. Instead of being expected to be lucky enough to catch or fight even more of them, you'll be able to rack up a healthy number of points by making them perform specific moves, so by simply adding them to your main party of six and using them in your battles you can research them in that way too.
This new concept of doing extra research really gives Legends extra depth and takes things one step beyond simply filling out your Pokédex like a sticker book. In previous Pokémon games it was sometimes easy to forget some Pokémon even existed, because once you'd encountered and caught one to add it to the Pokédex, you could easily forget about it.
Now each Pokémon is given at least a degree of importance, and simply catching one of them isn't enough to mindlessly tick it off. You're going to need to either find more or focus on the one you have, and this helps each individual species stick in your mind more. This is the most we've ever cared about Pokémon in a game.
"It's almost as if Game Freak has consciously compiled a list of every annoying niggle the Pokémon series is known for and removed them all to make the most entertaining and engrossing Pokémon game in years."
In the wild, each Pokémon behaves differently – especially when they spot you. Some don't mind the player's presence and will happily smile and dance away. Others will get nervous and may try to run away, while others will attack before you even have the chance to decide whether they're friendly.
Arceus plays on this by encouraging players to approach Pokémon without being spotted, helpfully populating its landscapes with plenty of patches of tall grass to hide in, making the player hard to see and silencing their footsteps.
There's a genuine thrill in hiding in the grass and watching a new species walk past, blissfully unaware that you're there. There's a real tension in hoping they'll turn around or, even better, fall asleep. Pokéball hits have more impact if you hit them from behind or when they're dazed, making catches more likely.
The new variety of Pokéballs also makes catching more entertaining because you really do feel like you have a diverse arsenal of tools at your disposal. Whereas the main Pokémon series has a wide variety of Pokéballs you can acquire, they're all used in the same way and generally all boil down to how likely you'll catch a Pokémon depending on certain conditions.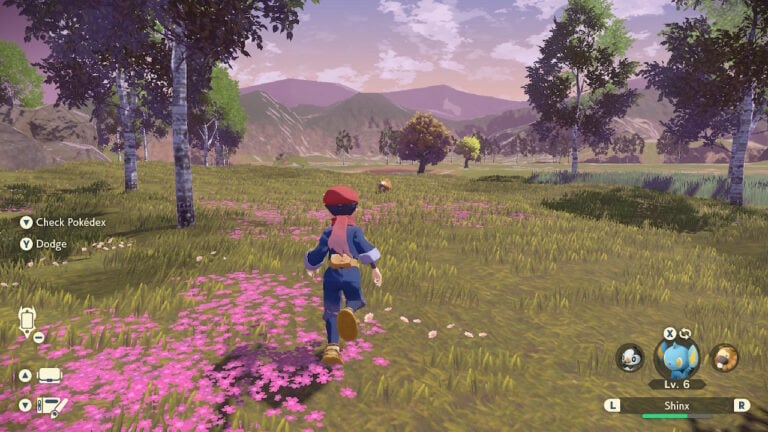 While some of these conventions are still followed in Legends in that Great Balls have a better catch rate than standard Pokéballs and so on, there are other special types of ball that can be crafted as you level up, which take advantage of the game's more dynamic catching system.
Now you can get Heavy Balls, which can only be thrown really short distances but are very effective if you can hit a Pokémon from behind with them, making them rewarding for players who are skilled at successfully sneaking right up behind Pokémon.
Then there are Feather Balls, which are the opposite: they aren't particularly powerful, but they can fly in a straight line for long distances, making it easier to catch distant or flying Pokémon. By the time you reach the end of the game and are fully levelled up, you'll have a healthy variety of ball types to match any situation.
This feels hugely satisfying in a way no Pokémon has game has ever felt. You're no longer just wearing a wild Pokémon down then picking whatever ball you think it's worth throwing at it – now you're a trained Pokémon catcher, out on the field, with a range of different balls and it's up to you how to approach each situation.
This satisfaction extends to the way your Pokémon get involved a lot more often than they used to. As in the main series, you put together a team of six Pokémon from the ones in your storage, and this team accompanies you, levelling up as you go along.
This time, though, you can flick between your party members on the fly with the L and R buttons, and throw one out whenever you like. You can throw them at wild Pokémon (in the same way you'd throw a Pokéball) to initiate a battle, or you can throw them at various objects, sending them out to shake trees, shatter crystals and break rocks to find, collect and return the items they contain.
The catching process and the way you can call out your Pokémon whenever you like are just parts of what is ultimately the best thing about Pokémon Legends: the way almost every element of the game is fast and fluid.
"The catching process and the way you can call out your Pokémon whenever you like are just parts of what is ultimately the best thing about Pokémon Legends: the way almost every element of the game is fast and fluid."
Although the most obvious example of this is the catching process, it can be found all over. Pokéballs have now been made more powerful, so there's no longer any need to engage them in battle and wear them down: as long as you can hit a wild Pokémon unawares with a ball you have a reasonable chance of catching them.
Want to have a battle? There's no more running endlessly in tall grass, hoping you'll get to fight the species you want. Simply look for the one you want, throw one of your Pokémon at it and the fight will break out there and then, with no lengthy animation and no cutting to a separate battle screen.
Want to heal your Pokémon? In the past you had to run all the way back to the nearest village, find the Pokécenter and put up with the nurse's annoying chat as your party is slowly loaded onto the healing machine. That's no longer the case.
Now you just bring up your map with the minus button, hit X and choose a base camp. You'll be automatically teleported there, where you'll find a bed to have a nap on, healing every Pokémon in your party instantly. Everything you need is at these base camps, including an item store and crafting, and they're all just two button presses away.
Then when you're done, you just head back out into the action again. Even this part is made faster with the introduction of new rideable Pokémon, who can be summoned with a press of the + button. Suddenly, you're able to sprint across the land, swim across water or fly through the air at extremely high speeds.
Everything just runs so smoothly, and once you get the hang of the process you no longer feel like you're in the latest instalment of an RPG series, now you're in an action game, where you're diving around to avoid attacks – wild Pokémon can actually attack you directly now – while flinging Pokéballs around and sending out your own Pokémon to gather resources for you, all at the same time.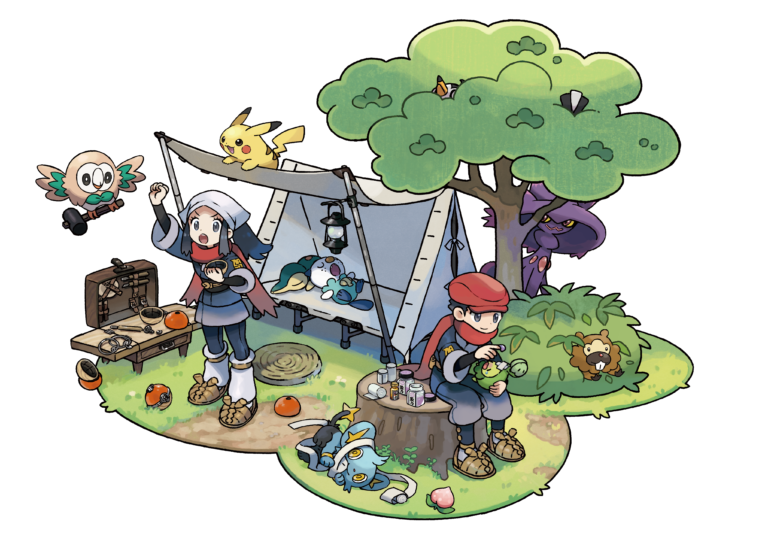 There are a few situations where the game puts up a good challenge too. These include the encounters with Alpha Pokémon, which you'll occasionally see wandering around. Alpha Pokémon can easily be identified by their glowing red eyes and the fact that they're bloody massive, and they always gallop towards the player as soon as they spot you, forcing you to either run away or engage in a battle.
A battle with an Alpha Pokémon is always more difficult than one with a standard Pokémon, and even if their levels are similar the Alpha will always be far more powerful. Crucially, though, they can still be caught if you wear them down enough, meaning you can eventually have a party of comically oversized Alpha Pokémon, which is great fun.
Even trickier, though, are the 'space-time distortions' that turn up every now and then. Occasionally, a large rainbow-like dome will appear over a part of the land, and if you pass through this dome's forcefield you'll find that the land inside it has become darker and less inviting.
Once you clear out the Pokémon that are already in the dome, the distortion will properly commence and groups of more powerful, rarer Pokemon will appear from portals. These are more aggressive Pokémon who will almost always spot you first, potentially leading to battles where you're fighting three or four of them at a time.
In situations like this, you can still catch these rare Pokémon in battles, but given that they're all quite handy in a fight and ganging up on your poor Pokémon you'll need to stock up on Revives and Potions to make sure they survive. These space-time distortions are completely optional, but they're a great risk-reward situation where putting yourself in danger can pay off.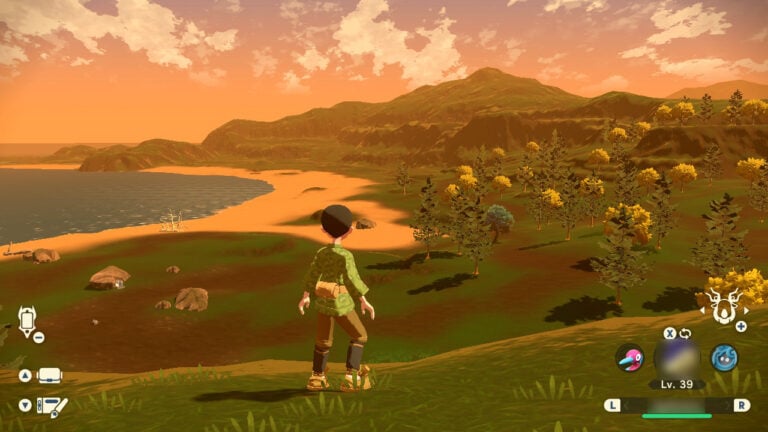 Pokémon Legends is the most excitement we've felt while playing a Pokémon game for as long as we can remember.
Because of those early trailers, you'd be forgiven for thinking that this was going to be something of a let-down – a game that deserved kudos for trying something different, but ultimately wasn't polished enough or competent enough to deliver. We can't stress this enough – it delivers.
This is what many Pokémon fans have wanted – a completely fresh Pokémon experience that feels like a natural extension of the series but still has its own identity.
With one huge Alpha Pokémon-sized swipe, Legends brushes off almost all of the annoyances and irritations that have clung to the series for decades, and replaced them with countless quality of life improvements making for a more streamlined, exciting game.
"Pokémon Legends is the most excitement we've felt while playing a Pokémon game for as long as we can remember."
If this is the start of a separate line-up in the same way that Metroid Prime is separate to the 2D Metroid games, then we're all for it and then some.
By finally deciding to go in a different direction, Game Freak has at the same time returned things back to the way they were, way back in the early days of Red, Blue and Yellow. Back then each Pokémon felt like a unique character, rather than just one of over 900 separate species.
Legends gives Pokémon their character back, and at the same time returns its focus to that classic "Gotta Catch 'Em All' mantra that made the series so endearing in the first place. Even more crucial than that, however, is that in the entire history of the Pokémon series, catching 'em all has rarely been this fun.
Pokémon Legends is the breath of fresh air the series has needed for so long. It may not have been apparent from the trailers, but this is one of the most entertaining, engaging and engrossing games in the entire history of the Pokémon series, and is highly recommended to both long-time fans and complete newcomers.
The new catching mechanics are brilliantly satisfying
Entirely designed with fast, streamlined gameplay in mind
The 'research' angle makes catching a more involved process
Pokémon have never had this much character before
While the frame rate is steady, scenery detail suffers as a result
5 / 5