Review: No Straight Roads is a brief but brilliant adventure
Final Fantasy XV designer's battle between rock and EDM features a fantastic soundtrack and phenomenal art design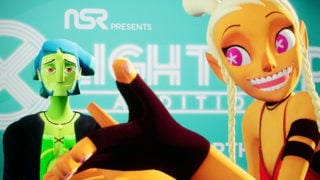 Sold Out clearly expects big things from No Straight Roads.
This action game, developed by Malaysian indie outfit Metronomik, has impressed the UK publisher so much that it's going all out for its release: even going so far as to bless it with a hefty collector's edition complete with vinyl soundtrack and art book, the sort of thing you'd be more likely to see accompanying a triple-A release.
Thankfully, in this case, the reality matches the hype: this is a wonderfully accomplished adventure that, while on the short side, is absolutely packed with charm and character while it lasts.
You play as Mayday and Zuke, a guitarist and drummer from Vinyl City who call themselves Bunk Bed Junction. The pair want to bring rock music back to their hometown of Vinyl City and make it relevant again in an era of electronic dance music.
But there's just one problem: Vinyl City is run by the notorious NSR corporation, who deal solely in EDM and use its energy to power the city. Even then, many areas are in darkness because NSR controls where its energy is distributed.
Each of Vinyl City's five districts is 'run' by a different EDM artist who owns a special platinum disc giving them control of the region. It's up to the duo, then, to make their way through each district, hijack each artist's concert, get their platinum vinyl and eventually take over the entire city, overthrowing NSR and its electro dictatorship in the process.
There are three distinct parts to each region. The first has you exploring the city itself, collecting vials called Qwasas which are used to restore power to various small features in each region (like street lights, vending machines and so on). This gives you more fans, and the more fans you have the more abilities you can unlock in the game's skill tree.
These sections provide no real challenge as there are no enemies to speak of. Instead, their aim is simply to set the scene and let you get an idea of each district's vibe as you explore the streets in search of the Qwasas. Once you earn the ability to pull off double jumps and air dashes, you can make your way through these sections fairly quickly.
Once you reach the end of a district you'll drop down into the security stage. This is a series of shorter areas patrolled by various robots all designed to prevent you from reaching the EDM artist for that region. The robots all move to the beat of the music, so while it's possible to play the game with the sound off you're at a major disadvantage if you do because you'll otherwise be able to anticipate enemy attacks and avoid them accordingly.
Finally, after you get past the security you'll reach the end-of-level concert itself and engage in an epic boss fight with that area's artist. And they are epic: each is your normal multi-form boss affair where it looks like they're down and out but then they transition to another status and the fight continues in more difficult circumstances. In this respect, there isn't much here you haven't seen before.
"From the space-themed electro DJ, to the cyborg boy band, you may not get to spend an incredibly long time with each of these bosses but they're so brilliantly designed that they leave a lasting impression regardless."
Where No Straight Roads does actually innovate is in the style of each of its bosses. There may only be seven to face over the course of the game, but it's an eclectic mix nonetheless and each is truly memorable in their own way.
From the self-important space-themed electro DJ with a black hole for a head, to the cyborg boy band whose shields are powered by their fans' screams, you may not get to spend an incredibly long time with each of these bosses but they're so brilliantly designed that they leave a lasting impression regardless. They're basically today's equivalent of the evil exes in Scott Pilgrim.
They're ably supported by the game's fantastic soundtrack too. Each boss has their own unique theme and as the tables turn over the course of the battle it slowly changes from an EDM track to a rock one. It's subtle enough for you to not notice as you're fighting, but handled well enough to subconsciously enforce the feeling that you're gaining the upper hand. It's wonderful.
The game still has issues. These boss fights can be lengthy affairs, and there are no mid-boss checkpoints. If you've got them down to their third and final phase and they've only got a sliver of health left when you die, too bad: you're sent all the way back to the start of the fight.
This can be extremely frustrating but it's very much a 'git gud' situation: you get back on the horse, try to learn the timing of certain attacks and parry situations and try again. NSR is also quite a short game, at least in terms of reaching the end credits. With only five districts to explore, good players can get through it in a handful of hours.
There are some extra features that increase your playtime a little, such as the ability to unlock harder difficulty levels for each fight. There's also a parry mode, in which you can only damage a boss by parrying the special purple attacks they fire at you: these require particularly pin-point timing, so listening to the beat is even more crucial.
Ultimately, these extras still aren't enough to hide the fact that, at its core, this is a short adventure by today's standards. That's not to say it isn't a truly exceptional experience while it lasts, and as long as you're content with the fact that this is a brief affair, we wholeheartedly recommend it.
No Straight Roads is a beautifully made adventure with a fantastic soundtrack and some phenomenal art design. While its boss battles, its dialogue and its general vibe are hugely entertaining, its brevity may disappoint anyone looking for a little more content. As long as you don't mind paying an LP price for a brilliant EP, you're in for a treat.
Each boss is a masterclass in character design
A brilliantly realised city with five distinct and impressive districts
Its toe-tapping soundtrack integrates itself with the action brilliantly
It's disappointingly short
4 / 5
Version tested
Nintendo Switch
Related Products
Other Products
Some external links on this page are affiliate links, if you click on our affiliate links and make a purchase we might receive a commission.