Review: Nintendo Switch OLED is a striking upgrade for portable players
It's not the 4K model we were hoping for, but Switch's updated display is a huge improvement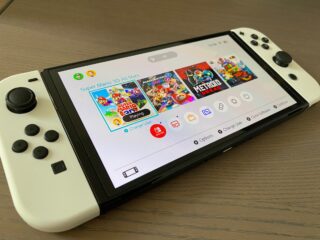 Thanks to media reports that didn't come to fruition, Nintendo Switch OLED's announcement was met with near-universal disappointment from consumers expecting an all singing, all dancing 4K Switch upgrade.
However, while the new model's internal specs are the same as the existing hardware, when the Nintendo Switch OLED is in your hands it still feels like a significant upgrade for those who mostly play in handheld mode.
And that's almost entirely down to its striking 7-inch OLED screen, which is both larger than the 6.2-inch display on the standard model and of vastly better quality thanks to the properties of OLED. Just like OLED televisions, the Switch's new screen bursts with striking colour and the darkest of blacks. It's a huge improvement.
As OLED Model's name suggests, the screen is the standout feature here and ultimately, the deciding factor on whether you'll shell out $349.99 / £310 for an upgrade.
Nintendo Switch OLED model has a similar overall size to the standard Nintendo Switch system, aside from its display. When docked to the TV, games on Switch OLED will look no different than on the standard Switch.
The system also features a wide adjustable stand for tabletop mode, a new dock with a wired LAN port, 64GB of internal storage (compared to 32GB previously), and enhanced audio for handheld and tabletop play.
Placed alongside the standard Switch model, OLED's screen is a huge improvement over its predecessor. Anyone who's upgraded their television to an OLED set will know what a significant improvement this kind of display is compared to a standard model, and Switch OLED represents a comparable upgrade over the original.
Games like Breath of the Wild and Mario Kart 8 look reinvigorated on the OLED screen, with colours bursting from the screen. Playing Mario Odyssey side-by-side with an original Switch reveals far more detail on scenery like grass and water on the newer model, while the latter overall looks totally washed out compared to the newer unit.
As far as the screen goes, it's really no contest between the two Switch models: if you're a portable player, you'll definitely want to upgrade your old model once you've experienced OLED's glorious display. If, that is, you can stomach the price of entry.
Another pleasant surprise are the small improvements Nintendo has made to make the new Switch feel like an overall more premium device. The screen, beyond looking fantastic, now pretty much fills the bezel and what little does surround the display now sports a pleasing glass finish, as opposed to the cheap looking plastic of the original Switch.
The rear of the Switch OLED is also far smarter, with the previous model's mess of logos removed and replaced with a smart-looking wider stand (more on that in a moment). The aesthetic improvements also extend to Switch OLED's new white coloured dock, which certainly looks nicer than its predecessor.
---
Nintendo Switch OLED Hardware Specs
Size 4 inches high, 9.5 inches long, and 0.55 inches deep (with Joy-Con attached)
Weight Approximately .71 lbs (Approximately .93 lbs with Joy-Con controllers attached)
Screen Multi-touch capacitive touch screen / 7.0 inch OLED screen / 1280×720
CPU/GPU NVIDIA Custom Tegra processor
Storage 64 GB
Wireless Wi-Fi (IEEE 802.11 a/b/g/n/ac compliant) / Bluetooth 4.1
Video output Up to 1080p via HDMI in TV mode. Up to 720p via built-in screen in Tabletop mode and Handheld modes
Audio output Compatible with 5.1ch Linear PCM output. Output via HDMI connector in TV mode
Speakers Stereo
Buttons Power button / Volume button
USB connector  USB Type-C. Used for charging or for connecting to the Nintendo Switch dock.
Headphone/mic jack 3.5mm 4-pole stereo (CTIA standard)
Game card slot Nintendo Switch game cards
microSD card slot Compatible with microSD, microSDHC, and microSDXC memory cards
Sensor Accelerometer, gyroscope, and brightness sensor
Operating environment 41-95 degrees F / 20-80% humidity
Internal battery Lithium-ion battery / 4310mAh
Battery life Approximately 4.5 – 9 hours
Charging time Approximately 3 hours
---
The inside of the dock now has a glossy finish, like the main unit's screen bezel, and the bottom has a pleasing matte-come-foam type padding. Visually, the dock now looks like something that's been crafted for a high-end device, rather than the tatty 3D-printed aesthetic of the previous unit.
When you hold the new version in your hands, however, it still feels like the same cheap plastic, and the rear of the device now awkwardly snaps off rather than folding out, but at least it's much better to look at.
Functionally, OLED model has a bunch of smaller improvements, such as an ethernet port, increased internal storage and improved audio. The speakers didn't immediately feel like an improvement, but when we cranked up the volume we noticed crisper sounds, particularly for smaller sound effects such as footsteps and menu beeps.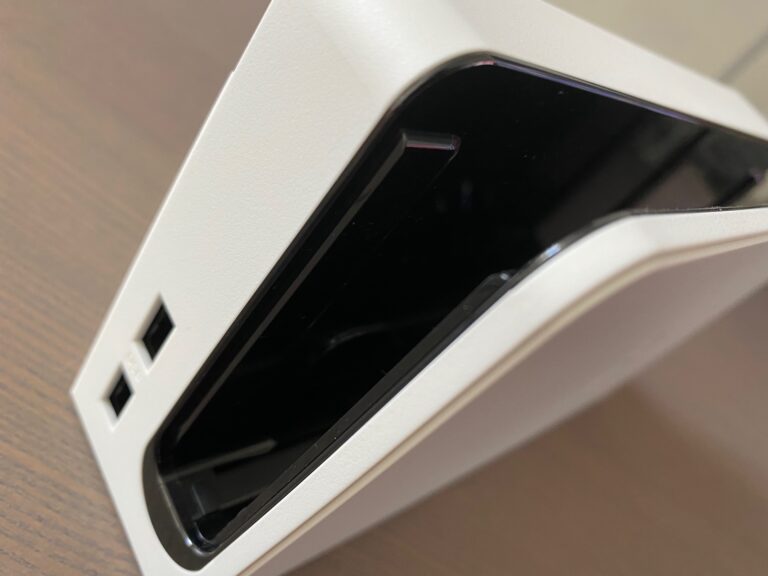 However, OLED model's most significant improvement other than its screen is in tabletop mode. If you're like us, you've probably virtually never used your Switch in tabletop mode for fear of snapping its ridiculously lightweight stand clean off, but after using OLED's upgrade we do feel like we'll play Switch this way more often.
The new stand spans the entire width of the device, similar to a Surface tablet, and it's a huge, huge improvement over the original Switch's silly plastic nub. Compared to the vanilla device's cocktail stick, OLED's stand actually has a significant amount of resistance and feels like it could withstand a rocky train ride of turbulent flight.
Satisfyingly, because of the resistance, you can adjust the stand to whatever angle you like. This means you can play the Switch OLED bolt upright, or angled almost vertically towards the ceiling, with no fear of it falling over. There's no debate: this is a great quality of life improvement that should encourage tabletop play.
Overall, Switch OLED model feels about as compelling as a Switch revision could be without actually improving the internal specs of the system. The screen is a striking improvement over the original Switch, while its overall aesthetic feels and looks more premium.
The crux, of course, is that these improvements are all focused on portable play, so it's not really worth it at all for those who mainly play their games on a television. For everyone else, this is undoubtedly the best Switch model yet.
If you're an avid Switch player who mainly plays in portable mode, quite simply you'll be wanting to upgrade to this. Whether you actually will, considering the hefty $349.99 / £310 asking price and limited improvements beyond the screen, is a different matter. But it certainly feels like a meaningful improvement over the original model when it's in your hands.
OLED display is a huge upgrade
The new stand is also a significant improvement
Feels more premium
Virtually no improvements for TV play
No, it's not the 4K upgrade we were hoping for
Related Products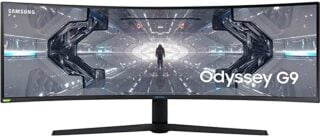 SAMSUNG 49-inch Odyssey G9 Gaming Monitor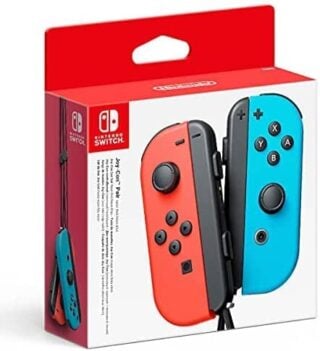 Nintendo Switch Joy-Con Pair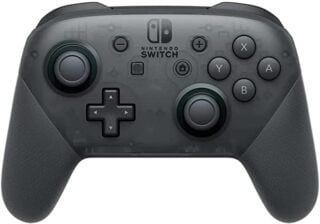 Nintendo Switch Wireless Pro Controller
Other Products
Some external links on this page are affiliate links, if you click on our affiliate links and make a purchase we might receive a commission.