Review: Nintendo Labo VR Kit is an excellent entry-level VR experience
The finest – and best value – Labo kit so far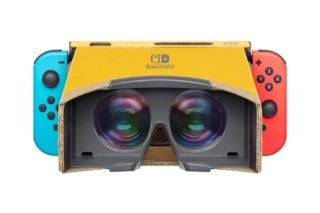 You always look silly playing VR – so trust Nintendo to take that to extremes. An alternate control scheme for one of the games here has you blowing a wobbly pinwheel as it dangles in front of your chin, while stamping on a giant foot pedal that blows gusts of air into your face, as if you were some kind of crackpot inventor.
Then again, the standard setup for the same game makes you look like an avian proctologist. Labo VR Kit isn't for the self-conscious, then, but as an entry-level VR experience – one particularly suited to younger players – it's extremely good value and an awful lot of fun.
It's also something of a surprise. Nintendo has historically been fairly cool on VR, and with good reason: VR is an inherently isolating technology and Nintendo has always encouraged families and friends to play together. The two would seem to be incompatible. And yet here we are, and suddenly it all makes sense.

This is a typically unorthodox kind of VR experience. There's no strap on the Labo VR goggles, which makes the headset easy to pass on to others. Its games are geared towards short play sessions, and while it's a pity there's only one mode that's designed for competitive multiplayer, it's quick and easy to take turns. This is almost certainly the most social VR experience to date.
Any doubts you might have had about Switch's suitability for VR are quickly dispelled. Despite the limitations of the hardware, the image quality is better than you'd think. Objects at a distance are fuzzier, sure, and try as you might to keep the screen and goggles as clean as possible, you'll spot tiny little blemishes in the picture – despite the sponge pieces letting you smoothly slide the Switch's tablet screen in and out of their cardboard housing. But otherwise it's comfortably enough to immerse you within the games.
As with the other Labo kits, the building process is part of the fun. It takes around half an hour to assemble the (lightweight but robust) VR Goggles, and between 45 minutes and around three hours to build each of the five peripherals – or Toy-Con in Nintendo parlance – that they'll slot into. And yes, that includes the back end of a cardboard bird. Each comes with a pivoting lid that holds the screen in place during play, while also letting you remove the goggles simply once you've finished.
The step-by-step onscreen instructions make it more appealing still – at once honest enough to admit that certain bits are fiddly and time-consuming, while finding charming ways to make all that folding and tucking more interesting. One minute, you're handling a bow-legged one-eyed robot; the next, it's a pair of raccoons holding paws.
The games you play with these Toy-Cons are designed for short sessions, and hark back in some ways to Nintendo's coin-op past: the Blaster in particular. This is the longest build, but well worth the effort. It's a wonderfully tactile piece of kit – the pump-action reload makes clever use of elastic bands, pushing back an internal piece that locks into place until you push the fire button with your thumb, which produces a loud snapping sound and a release you can feel.
The on-rails action is simple but typically robust, as you blast hovering aliens and towering crabs with glowing weak points. A second Joy-Con, placed in a slot to the left of the Blaster, can be twisted downwards to activate a slow-motion mode that lets you fire several shots which freeze in mid-air; flip it back up to release them and you might just hit five targets at once.
And once you've tired of beating your best scores there, there's the weirdly compulsive Kablasta: a multiplayer game about sucking up fruits and shooting them into the mouths of a pool of hungry hippos as you compete against another player to get the most into your goal zone. You've got rapid-fire grapes, pineapples that can disperse clusters of hippos and a floating tree that yields three mangos if you manage to strike the trunk. It's a game that highlights the benefits of the strap-free approach – you simply pass the Blaster over once you've taken your go – and it's a shame there aren't more modes like this, even if it's straightforward enough to take turns on the other games.
"The games you play with these Toy-Cons are designed for short sessions, and hark back in some ways to Nintendo's coin-op past: the Blaster in particular"
The Camera's satisfyingly clicky zoom lens makes it the second loudest of the Toy-Cons. It comes with a pair of photography games, one of which lets you snap a weird fuzzy creature that lives in a small house (a nod to the very first Labo kit) in various poses. But the underwater mode is far superior: here, you can look around to climb or dive, as you attempt to capture rare sea life, using fish food to entice them closer.
There are secret fish if you brave the darker depths; break the surface, meanwhile, and you'll find a treasure chest in a nearby boat, as you train your viewfinder on the lighthouse waiting for a seagull to fly past. There are dozens of 'missions' like these to complete, though you're limited to three photos per dive – a reminder, as if the frequent suggestions to take a break weren't enough, that Nintendo doesn't want you playing for hours on end.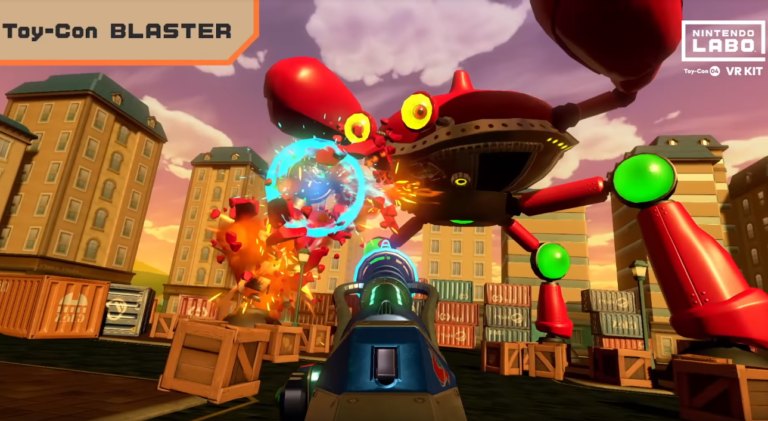 Likewise with the Bird, where a warning bell sounds every five minutes as you flap around an island collecting food for hatchlings – though your aching arms will be glad of the rest. Here, you push down two cardboard triggers either side of the Toy-Con to flap its wings, getting a gentle rap on the knuckles as they move up and down. It's an enjoyably serene change of pace, and if you slot the other Joy-Con into the Wind Pedal, you can step on that to zoom forward instead – not only saving your arms, but cooling yourself down in the process. A second mode, meanwhile, invites you to race through a succession of circular gates – and with surprisingly demanding target times.
The Wind Pedal is also used in a frog-jumping game, where you must time your leaps to land on a trio of balls as they circle around towards you, or else nod back footballs that are fired above your head. Again, it's slight, but great fun: the wind whooshing creates a different kind of immersion, one that relies on sensation rather than high-fidelity graphics – like a 4DX cinema screening but less distracting.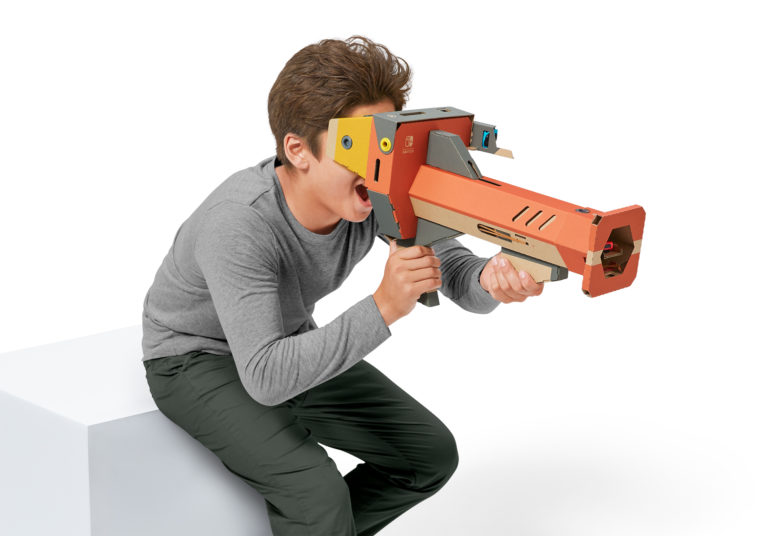 Finally there's the Elephant, the flimsiest but cleverest of the Toy-Cons. The main play mode here asks you to reposition platforms in mid-air, to guide a dropping ball through a series of rings. That it can effectively track your movements in 3D space using the position of both Joy-Cons with the help of reflective stickers on the 'face' of the Toy-Con is quietly remarkable, and this helps immensely with an impressively flexible 3D paint package, which lets you make floating foam-like sculptures.
"This solves one of the biggest stumbling blocks you'd assume there would be for a Nintendo VR project – it turns VR into a fuss-free and genuinely family-friendly experience"
It's great for would-be artists, then, but also budding engineers. Previous Labo kits have always offered insights into how each contraption functions, but this time there are more practical examples to encourage creative experimentation. Within the Play section of the software are 40 microgames, with another 24 opening up once you've descended into the Toy-Con Garage and tried your hand at its simple input-output programming language. The games are no more than throwaway sketches, and some are even a little rough by Nintendo's high standards. But they more than serve their purpose as playthings designed to show what players can achieve without too much effort.
You might wonder while playing these rudimentary prototypes whether a WarioWare VR spin-off might not be a bad idea. And the camera seems tailor-made for a new Pokémon Snap – though given Labo's relatively modest success so far, it's perhaps more likely to come as a bonus mode in Pokémon Sword & Shield. The Blaster would make for a perfect Duck Hunt remake, or as an alternative control option for an on-rails arcade shooter. Ghost Squad VR, perhaps? A Splatoon spin-off would be even more welcome.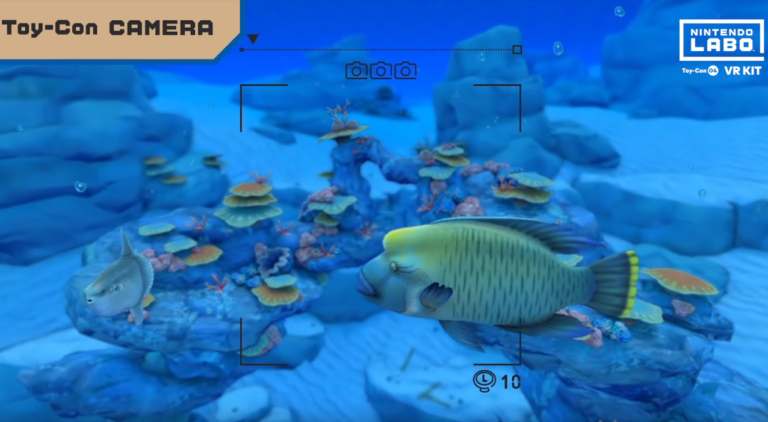 That could all depend on how well Labo VR sells, but talk of two new Switch SKUs – one reportedly with higher specs – could yet mean it becomes part of Nintendo's future after all. It's worth noting, too, that both Super Mario Odyssey and The Legend of Zelda: Breath of the Wild will receive software updates before April's out to add VR support. In Mario's case, it's a trio of short-form challenges, but Nintendo's suggesting that you'll be able to play the entirety of Breath of the Wild in VR – though given the technical hurdles it's far more likely to be stereoscopic 3D, similar to 3DS.
In the meantime, this solves one of the biggest stumbling blocks you'd assume there would be for a Nintendo VR project – it turns VR into a fuss-free (at least once it's assembled) and genuinely family-friendly experience. Yes, there's the still the issue of cardboard clutter once it's all over, but whichever pack you buy, you'd be hard pushed to say you don't get your money's worth from what is undoubtedly the best Labo kit to date, wobbly pinwheels and all.
The finest – and best value – Labo kit so far is no Rift beater, but an excellent entry-level VR experience, especially for younger players.
Fun builds with instructions that keep things light
Blaster, Camera and Elephant all have future potential
Wind Pedal and Bird are Weird Nintendo at its finest
Image quality better than you'd expect
Limited longevity unless you're prepared to get creative
Related Products
Other Products
Some external links on this page are affiliate links, if you click on our affiliate links and make a purchase we might receive a commission.