Monster Hunter Stories 2 review: An easy-going JRPG that makes us want Switch Pro
Capcom's Switch sequel is a thoroughly entertaining turn-based RPG… as long as you can put up with the framerate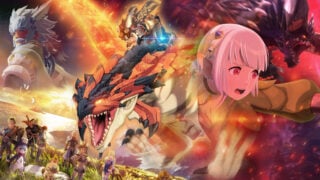 While the Monster Hunter series has undoubtedly been an enormous success for Capcom, it's fair to say its lengthy hunts require a certain temperament to enjoy.
Monster Hunter Stories – released on the 3DS in Japan in 2016 and everywhere else the following year – presented the Monster Hunter universe in a different way, offering a turn-based RPG instead of the typical real-time action-adventure game the series was known for.
Despite not selling quite as well as the main series, the fact that the first game was popular enough among those who actually did buy it encouraged Capcom to try again, and so now we have a sequel that attempts to not only build on its predecessor's feature set, but its userbase too.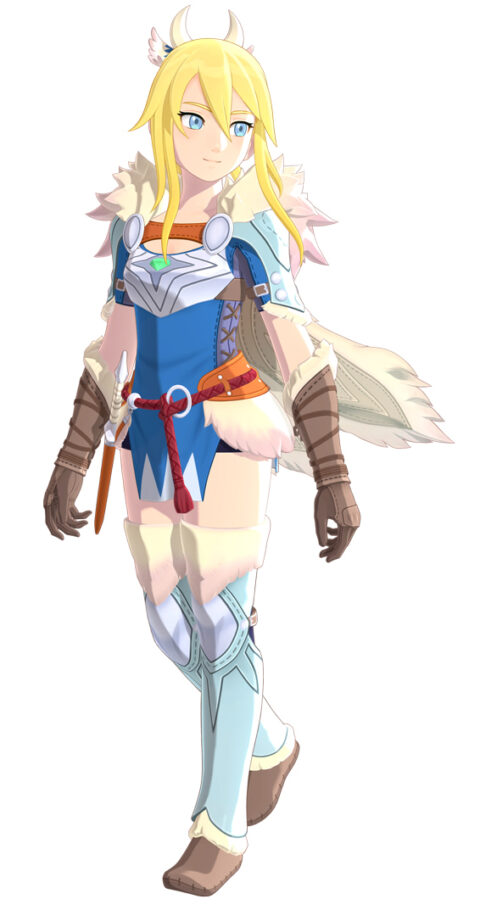 The game's structure is more like that of a conventional RPG, with players taking on various quests and heading out to open-world environments, taking on wild creatures in battles along the way.
At face value, it would be easy to dismiss Stories as a Pokémon imitator, but despite one of the main mechanics being the collection of monsters the general structure is actually quite different, both in terms of how these monsters are collected and how they're then used in battles.
The monsters in question are dubbed Monsties, and are friendlier versions of the wild ones encountered throughout the adventure. There are around 80 in total to collect, with each having their own stats and special abilities, and each can be levelled up. So far, so Pokémon.
Combat, however, uses a turn-based battle system that sees players standing beside their lead Monstie. Players choose which attacks their character will use, while their AI-controlled Monstie picks its own.
Attacks revolve around a sort of rock-paper-scissors system where there are three attack types – Speed, Technical and Power. If your opponent engages with you, your move types will be compared to determine who pulls off the hit.
Each enemy species specialises in a specific type of attack, so over time you'll begin to learn which moves are best to use each time a new battle kicks off. If you and your Monstie both choose the same move type and it's the dominant one, you'll trigger a special double-team attack.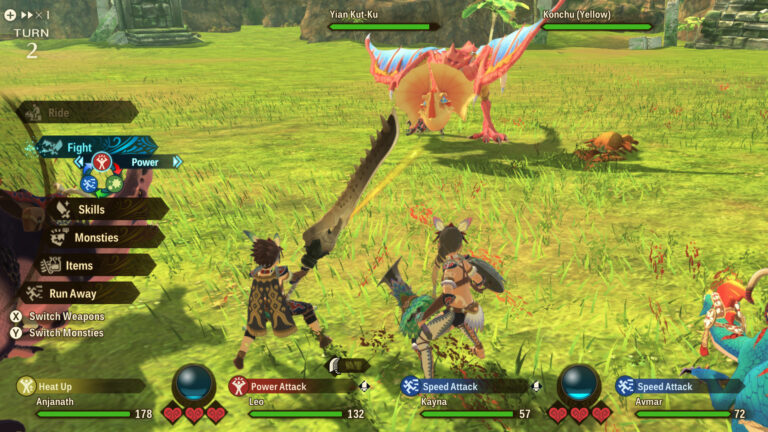 Your weapon of choice also affects how effective you are in battles. The first Monster Hunter Stories feature four different weapon types, two that performed slash-type moves (Great Sword and Sword & Shield) and two that performed blunt-type moves (Hammer and Hunting Horn).
Stories 2 expands on this by adding two new weapon types, Bow and Gunlance, which add pierce-type attacks to the mix. It's enough of an addition to make things feel a little fresher for those who already played through the original game.
Everything works perfectly fine during battles, and there's also the option to speed up the animations if you feel battles are taking too long. The system is straightforward enough that even younger gamers will pick it up, though hardened RPG veterans may find the whole thing a bit too simplistic.
"The system is straightforward enough that even younger gamers will pick it up, though hardened RPG veterans may find the whole thing a bit too simplistic."
Outside of battles, Monsties accompany you in the open world as you explore. You can climb aboard your Monstie and ride them across the environments: not only does this help you gain more ground quicker, but each Monstie also has a specific skill that works in the open world sections.
Some of them can swim, some can jump large gaps, some can climb vines, and so on. You can set a party of five active Monsties (your current one and four on standby), so if you come to an obstacle your current Monstie isn't equipped to handle you can quickly swap them out for a different one.
This also comes into play during battles. Because your Monstie is AI-controlled, each will have a tendency to favour a specific type of move. If you're fighting a monster who tends to use Power attacks, then, you may wish to swap your Monstie out for one that favours Speed attacks. It's hardly Starcraft but it adds at least some thought to the process.
The sense of progression is satisfying. Obviously, your protagonist and Monsties will level up after each battle but the rate at which they do feels natural and there's rarely a need to stop and grind some random battles to stay in line with the rising difficulty of the enemies you face. Everything is balanced well enough that you improve as they do, with no sidetracking needed (unless you want to, of course).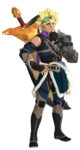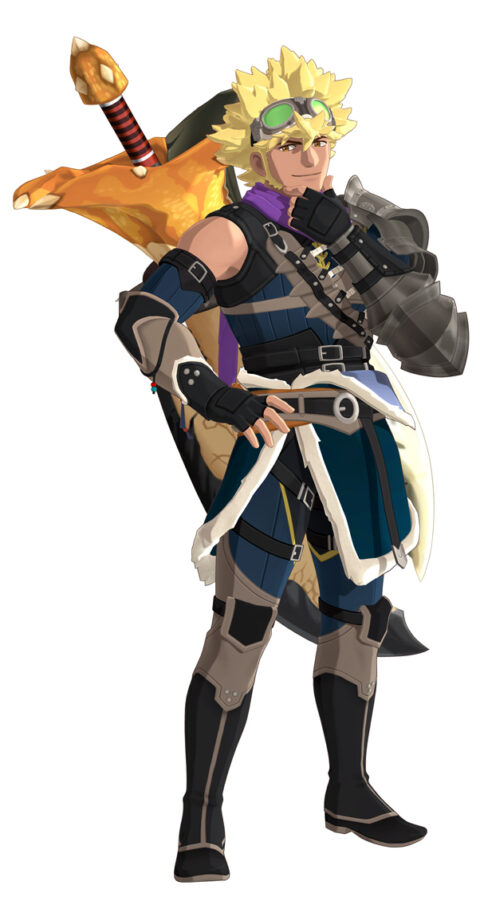 Other elements are also pleasantly straightforward, most notably the weapon forging system. We often break into a sweat at the thought of complicated crafting in games that often requires players to search high and low for a specific rare material needed to complete a certain item, but that isn't the case here.
Instead, forging weapons and armour simply involves contributing a certain type of material, each of which comes in various rarities, until you hit a total number of points.
One weapon, for example, may require you to find 15 points of Qurupeco monster material. There are three items that can be used for this: Qurupeco Scales are extremely common and worth 1 point, Qurupeco Feathers are a little less common and worth 3 points, and Strange Beaks are rare and worth 10 points.
Any combination can be used to reach the 15 points you need, so it's perfectly possible to just fight some Qurupecos until you have 15 of the common Scales and dump them on the Smithy, who'll happily make your shiny new weapon for you.
The result is a system that makes you work for your weaponry rather than simply forking over cash, but not to the extent that it makes upgrading your arms a slog.
By and large, Stories 2 is just generally pleasant to play through, but that doesn't mean the game isn't without its issues.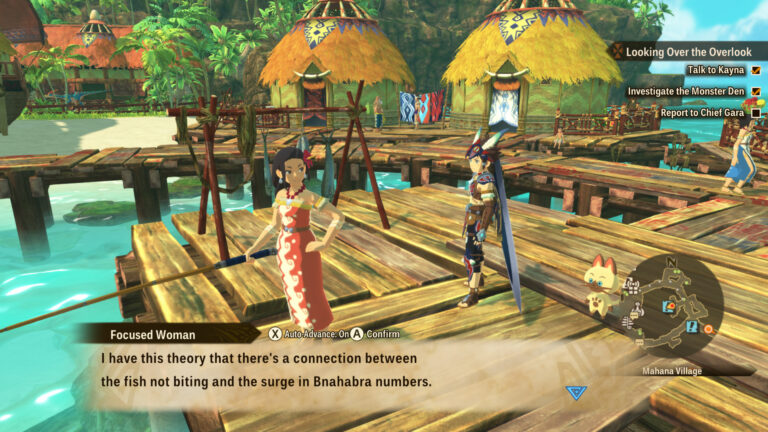 The game's voice acting (which only kicks in during cutscenes and particularly important dialogue) can be set to English or Japanese
While the story is engaging enough the voice acting feels a little off and the return of Navirou as a companion results in more cat puns that we could realistically stomach.
The odd joke here or there is fine, but nearly every line is a cat pun, meaning we were only a few hours in before we were feline like it was time for him to go.
The game's performance isn't great, either. It does the job for the most part but the frame rate has a tendency to tank in more complex scenes, such as busy villages or frantic battles where there's a lot of movement going on. In a week where many Nintendo fans are disappointed by the new Switch's lack of performance improvements, Stories 2 sure feels like a case for better hardware.
"In a week where many Nintendo fans are disappointed by the new Switch's lack of performance improvements, Stories 2 sure feels like a case for better hardware."
Stories 2 is also a tad on the easy side. Your protagonist and your Monstie each have three hearts so can technically each 'die' twice in a battle without consequence. Add to that the fact that the majority of battles come down to figuring out each enemy's likely attack type and you're unlikely to struggle much.
As long as you can live with this, however, and are up for a light-hearted RPG that doesn't try to be too taxing, you should find that Monster Hunter Stories 2 is a thoroughly enjoyable adventure, even though it doesn't exactly reinvent the wheel.
There's ultimately nothing wildly new here, especially when you compare it to its predecessor which offered much of the same at a lower resolution. What it does offer, however, comes at a high quality, and should appeal to fans of Monster Hunter and easy-going JRPGs alike.
Monster Hunter Stories 2 is a solid and thoroughly entertaining turn-based RPG. As long as you can put up with some bad jokes and relatively low difficulty, there's a lot of fun to be had here.
The battle system is easy to get to grips with
Exploring the open world with your Monsties is a joy
Grinding battles with wild monsters is minimal
Has performance issues during busier moments
May be a little too easy for hardened RPG fans
4 / 5
Version tested
Nintendo Switch
Related Products
Other Products
Some external links on this page are affiliate links, if you click on our affiliate links and make a purchase we might receive a commission.