Review: Monster Hunter Rise: Sunbreak is an excellent expansion to one of the series' best games
With fresh combat updates and tons of new monsters, Sunbreak feels like it earns its price tag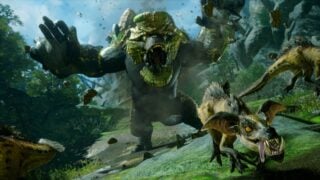 Making more Monster Hunter Rise should be pretty straightforward. In fact, there will be many people, including us, that would have been quite happy for Capcom just to litter the world with a few more monsters, some harder contracts and new gear. But Monster Hunter Rise: Sunbreak is much more than that.
The expansion takes place in a new land across the sea after the events of the main game and brings with it new locals, a new central area, and a whole host of new characters to interact with. These quiet moments between hunts have always been key to Monster Hunter's charm, but they feel more streamlined in Sunbreak.
You get the impression Capcom knew that most people just want to have the essentials, like the merchant and the canteen, as close as possible in order to prepare before a big fight. Although we'd recommend running around and talking to everyone and soaking up the atmosphere.
The star of the show is the new monsters, with fights ranging from technically challenging to so difficult you'll wish that you had 30 other hunters with you. To combat this, all 14 weapon types have been given new Switch skills which freshen up the combat if you've been too reliant on the same set of moves since finishing the game.
It's a bit awkward at first to swap between them, but, like a lot Monster Hunter, what seems absolutely alien when you start off will be second nature soon enough. Expect a few fights where you mindlessly flick through skills and test some moves out on mindless mobs while this skyscraper of a dragon looks blankly at you.
During the review period, we were unable to matchmake with other hunters, which proved especially challenging for some fights, however, there are several quests that include an AI partner, so all isn't totally lost if you're not the greatest player of all time.
With some of the new high-tier quests, we imagine that plenty of players that breezed through the main game will feel the same. Let's be clear, this isn't a jumping-on point, in fact you have to play plenty of the main game, including finishing the main questline, before it's even accessed, and while we'd have liked an option to skip to the new content, especially if you've decided to change platforms, the complexity of the new fights that the main game is more of a training mode for Sunbreak.
The original Monster Hunter Rise is an absolutely fantastic game, so for this expansion to be just more would have been fine, but Sunbreak feels like it earns its price tag and then some. The barometer of good Monster Hunter content is if you want to run the same fights over and over to deck out your character in the entrails of the most horrific flying beast you've ever seen, and after only a few hours with Sunbreak, we could feel the addiction creeping back.
Monster Hunter Rise Sunbreak is an excellent expansion that will please those Hunters desperate for something new, just make sure you're prepared, or you'll quickly be rather sick of the sight of a group of Palicos hauling your lifeless body up the road.
Monster Hunter Rise Sunbreak is an excellent expansion that will please those Hunters desperate for something new.
Switch skills freshen the battle
More epic monsters
Charming hub world
New players can't jump straight in
4 / 5
Version tested
PC
Related Products
Other Products
Some external links on this page are affiliate links, if you click on our affiliate links and make a purchase we might receive a commission.