Review: Minecraft Dungeons is a spin-off in need of building work
Mojang's Diablo-like is fun enough… while it lasts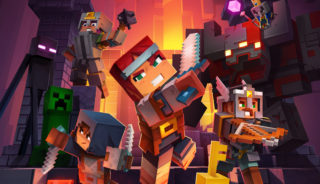 It's somewhat surprising that a game as lucrative as Minecraft – an IP that hasn't been shy to generate more than its fair share of merchandise – doesn't have more spin-off games by this point.
Other than the episodic Telltale series Story Mode and the currently-in-beta augmented reality mobile game Minecraft Earth, there haven't really been any other efforts to expand the franchise's universe any further in gaming terms. In that respect, Minecraft Dungeons is a rare beast.
Its plot is throwaway: an 'illager' called Archie is exiled from his home, but when he finds cave containing the Orb of Dominance, he gains the Orb's power and becomes the Arch-Illager, taking control of his people and turning them into his own personal army.
It's up to you, then – along with up to three others – to make your way across the land, fighting your way through a bunch of dungeons, until you come across the Arch-Illager and give him a hefty punt in the plums to end his reign of terror.
There are a total of ten different dungeons in the game, each with their own theme: redstone, desert, fire and so forth. The aim is simply to reach the exit door at the end of each dungeon, slaying anything along the way.
Imagine Diablo III with Minecraft's art style and you should have a rough idea of what to expect from Minecraft Dungeons (albeit in a far more basic form). The action is viewed from an isometric perspective, and along the way enemies and chests will drop random items for you to equip should you so desire.
If there are any items you decide you don't want, you can salvage them for gems, which can, in turn, be spent at one of the shops in your hub area for a random item suitable for your current level. They're loot boxes without microtransactions, basically, and while some may baulk at the idea it's hardly a novel concept in the dungeon crawler genre.
That's pretty much the best way to sum up Dungeons, actually: it's a fairly safe dungeon crawler with no real unique features beyond the obvious cubist art style that obviously had to be in there in order to be an actual Minecraft game.
It's a good job it is, frankly, because its looks are really the only thing that could be considered truly Minecraft-like in Dungeons. With no mining or crafting to speak of, there's a case to be made that this game could have easily been reskinned to look like any other Microsoft property – Gears of War, Banjo Kazooie, what have you – and nothing would have been lost along the way.
"It may not offer the creative opportunities Minecraft does or the sense of humour we saw in Story Mode, but it's a solid enough little game that doesn't try to reinvent the wheel."
But Minecraft Dungeons is far from a bad game: Combat is satisfying enough and the partially procedurally generated stages look the part. It may not offer the creative opportunities Minecraft does or the sense of humour we saw in Story Mode, but it's a solid enough little game that doesn't try to reinvent the wheel. Granted, it isn't the next Diablo or anything, but it at least kept our attention until the game was beaten… which, in fairness, wasn't that long.
The ten stages can be cleared in just a couple of hours, and if you fail to beat one of them the experience and gear you had will remain in your possession when you start again, meaning that even if you're struggling to clear a certain level you can eventually brute force your way through by continuing to grind your XP and collecting increasingly more powerful weaponry until you're strong enough to scythe through enemies.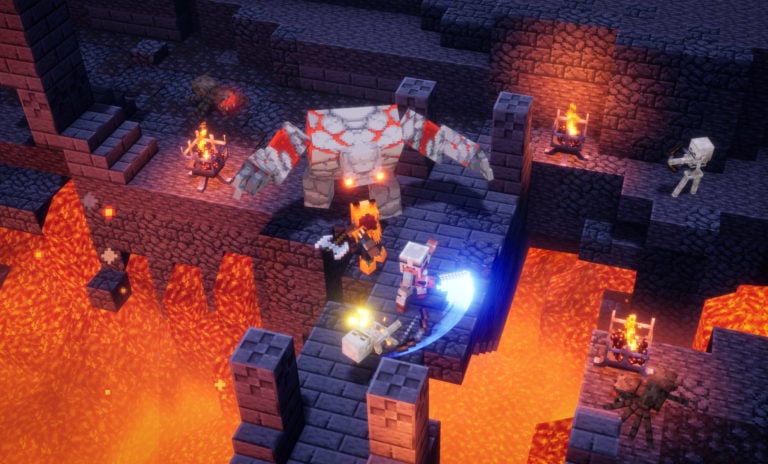 The result is an oddly brief experience that feels unfinished to an extent. The fact that there are already two paid DLC packs on the way and Mojang is promising a number of free updates suggest that it expects players to stick with it and keep playing as new content is added.
If you're an Xbox Game Pass subscriber on either Xbox One or PC, this shouldn't be a massive issue for you: it's on there from launch, meaning you don't really have anything to lose. Download it and play it, because it is legitimately enjoyable while it lasts, and then you can move on to something else.
A fun enough game that ends far sooner than it should. Hopefully its DLC will build on things.
Looks authentically Minecraft-like.
Combat is solid enough and satisfying.
It's far, far too short.
No mining, crafting, or anything else that would make good use of the licence.
3 / 5
Version tested
Xbox One