Review: Mario + Rabbids Sparks of Hope is a confident, joyful sequel
Ubisoft Milan delivers a massively enjoyable, if a bit safe, galaxy-spanning Rabbid romp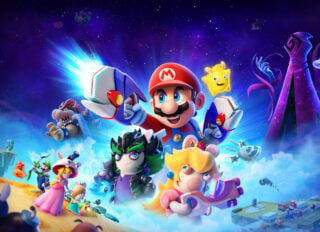 Jeff Minter once said that being asked to work on Space Invaders was like being asked to play guitar with Dave Gilmour from Pink Floyd.
So you can imagine how it must feel for the team at Ubisoft not only to be handed the keys to the Mushroom Kingdom once but to be asked back for a second go around Rainbow Road must have had them brimming with confidence. Mario + Rabbids Sparks of Hope is full of that confidence.
The sequel sees Mario, Luigi, Peach and their Rabbid impersonators take to the stars as they travel from planet to planet, warding off an incoming threat from the Darkmess, which isn't a typo, just a slightly confusing name for the in-game badness that's dished across the universe by Cursa, the game's main villain.
Cursa, having staged a coup against Bowser, has taken control of his army and tasks them will collecting Sparks, a Rabbid-Star hybrid which is spread across Sparks of Hope's handful of planets.
Like the first game, Mario + Rabbids Sparks of Hope is a turn-based tactics game, the elevator pitch being "Mario XCOM". While that might conjure images of a hugely simplified version of the strategy classic, the game, much like its first entry, isn't afraid of challenging the player.
From a gameplay perspective, the largest change for those who played the first game is the free movement that players can now use on their turn. This does make for some interesting changes in strategy, which are necessary thanks to the cunning AI who'll chase you around the map.
While the takes away the chess-like strategy element of the first, it's a welcome change, even if it doesn't actually massively impact how battles play out. You still have a set amount of distance you can travel, and there will still be shots you miss that you would have made if you just had a few more steps.
A team jump allows for greater movement, and adds a slight bit of platforming to levels, which combined with the new movement system makes for some fun plays called on the fly. Sparks can also be swapped in and out between characters making for some cool team-building opportunities, like absolutely tearing through the ice world with Luigi's flaming bow of doom (not the official name).
New enemy types, AI that seems far more aggressive and intelligent, and the quick pace with which the game introduces new scenarios mean that the campaign keeps up a great pace throughout.
There were a few battles where it felt like they were made artificially more difficult by throwing more and more enemies at us, rather than a tactical puzzle to work out, but thankfully those aren't a massive problem in the late game. Your team also levels up rapidly if you engage with the side content even slightly, so you'll get through much of the game without having to leave mainline quests and grind.
The game's soundtrack is absolutely stunning. But frankly, it should be. Ubisoft has assembled an utterly ridiculously talented powerhouse trio of composers. Grant Kirkhope (GoldenEye 007, Banjo-Kazooie and Donkey Kong 64), Yoko Shimomura (Street Fighter II, Super Mario RPG and Kingdom Hearts) and Gareth Coker (Ori and the Blind Forest, Ori and the Will of the Wisps, Ark: Survival Evolved and Halo Infinite) make up what is arguably the strongest musical triple threat in any game ever made. The soundtrack is incredibly memorable and is crying out for a vinyl release.
"Ubisoft has assembled an utterly ridiculously talented powerhouse trio of composers. Grant Kirkhope, Yoko Shimomura and Gareth Coker make up what is arguably the strongest musical triple threat in any game ever made."
Visually, Sparks of Hope is also among the Switch's strongest titles. Each world is unique and full of personality. While you don't actually need to spend much time on each planet if you're looking to follow the game through on its critical path, there are plenty of optional battles, NPCs to talk to and some fun visual gags hidden around the world.
Ubisoft Milan has taken great pleasure in giving each character opulent special animations for their various powers. While you'll probably start skipping them after the ninth or tenth time, they're all lovingly designed and serve as proof that the studio must have had an unbelievable amount of fun working with these characters.
The only real drawback is that it feels at times that it's a bit too safe. While there are mechanical improvements, new characters and the general level of improvement that you'd expect from a sequel, the game never feels like it steps out of line. It's easy to assume that even though it's a Ubisoft game, every decision made relating to the Mario cast was made by the big N, hence the feeling of safety.

The game still manages to have fun within these limits, there are plenty of amusing lines of dialogue, but they're almost entirely delivered by Beep-O, the companion robot who serves as the default main character. Mario and the gang are here, but they're not overly present.
It's easy to look at the Mario + Rabbids games as a test. Nintendo is willing to give the keys to the face of video games off to another developer outside of the big N's shadow. If Ubisoft was to mess this series up, it could close that forbidden door forever.
Thankfully, with more than its fair share of challenging, engaging gameplay, great visuals and an absolute powerhouse of a score, Mario + Rabbids Sparks of Hope should, fittingly, fill other developers with hope that Nintendo will let them at the IP gold mine.
It's impossible to miss the sheer amount of love that's stuffed into this game. You might remember that when the original was first shown at E3, creative director Davide Soliani was moved to tears when his game was introduced by the maestro, Shigeru Miyamoto.
That level of passion and reverence for the material is clear, and you get the sense that Ubisoft would have loved to go further with it. Being asked to helm once again a title starring video games' greatest icon is no easy task, and it's one that the team have otherwise passed gracefully.
Mario + Rabbids Sparks of Hope is a fun-filled exploration that shows what can happen when Nintendo decides to share its toys. While it's not the biggest leap a sequel has ever made, an incredible soundtrack, great visuals and witty writing make it one of Switch's best games of the year.
Engaging turn-based tactics gameplay
Outstanding soundtrack
Some of the Switch's best visuals
Some fights go on a few turns too long
Not many risks taken
4 / 5
Version tested
Nintendo Switch
Related Products
Other Products
Some external links on this page are affiliate links, if you click on our affiliate links and make a purchase we might receive a commission.