Review: Mario Kart Live is this Christmas's ultimate big kids toy
Nintendo's toys-to-like experiment can feel like magic, but it also requires a sizable living space to work effectively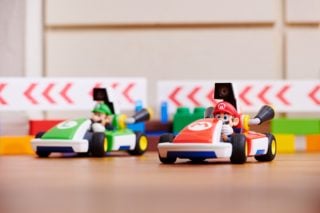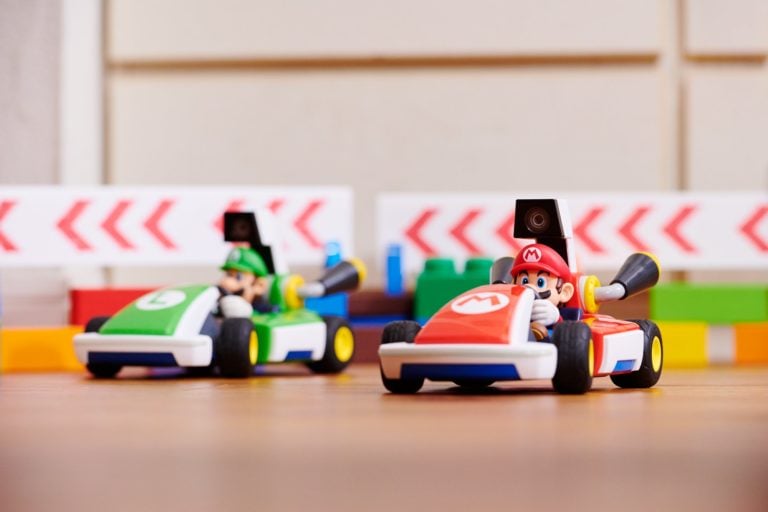 It's impressive how much Home Circuit feels like a proper Mario Kart game.
The game's development team at New York-based Velan Studios – formed by veterans of titanic toys-to-life series Skylanders – have worked real magic in making a toy car accelerate, turn and even drift like the video game racers of Nintendo's seminal series.
Eventually, you'll forget the physical kart is even there as you dodge banana skins, pull off drift boosts and pelt red shells across your living room carpet.
The game works by utilising a built-in camera on top of the included 7-inch toy kart, which then operates in tandem with four cardboard gates (and two signs for indicating turns) to project an augmented-reality Mario Kart world on top of a live video feed.
Players are asked to place the four gates around their living space, and then 'paint' a racecourse by driving through them to complete a circuit loop. The Nintendo Switch then works its magic by summoning four rival Koopalings, and various obstacles and power-up boxes around your 'painted' track.
It's a simple concept that at its best feels like magic but can occasionally become frustrating due to the inevitable technical constraints. Players are able to race through 24 different 'tracks' (at four different speed modes), which introduce themed AR content to your self-built racecourse.
Snow-themed races will obscure your view with a snowstorm and place ice obstacles on the track. Underwater themes will add a water effect to the screen and place Cheeps Cheeps on the course, while Rainbow Road adds familiar boost gates to your living space.
All of these elements can be added to your own custom tracks later, while there are a welcome number of cosmetics to unlock for your kart, costume and horn as well.
Again, it's genuinely impressive that just like the handling, familiar obstacles and power-ups feel just like they would in the regular Mario Kart games. Mushrooms give the physical kart a temporary boost of speed, bananas halt the kart's acceleration and bullet bills automatically guide it around your living room racecourse.
"It's a simple concept that at its best feels like magic but can also become frustrating due to the inevitable technical constraints"
Add in the ability for multiplayer races with up to four karts, and Mario Kart Live has the potential to be your ultimate big-kids toy this Christmas (and at $99/£99 a kart, an expensive gift). However, how much fun you actually have with Home Circuit will ultimately be determined by the size and shape of your living space.
Nintendo recommends that the kart does not travel more than five metres away from the Nintendo Switch console, beyond which the player will start to experience annoying drops from the live video feed. Home Circuit really doesn't like walls either and can become virtually unplayable should the kart leave the room the Switch console is in, inevitably leading to a sofa leg traffic incident.
Speaking of sofa legs, the game can't actually see physical objects in your living room, so while you may feel encouraged to decorate your course with a variety of cereal boxes and plushies, your opponents will drive through them as if they aren't there and power-ups such as the Bullet Bill can crash you straight into them.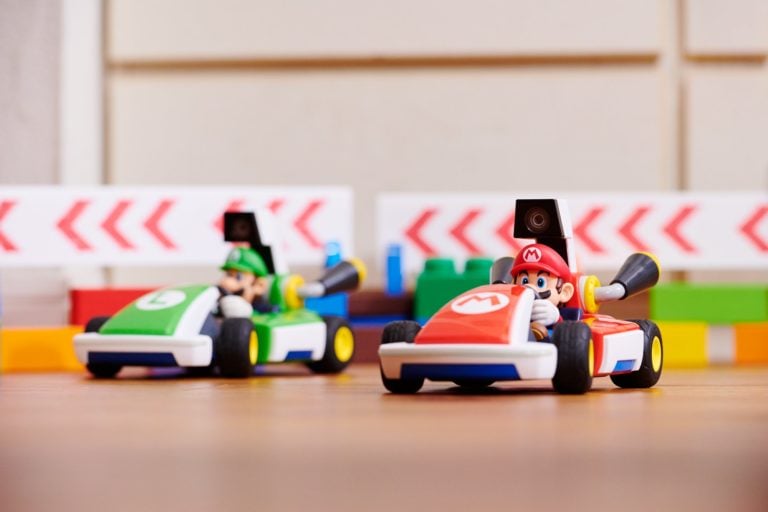 For this reason, the included steering assist option that's so useful for helping young players in Mario Kart 8 is not quite as effective here.
Mario Kart Live successfully captures the feel and fun of a traditional Mario Kart game, which is a fantastic achievement in its own right, but it's also a very cool toy. The game is a lot of fun to play alone or with multiple karts, but ultimately this will differ between users.
Players who will get the most from Mario Kart Live are those with spacious single-room spaces, ideally with an even floor surface (transitioning from wood to rugs and back appears to cause some issues) and few tables and chairs to crash into – especially if you want to be able to use 150 and 200cc modes without putting a kart-shaped dent in the side of your walls.
Nintendo's toys-to-like experiment can feel like magic, but also requires a sizable living space to work effectively.
Successfully captures the fun of Mario Kart with a toy
AR effects can feel like magic
Provides a regular stream of unlockable content
Requires a sizable living space to work well
4 / 5
Version tested
Nintendo Switch
Related Products
Other Products
Some external links on this page are affiliate links, if you click on our affiliate links and make a purchase we might receive a commission.