Review: Mario 3D All-Stars faithfully restores the classics, but makes few improvements
Nintendo delivers a joyous compilation of platformers, but it feels like it could have been much more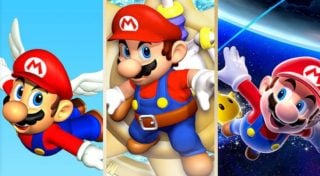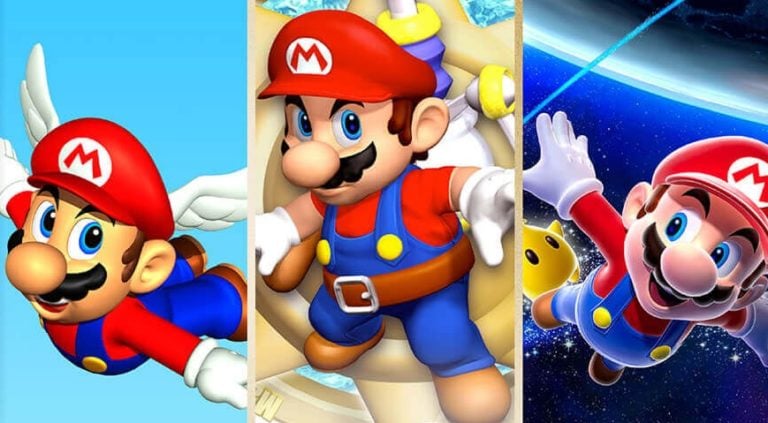 In 2019, after a devastating fire tore through Paris's Notre Dame Cathedral, a global debate raged on how the historic landmark should be reconstructed.
Many architects argued that the cathedral should be rebuilt with a contemporary design combining the techniques of both the old and modern eras. Others fought for a like-for-like reconstruction, arguing that Notre Dame represented not just a building, but a cultural artefact that should not be changed.
Super Mario 64 has not burnt down – last time we checked, anyway – but the architectural tragedy in France raises a similar debate amid gaming's recent obsession with remastering its own history.
If a work's parts are replaced over time, is it even the same experience anymore? And in a medium where the line between the technical and artistic is more blurred than any other, what constitutes a quality of life improvement as opposed to a significant alteration of its blueprint?
This is a discussion that has existed within art and entertainment for a hundred years, so Nintendo's conservative approach to restoring Super Mario's earliest 3D adventures is unlikely to inspire a reaction that's any less divisive.
Super Mario 3D All-Stars is, for better or worse, a compilation of platforming classics mostly untouched since they first released on their respective platforms. Its three games – Super Mario 64, Super Mario Sunshine and Super Mario Galaxy – feature no meaningful new content (beyond their included soundtracks) or significant graphical overhauls.
They're the same great games you remember, available to play upscaled to HD on television or via portable play. For many fans, that's more than enough. After all, how could you turn your nose up at 100+ hours with some of Nintendo's greatest classics?
And it would be disrespectful to call the games straight ports: effort has gone into modernising the controls and UI elements of each game, while all three are undoubtedly better looking than their originals. But those expecting the sort of gold-standard remakes recently seen with the likes of the Crash Bandicoot N.Sane and Spyro Reignited Trilogies are in for an unwelcome surprise.
"Subsequent titles may have topped Galaxy with sheer craftsmanship, but Galaxy is 3D Mario at its most soulful and absolutely joyous."
Super Mario Galaxy is the most modern title in the compilation and has also received the most treatment. Running at 1080p/60 (docked), the 2007 Wii classic is still incredibly pretty – it's arguably one of the best examples of art style over polygon count – with a wonderful soundtrack and a design absolutely stuffed with imagination.
Subsequent titles may have topped Galaxy with sheer craftsmanship, but this is 3D Mario at its most soulful and absolutely joyous. Frankly, we can't think of a game from the proceeding 13 years that has made us smile quite as much as this.
Whether it's the charming barks of bouncing Chain Chomps, the whimsical banter of the cutesy space bees or the still-awesome flights from one exploding planet to another, Super Mario Galaxy oozes playfulness and guarantees to please players of all ages. It's still a true classic in 2020 and out of the three All-Stars games, it definitely feels like the most accomplished.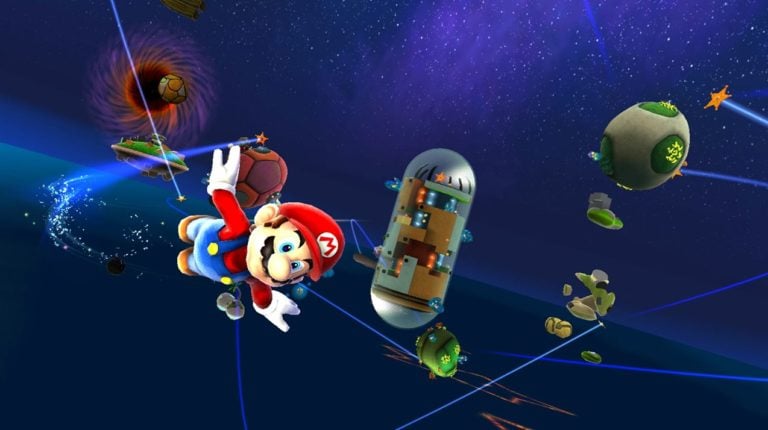 Thankfully, All-Stars does a good job of mimicking the original's excellent Wii Remote controls by utilising the right Joy-Con (although having to constantly reset it with R can be irritating) and many 'waggle' abilities can now be activated via button press. In portable mode, the touch screen is used to replace all pointer interaction, which works sufficiently but ultimately feels like a step down.
On the other end of the sand dial, Super Mario 64 has had the least work of the All-Stars titles, with enhancements limited to some improved textures over the 1996 original. Even its aspect ratio hasn't been updated and in portable mode, it barely fills half of the Switch's display.
On Nintendo 64, Mario's maiden polygonal adventure was genuinely ground-breaking, offering one of the first meaningful examples of a 3D game world players could navigate with true freedom. It's fair to say without hyperbole that Mario 64 fundamentally changed video games.
Like most of the mascot's outings, 64 is a hugely imaginative platformer with a laser-focused design and playful mechanics. Players explore Peach's Castle and uncover magic paintings leading to new worlds. Each world contains power stars, which are rewarded for completing various platforming tasks and solving puzzles.
Those familiar with the original will no doubt get a lot of enjoyment from rediscovering the old characters, boss fights and nostalgic theme tunes of Mario 64's colourful worlds. But not every aspect of the original holds up under the glare of modern gaming.
In particular, the revolutionary-at-the-time game camera feels hopelessly archaic compared to its modern equivalents, and will no doubt lead to much frustration for those used to the full control of modern mechanics. Authentic or not, this is one relic of history that everybody can surely agree needed an upgrade.
Meanwhile, the final game in All-Stars package, Super Mario Sunshine, is the series' major outlier, with oddball mechanics and a strange, new world combining for a truly untypical Mario adventure. Within the context of a three-game package, this actually acts in Sunshine's favour, as the GameCube title offers a welcome deviation from Mario 64 and its spiritual successor Galaxy.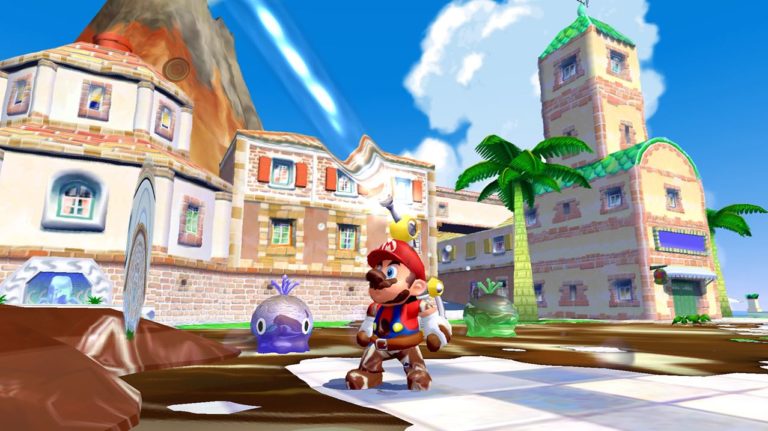 The game has players visiting a faraway tropical island, where the emergence of a shadow-Mario who covers the resort in graffiti results in Mario essentially being sentenced to community service. Using a device known as FLUDD, players must clean up the island by squirting water from Mario's back.
Virtually all of the game's platforming mechanics come from the FLUDD, with its various nozzles allowing him to hover in the air, blast into the sky or jet ski across the ocean. The game looks bright and appealing on Switch, with 1080p, widescreen visuals (docked) offering a decent improvement over the original.
In further modifications, Nintendo has replaced the GameCube's unique shoulder buttons with a two-button system, with R allowing players to run and squirt, and ZR offering aiming. It's clearly not as intuitive as the original's pressure-sensitive solution, but it does the job.
"No matter how much we enjoyed revisiting these games – and we had a fantastic time – it's difficult not to feel slightly disappointed that Nintendo hasn't done more."
Sunshine isn't the best 3D Mario game – it doesn't even make my personal top three, in fact – but it's certainly one of the most unique and overlooked, which for those reasons alone makes it a very welcome addition to the Switch package.
As a compilation, the strength of 3D All-Stars' offering comes entirely from the quality of those titles – which, to be fair, is up there with any game compilation we can remember.
But the argument for authenticity doesn't entirely wash in a market where many modern remasters have offered players the option to play both updated and original versions of games – and even switch between them on the fly in some cases. So no matter how much we enjoyed revisiting these games – and we had a fantastic time – it's difficult not to feel slightly disappointed that Nintendo hasn't done more.
A rebuilt lighting engine and lavish new character models weren't necessary for this anniversary project, but some more quality of life improvements would have been welcome.
Another classic Nintendo platformer, Banjo-Kazooie, was wonderfully remastered for Xbox 360 in 2009 – not by overhauling the game's visuals, but by offering subtle improvements such as a widescreen aspect ratio and collectables that stay collected when you exit a world. It's a shame that Mario 64, in particular, doesn't receive this sort of love here.
This summer, following a year of debate from professionals, the French government finally announced that Notre Dame Cathedral would be rebuilt… to look exactly the same.
It's great news that modern audiences will be able to continue to enjoy this cultural artefact as it always was, but it will be difficult to not feel a little underwhelmed all the same.
Nintendo has delivered a joyous compilation of three platforming classics, but it's difficult not to feel like it could have been even more.
Three genuine classics on Switch
Galaxy is still one of the best games ever
UI and control improvements are welcome
It's difficult not to be disappointed that there aren't more improvements
4 / 5
Related Products
Other Products
Some external links on this page are affiliate links, if you click on our affiliate links and make a purchase we might receive a commission.