Review: Luigi's Mansion 3 is Switch's unlikely blockbuster
Stunning game world is the star of Luigi's Switch adventure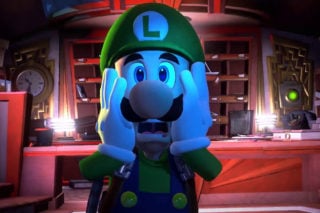 With his latest ghostly adventure, Luigi finally has his own blockbuster.
Like the developer of Luigi's Mansion 3, Next Level Games, the wimpy sibling has long occupied a place on the periphery of Nintendo's plans – Next Level is the creator of many low key spin-offs, including Mario Strikers and Metroid Prime: Federation Force – but that changed with the surprise success of 3DS instalment Luigi's Mansion: Dark Moon.
That game sold over five million copies, meaning it occupies a place just outside the top ten list of best-selling 3DS titles, behind huge franchises such as Smash Bros., Animal Crossing, Pokémon and Mario Kart. It was a huge achievement, especially considering its GameCube predecessor managed around half that number.
As a series Luigi's Mansion has earned Nintendo's respect, and the rewards of that trust are clear in the impressive triple-A production values of the new Nintendo Switch instalment. The game's lavish presentation is the stuff usually reserved for Luigi's older brother.
This is a Mario game on an Uncharted budget; environments are stunning and spilling over with character and variety. Equally, the animation here is gorgeous, topping even Mario & Rabbids with Disney-esque charm and movie-calibre cinematics. A Mario game has never looked this alive before and that alone makes progressing through Luigi's Mansion 3's haunted halls a genuine joy.
The game is centred around not a mansion, but a hotel. The story kicks off with Luigi, Mario, Peach and co visiting what appears to be a luxurious holiday destination, but at night it turns into a theme park of Halloween horrors, resulting in all but the titular green-clothed hero being captured.
The Last Resort hotel has 15 unique floors players must explore, capturing ghosts, defeating bosses and hoovering up a whole lot of golden loot along the way. Annoyingly, the elevator has had its buttons swiped by a gang of pesky ghosts running riot in the building, and it's up to Luigi to put the ghouls to rest with his trusty Poltergust 3000 vacuum cleaner.
It's a fun setup that channels the spirit of the original GameCube game, and once again, tip-toeing through the shadowy hallways and dusty dining rooms feels like exploring a real place. Every room is thick with set decoration, all of which can be sucked, smashed and rattled with Luigi's weaponised hoover.
"Environments are consistently gorgeous, spilling over with character and variety not seen outside of top tier action-adventure games. On one floor you'll explore a Night at the Museum-inspired dinosaur attraction, before heading upstairs to a sandy ancient Egypt exhibit, a movie set, medieval castle or lush garden world."
The Poltergust 3000 can suck or blow using the ZL and ZR buttons and as in previous series entries, these are the game's core mechanics. Every item in the world has its own physical properties and is absolutely stuffed full of gubbins – cutlery, trash, coins – which combine to create the feel of a tangible, believable game world that's one big toy for players to manipulate.
The vacuum can move dials, pull levels, carve paths through mountains of sand or even manoeuvre an inflatable dingy through swampy streams.
The Dark Light returns, uncovering invisible items in the world, while Suction Shot fires a plunger used to grip items and enemies. But the game's key introduction is Gooigi, a gummy-esque doppelganger who can be summoned to help with asymmetric puzzles, or used as a local co-op partner. Gooigi's flexible body allows him to pass through small gaps to access out-of-reach environments, and later in the story Luigi and his partner must combine their talents in combat to defeat more advanced ghouls.
Luigi's core abilities are in place virtually from the start of the game, leaving the environments to introduce their own mechanics and variety – and what a star attraction the environments are. Consistently gorgeous, they're spilling over with character and variety not seen outside of top tier action-adventure games. On one floor you'll explore a Night at the Museum-inspired dinosaur attraction, before heading upstairs to a sandy ancient Egypt exhibit, a movie set, medieval castle or lush garden world.

Exploring the Last Resort hotel is a thrill, with most floors surprising players with a new set piece or environmental mechanic that puts a spin on the core ghost vacuuming. A favourite is Paranormal Productions, where Luigi must create a movie for a ghostly director, the plumber manning the camera while Gooigi plays out scenes on a variety of sets.
It's a wonderfully imaginative sequence that's representative of the confidence displayed throughout by Next Level's design team. Another highlight is the significant number of excellent boss battles, which each feel unique and consistently dazzle with their top tier presentation.
The game's 10+ hour story – which is extended further by hidden collectibles and a surprisingly compelling dungeon-crawler-style online mode – is a pleasure from start to finish. There is some unnecessary padding in the form of the occasional backtracking quest, but it doesn't spoil the otherwise excellent adventure.
Luigi's Mansion 3 is a stunning, spooky adventure that puts its hero, and the game's Canadian developer, firmly on the map. Mario may hog the spotlight, but this Christmas's best Switch adventure belongs to his little brother.
Luigi's mansion 3 is a visually stunning and thoroughly entertaining adventure that proves the wimpy plumber can hold his own.
Gorgeous and varied environments are a constant pleasure
A strong roster of top tier boss fights 
Hidden collectibles and multiplayer add significant replayability 
Occasional story padding feels unnecessary 
5 / 5
Version tested
Nintendo Switch
Related Products
Other Products
Some external links on this page are affiliate links, if you click on our affiliate links and make a purchase we might receive a commission.