Review: London's Chaos Karts brings video game racing to life
The AR racing attraction is a unique day out for both karting enthusiasts and gaming hotrods
Londoners are blessed with plenty of distractions, but for video game players there's probably nothing quite as enticing as Chaos Karts, which opens to the public for the first time on September 15.
Founded by Tom Lionetti-Maguire, the creator of The Crystal Maze Live, Chaos Karts lets up to eight players take part in a "live-action video game experience" which combines real karts with digital projections.
Basically, the karts are real, but the tracks are digitally projected onto the floor, along with other features like weapons and power-ups. It's karting and video games smashed together in an hour-long jolly.
We were recently invited to try out Chaos Karts before its official opening and the resulting experience was a ton of fun, if quite a bit surreal, and at up to £55 each for an hour, fairly pricey.
The venue is conveniently situated slap bang in the heart of Shoreditch, and once you've navigated the boutique coffee shops to make it to the venue, you'll discover that it's basically a large warehouse plonked in a car park (racing, after all, requires plenty of space).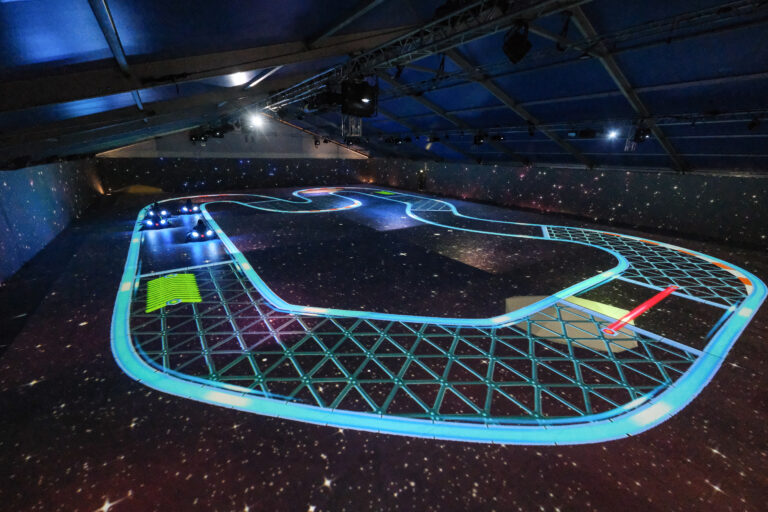 Inside you'll be warmly greeted and guided to a waiting room. The aesthetic here is very 'peripheral company's Gamescom booth', with various gaming gear on display, a comedy / unsettling Mario mannequin doing the plumbing in the corner and, as if the Mario Kart influence wasn't already clear enough, a copy of the SNES original set up to play, along with Bomber-Man and Street Fighter 2.
The off-the-track experience could definitely be improved. For one, once you've left The Mad Katz Lounge, you're forced to sit through a fairly painful bit of theatre, as a man pretends to argue with a cartoon robot via a Powerpoint presentation, while explaining what Chaos Karts' fake names for the Mario Kart power-ups are.
Thankfully, the preamble isn't what you've come for and once behind the wheel, Chaos Karts is undeniably brilliant. Although the physical space isn't huge, the karts themselves whip around the track at quite a speed, and the projection effects look fantastic and really add to the experience.
Chaos has done a great job of merging the two mediums together; the tracks are projected onto the floor, but the karts react to them as if they're real. If you veer off course your kart will slow down as if struggling with the gravel, speed boosts accelerate you forward and hitting a virtual obstacle on the course will stop your vehicle dead.
For safety, the karts will also slow down if you're about to slam into the side of another driver (which means that helmets and driving suits are not required) and if anybody takes their seatbelt off the entire system will shut down immediately.
Predictably, drivers pick up power ups by driving over the item boxes projected on the track, with two buttons on your steering wheel firing them either forwards or backwards. Again, this is handled really well: firing the equivalent of a green shell will see it move across the floor just as you'd expect, and nailing your target is just as satisfying as in the-game-we-shall-not-mention.
The arsenal is basically lifted from that-other-game; there's a Green Boxing Glove (shell), Red Boxing Glove (homing shell), Hammerang (Boomerang), Egg (Banana), Bomb, Speed Boost (Mushroom) and more. The most impressive is the EMP, which acts like a lightning bolt by disabling every other kart on the track, at the same time killing the lights in the building as if you've zapped the electricity. It's a really cool effect that sells the hybrid karting-AR experience.
Another brilliant thing about the projection tech is that the course is able to change with every round, each with its own unique obstacles such as gravity gates and boost pads. Brilliantly, there are even shortcuts that can be turned on to spawn new sections of road and catch your opponents by surprise.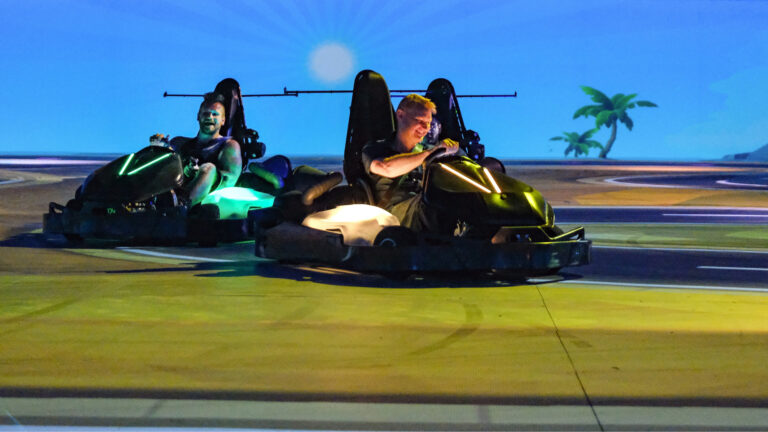 Chaos Karts is a unique experience for both karting enthusiasts and gaming stalwarts then, which is definitely worth it if you can assemble a group not scared off by the asking price.
The only major downer, apart from the painful theatre endured to get into the karts, is that there isn't actually any racing here: The winner of each round is the person who accumulates the most points by collecting power-ups and hitting opponents, not the best driver. It would be nice to see a larger racing experience developed in future, should the London venue succeed.
It's more Battle Mode and Gran-Prix then, but Chaos Karts still offers a memorable day out for anyone fond of lobbing a green shell. Er, sorry… 'boxing glove'.
Chaos Karts is a unique and undeniably brilliant experience for both karting enthusiasts and gaming stalwarts, which is definitely worth it if you can assemble a group not scared off by the asking price.
Karting and AR gaming expertly merged together
The power ups work well
Dynamic tracks feel totally unique
Off-track theatre is a bit tedious
Can be pricey