Kirby's Return to Dream Land Deluxe is another excellent Nintendo remaster
HAL Labs's remaster offers enough content to keep both newcomers and veterans busy for a while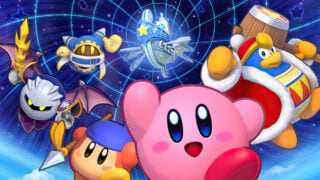 Kirby has never been more popular than right now.
Last year's Kirby and the Forgotten Land is already the pink blob's best-selling game ever, but as enjoyable as that 3D adventure was, Kirby fans knew in their heart that Kirby's true home is side-scrolling 2D platforming, and this 'latest' offering is further evidence why that's the case.
We say 'latest' in inverted commas because Return to Dream Land Deluxe isn't a completely new game – it's a significant remaster of a somewhat underrated Wii title released back in 2011.
More than a decade may have passed since the game was originally released, but solid gameplay is timeless, and it turns out a fresh lick of paint is all that's needed for what's still an entertaining adventure.
Buy Kirby Return to Dream Land Deluxe
If you missed out the first time around, Kirby's Return to Dreamland tells the story of Magolor, an alien whose starship, the Lor Starcutter, crashes on Kirby's planet, Popstar.
Magolor says he'll take Kirby and his pals on a trip to his home planet Halcandra if they can help him recover the scattered broken pieces of his ship. There may be more to it than that, but that would be telling.
Cue your typical Kirby platforming shenanigans, then, as players make their way through seven worlds floating around, inhaling enemies and stealing their powers.
The most obvious difference to those who played the Wii version is the jump in visual detail. At first glance, it may appear to be a straight remaster, but put the game side-by-side with the original and it's clearly something far more substantial than a basic upscale job. The scenery has been recreated in more detail, for starters.
There are also a few new additions to the game that weren't in the Wii version, including a couple of new abilities. One of these, the Mech suit, makes its debut here and may actually be our favourite Kirby ability ever, such is the ridiculous way it powers up his flying and offensive capabilities.
In many ways, Return to Dream Land Deluxe is exactly what's expected from a game in this series. The main story mode poses very little challenge for platformer veterans – we beat the game with 78 lives remaining – but from the first Game Boy title back in 1992 the series has always been created with newcomers in mind (both to Kirby and the genre in general).
As such, the story mode is the perfect entry point for younger players – if you're a parent looking for something that's forgiving enough to avoid too much frustration in the early stages, this is absolutely it.
This is further enforced by the fact the story can be played through by up to four players simultaneously, with King Dedede, Metaknight and Bandana Waddle Dee making up the numbers should they be needed. This makes it an ideal title for parents, children and siblings to play together.
It isn't absolutely perfect – by the time you reach the credits you'll have experienced a degree of repetition, most notably in the way many stages have a hidden wormhole section where you outrun a moving void then face a miniboss called the Sphere Doomer.
"The story mode is the perfect entry point for younger players – if you're a parent looking for something that's forgiving enough to avoid too much frustration in the early stages, this is absolutely it."
This happens about 15 times throughout the main Story mode, and while the void section and Sphere Doomer fight change each time it can still feel like you're going through the same motions a lot. It's not a deal-breaker by any means, because these sections are still fun, but the lack of variety is a tad disappointing.
In terms of the easy difficulty, those looking for more of a challenge (or any challenge at all) will be served by the game's numerous other modes, most of which are unlocked once Story mode is beaten.
Extra Mode is a more challenging version of the main game with various tweaks and secrets thrown in to keep it interesting, while Arena mode offers a series of boss fights that have to be beaten sequentially.
With all this taken into account (as well as some extra secrets we won't reveal here), there absolutely still is some challenge to be found for more experienced players – they just have to put in the 7-8 hours needed to beat the main story first.
As for those who owned the Wii version and are wondering what's different, there are two new modes created just for the Switch version, including a post-game mode called Magolor Epilogue: The Interdimensional Traveler.
In much the same way as Bowser's Fury was bolted onto the Switch port of Super Mario 3D World and offered players a different take on Mario gameplay, Magolor Epilogue is a reasonably sized, entirely new adventure with different mechanics to the main adventure.
Here players take control of Magolor, who starts off extremely weak. By defeating enemies and collecting the 'magic points' they leave behind, players can then spend these points to upgrade Magolor's abilities, making for more of an RPG-lite levelling up process.
Also new is Merry Magoland, an amusement park mode where players can choose from a selection of mini-games spanning the history of the Kirby series.
Each of these mini-games has their own set of achievements, and by completing them the player earns tickets which can be used to unlock masks of other Kirby characters. After picking a mask, you can put it on and remove it during gameplay – even during the main modes – by pressing in the right stick. These masks are a silly addition but they made us chuckle, so we're all for it.
Buy Kirby Return to Dream Land Deluxe
All this combines for a remake that offers far more than just a simple recreation of everything that was on offer more than a decade ago. There has been real effort made here to make this a more feature-heavy package, something with enough extra content to actually make it worth double-dipping if you owned the Wii game.
As a first game for a younger player or newcomer looking to get to grips with the platforming genre, there are few better offerings, while those looking for a challenge will eventually get one, once they put in the hours to get through the initial Story mode.
Getting 100% completion in both Story and Extra mode, rinsing the Arena battles, earning every ticket in the mini-game mode and unlocking every mask will take a hefty time regardless of skill level, meaning despite its apparent simplicity, there's enough here to get your money's worth.
Whether you've played the Wii version or not, this remaster offers enough content to keep both newcomers and veterans busy for a while. As a Kirby game it's fairly typical and doesn't do anything particularly revolutionary, but what it does offer is strong, entertaining platforming.
Remade visuals are wonderfully colourful and detailed
Main story is still great, and the new Mech ability is a blast
Easy enough for complete beginners (alone or in co-op), with challenge later on for experts
New Epilogue and mini-game modes aren't throwaway – they're fully-featured
Gameplay can feel a bit repetitive by the time you reach the end
4 / 5
Version tested
Nintendo Switch
Related Products
Other Products
Some external links on this page are affiliate links, if you click on our affiliate links and make a purchase we might receive a commission.