It Takes Two review: Hazelight's co-op adventure is a rom-com rollercoaster
With its relentless stream of clever ideas, It Takes Two is an inventive and entertaining two-player experience
It takes teamwork to make the dream work and Swedish-Lebanese designer Josef Fares certainly knows it.
2013's Brothers: A Tale of Two Sons was a brief but touching adventure about two siblings on a journey to find a cure for their dying father. A Way Out, released five years later, follows a pair of convicts who befriend each other and try to break out of prison.
Having found critical acclaim exploring the relationships between two siblings and two friends, Fares' third title sets its sights on possibly the most complicated relationship of all: a married couple facing divorce.
Cody and May have fallen out of love. May is constantly working to put food on the table while Cody stays at home to raise their young daughter Rose. Neither are happy with their lot in life, so they've decided to separate, which is devastating to the young girl.
An upset Rose runs off to a tool shed in the garden and, bringing out a pair of wooden dolls she made to look like her parents, wishes they could get back together. As her tears fall on the dolls, Cody and May are suddenly transported inside them. The two now have to reluctantly work together to get back to the house, find Rose and get her to change them back.
As with A Way Out, there's no way to play It Takes Two alone – this is a game that was built entirely with co-op play in mind, so if you don't have someone either at home or online who's willing to go on this 10-hour adventure with you, it's pretty much a non-starter right away.
Crucially, both players also need to be relatively skilled. There are no real handicaps or assists available for less experienced players and some of the game's puzzles and action sequences require a decent amount of dexterity, so although the premise makes it sound like the perfect game for couples or kids to play together, if your partner doesn't play games much you'll need to find somebody who does.
If you manage to meet the criteria, though, and are able to buddy up with a similarly proficient player, the hassle will have been worth it: It Takes Two is one of the most inventive, imaginatively designed adventure games in a long time, co-op or otherwise.
"Over the course of this 10-hour campaign, the sheer number of ideas thrown at you and your partner rivals a premium first-party Nintendo release… Cody and May gain a different tool or ability every time they start a new stage."
Cody and May's adventure takes them through a variety of locations in and around their house. Once they get out of the tool shed their journey will take them through the likes of a tree in their garden, their daughter's pillow fort and even inside a snowglobe on their mantelpiece.
Fares and his team at Hazelight haven't gone for realism: each location is a fantastical version of the real thing, so the tree in their garden is inhabited by an army of talking squirrels who want Cody and May to help them in their war against the wasps, while Rose's toy space station is guarded by an angry plush space baboon who will defend Rose to the death.
The result is a steady stream of entertaining setpieces with a range of increasingly inventive mechanics, and weird and wonderful characters, from a cuddly elephant queen to a rusty hammer looking for a second chance at life, to a rebellious honeybee who's in way over her head.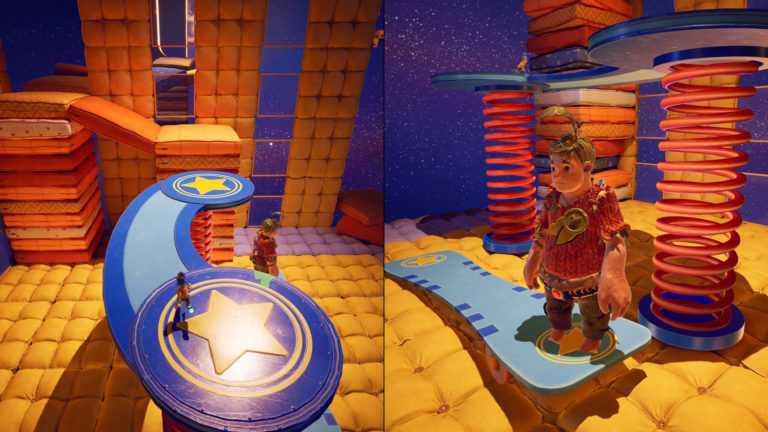 The story's key character is Fares himself as the comedic Dr Hakim, a magical talking self-help book who's trying to help Cody and May repair their relationship, but can't help trolling them relentlessly along the way too.
Of course, all this would be meaningless if the game itself wasn't entertaining to play, but thankfully this is the strongest element by far. Over the course of this 10-hour campaign, the sheer number of ideas thrown at you and your partner rivals a premium first-party Nintendo release.
This is mainly driven by the way the game gives Cody and May a different tool or ability every time they start a new stage. Each new pairing leads to a new selection of co-op based puzzles, often forcing players to combine their abilities in interesting ways.
Early on, for example, May is given the head of a hammer, while Cody is given magical nails that can be thrown and recalled. Cody can throw these nails into the wall, allowing May to use her hammer to swing from them. Later on, May can use her hammer to bash a button that temporarily raises a platform, then Cody can nail it in place.
Just as this mechanic threatens to start getting repetitive, the stage ends and the tools are taken away from you, replaced by a machine gun that fires tree sap and a rifle that fires explosive rounds that can blow the sap up. Cue a bunch of completely different puzzles that involve using sap to weigh down things, or combining it with the rifle to blow things up.
This process continues throughout the entire game: the minute you feel like a gimmick is running its course, it's pulled entirely and replaced with another one. Whether it's the ability to grow and shrink, walk on walls, create clones, use magnets with opposite polarities or even move time backwards and forwards, the game is constantly mixing things up to keep everything fresh.
At points, the game switches genres entirely, and players find themselves in the middle of a stealth section, dogfight sim or top-down dungeon crawler.
We don't use this comparison lightly but we were reminded of the way Super Mario games constantly throw new ideas at the player, with tricky and intriguing puzzles that require Portal 2-esque levels of collaboration to solve.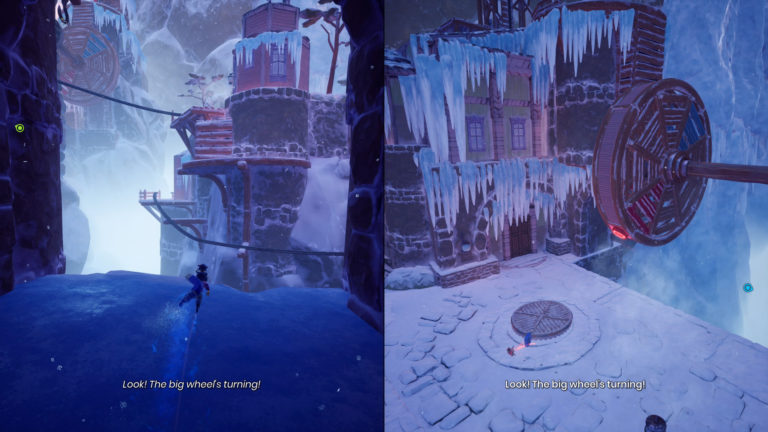 There are occasions where things fall a little flat, especially towards the end of the game where sadly, some repetition creeps in.
The most notable example of this is the series of optional one-on-one mini-games players can discover along the way – we encountered the majority of these through our playthrough and don't feel the inclination to play any of them again. Their only real benefit is to further highlight the quality of the co-op gameplay.
More importantly, we also struggled to really get emotionally invested in Cody and May's relationship. Despite focusing on a topic as serious as divorce and its impact on children, the game only deals with things in broad strokes and never tries to focus too much on why the couple actually split up in the first place, beyond an overly simplistic "you were working too much," "well I had to put food on the table" conflict.
It's slightly disappointing that in a game packed with madcap ideas, its central theme is handled in such an uninteresting way.
However, the action is the star of the show here and in that respect, It Takes Two is a big success. That the game never runs out of steam and is still throwing brilliant ideas and impressive set-pieces at players as it nears its end is a true testament to the level of creativity at Hazelight.
We doubt you'll play another game this year that has so many innovative moments and surprising situations. As long as you don't expect any of them to happen during the cut-scenes, you and your co-op partner will have a fantastic time.
With its relentless stream of clever ideas, It Takes Two is one of the most memorable and inventive co-op games of the modern era. Just make sure your partner knows their way around a DualSense controller.
A rollercoaster campaign with consistently inventive play mechanics
Looks fantastic, especially on a next-gen system
Full of entertaining characters and references
Some of the puzzles are extremely clever
The plot is a little flat
A weaker final act
4 / 5
Version tested
PlayStation 5
Related Products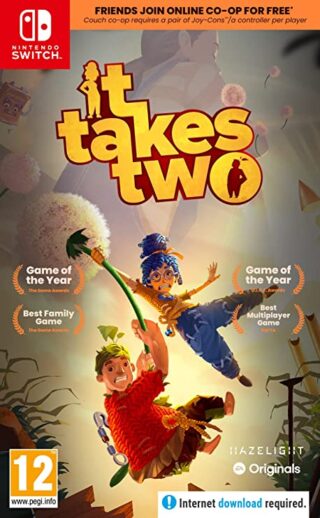 It Takes Two (Switch)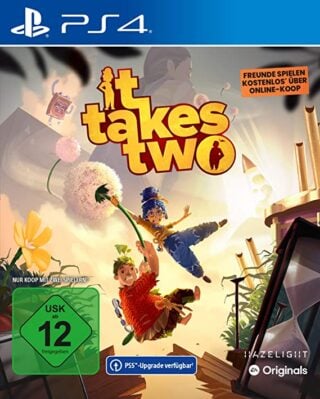 It Takes Two (PS4)
Other Products
Some external links on this page are affiliate links, if you click on our affiliate links and make a purchase we might receive a commission.