Review: Hyrule Warriors: Age of Calamity is an uneven Zelda love letter
Relive Breath of the Wild's history with big battles, big heart and, sadly, some big technical woes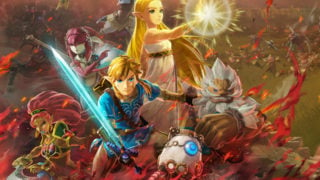 What a neat idea this is. Take a studio renowned for bringing battlefields to life in its Dynasty Warriors series and ask them to tackle an epic war that, until now, was consigned to cutscenes in Breath of the Wild. Nintendo's version of events was always more personal; a single hero questing in the battle's aftermath. This is a chance to see it all kick off.
This isn't the first time Omega Force has handled the Zeldaverse, but it's a better fit. The original Hyrule Warriors was a concocted tale designed to throw Link and friends up against multiple eras of villains. Fun, but more like throwaway fan fiction. The events here are naturally gripping: one hundred years before Breath of the Wild our heroes suffered such a devastating loss that Link had to heal in a relaxing bath for a century. This depicts that loss.
Sort of. Nintendo snipers prevent us from talking story specifics, but it isn't a straight prequel. The presence of a time travelling egg shifts us into the realms of alternative (perhaps) timelines. But that aside, this definitely delivers on the promise of playing epic fights hinted at in BOTW. You hack through bokoblins in their thousands. You storm castles as tentacled guardians crawl from every crack. You draw together diverse allies in what is basically a Zelda cosplay version of Lord of the Rings' battle of Pelennor Fields. It's thrilling.
That it can serve up such sights is due to the underlying ideas of Omega Force's Dynasty Warriors. Like those games, this focuses on massive attacks that wipe out tens, if not hundreds of enemies in one go. Screens swarm with troops, but they are meat for the grinder, bodies to slow you down as work on seizing key command posts and taking down bosses. As such, action splits between two flavours: mindless hack and slash of lowly goons and more nuanced fights against bigger monsters.
Borrowing tricks from Breath of the Wild means fighting larger beasts is spicier than in Hyrule Warriors. A last minute dodge enters a soupy pocket of time to flurry attack an enemy's weak point. Satisfying in BOTW, and satisfying here. And Sheikah Slate runes can interrupt attacks: using Magnesis to catch and return metal projectiles, or a Cryonis ice cube to trip a charging foe. Targeting weak points this way not only triggers an often insta-kill smash, but folding in these moves means it really looks and sounds like BOTW.
But does it play like BOTW? Not quite. Sheikah powers are more prescribed; enemies even flash up the required rune as they wind up stronger attacks, so you know exactly how to counter it. Likewise, while there are nods to elemental interplay – using Cryonis in water will freeze nearby enemies and there are metal crates you can chuck with Magnesis – they feel like fixed special attacks rather than a proper physics playbox. That's fine in the context of Hyrule Warriors' arcade tone and pace, but don't go in expecting Zelda's depth.
"This is true of Age of Calamity as a whole. It takes sights and sounds of Breath of the Wild and grafts them to simplified systems that better fit Dynasty Warriors."
This is true of Age of Calamity as a whole. It takes sights and sounds of Breath of the Wild and grafts them to simplified systems that better fit Dynasty Warriors. All characters have paragliders, but they are used for traversing fixed air gusts that link parts of the linear battlefield. And while Link's massive cookbook returns, it's for gobbling down pre-battle buffs rather than experimenting with the ingredients you harvest on the battlefield. Even Koroks pop up, but they're less well hidden and give you seeds that level up one specific character.
None of this is a criticism, but an acknowledgment of what Age of Calamity is: a very different game writing a love letter to another. Rather than focus on the ways it isn't quite Breath of the Wild, it's more enjoyable to discover how much of the world is crammed in. We won't spoil enemies that make the cut but it's pretty comprehensive and helps avoid the monotony of Hyrule Warriors 1. Sure, by the end it's serving up elemental versions of the same things, but then so did Breath of the Wild. It's nothing if not true to the source material.
One area where Age of Calamity builds substantially on the past is elevating a cast of supporting characters to starring roles. This is the fundamental appeal of Omega Force's games: faces relegated to cutscenes fattened out with huge attack combos and characterful special attacks. We liken it to what happens with Smash Bros fighters; the same process of interpreting a hero's personality in the medium of violence.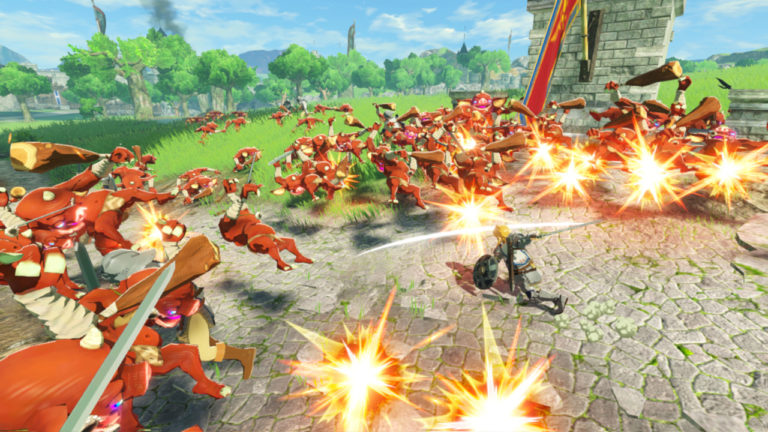 So you get Link with his famous sword and bow, but you also get royal bodyguard Impa, who can clone herself and kill marked enemies to charge up a special attack. You get preening bird boy Revali who has one set of combos on the ground and can take flight for an entirely separate range of aerial bombardments. Or goron Daruk whose regular attacks leave magma on the battlefield that can be detonated for fiery aftershocks. Every character is just as unique and discovering the extent of the cast list is a genuine treat.
The process of unlocking new faces, and further powering them up, is the biggest improvement over Hyrule Warriors. Where that game split action between a campaign and a self-contained mission mode, here everything lives on a map of Hyrule covered in hundreds of side missions and upgrade tasks. A lot boils down to grinding materials from smaller challenge levels, but they are diverse in their design, encourage you to test the full roster and having them live in the same mode really feeds into that sense of amassing an army.
"Certain levels, with plenty of weather effects or legions of boss characters, turn into a flipbook; and characters that should blow you away with screen-hogging animations cause you to wince at the state of it."
A few Hyrule Warriors stumbling blocks remain. It's easy for one hero to become overpowered and dominate the campaign, ignoring the diversity of playstyles on offer. Yes, rupees can level up weaklings, but not so cheaply that it's possible for many. Some map designs are also obtuse, making it tricky to work out how certain routes connect during hectic battles. Thankfully, the option to order allies to distant corners of the map – essential when besieged from all sides – means you can let the AI figure most of it out.
We're also not sold on the Divine Beasts, the giant animal mechs that acted as dungeons in Breath of the Wild and then… fired a single laser at the end? Talk about an anticlimax. Here they get shooter segments where you tromp around as a giant camel or salamander, raining death on tens of thousands. While fun to see the machines in their murderous splendor it's quite bland holding a shoulder button as everything on screen dies. A Platinum Games vehicle section this ain't. Who knew a giant mechanical death elephant could be dull?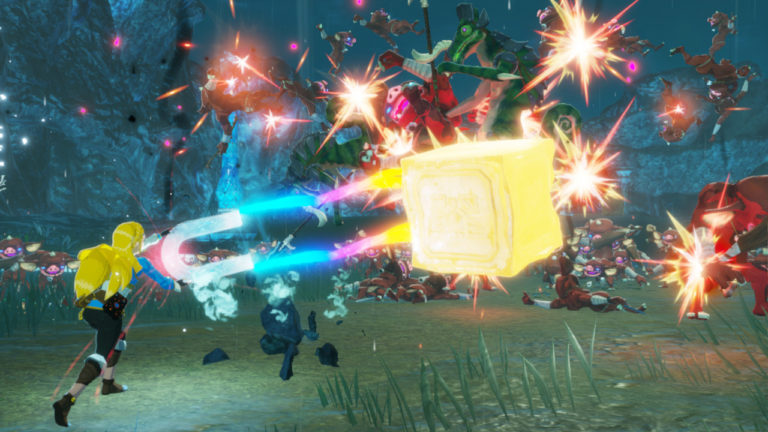 And speaking of giant elephants in the room, we have to address Age of Calamity's performance. Omega Force doesn't have a great track record in this regard: turns out making games with hundreds of enemies on screen can tank frame rates and force draw distances last seen on the N64. Here it is no different, but it's extra heartbreaking seeing a game that so lovingly recreates Breath of the Wild (a game that itself struggled in places on Switch) running so sloppily.
With action this broad a wavering framerate isn't a deal breaker, but it's so counterintuitive that a game all about escalation of scale and pyrotechnics runs worse as you achieve those goals. There are stretches where it zips along merrily and you enjoy the spectacle of churning through hordes with blockbuster bashing. About as much fun as you can have in a game in 2020. But certain levels, with plenty of weather effects or legions of boss characters, turn into a flipbook; and characters that should blow you away with screen-hogging animations cause you to wince at the state of it. For a first party game, it's disappointing.
A down note to end on, but one that has to be mentioned. This is an entertaining ode to Breath of the Wild that will comfortably fill the gap as we wait for a proper sequel. But it overachieves while it underperforms and that's a tricky thing to judge. It makes you want to whip out your ocarina and play the Song of Time, teleporting to a point where there's an updated Switch capable of doing the game justice. There's greatness here, just out of reach.
A hugely entertaining love letter to Breath of the Wild let down by uneven performance that scuppers the game's ludicrous highs.
The rich, varied roster is a joy to discover.
More coherent campaign than Hyrule Warriors.
Depressingly uneven frame rate throughout.
Divine Beasts are plodding compared to the rest.
3 / 5
Version tested
Nintendo Switch
Related Products
Other Products
Some external links on this page are affiliate links, if you click on our affiliate links and make a purchase we might receive a commission.