Review: Humanity is a vibrant, creative and downright weird puzzle game
The minds behind Tetris Effect deliver a welcome slice of puzzle-led psychedelia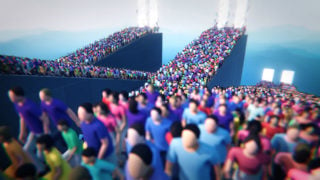 There was a time in the early noughties when PlayStation offered refuge for gaming's outcasts. From the beat-driven charms of Papa the Rappa to the oozing oddities of LSD: Dream Emulator, Sony's grey delight was equally comfortable hosting the bizarre alongside its blockbusters.
Now, thanks to skyrocketing development costs, the experimental era of PlayStation is largely a thing of the past. Doubling down on established IP to deliver polished, homogeneous experiences, modern PS exclusives rarely raise an eyebrow. Thank Christ for Humanity, then. From the minds that brought us Rez and Tetris Effect, Humanity delivers a little bit of that lost PS1-era magic, offering players a refreshingly vibrant, creative and downright weird slice of puzzle-led psychedelia.
Like all the most profound pieces of artistic expression, Humanity opens with you trapped inside the body of a Shiba Inu. Awakening in a pixelated purgatory, as this omnipotent pup, you must lead a legion of humans across a strange, shimmering land. Tasked with shepherding this faceless flock towards each stage's exit, Humanity's inventive and demanding puzzles see you search for increasingly devious solutions to steer your semi-sentiment stickmen to safety.
Nothing in this land's surreal surroundings ever feels truly right, with each limbo-like locale smeared in a disorientating, dreamlike haze. Objects and environments you traverse are half-finished and merely functional, with each new carefully-constructed conundrum recalling the surreal quality of Metal Gear Solid's Tron-like VR training missions.
In this grid-based odyssey, your orders are issued via carefully placed action tokens. Initially, players only move their minions via directional arrows and a variety of jumps, confirming their commands with an authoritative bark. Taking its cues from 1991's Lemmings, your hapless horde unquestioningly obey their supreme Shiba Inu's every order, loyally plunging themselves off the stage and hurtling to their deaths, should you fuck up. And make no mistake, dear reader, you will fuck up.
No two stages are ever quite the same, and as you wrack your brain to find the increasingly creative solutions each conundrum requires, you'll inevitably amass a bodycount that'd make even the most ruthless dictator blush. Despite those laying murdered in your wake, as you progress through each new 'sequence' – humanity's collection of stages –  your shepherding Shiba inu slowly learns new tools to help them lead their human flock.
From the ability to jump, float or even attack, each adds a unique twist to the puzzley proceedings. Yet what I enjoy most about Humanity is that these extra bells and whistles are used with restraint. Even when you've unlocked upwards of ten abilities, the designers are all too happy to suddenly take all these shiny new toys away from you in the next level, sending you right back to basics.
Still, getting to the exit isn't your only goal here –  each stage is also littered with several alluring golden bipedal collectibles. Imaginatively known as goldies, these glistening colossi essentially function as the equivalent of stars in Mario games. Much like with unlocking each world as the moustachioed plumber, you'll need to save a certain amount of these glistening gods before you can progress to the next.
At its core then, this is a refreshingly old school-feeling puzzler, yet it's the wealth of modern flourishes that really make Humanity sing. While its visual style is intentionally minimalist, you can't help but come away impressed by just how many minions it can simultaneously render on screen.
"From the ability to jump, float or even attack, each adds a unique twist to the puzzley proceedings. Yet what I enjoy most about Humanity is that these extra bells and whistles are used with restraint."
It's not afraid to offer a helping hand either, allowing players to restart each level with their previously laid down command icons still intact. It's a treat for the ears, too. Like Rez and Tetris Effect before it, the surreal synthesised soundtrack is a huge part of creating Humanity's alluring vibe. Hypnotic, pulsing chloral sounds add to the place's ethereal aura; its steady musical warbles only further sending you into a trance-like state.
It helps that everything that happens feels a little unsettling. Each new sequence is introduced by a surreal, Danny Garland-esque narrative, with formless beings talking cryptically about the nature of the soul and explaining your role as shepherd in this  dream-like realm.
These menacing monologues segue into one of Humanity's highlights, it's take on the boss fight. In these gargantuan stages, players must destroy a series of gigantic floating orbs in order to progress. For some, being lectured about the nature of sentience while hopping around as a Shiba Inu will be the anti-video game, yet for those who appreciate a bit of the abstract and existential, Humanity will utterly delight.

Thankfully, you can do your part to add a bit of levity to your surroundings. As you lead your army across the ether, you slowly begin to leave your paw print on this cold and clinical world. From unlocking a variety of different outfits, forms and colours for your hapless horde to changing the look of the very stages around you, you slowly grow from unqualified leader to a defiant doggy deity.
As someone who isn't usually a huge fan of the genre, Humanity endears you to it by never truly pissing you off. While a steep difficulty curve three quarters of the way through may lead you to taking an anger induced break, it's never quite enough to keep you away for long.
Concuting brain teasers that feel tough enough to be satisfying without making you fully rage quit is the gravity-defying tightrope walk that puzzle designers have to  walk – and it's a manoeuvre developer THA pulls off with perfect poise. Humanity's bitesize stages – alongside the ability to view a handy video revealing the solution at any time – ensure that these headscratchers remain consistently appealing rather than agonising.
"As someone who isn't usually a huge fan of the genre, Humanity endears you to it by never truly pissing you off."
You never truly know what awaits you next, either, with Humanity splicing in elements of new genres merely for the hell of it. From stages that start off paused, to the late game addition of RTS-lite elements, much like the species it draws its name from, Humanity is an ever-evolving and refreshingly unpredictable proposition. And that's before you even dive into the litany of grin inducing user-created stages waiting for you online.
It's a shame, however, that the same can't be said of humanity's stage design and visual identity, with the sterile look remaining a key part of the experience for much of the game. This combined with some increasingly fiddly execution – and a sudden reliance on more reactive gameplay – are what prevent Humanity from reaching the giddy highs of THA's other work.
Like them or loathe them, puzzles are an inescapable part of video games. From the singular focus of the latest shrine in Hyrule to the flipping of switches in the latest FPS, developers will find a way to worm brain teasers into the latest AAA epic. Why? Because solving problems is a quintessential part of the human experience.
THA's latest manages to take the most satisfying elements of problem solving without falling into the frustrations and tedium that put so many off the genre. Humanity's invention and weirdness makes it the perfect tonic to an increasingly risk-averse industry, offering a welcome return to the kind of eccentric oddities that endeared millions to PlayStation in the first place.
Wonderfully weird aesthetic
Satisfying puzzling that never become frustrating
A surprising amount of unlockables and mechanics
Some visual variety would've been welcome
Some fiddly execution
4 / 5
Version tested
PlayStation 5
Related Products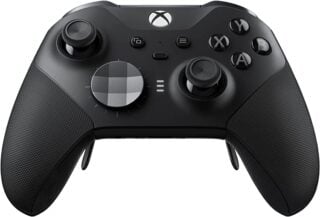 Xbox Elite Series 2 Wireless Controller
Other Products
Some external links on this page are affiliate links, if you click on our affiliate links and make a purchase we might receive a commission.