Review: Horizon Call of the Mountain is PlayStation VR2's killer app
PSVR 2's premiere launch title makes the case for Sony's biggest stars to enter the virtual world with amazing results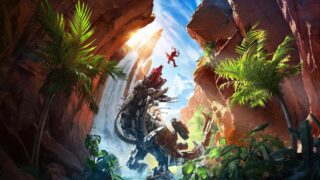 In 2023, it's still genuinely weird to feel exhausted after playing a video game. It's even more odd to fully believe that you're in the middle of a life-or-death battle with a fifty-foot-tall robotic dinosaur. Horizon Call of the Mountain did this to us countless times.
As the main, and only original first-party launch game, Horizon Call of the Mountain serves in large part to sell early adopters on PlayStation VR2, and it's hard to imagine a better first showing on the new headset from Sony's premiere VR studio Firesprite games (incidentally, you can read our PlayStation VR2 review now).
Horizon Call of the Mountain is a VR spin-off of the main Horizon series, following Ryas, a former member of the Shadow Carja group, one of the many splintered factions in the world of Horizon. The game begins with Ryas in chains, being led to answer for his crimes. When the boat you're being transferred on is tipped into the water by Snapmaws, you're enlisted to pay for your crimes in a new way, by finding out what happened to a missing member of Horizon series protagonist Aloy's tribe.
Horizon Call of the Mountain is part rock-climbing game, part Legolas simulator. Linear levels will see you navigate large cliff faces that can be scaled using the various tools you unlock as you progress through the game, which leads to larger and more complicated climbs.
The game is linear, but there are a few moments of divergence which lead to different gameplay encounters depending on which path you take. All of these missions can be replayed from the central hub, so you won't miss out on any gameplay or collectibles by picking one path over the other.
The bow combat in Horizon Call of the Mountain is fantastic. The whole experience hangs on whether or not the badass archer fantasy is achieved, and Call of the Mountain achieves this and then some. The sheer fun of being in an intense battle with Glinthawk and rapidly pulling arrows from behind your back is among the best VR experiences we've ever had.
The game manages to accurately recreate the tense, rapid-fire fights of the main series, dodging out of the way of projectiles and lining up shots to tear pieces of armour for the chassis of vulnerable foes. It's incredible just how quickly we found ourselves getting lost in the fantasy, closing one eye as we drew back the bow, ready for the kill shot. It genuinely makes you forget you're sitting in your room at 2 AM waving around controllers: it's a bit magical.
The climbing is satisfying, tactile, and, embarrassingly, very physical. If the point of VR is to trick your brain into believing you're doing something more than waving controllers in empty space, then Horizon Call of the Mountain achieves this in spades. We were shocked at how quickly we found ourselves actually tensing our arms as if to climb up a real rockface, or tightening our grip on the controller during a particularly perilous climb.
The illusion is incredibly effective, and it's only when your arms begin to hurt from tensing them so much over the course of a session that you realize how much the game has gotten its hooks into you. For a real workout, the game's room-scale setting allows you to swing your arms by your side to walk, proving one of the most immersive overall VR experiences we've had.
There's some awkwardness with switching between climbing implements that we wish were smoothed over, as it takes one out of the experience somewhat to have to look down at a disembodied menu on your virtual hand to select certain tools.
Horizon Call of the Mountain is also an incredibly beautiful game, which at times, provides visuals that are some of the best we've ever seen in VR. The game takes plenty of moments to make you stand around and look out at the Horizon but they're absolutely earned. "I can't believe this is running in VR," was a common refrain, with lighting and visual effects absolutely fitting of a series that was always utterly excelled in that category with its main series titles.
The scale of the machines is genuinely breathtaking, and it's impossible not to be taken aback by a Thunderjaw charging toward you for the first time. This isn't gimmick VR, it's an immersive experience backed up by great gameplay.
"The scale of the machines is genuinely breathtaking, and it's impossible not to be taken aback by a Thunderjaw charging toward you for the first time. This isn't gimmick VR, it's an immersive experience backed up by great gameplay."
Another element of Call of the Mountain that is very authentic to the main series is the main character's point-blank refusal to let any moment of silence linger for more than a few seconds. While we're not sure if a silent protagonist would have been the way to go, the frequency with which Ryas spoke took us out of the experience somewhat. It seems that without traditional cutscenes or similar storytelling elements, a bit too much of the narrative weight was handed to Ryas himself, explaining what's going on at every possible moment.
Horizon: Call of the Mountain is exactly how PlayStation should adapt its premiere properties to VR. It takes the essence of the original game in the bow combat and incredible creature design and focuses on an element of the main series that's largely ancillary in rock climbing, making it compelling and extremely enjoyable.
While the cameos from the main series characters are nice, and the references to the larger plot of the Horizon series are a treat for fans, the real stars, as is the case with the main series, are the creatures. It's perhaps a cheap pop to have a Tallneck walk over the player within the first five minutes of the game, but we'd be lying if we said we didn't stare up at it, open-mouthed, fooled for a few fleeting moments that we were actually in the world of Horizon.
Horizon Call of the Mountain sets the bar high for PlayStation's biggest franchises adapted to VR with stellar visuals, engaging gameplay, and jaw-dropping moments.
Visually stunning
Excellent bow combat
Thrilling, genuinely tiring rock-climbing gameplay
Encounters with the machines are always impressive and intimidating
The main character talks far too much
Some awkwardness when switching tools mid-climb
4 / 5
Version tested
PlayStation 5
Related Products
Other Products
Some external links on this page are affiliate links, if you click on our affiliate links and make a purchase we might receive a commission.