Review: GoldenEye 007 HD is the greatest remaster you'll likely never play
Rare's cancelled Xbox remaster is the stuff of legend, but now it's finally Surfaced we can see what a Dam good port it was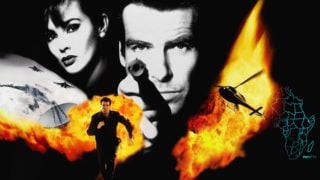 This review was first published on February 5, 2021.
It seems responsible to open this review with a clear disclaimer: the game being covered here was never officially released. However, in the past week, GoldenEye's Xbox remaster has very much entered the public domain and can be found covered in countless YouTube videos, Twitch streams and social media posts.
Perhaps, in an alternate timeline where all the stars had aligned and GoldenEye HD had actually been released, this may have been a legitimate review to accompany it. Instead, consider this merely as our curious take on a piece of gaming folklore, a look at what could have been.
With that in mind, this article will also not tell you how to acquire the game or how to get it up and running. It is simply our opinion on the software, and how it performs on actual Xbox 360 hardware (no emulation was used here).
Update - Officially announced
Microsoft has officially confirmed GoldenEye 007 for both Nintendo Switch and Xbox Game Pass.
However, the game is not the previously leaked remake that VGC reviewed here, but a simplified remaster. The Xbox version runs at 60fps and in 4K, but lacks online multiplayer. Whereas the Switch version is a direct port of the N64 original, but does include online play.
"25 years after its original release, experience GoldenEye 007 faithfully recreated for Xbox consoles," developer Rare said. "Includes achievements, 4K resolution and a smoother framerate – even in split-screen local multiplayer!"
If the story has passed you by to this point and you're sitting there wondering what we're talking about, an HD remaster of the legendary Nintendo 64 game GoldenEye 007 was supposed to be released as a downloadable Xbox 360 title in 2008. It's said that Microsoft, Activision (who owned the Bond licence at the time) and Nintendo were all agreed on a licensing deal, but the sheer number of parties involved led to the whole thing falling through.
Although it was reported back in the day that the 360 version did indeed exist, the assumption was made at the time that we wouldn't be lucky enough to ever see it in action. Fast forward 13 years later though, and the unreleased beta of GoldenEye on the Xbox 360 has not just resurfaced, but appeared online in a near-finished state, fully playable on emulators or modified Xbox hardware. That'll teach us to never say never again, if you will.
Boot it up and watch the intro sequence, and you'll immediately come to a conclusion that will last with you throughout the entirety of your time with this beta: there was clearly still some polish left to be done at this stage, but what's there is phenomenal.
The classic opening animation from the N64 version, which shows all the major characters from the game, now goes one step further by switching between their N64 appearance and their shiny new Xbox 360 look. Even two console generations later, the difference is stark. The likes of Natalya, Boris and Valentin no longer look like someone punched some peach-coloured Play-Doh into a loaf of bread, but closely resemble the actors who portrayed them in the film.
And that's just for starters: Initiate the campaign itself and from the second you see that first shot of the Dam stage in Arkangelsk, it's clear that there have been huge improvements made here. This isn't just the sort of simple upscaling you may see in some modern HD remasters: almost everything here has been retextured or remodelled to a truly impressive degree.
"Natalya, Boris and Valentin no longer look like someone punched some peach-coloured Play-Doh into a loaf of bread, they now actually resemble the actors who portrayed them in the film."
Of course, nostalgia goggles can sometimes cloud our memories, and there are many players who, like us, played the N64 version of GoldenEye religiously and think back on those days fondly. In some of these people's heads the game looked great, and that's because it did: in 1997. Play it today and you'd be forgiven for thinking that someone had smeared Vaseline down your screen while you weren't looking.
Still, nostalgia is a powerful rewriter of history, so just in case anyone playing this Xbox 360 remaster was in any doubt that there had been improvements made a decade down the line, the developers came up with a masterstroke: the ability to instantly switch to the N64 visuals by simply pressing the RB button. With a single tap those lovely new HD textures are replaced with the old, murky, blurry ones and you'll start questioning everything you loved during your childhood. Were Pogs actually rubbish too? (Answer: yes)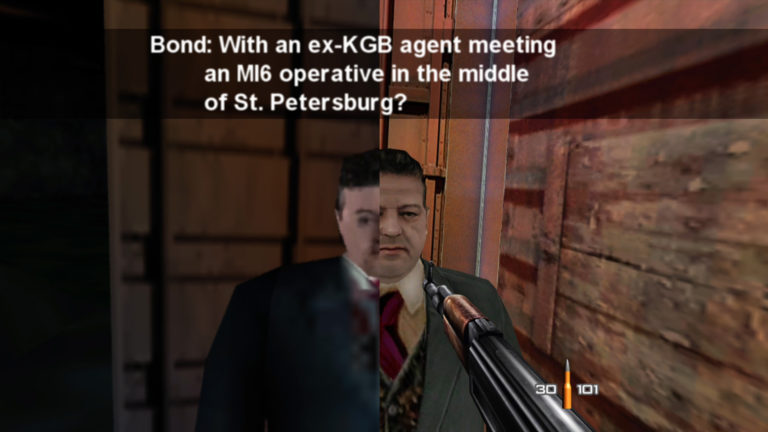 While all these changes are undoubtedly a good thing, there's another one in there that may have fans screaming for blood. The guard's faces have been replaced. Before you reach for your pitchfork, bear in mind the reason for this is obvious: many of the faces in the Nintendo 64 version were scans of the development team and their friends, and since this Xbox version is handled by a moslty new team (only programmer Mark Edmonds remained from the original group), those new hi-res face scans will have to come from somewhere.
You can still switch to the N64 version, of course, and see their lovely smudgy old faces, including that weird one who looks like Ken Dodd. Well, almost all of them: as was reported earlier, cult hero Dr Doak has been punted in favour of new science pretty boy Dr Rakhmanov, and his old face isn't even in there either.
Flipping between the old and new textures and faces is entertaining enough, but there's one improvement that can't be compared in this version, and that's probably just as well: the frame rate. The N64 version aimed for 30 frames per second but hit its target about as well as a Stormtrooper in Star Wars: in reality it averaged at around 20 but could drop down to 12-13 on stages like Jungle, at which point it started to resemble a relative's slideshow of their holiday to Peru.
Luckily, there are no such issues here. Running on actual Xbox 360 hardware, this beta version of GoldenEye HD hits 60 frames per second almost all the time, with only the odd dip here or there. Even when you spam a load of mines on the huge gas tanks in the Facility's bottling room and trigger the massive explosion, the thing barely breaks a sweat.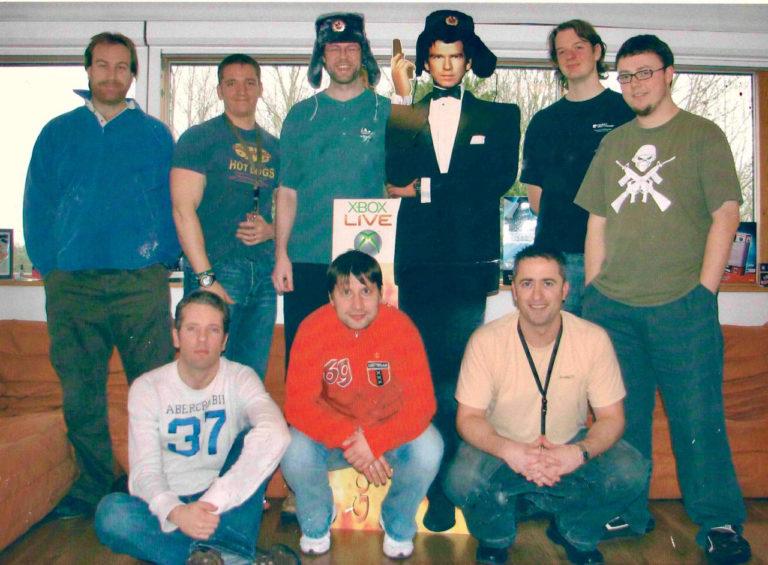 It's harder to compare the improved frame rate to that of the 'bad' old days, though: whereas switching to the N64 graphics makes things look noticeably less detailed, because it's still essentially still the same engine with swapped textures you'll still get 60fps there too. No bad thing, of course, but masochists who maybe wanted the old frame rate will be disappointed.
It looks sharp, then, and runs as smooth as butter. How does it control? Well, that may actually be the best bit. As an early example of a polygonal console FPS, GoldenEye was something of a trailblazer, but its place in gaming's timeline meant it also suffered from the lack of a second analogue stick. Although its few zany alternative control options – including one where you could literally play the game with two N64 controllers – were ahead of their time, once dual-stick controllers became commonplace GoldenEye started to feel somewhat archaic to play.
This all changes with the Xbox 360 version, which defaults to a more modern twin-stick control method: movement and strafing with the left stick, turning with the right stick, and the option to bring up your crosshair with LT for more accurate aiming. The N64 game may have been the best for its time but going back to it is a slog: we played it a few months ago and struggled to even shoot the lock off the gate in the Dam stage because of how analogue controls have evolved. Despite the fact this 360 version is now 13 years old, however, everything feels like an absolute breeze: that iconic sniper rifle has never felt so satisfying.
"Playing this beta brings up a number of emotions: nostalgia, joy, excitement. Perhaps the most overriding one, though, is sorrow. In another world, this would have been released in 2008 and would have undoubtedly received unanimous praise across the board."
Naturally, this being a beta, there are still some issues that would almost certainly have been addressed before the final release. The Frigate stage, for example, doesn't have any texture for the water yet: it's just a single blue colour, which can actually be quite disorientating when you look at it and move (in fact, the lack of a crosshair when you're generally running around could potentially trigger motion sickness in some players given the smoother framerate).
Meanwhile, some later stages – Statue Park, the Depot – have a completely black sky. This may be an improvement over the N64's weird purple sky effect in those stages (which you can still toggle too, of course), but still makes them look significantly less impressive than earlier levels. There's also the odd missing music track here and there, as well as some other fun glitches that would have eventually been fixed (turn on the Big Head mode cheat, for example, then switch to the N64 graphics and some enemies end up with tiny heads instead).
There are some features that either aren't working or just aren't there yet. There is indeed a set of achievements – not many, because this was in the days when Xbox Live Arcade games were only worth 200 Gamerscore instead of 1000 – but none of them trigger at this stage in development. Perhaps the most obvious omission, though, is an online multiplayer option, but you can pretty much guarantee that would have been added before launch (God, just imagine it). At least split-screen is still here, as is a system link option.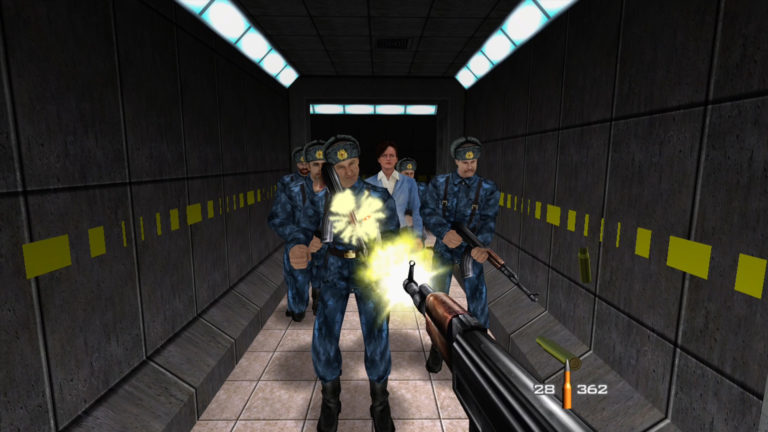 Playing this beta brings up a number of emotions: nostalgia, joy, excitement. Perhaps the most overriding one, though, is sorrow. In another world, this would have been released in 2008 and would have undoubtedly received unanimous praise across the board.
Even in this unfinished state, it is easily the best way to play an 'official' version of GoldenEye, and the thought of it also getting an online multiplayer mode makes you wonder if it could have even toppled Halo 3 as the most played online game on 360 at the time.
It's a tragedy to think that we were so close to having this installed on millions of Xbox 360 consoles all around the world, and instead here we are, 13 years down the road, discussing an unfinished version in hushed tones. This game deserved to find huge success for the second time, and its developers deserved praise for the incredible job they did taking an aging classic and turning into a modern, HD, 60fps, twin-stick wonder.
Nintendo 64 may be the definitive 'released' edition purely by default, but now that we have the means to try the unreleased remaster for ourselves, it's clear that nobody does it beta.
In another world, this could have gone down as one of the most impressive HD remasters ever made. This 360 port of GoldenEye keeps everything that made the original iconic and fixes almost everything that made it archaic. The fact that it was never released is deeply disappointing.
Nearly every texture in the game has been replaced and improved
Now runs at a silky smooth 60 frames per second
The dual-stick control system works like an absolute dream
Makes an aging game feel modern, even 13 years down the line
Boris and Natalya are still a pain in the backside
5 / 5
Related Products
Other Products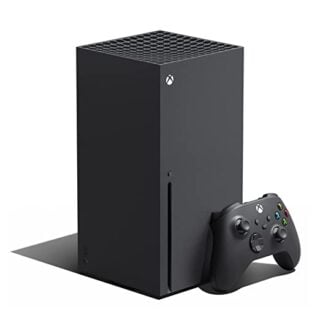 Xbox Series X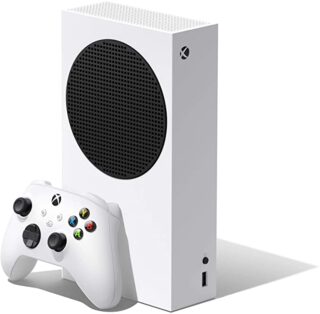 Xbox Series S
Some external links on this page are affiliate links, if you click on our affiliate links and make a purchase we might receive a commission.