Review: Forza Motorsport is a stunning racer with a one-track mind
At launch, Xbox's racer is heavy on velocity, but light in variety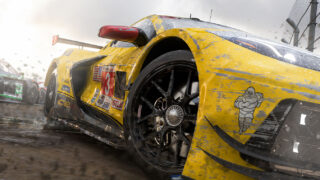 Given that there hasn't been a new Forza Motorsport game since the seventh edition was released in 2017, it should come as no surprise that Turn 10's latest entry is visually streets ahead of what came before it.
What's perhaps more surprising, however, is that when it comes to features this new instalment isn't exactly fit to bursting, at least not at launch.
The game's positives are clear as soon as you start playing. In the six years since Forza Motorsport 7 was released, Turn 10 has built on what was already a fantastic racing simulation and created what may be the most authentic racer yet.
On the track, the thing handles like a dream. The list of driving aids and other settings is so extensive that with a bit of tinkering, you can easily put together a driving system that feels deeply satisfying to play, whether you're a complete novice or a racing die hard with a full wheel and pedal setup in your living room.
Once you've managed to tune everything perfectly after a few races and have dialled the AI difficulty to just the right amount to suit your playing style, there are few recent games past or present that deliver with such gratification that feeling that comes with stalking the racer in front of you over numerous laps, edging closer until you pick just the right moment to overtake them.
The weight, the handling, the sensation of speed (especially from the in-car or bonnet viewpoints), the bliss of just nudging onto the rumble strip as you perfectly take a corner – none of this is new to racing games, but rarely has it been accomplished so well.
The game's feel is complemented by its visuals. The days where gameplay and real life footage are indistinguishable still aren't quite here yet, but Forza is the perfect indicator that the gap is getting ever closer.
The detail in track surfaces, the reflections on the wide range of materials inside and outside your car, the way shadows dance across your dashboard as you turn a sharp corner and the position of the sun changes, all combine for a deeply believable experience.
Turn on the game's ray tracing mode and the illusion becomes even more convincing, although players may wish to turn it off in favour of a higher rendering resolution. While it's possible to race with ray tracing on at 60fps – something not possible in rival racing game Gran Turismo 7 – the game does drop the resolution during busy moments to handle the extra strain it places on processing.
In practice, neither the loss of ray tracing nor the resolution drops are severe enough to catch the eye of the vast majority of players when you're hurtling down the Nürburgring GP circuit at 180mph so the option really comes down to which subtle concession you want to make.

Oddly, the game is so realistic that at times it can look a little dull. Each of the game's 20 tracks can be played in a variety of time of day and weather settings, and at times you'll find yourself racing during a foggy or overcast morning, which makes things noticeably less vibrant.
It's undoubtedly an extremely realistic portrayal of how such conditions would look in real life, but the resistance to use even a little artistic licence to make things pop a bit more results in a game that maybe suffers for its commitment to the cause.
This is something that can be levelled at the game as a whole, at least at launch. Despite its overwhelmingly large array of driving assists and accessibility aids, the one area in which the game refuses to compromise is the way in which it wants players to race in a professional manner.
Even when playing through its series of offline races, by default Forza will hand out time penalties if you crash into an opponent or go off the track in a way that benefits your position, meaning conservative driving is the order of the day. You can turn the crashing penalty off (and receive less currency per win as a result) but the penalty for going off the track remains no matter how lax you make the rules.
This is, of course, a perfectly reasonable way to ensure players don't cheat online by cutting corners or going for the classic trick of using opponents' cars as makeshift bumpers during tight corners. And a point could reasonably be made that it's pointless arguing that a serious racing game makes it hard for players to choose not to take it seriously.
This is a game that revolves entirely around perfecting your racing line, to the extent that the process of levelling up and and upgrading your car is based on it. Players are graded on every turn, and gain XP depending on how well they took it. By sticking to the rules and mastering each corner, then, you'll level up your car quicker and unlock more upgrade parts for it. Drive like a maniac and the grind will take a lot longer.
"This is a game that revolves entirely around perfecting your racing line, to the extent that the process of levelling up and and upgrading your car is based on it."
The only real issue we have with Forza is how limited it is at launch. By the time Forza Motorsport 7's content was fully added the game had more than 30 tracks and more than 800 cars, and Forza steps that down a notch with 20 tracks and around 500 cars on day one.
What's more, previous Forzas included fun additions to add more of a personality but there's nothing here like the Top Gear narration, the autocross cone-slalom courses or drift racing like in previous games, and there's no sign yet of anything like Forza 7's monthly Forzathon events, where players could unlock cars and occasionally novelty racer gear such as Gears of War inspired outfits.
To be clear, the key word here is "yet". At launch, the new Forza's main single-player Career mode, Builder Cup, consists of little more than a series of themed tours, each consisting of around five races. The main multiplayer mode, meanwhile, has players taking part in a race weekend style situation where races start at a set time and you have to do qualifying laps to determine your grid position – it's a great way of doing things.
That's really about it, however, other than basic options like Free Race and Rivals (which is essentially a Time Trial mode against a ghost car). Players launching the game on day one may wonder where all the content is. According to Turn 10, it's coming, but so far what it's promising sounds like more of the same. New tours will be added to the Builder Cup mode on a weekly basis, while new preset multiplayer races and new Rivals races are also in the pipeline.
On the bright side, the studio is also working on adding new tracks to the game, with Yas Marina coming in November, an as-yet unannounced track in December and the Nürburgring's full 13-mile Nordschleife circuit is coming in Spring.
Based on how previous Forza games have gone, it seems inevitable that if you look at Forza Motorsport a year or two down the line it'll be so much more packed than it is at launch. Turn 10 says the game is "a live, connected, immersive, accessible and ever-changing competitive racing platform that will evolve and grow with our community," but in order for something to evolve and grow larger, it stands to reason that it has to start off devolved and smaller.
To be clear, what's here is still a joy to play, as long as you go into it fully aware that there's no messing around here. This is a serious racing game with not a smirk in sight, the yin to the carefree Forza Horizon series' yang.
"To be clear, what's here is still a joy to play, as long as you go into it fully aware that there's no messing around here. This is a serious racing game with not a smirk in sight, the yin to the carefree Forza Horizon series' yang."
It's clear by the title that Microsoft and Turn 10 don't see Forza Motorsport as another numbered instalment – rather, this is a new platform that it plans to continue to build on. Over time, we imagine the game will grow to become the most feature-packed game in the series with more cars and tracks than ever before.
For now, its overriding selling point is that on the track it looks fantastic and handles like an absolute dream. And for now, that has to be enough.
The new Forza is the best in the series to date when it comes to the look and feel of serious motorsport racing. Its relative lack of modes means it's something of a one-trick pony at launch, but that trick is an impressive one.
Cars are an absolute treat to handle
Incredible visual detail and lighting
Online 'race day' structure is very well handled
Car XP system makes every turn count
Number of distinct modes is limited
4 / 5
Version tested
Xbox Series X | S
Other Products
Some external links on this page are affiliate links, if you click on our affiliate links and make a purchase we might receive a commission.