Review: Forza Horizon 5 is the first essential game of the generation
Playground Games has delivered again with the best game in the series to date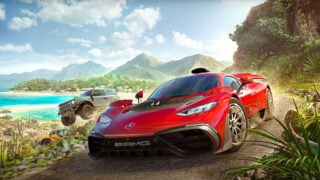 Forza Horizon 4 was generally regarded to be not only one of the best racing games ever made, but one of the best games of the entire console generation.
It would take a notable degree of skill to be able to better this then, and yet Forza Horizon 5 effortlessly pulls it off, taking over the first place podium and adding another essential must-have title to Playground Games' already impressive string of successes.
At its core, the concept remains similar to previous games in the series. The travelling Horizon Festival has shifted to another location, and once again players have to help it flourish by taking on various races and other missions.
By helping set up new expansion sites for the festival while competing in its numerous events, the aim is to build a festival that will go down in legend, while making yourself something of a legend on the track at the same time.
We say 'the track', but as is the Horizon way you'll spend a healthy portion of your time in this game on surfaces other than asphalt, especially given the diversity of the new host country Playground has chosen this time around.
Whereas Forza Horizon 4 was set in gloomy old Britain, the fifth game takes things to Mexico, where it's safe to say the need for sunscreen is a little more pressing.
It's a fantastic choice of setting, partly because Mexico's climate can be so wildly diverse that scorching sunshine, huge dust clouds and massive thunderstorms can almost literally lie around any corner.
The variety of its environments also acts as the perfect background for the Xbox Series X and S to really show off what they're capable of. Horizon 4 was already a beautiful game but this is simply jaw-dropping at times.
The small Mexican villages you come across are packed with detail (we loved a mural we found on one wall in particular) but it's the jungles that truly impress here with thick, dense layers of foliage, set underneath a beautifully rendered sky with the sunlight splitting through the trees.
Play it in 4K with an HDR-capable display and this is without question one of the most visually impressive games ever released.
"Play it in 4K with an HDR-capable display and this is without question one of the most visually impressive games ever released."
The game offers two different graphics modes: Quality and Performance, but we strongly prefer the latter. Both render natively at 4K resolution, but Quality favours detail while Performance favours frame rate.
What this essentially means is that if you look really hard, you can see that Performance mode removes a few details in distant scenery and makes other minor tweaks, but delivers a rock solid 60 frames per second as a result.
Meanwhile, Quality mode adds those extra details and is slightly more visually impressive when you put the two side-by-side, but to manage this it has to drop the frame rate to 30fps.
Given how fast you're likely to be racing most of the time, it can often be hard to notice the difference in quality when everything's rushing past you at 150mph, and since playing in 60fps looks and feels significantly smoother without a drop in native rendering resolution we recommend Performance mode all day long.
The Series S is no slouch either, rendering both modes at 1080p and once again delivering a solid 60fps or 30fps depending on which you choose. Again, we'd go for Performance if we were you, but if you've yet to jump on the 4K bandwagon the Series S makes this one of the best-looking HD console games to date.
Regardless of whether you're playing on the Series X or Series S, then, Forza Horizon 5 is a graphical masterclass that sets a new bar for console racing. But what does it actually do differently this time?
The main difference in single-player mode is the way the game's progression system works. There's a new screen called Accolades where practically everything you can do in the game has been divided into an enormous list of 1,876 mini achievements.
These are split into separate categories, related to different tasks: building the festival, finishing various races, taking on stunts like speed traps and danger sign jumps, online play, creative tasks (like uploading decals and taking photos) and so on.
Every time you tick off an accolade you're given accolade points, and as these points build up you'll unlock new major chapters of the single-player campaign, like adding new Festival sites, for example.
The beauty of this is that there are far more accolades than you need to unlock everything, and this is clearly a deliberate choice by the developer. In this way, players can still make progress even if they want to focus on the specific aspects of the game that they enjoy most.
If you're a racer at heart and want to spend your time driving from event to event, taking on all the street races, cross country races and the like, you can absolutely focus on that and earn accolade points for both completing and winning them.
If, on the other hand, you prefer the exploration aspect of the game, you can instead earn accolade points for covering every road on the map, hitting XP and fast travel signs, doing barn finds, taking photos and getting 1, 2 and 3-star scores on the various stunts dotted around.

It's a fantastic system that ensures no player feels left out for preferring to play a certain way. Naturally, we're sure Playground would rather you were the type who likes to mix things up and take part in races sometimes but go exploring at other times, but it's great to see it doesn't force you to take on parts of the game you may be less interested in.
It's also oddly reassuring that the game has so many accolades, because a lot of games with numerous achievements can feel quite intimidating, especially for completists like us who insist on getting 100% when playing a game.
The fact the number of accolades here is so ridiculously high and that it's going to be practically impossible for 99.99% of players to find the thousands of hours needed to earn them all means, in an odd way, the pressure is lifted off your shoulders. It's far more enjoyable to play once you're safe in the knowledge that you're never expected to 100% this game (and no, there isn't an Achievement for it, thankfully).
The Stories and Expeditions are the most entertaining aspects of the single-player mode. There are six separate Stories, each made up of multiple missions which are unlocked as you progress through the game. The first, for example, has you helping someone find and restore a Vocho (a VW Beetle) that belonged to her grandfather.
These Stories introduce a bit more character to the game and ensure you're experiencing a lot more than just driving from point to point on the map, taking part in countless races.
"These Stories introduce a bit more character to the game and ensure you're experiencing a lot more than just driving from point to point on the map, taking part in countless races."
The Expeditions are even more impressive, but sadly there aren't as many of them. There are five in total and each serves as a single, long mission which focuses on visual splendour and also has a separate exploration section in the middle.
These sections place you in a small, confined area of the map and give you some optional extra objectives to earn more accolade points, such as taking photos of certain objects, driving to the top of specific structures or finding locations to place satellite dishes for the Festival's radio station.
We loved the Expeditions and the change of pace they provided to the game, but the fact there's only five of them is a shame (they can be replayed, of course). With any luck, one of the two big DLC expansions planned for later down the road will hopefully add more Expeditions.
The single-player mode has a lot more structure this year, then, but when it comes to multiplayer the aim seems to be co-op this time around, thanks to the new Forza Link and Horizon Arcade features.
Forza Link makes it a lot easier to match up with like-minded players. The game regularly analyses your status including the types of things you like to do and any tasks you have outstanding, then matches you up with similar players and gives you a series of optional phrases you can bring up with the D-Pad to communicate with them.
It essentially means that even if you aren't a big voice chat fan, or are matched with a player who speaks a different language, you can easily pair up with another player and take part in some multiplayer shenanigans with them.
Horizon Arcade, meanwhile, is one of the best new additions to the game. It's a massive blimp which persistently flies above different areas on the map and regularly counts down to zero. Any players who are in its vicinity when the countdown ends are bundled together for the next Arcade event, which tasks teams with completing as many mini challenges as they can before time runs out.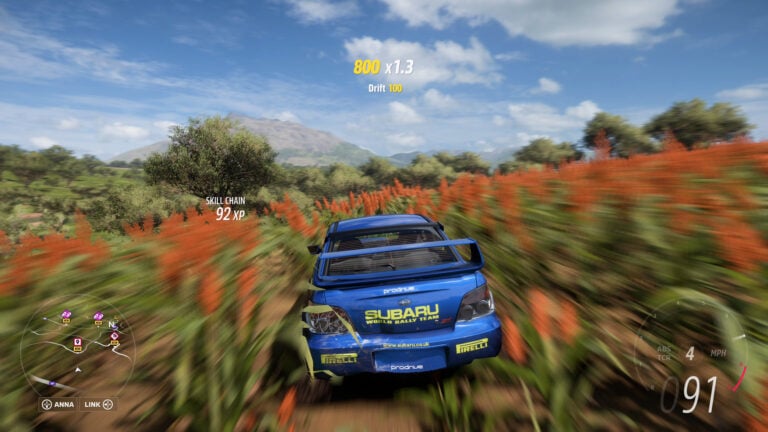 In one Arcade session, for example, we were first told to drive to a specific Danger Sign jump and try, as a team, to jump a cumulative total distance. Cue a massive group of cars all flinging themselves off the same ramp then driving back up to do it again as quickly as possible.
Once this target was met we were then instructed to head to a big field elsewhere on the map and to perform as many jumps as possible. This led to players trying to find sections of the field with enough small dips to allow for a series of tiny bunny hop jumps to build the meter quicker.
After that we were sent to a different part of the map, where a series of constantly spawning targets were appearing on the ground and in the air, with players asked to rack up as many points as possible. Our time ran out before we finished this one, however.
Playground says there are 130 of these mini challenges, meaning Horizon Arcade should last an extremely long time before you start getting bored of it.
Although I'm generally not a big fan of multiplayer racing games – there are too many troublemakers for my liking – I had an absolute blast playing Horizon Arcade, and the fact you can just drop in and drop out of it from the main map whenever you like makes for great impulse "well, why not" moments.
Speaking of impulse moments, one of our favourite things about Horizon 5 is the vastly improved loading times. While this is to be expected this generation, the previous game was notorious for lengthy loading periods at certain points, and these are enormously cut down now.
"One of our favourite things about Horizon 5 is the vastly improved loading times. While this is to be expected this generation, the previous game was notorious for lengthy loading periods at certain points, and these are enormously cut down now."
While Quick Resume is obviously a supported feature, even starting the game from the title screen sees a greatly reduced initial load, which used to be painfully long and is now barely an issue.
Even better is swapping out cars when you're out driving. All you have to do is pause, go to your car list, choose the one you want and you're talking literally a few seconds before you're in the new car.
In previous Forza games we tended to stick with one car for exploration because we couldn't be bothered with the delay when swapping them out, but this time we've found ourselves experimenting with each new car we collect because loading up a new car is so painless.
There's only really one quibble we have with Forza Horizon 5, and we're fully aware that it's not one everyone will care about. We're still praying that one day the series will make it easier to create our own decals and customise our cars.
The series still insists on forcing players to use a layer-based vector method to create decals, meaning if you have a specific design you'd better be really good at making it by stacking a load of geometric shapes on top of each other.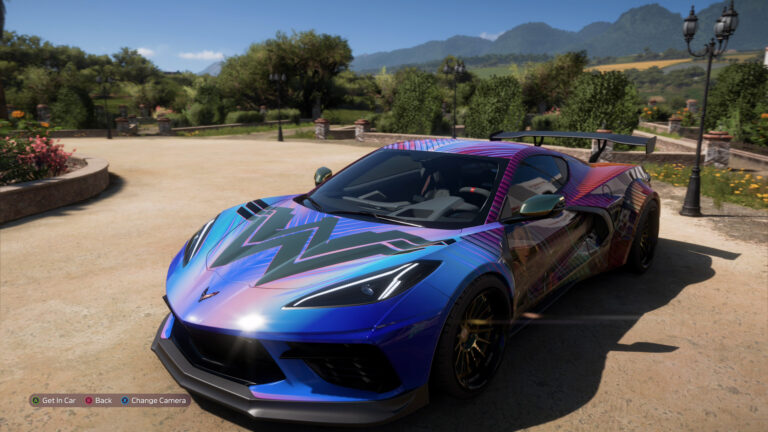 It doesn't have to be this way: Gran Turismo Sport let players upload their own images as .svg files and apply them on their cars as vinyls: the process was a bit fiddly but the result was that anyone could put images on their cars without requiring too much artistic talent.
Instead – as has always been the case in Forza – the ability to design decals is once again limited to people who have such incredible levels of creativity and patience that they can get around the system and make detailed creations (which can at least be downloaded by others).
This means we're left slapping bootleg VGC logos on our car and hoping someone with talent will eventually get round to recreating a Celtic FC badge, rather than just being able to upload them ourselves.
It's a shame, because there will be players who have a great idea of how a car design could look in their head, but lack the tools that let them easily turn it into reality. It's particularly disappointing when you consider that some of the game's accolades are for making designs that get a set number of downloads and likes, something most players won't be able to pull off.
This is really the only aspect of Forza Horizon 5 that lets us down, however. We've been racking our brains trying to dig up more negative aspects of this game, but instead we just find ourselves continually plucking up clumps of fresh air.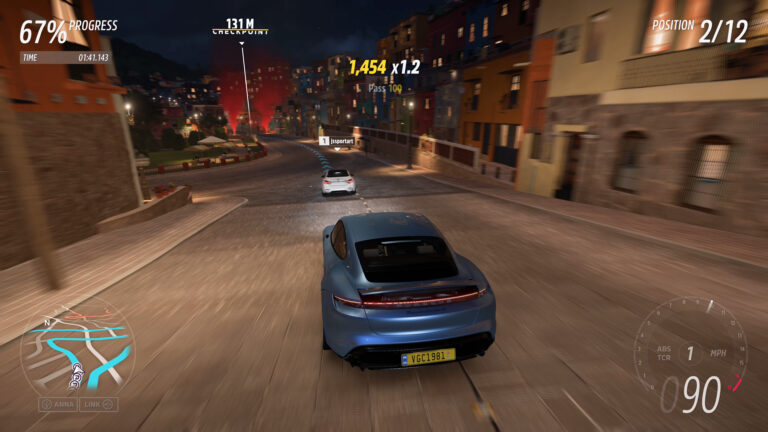 This is the best Forza Horizon has ever been. Because of this, it's among the best the racing genre has ever seen, and – as its predecessor accomplished before it – it's easily one of the best games this generation has seen so far.
Up to this point, Microsoft Flight Simulator was considered the best Xbox exclusive. Its niche genre, however, meant it only appealed to a certain type of player with a degree of patience and appreciation for its slow pace.
As a racing game with open-world exploration at its heart, Forza Horizon 5 has far wider potential appeal, and has undoubtedly become the best Xbox has to offer. It remains to be seen if Halo Infinite will challenge this next month, but for now this is the pinnacle of Xbox's library.
The game is out on November 9, just one day before the Xbox Series X and S reach their first anniversary. We can think of no better birthday present than this, the first truly essential game that everyone who owns either platform simply needs to play.
Forza Horizon 5 is the best game in the series and the best Xbox Series X/S game to date. Its flawless racing and wealth of activities are backed up by a gorgeous setting and a fantastic new progression system which encourages players to focus on the features they enjoy most. Utterly essential.
Outstanding visual detail, regardless of graphics mode and Series system of choice
An enormous range of activities neatly gathered in a new Accolades progression system
Horizon Arcade is a brilliant new way to play team co-op challenges with strangers
Hugely improved loading times transform the experience by encouraging regular car-swapping
The new Stories and Expeditions give the single-player campaign more diversity
We still wish it was easier to make our own decals
5 / 5
Version tested
Xbox Series X | S