Review: Final Fantasy 7 Remake is a magical retelling of a timeless classic
Square Enix makes fantasy become reality. Finally.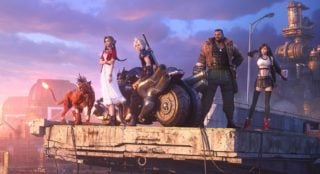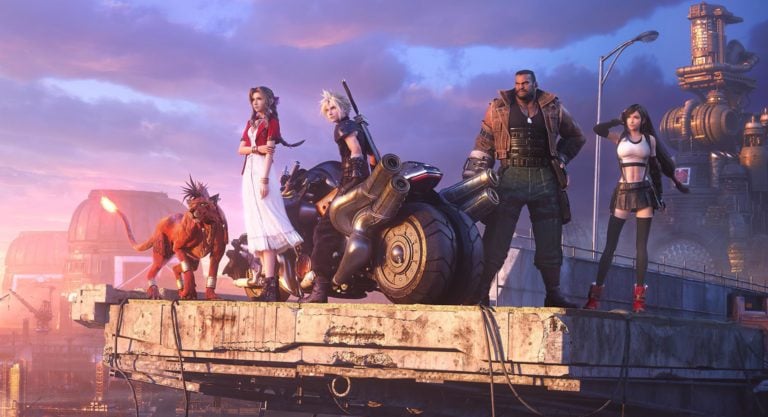 After all the years of hopes, rumours and fan mods, this is it, the real deal. Final Fantasy 7 remade.
Well, part of it, as the original's opening act set in the huge city of Midgar is stretched to fit this full-length game, leaving none of us much the wiser what's to come after. But what's here, right now, is a partial re-formed classic, updated and expanded in every direction, at times to the point of over-inflation, but with extraordinary ambition and care that we can't help but love it.
It's hard to argue with the scale of the project when Midgar itself sprawls in such vibrant detail. The steampunk mishmash of Victoriana, 40s' uniformity and industrial tech perfectly conveys the city's top down corporate organisation and the chaotic improvisation of the many below, who bolt together lives from the scraps that dribble down.
In the slums, the huge metal plate of the upper level that veils the sky is a constant reminder of the size of the place and its social hierarchy. From these scrapyard neighbourhoods to the trains, offices and power plants, it all feels part of an interconnected system.
But what makes this world breathe is when protagonist Cloud hops and climbs through its dense locations with his key companions, Barret, Tifa and Aerith. These main players, and some of the supporting acts, are full of incidental comments, quips and animations that flesh out their surroundings, personalities and the chemistry between them.
Perhaps it's more effective because the characters and situations are so iconic, but there's a deft touch and impressive subtlety to how they're drawn. All the nuances that were once vague and implied are now magnified in high definition, and tonally it feels exactly right. Something as simple as a walk along the rooftops with Aerith becomes a deeply warm and joyous experience.
There's a similar consistency in difference with the combat – on the surface it's completely overhauled to resemble the dynamic real-time action of Final Fantasy XV, but in practice it keeps the original's Active Time Battle roots intact. With items, spells, abilities and summons all sharing the same recharging ATB bar, waiting is as crucial as ever. Between blocks, dodges and the regular strikes that fill the bar quickly, it's all about managing that ATB level and prioritising the right moves whenever it's sufficiently full.
Switching control between party members is also crucial, to build their ATB swiftly and maximise their unique abilities. In the game's frequent and challenging boss battles especially, the emphasis is on teamwork to identify and exploit weaknesses, forcing you to think tactically and throw everything you've got at the situation.
As before, it's all supported by materia, the coloured stones that bestow magic on individual characters by slotting into their armour and weapons. While there aren't quite as many types as in the original game, and some new ones replace past favourites to suit the new style, its core flexibility remains, allowing you to split offensive and defensive spells across the group, add different elemental effects to weapons and so forth. It's a testament to the original design that it still feels as modern as the game's new systems.
"What makes this world breathe is when protagonist Cloud hops and climbs through its dense locations with his key companions, Barret, Tifa and Aerith."
There's plenty of room to experiment with different setups too. Perhaps surprisingly, a significant number of sections are organised like old-fashioned Final Fantasy dungeons, full of minor encounters, dead ends containing treasure and switches and locks that need to be dealt with to progress.
Outside of those, when you're not tied up in one of the game's story events, the major diversion from the original is the introduction of side quests. At specific points you're given free run of an area to take on requests from the locals, many of which see you heading out to hunt down a unique monster or taking part in a mini game.
The change of pace these quests offer is welcome, but when the main narrative has such a strong pull, they needed to be better integrated. While the hunts and mini games such as whack-a-box or squats are fun bonus challenges, the concept of being a jobbing mercenary feels a little forced. It doesn't help that the characters you meet in these errands and the stories they tell are hard to care about, and there's often too much busywork involved.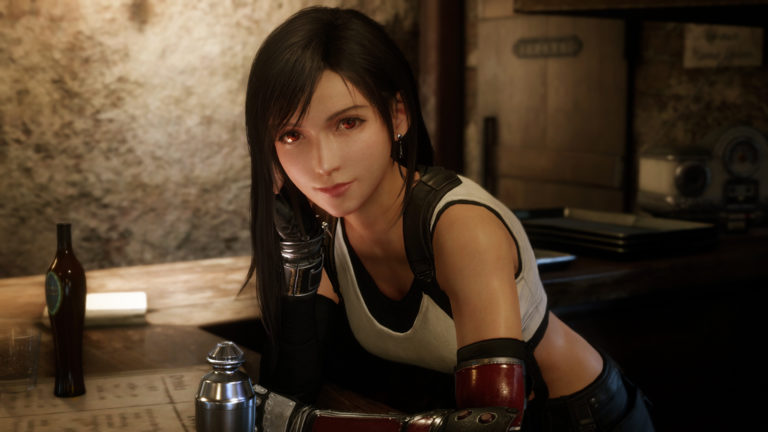 As for that main story, it mostly hits the big plot points of the original, sometimes with different connecting tissue, and always with added detail and context. All the major scenes are there, reliably enforced as ever by the powerful (remixed) soundtrack, and their impact is heightened through slow build-ups of dramatic tension.
Yet while it's incredible to see it all so beautifully fleshed out, some parts are too fleshed out. Chapters where you spend an hour or more surrounded by metal pipes and walkways as you anticipate a major boss battle, or get waylaid in a train graveyard en route to an urgent event brings down the tight pace of the original, even as they contribute to the game's exquisite world building.
This is the price of making so much from a six-hour sequence in a 23-year-old game. With all this detail every short journey adds depth to the characters and environment to a degree above and beyond what could possibly have been expected. But in the process everything becomes a big event and some of those events do feel like needless padding.
"This is a game that successfully combines new systems with the timeless quality of those late 90s designs to make the best single-player Final Fantasy experience for many years."
And while the remake follows the original in being a linear affair, that first Midgar was a brief prelude to a larger world. Here, it's all there is. Even though you get to travel more freely towards the end of the game, it lacks the eventual release of exploration that many RPGs provide.
Yet in the end the key elements that made Final Fantasy 7 what it was are in place – the cutting-edge visuals, the characters, the city, the battle system, the music, the emotion. This is a game that successfully combines new systems with the timeless quality of those late 90s designs to make the best single-player Final Fantasy experience for many years.
When all the pros and cons are put aside, it feels like a reunion with old friends. Sure, some didn't make it this time, and we may not get to relive every one of the old adventures. But they've matured into well-rounded people and the time we share feels more meaningful. And damn if it isn't just good to see them all again.
The scale and detail of this partial remake is at times almost absurd. But this is a game full of beauty, intelligence and nostalgic power.
Incredibly detailed locations and characters
Cleverly reworked combat systems
The story is as powerfully emotional as ever
Too much padding in some sections
5 / 5
Version tested
PlayStation 4
Related Products
Other Products
Some external links on this page are affiliate links, if you click on our affiliate links and make a purchase we might receive a commission.