Review: Final Fantasy 16 is an incredible action game that doesn't quite deliver the RPG heritage
Breathtaking setpieces and out-of-this world production values shine, even if some of what made Final Fantasy an Eikonic franchise isn't as strong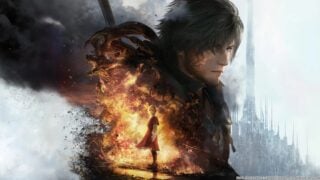 'Legendary' is a term that's thrown around in the video game industry far too frequently for its relatively short existence.
Although storied, due to the rapidly changing nature of the medium, plenty of titans of the early days of the medium remain as firm in the public consciousness as they once did.
Unlike plenty of contemporaries that have either been lost to irrelevance, Final Fantasy is a totemic franchise and one that seems to be able to weather any storm. Rarely outside of Nintendo's stable of unimpeachable giants has anything in gaming maintained such staying power for over 30 years.
With Final Fantasy 16, Square has developed a game with the swagger and show-stopping confidence, even if it won't please every fan that's been on the journey so far.
Set in the world of Valisthea, Final Fantasy 16 follows Clive Rosfield as he attempts to atone for a catastrophe in his youth that saw his family ripped apart and marked him an outcast.
The game is very clearly narratively and aesthetically inspired by Game of Thrones, but aside from in the early game when things get somewhat bogged down in names and places, Final Fantasy 16's story is engagingly told, with some central mysteries that are built frequently to great reveals. It threads the needle between interpersonal melodrama and screen-filling excess perfectly, at least in the game's main story content.
Final Fantasy 16 is an action RPG that leans far heavier in the action department than it does the RPG. With an all-new combat system helmed by Devil May Cry veteran Ryota Suzuki, it's the best the series has ever played by some distance.
It's a bonafide action game that may not sit mechanically at the top table with like likes of Bayonetta and Ninja Gaiden, but the fact that the game's combat can reasonably be mentioned in the same breath is a testament to how good it is.
As Clive, you're slashing, dodging and parrying attacks away. You're doing all of this while combining them with your various elemental special moves, afforded to you by the Eikons, which are the colossal manifestations of classic Final Fantasy spells.
Clive's move set is varied, and there are plenty of options in terms of how you want to build your own Clive, but the game does somewhat drip-feed access to the new Eikons in a way that's frustrating, especially given how fun they are to use. However, we did find a lot of the early enemies to have far too much health, which doesn't make them difficult, just spongey. This becomes less of a problem later on.
The flip side of this coin is that the game's RPG elements aren't as fleshed out as in previous games. While you'll be introduced to your first sidequests fairly soon after the game's prologue, these are doled out in random batches, and even when you do get more, they aren't massively engaging.
The pace of the main story is such that we were drawn to always head off on the next main mission, rather than take a detour into the minor quarrels of the small towns around the world. In one way that's always the trade-off with RPGs of this size – you're dealing with end-of-the-world level threats, but sure, I can take some time off to serve some meals around the outpost.
"While you'll be introduced to your first sidequests fairly soon after the game's prologue, these are doled out in random batches, and even when you do get more, they aren't massively engaging."
The game's rapid pacing will mean that for some, this is the first Final Fantasy they ever complete, owing to the ability to essentially completely ignore most of the RPG elements and treat it as an action game. And it is a fantastic action game, but it can at times feel that the RPG flourishes were added as a necessity to make it a Final Fantasy, rather than the strong action title that's at the core of the experience.
The side content does feature great writing, and the quality of the missions themselves improve right as the game is about to conclude, but it then runs into the pacing issue of going full-pelt towards a thrilling finale, leaving little incentive to go and do those side missions, unless you're a completionist.
Final Fantasy 16 is a gorgeous game. There are moments of visual fidelity that rival anything available on console today. The character models alone look like pre-rendered CG of the last generation but in full motion. There's also excellent cinematography throughout, which elevates the scale of the titanic fights even further.

There is one, very weird tradeoff here, however. Some cutscenes, which are large during side quests, feature stilted animations and camera work which hurts the game's overall presentation. That being said, these moments are few and far between and soon drift from memory.
The game's cast is also an absolute highlight. Ben Starr (Clive Rosfield), Susannah Fielding (Jill Warwick), and Ralph Ineson (Cid Telamon) are all excellent, with Starr able to juggle the game's lighter and darker moments easily. Fans of The Office or any British advert from the last 10 years will perhaps find Cid's voice somewhat distracting at first, but we wager he'll find himself firmly among the heartthrobs of the Final Fantasy series, and that's the real quiz.
The music of Final Fantasy 16 is expectedly absolutely outstanding. We felt like we were turning our TV volume up every few fights, to the point that by the end of the session, our walls were practically shaking. The boss themes are incredible, and the reimagined Final Fantasy Victory Flourish never fails to make us break into the widest grin. It's an utterly essential soundtrack.
Final Fantasy 16 is an incredible action game with blockbuster visuals and music, but there's a very real sense that it's missing some of the series' RPG identity at its core. To play this as a straightforward action game with little deviation is to have an amazing experience, but if at any time you feel inclined to stop and smell the roses of Valisthea, you may be found wanting.
Final Fantasy has never played better, and 16's cast is destined to be fan favourites. We just wish that when they are outside of the Hollywood blockbuster-tier adventures of the main quest, they were given some more interesting adventures to pursue.
Excellent combat
Stunning visuals
Outstanding Music
Engaging, instantly likable cast
Poor pacing
RPG elements feel somewhat tacked on
Early fights can be repetitive
4 / 5
Version tested
PlayStation 5
Related Products
Other Products
Some external links on this page are affiliate links, if you click on our affiliate links and make a purchase we might receive a commission.