Review: FIFA 22 is the best of the bunch, even if it barely raises the bar
Unless you love Career mode, EA's latest instalment will feel very familiar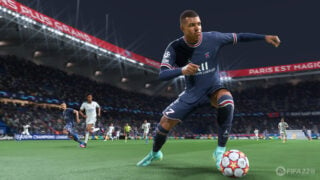 When you're 29 games into a long-running series, it's probably fair to say that innovation can be hard to come by.
This is particularly difficult when your subject matter is a sport like football, where the central mechanics are set in stone and can't really be changed: it's not like you can just add a multi-ball mode or put 15 players on the pitch.
Despite this, EA has attempted to further evolve its most lucrative franchise by completely overhauling its main animation system, creating what it calls HyperMotion technology.
The gimmick behind HyperMotion consists of two new techniques EA has implemented for player animations this time around, the first being 'advanced 11v11 capture'.
Whereas previous FIFA games captured the animations of a handful of players in a motion capture studio, this time the developer held full 11v11 matches on a full-sized pitch, with every player wearing mo-cap outfits.
The idea is that by capturing players in actual matches, the animations feel natural and less forced, and really get across the idea that the players are really exerting themselves.
The other main pillar of HyperMotion is the game's ability to create bespoke animations on the fly by accessing its library of 8.7 million individual animation frames and using machine learning to splice them together during certain situations.
When a player has to quickly adjust their footing when dodging a tackle then taking a shot, for example, or when a goalkeeper has to react quickly to an unexpected deflection, the idea is that HyperMotion tech will kick in and create new animations that didn't already exist for those specific scenarios.
It's a great idea on paper, and in practice it's clear that FIFA 22 has the most realistic animation of any game in the series to date. That said, it's still not perfect, and while everything looks perfectly seamless during standard gameplay, slow-motion replays still show the occasional slidey legs and robotic animation transitions seen in previous games.
"While everything looks perfectly seamless during standard gameplay, slow-motion replays still show the occasional slidey legs and robotic animation transitions seen in previous games."
To be frank, we don't really see HyperMotion as the revolutionary new idea that EA is keen to have everyone believe it is. We only address it first in this review because it's the main selling point of this year's entry, to the extent that "HyperMotion technology" is literally printed on the front of the box.
Were it not being pushed front and centre in its marketing, we daresay most players would simply think "huh, the animation's improved a bit" and not give it much more thought than that. It's definitely an improvement, but it hardly turns every player into an Andy Serkis performance.
Revamped animations aside, FIFA 22 is more or less the same story as last year. While there are the odd balancing and physics tweaks that will only really be noticeable for the die-hards who play it day and night, the differences are negligible enough that the vast majority of players familiar with last year's game will be able to pick up 22 and be perfectly comfortable with it after a game or two.
The exception to this is the goalkeepers, who have definitely been improved this year. The upgraded animations mean their reflexes are sharpened, and they respond better to both one-on-ones and long shots. They're not invincible by any stretch of the imagination, but certain goalscoring opportunities are no longer the foregone conclusions they were before (at least, not until the community spends more time with the game and figures out the new exploits).
Career Mode
Off the pitch, the rest continues to be a series of bullet-pointed upgrades rather than a wholesale overhaul. While every major mode has seen some tweaks it's fans of the Career mode – who've been crying out for a refresh for years – who'll likely be happiest since it's seen the most notable additions.
The most obvious of these is the fact that, in Manager Career, players can now create their own team from scratch and put them in any league they want, replacing an existing team. They can design their emblem and kit (though not the shorts or socks) customise their stadium, even choose the average rating of the generic players they're initially given.

The idea of starting your team off in the lowest division and working your way up to make them national champions and maybe even Champions League winners is an enticing one, although in reality it only really works if you want to play in the English or German leagues.
As has always been the case, the FIFA games aren't exactly Football Manager when it comes to depth in the leagues represented. Of the 27 different leagues in the game, 23 of them only have one division.
This means if you want to play as your created team in, say, Scotland, your only option is to start them in the Premiership, since there are no lower divisions available to you. The lack of relegation or promotion in FIFA's career mode is hardly new to this year's version, but the new concept of creating your own team of minnows and building them up makes its absence even more jarring.
That's the Manager Career mode, but Player Career has been given a refresh too. You can now come on as a substitute sometimes, meaning you no longer have that jarring transition from not even being on the bench to suddenly becoming a regular starter.
"The lack of relegation or promotion in FIFA's career mode is hardly new to this year's version, but the new concept of creating your own team of minnows and building them up makes its absence even more jarring."
You're also given in-game objectives, similar to the ones given in The Journey, the story mode that ran through FIFA 17, 18 and 19. These keep dull mid-table league matches interesting and help you build your manager's trust.
The best change in Player Career mode, though, is the completely revamped player progression system. For the longest time, in any mode in FIFA where you control a single player, you essentially had a big list of achievements – beat 100 players with skill moves, score 10 free kicks, etc – and pulling these off would increase specific stats.
This time, however, that's all been scrapped and instead you get a more conventional XP and skill tree system, meaning players can specifically build the stats they want to focus on. Add to that a perks system where you can apply certain buffs to your player (like increased passing accuracy after an assist) and you have a lot more control over the direction your players' development takes now.
Ultimate Team
Career's been given a big revamp, then, but what about FIFA's most popular mode by far, Ultimate Team (FUT)? Well, the changes here are actually minimal this year, and while EA claims it intended them to make life easier for players they just complicate things more.
Division Rivals mode used to put players in set divisions, with a simple rule: win a match and your ranking points would go up, lose and they'd go down. When your points hit a certain milestone in either direction you'd either be promoted or relegated. The main issue players had was the sheer number of wins (or losses) needed to move to another division, meaning most were stuck in one place unless they went on a momentous streak.
Instead of simply reducing the requirements for promotion and relegation, EA has restructured Division Rivals to make this strange ladder thing with divisions, ranks, checkpoints and milestones. To its credit, it does make moving up the divisions a bit quicker and it earns players more rewards along the way, but it's certainly less intuitive than the old method.
The same goes for FUT Champions, which was a special weekend league where players had to somehow manage to fit 40 games in during that time, with big rewards depending on how many games you won.
Again, instead of just dropping this to 20 or 30 games, EA has turned it into two separate competitions: the Play-Offs round, where you play 9 games whenever you want, and the Finals round, where you play 20 matches during the weekend.
As with Division Rivals, this new structure is actually an improvement because it requires less of a time commitment from players and can result in better rewards. But, again, it doesn't half complicate things.
Overall, then, FUT is still better than it was last year: its two main competitive modes may be more convoluted but they do ultimately result in more rewards for less time spent on the game.
"FUT is still better than it was last year: its two main competitive modes may be more convoluted but they do ultimately result in more rewards for less time spent on the game."
Even better, the preview packs that were trialled last year – which let players see what's in some packs before choosing whether to buy them – seem to be here for good. While it's not clear whether EA wanted to add them or whether they were a tactical decision to lessen pressure from various governments accusing it of peddling gambling, they're a welcome addition nonetheless and make the whole thing seem (slightly) less predatory.
The whole package, then, is more or less the same story as we've seen for quite some time now. A few minor tweaks to the basic core gameplay, one mode getting lots of attention (in this case Career) and the rest simply getting a minor refresh.
Ultimately, though, EA is fully aware that at this stage that's all it needs to do. With Konami rebranding PES as eFootball and about to embark this week on a long-term free-to-play project that looks set to have a bumpy start, FIFA essentially has no major competition this season.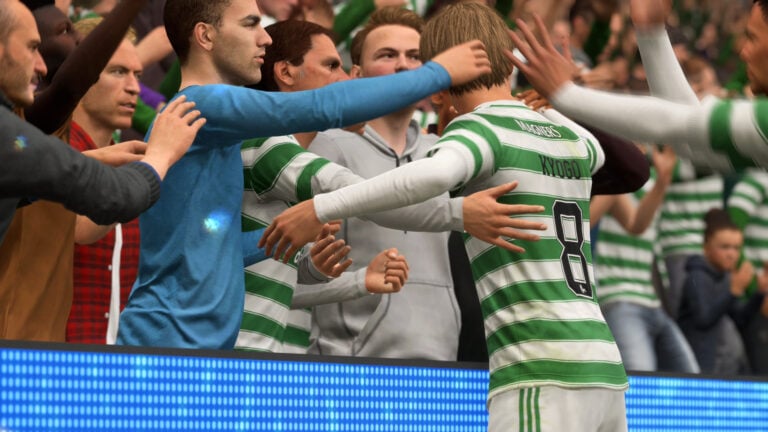 This also makes it a difficult game to assign a score to, because its value really depends on your familiarity with last year's game. If you spent a significant amount of time on FIFA 21 and are looking for a notable upgrade, then FIFA 22 just isn't different enough to offer that, and you might as well take a star off the final score.
Judged on its own merits, though, without taking the previous games into account, it's the best football game around due to its improvements (minor as they are). Anyone looking for a game that will keep them busy all season will absolutely find it here when you consider that you could pick just one of Ultimate Team, Manager Career, Player Career or Volta street football and find months of content in just one of those modes alone.
But for hardcore fans, there's not a significant amount that's new here, and ever since the last truly major revamp, when EA introduced the Impact Engine in FIFA 12, reviews of FIFA games have simply been a case of pointing out the gradual changes made every year.
EA seems content to play it safe with the usual suite of modes and let the FUT profits roll in. We'd love to see it decide one year that it's going to be bold and completely upend the format. Naturally, that hasn't happened this year, so we'll continue to wait. But at least we'll have a series that remains thoroughly entertaining – if entirely lacking in surprises – to play while we do.
FIFA 22 is the best in the series to date, even if its revamped animation isn't as revolutionary as billed. As a standalone title it's fantastic, even though avid players will likely feel that changes are negligible compared to last year.
Improved animations make it the best-looking FIFA, but only just
Career mode is greatly improved
FUT tweaks means players are required to commit less time
Division Rivals and FUT Champions have more convoluted structures
It still feels very familiar for hardcore players
4 / 5
Version tested
Xbox Series X | S
Related Products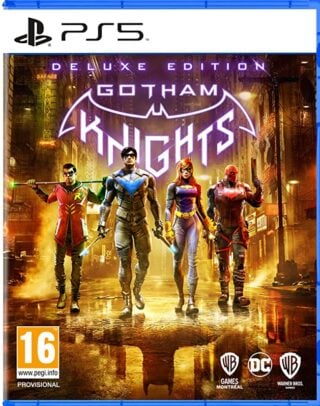 Gotham Knights - Deluxe Edition (PS5)
Other Products
Some external links on this page are affiliate links, if you click on our affiliate links and make a purchase we might receive a commission.