Famicom Detective Club review: A pair of riveting but rigid adventures
Nintendo's resurrected '80s murder mysteries are beautifully handled, but may be too linear for some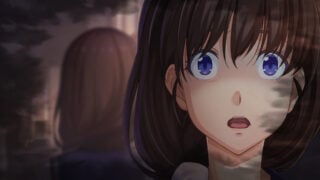 When Nintendo held its first full Direct presentation in almost 18 months earlier this year, its Famicom Detective Club reveal was quickly forgotten by many.
It's understandable – given that the presentation lasted 50 minutes and contained a number of more high-profile announcements, the news that a 30-year-old visual novel was coming to the Switch may have passed a number of viewers by.
For some, however, the release of Famicom Detective Club is a surprise that many never thought would happen, considering the game's age and the relative niche appeal of its genre. For Nintendo historians, this is a huge deal.
If you aren't aware of its history, Famicom Detective club was a pair of murder mystery games that were originally released on the Famicom Disk System in Japan back in 1988 and 1989. Each was split into two volumes, meaning there were four releases in total.
Now, more than three decades later, the games have not only been remastered, but have been translated to English for the first time, finally marking their long-awaited debut outside Japan.
The Missing Heir is the first of the two games and has you playing as an unnamed 17-year-old detective, who awakens at the bottom of a cliff and realises he has amnesia (isn't that always the way?).
Before long he discovers that he is indeed a detective, and one who's investigating a rather interesting mystery to boot – a suspicious death surrounded by a family inheritance feud and a strange ghost story.
To say any more would be giving plot details on a game that revolves entirely around discovering its story, so we'll let you find out the details for yourself. For the most part, though, the game follows the straightforward whodunnit structure with plenty of deliberately annoying characters designed to make the player believe that any of them could realistically be guilty.
The Girl Who Stands Behind is more paranormal in nature and mainly takes place in a high school. Set before the events of The Missing Heir, the player has to investigate the death of a student while also finding out more about the Girl Who Stands Behind, an urban legend about a blood-soaked ghost.
Both games are near-identical in how they look and play. Visually they're night and day from the original Famicom Disk System versions, with fully hand-drawn HD scenes that basically look like you're playing an anime.
The character animations are sublime and the newly added voice acting is a great touch, though do note that it's Japanese only – there's no English dub here.
The main thing that will divide players is that both games are extremely linear, more or less following a specific path throughout. The player has a selection of actions to choose from in each scene, but for the most part this simply involves going through a menu and selecting options like Talk, Look, Call Over, and the somewhat confusing Remember.
"Visually they're night and day from the original Famicom Disk System versions, with fully hand-drawn HD scenes that basically look like you're playing an anime."
The Girl Who Stands Behind has a slight edge here because it replaces the Remember option with one called Think. They both do the same thing but the latter is a more accurate description, because it involves checking to see if the protagonist has any ideas. Often he's talking to people he's never met before, so there's nothing to remember, which is why Think is more accurate. That may seem petty but it shows just how similar both games are.
The majority of each game, then, involves simply working your way through each of the options until a character says something that triggers the next sequence of events, usually by highlighting your next option in yellow, so you know that's the one to choose to proceed.
This can sometimes lead to moments where you're not sure how to progress, essentially resulting in occasions where you're just clicking through one option until the character you're talking to starts repeating themselves, then moving on to the next option, and so on until you find the line you wanted.
It's not the most engaging method of investigation we've ever seen in a game, but given that the source material is from the eighties and the story is strictly faithful to the original releases, we guess that's the way it has to be.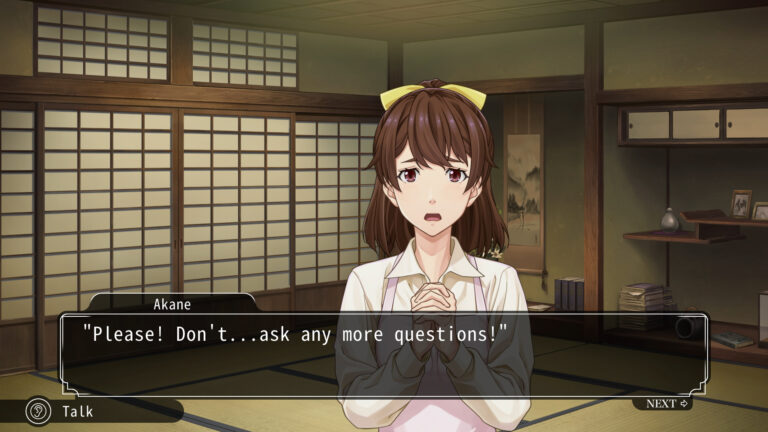 Of the minimal new features, our favourite is the ability to head into the Options screen at any point and change the game's music from its wonderfully orchestrated modern arrangement to the original Famicom Disk System soundtrack. The Girl Who Stands Behind also has a third option for a Super Famicom score (because it got a 16-bit remake back in 1998).
It's a nice touch and while the vast majority of players will undoubtedly want to stick with the modern soundtrack, it's fun to sometimes switch between them to hear exactly how much things have been improved. It's a shame you can't do the same with the graphics – it's the new art style or nothing.
Both games are entertaining mysteries, as long as you go into them fully aware that you're just there for the ride. Even games that appear linear, such as the Ace Attorney series, at least give the player a degree of freedom at times (when deciding where to go next, making the player think and solve problems during courtroom scenes and so on).
"Both games are entertaining mysteries, as long as you go into them fully aware that you're just there for the ride."
These games don't offer the same, and this is about as one-way a street as you're likely to experience in a game. For many players that's perfectly fine – this is a visual novel, after all, and those who are purely here for an enjoyable story will get one.
Famicom Detective Club is a perfect example of a visual novel. The only problem is, it's a perfect example of a visual novel from 1988. The genre has evolved to an extent since then and as a result this now feels like one of the more basic examples on the Switch, albeit one of the more attractive ones.
Those with an interest in Nintendo's history should undoubtedly pick up Famicom Detective Club, and those simply looking for a couple of good mystery yarns will have a fun time with it too. Just be aware that it's a very linear adventure, and once you're done there's very little replay value.
A visually stunning remaster with beautiful character and location art
Both stories are engaging and well-written
The option to switch to the original 8-bit and 16-bit music is brilliant
It's an incredibly linear story, which won't appeal to everyone
Voice acting is Japanese only
3 / 5
Version tested
Nintendo Switch
Related Products
Other Products
Some external links on this page are affiliate links, if you click on our affiliate links and make a purchase we might receive a commission.