Review: F1 22 adds as much as it takes away
Codemasters and EA's latest is another winner, even if it doesn't reinvent the wheel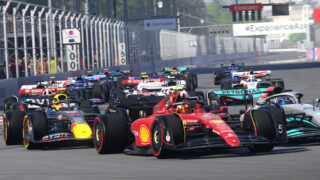 DISCLOSURE: Chris appeared as one of many background tannoy announcers in F1 2021, and that audio has been reused in F1 22.
It must be difficult to release annual iterations of a series when you've all but perfected its central mechanics.
For a number of years now the F1 games have been delivering rock-solid recreations of the sport, meaning anyone expecting an enormous overhaul anytime soon is setting themselves up for disappointment.
This year, however, things are a little different (but only a little). With the real-life F1 seeing some notable changes to its regulations and aerodynamic rules this season, F1 22 has undergone a revamp.
The new car designs mean that instead of 'flat floors' there are now aerotunnels on their undersides. This means the car is pulled down more as air flows through it. The result is a game that does handle somewhat differently, though not to the extent that it's a completely different experience.
There's more grip on corners and there's minimal drag on straights, to the extent that players who put a lot of time into F1 2021 will notice a difference, but adjusting to it will take no more time than adjusting to the fact that the title formatting has gone from '2021' to just '22'.
There may be minor differences on the track, then, but it's the new F1 Life mode that EA and Codemasters are trumpeting as the latest big addition to the series.
The idea is that you customise your own avatar and choose from a series of furniture items to customise your own living area, which other players can then check out. In practice, though, it's not really that appealing at this stage.
There's only a small selection of furniture in F1 Life at launch, meaning we don't foresee a situation where players are flocking to each other's hubs to see which of the five different types of sofa they picked.
"There's only a small selection of furniture in F1 Life at launch, meaning we don't foresee a situation where players are flocking to each other's hubs to see which of the five different types of couch they picked."
Of course, over time players will be able to unlock new furniture and avatar customisation options as part of the returning Podium Pass, the game's 'battle pass' system which lets players earn XP through challenges and collect rewards along the way.
Players can buy the first season's Podium Pass for 9000 'PitCoin', which comes to $8.99 / £7.99 in real money terms (for a pack of 11,000). Naturally, while it's possible to unlock items without buying the pass, some of the best car liveries and the like are exclusive to those who pay up.
The most interesting part of the new F1 Life mode is the addition of supercars, which can be driven in time trials or a series of 40 special 'Pirelli Hot Laps' challenges.
The unlocking process for these supercars is surprisingly restrained, as players simply earn tokens by racking up mileage. There's no way to buy them with real money, and there's a separate mode outside of F1 Life which lets you take on the challenges anyway – the tokens are only used to 'buy' the cars for display in your hub.
F1 Life seems fairly throwaway at the moment, then, but thankfully the Career mode remains present and accounted for. It isn't enormously different to that in F1 2021, meaning players who've already thoroughly rinsed that game may get a strong sense of deja vu.
Naturally, there are new additions to fit the F1 2022 season. There's a new Miami circuit, some circuits have been modified to match their real-life tweaks, and a few events have the new Sprint qualifying rounds which have proved popular with the F1 fanbase. For the most part, though, it's business as usual.
In fact, our biggest takeaway (for want of a better word) isn't what's been added to F1 22, but what's been removed from it. The 'Braking Point' story mode in F1 2021 may have been a bit on the clichéd side, but it was still an interesting way to play through an F1 career.
This time there's no story mode at all, meaning solo players will have to make do with the existing Career mode, the 40 Pirelli Hot Laps supercar challenges and the regular daily challenges designed to give XP for the Podium Pass unlockables.
The net result of all this is that in a season notable for its attempts to push the sport to the next level, F1 22 feels more like a game in which progress has neither been gained nor lost.
For some titles, this would be potentially catastrophic, but the reality is that F1 22 is still an immensely impressive take on the sport, with Codemasters' trademark pedigree on full display with some of the most satisfying racing action you'll find on console or PC.
If you're the sort who put 100+ hours into the last game you may be underwhelmed at the relative lack of new features, but judged on its own merits F1 22 is the best in the series to date, even though it comes down to a photo finish.
F1 22 is the best game in the series, but not by a distance. The improved handling and supercar challenges are cancelled out by the lack of a story mode and the superfluous new F1 Life mode, making for a game that gives as much as it takes away.
The best F1 handling to date
The 40 supercar challenges are fun, and aren't locked behind microtransactions
Career mode changes keep the game up to date
The new F1 Life mode is little more than a virtual furniture gallery
The lack of a new story mode is disappointing
4 / 5
Version tested
Xbox Series X | S
Related Products
Other Products
Some external links on this page are affiliate links, if you click on our affiliate links and make a purchase we might receive a commission.