Review: Dragon Quest Builders 2 is a perfect sequel
Square Enix delivers an excellent building hybrid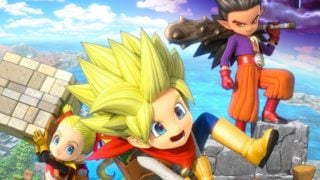 Limiting a player's options is a risky move. In this world of vast, open world experiences – and, of course, Minecraft, a game that is impossible to not mention in a review of Dragon Quest Builders 2 – which enable you to go wherever you want, craft whatever you wish, build anything you dream and generally shape the world in your vision, being restricted to small, short-term goals seems like a completely regressive move.
This isn't the case, however, with Dragon Quest Builders 2. Sure, Minecraft might allow you to build a 1:1 scale recreation of say, any location in any other Dragon Quest game, but it's the equivalent of having a massive skip full of miscellaneous Lego, as opposed to DQB2's tailored, specific kit. You follow more instructions, build things up and unlock them bit by bit, but when you finally get to the finished product, there's great value, satisfaction and fun in not only the process but getting to the end result.
If anything, these rules force a different kind of creative thinking to other games within the survival/build 'em up genre. When a problem presents itself, you have to think about what exactly you have currently unlocked and what areas you can build in. What tools you have at your disposal and which ones you can craft.
Much like the original Builders used an 'alternative' ending to the original Dragon Quest game as a jumping off point for the plot, this sequel does the same thing with Dragon Quest 2.
After a brief introduction that has you running chores for the Children of Hagron, a bunch of classic Dragon Quest enemies who have banded together to avenge the death of their leaders, Halgron and Malgroth, you are unceremoniously shipwrecked and wake up alongside Malroth, who has developed amnesia and works alongside you to build and survive.
Anyone who has played the original RPG is going to know the twist regarding Malroth, but it's still a cute setup that has you working side-by-side Malroth for the duration of the game. He's basically your AI co-op partner, helping you out in combat, levelling up alongside you and can wield large weapons that you can't.
'Co-op' is a much bigger part of this sequel. Of course, there is full four player co-operative play this time around, but you also find yourself with a party for most of the game – likely a callback to Dragon Quest 2 being one of the first console RPGs to have a proper party system.
You can use these AI partners to automate as much or as little of the busywork associated with this genre as you wish. Sure, you can plant each individual crop and place every block yourself, but as you level up your settlement, the inhabitants gain new abilities and become more willing to muck in and help out, allowing you to have a factory line of production going on back at base while you complete quests or explore the world.
Weapons can be built and dished out to braver citizens so when a horde of enemies try to smash up your handiwork, you can fight back with a small army alongside you.
"As well as the usual regional accents, there's some genuinely funny gags and a surprising amount of modern slang. Being called 'fam' by one of the characters was quite unexpected!"
The game structure is far more cohesive than the original game. You begin your adventure on a large, expansive but ultimately quite empty island, but unsurpisingly there's little you can do. Instead, you head out to other large islands that each have their own eco-system and, most interestingly, own items, characters and adventures.
For instance, the first island you visit is themed around the new farming mechanics – a small settlement needs your help at first overcoming the cursed soil that prevents crops growing. As you complete missions, you slowly turn this settlement back into a thriving agricultural town and in doing so, learn new recipes and items you can construct.
There are other islands, each focusing on a specific area – mining, or combat for instance – and you can't take items between them. They're very much their own isolated stories that you play through, learning the ins and outs of the mechanics as you go.
What you can do, however, is travel back to the starting island, where you can use all of the combined crafting skills you have gained to build your own personal paradise. It's a really slick way of incorporating a more free-form style aspect of the building experience into the core of Dragon Quest Builders and acts as a reward for finishing these other areas.

There are also small islands, each with their own mini-objectives, that don't necessarily get you new building recipes, but unlock things like the ability to have an unlimited amount of a particular resource.
Once you've got that in your inventory, building structures becomes a real joy. Like the first game, it's not just about building structures, but by choosing certain items to sit inside them actually 'theme' the room and act as scripts for the AI. If you build a kitchen, for instance, food items placed within a chest inside it will automatically be marked for cooking by the people in your settlement.
It's surprisingly intuitive and rewards you for experimentation with the items you can build to see what combinations can trigger a new room type. Try placing a pot and a tissue dispenser inside a small room. We think you can figure out what that is.
Exploration plays a much bigger part this time around. As you unlock more skills, you can go between the islands and gain access to new areas by utilising the new things you can build.
The fact that the items themselves don't carry between these islands actually creates a sort-of Metroidvania feel to the progression you make. Once you learn how to break rocks, going back to an area where you previously lacked the tools to do so is going to yield you new resources and, of course, new things to build.
Dragon Quest games always have a decent translation, but the one in Builders 2 is really quite something. As well as the usual regional accents they've had in other games, there's some genuinely funny gags and a surprising amount of modern slang. Being called 'fam' by one of the characters was quite unexpected!
"When you think about every part of the original Dragon Quest Builders, the sequel has improved on it."
The new online aspects are fairly simple, but all it really needs. You can, of course, team up with three others to go exploring and build co-op creations, visiting their islands and seeing what they've come up with. You can also share photos you've taken in photo mode on a noticeboard in the game, which also show up during loading screens, which is a nice touch – even if some of them are so good they'll make you feel either hugely inspired or wildly inadequate!
It is worth noting at this point that we played the Switch version, which for the most part was fine, barring a bit of framerate choppiness when things got really hectic, during some of the big battles. It's also maybe the most demanding game we've seen on the Switch to date. No, really. This game makes your Switch sound like it's housing a wind turbine, and it absolutely obliterates the battery life. Perhaps it is a touch unoptimised – it runs fairly well overall, but definitely appears to be pushing the console considerably.
When you think about every part of the original Dragon Quest Builders, the sequel has improved on it. You can carry more stuff. Both the creative and RPG aspects are blended together better. You can build higher, more varied structures. You can automate a lot of the grinding and busywork. The controls are better, there's online play… it's an improvement in every way over what was already a very entertaining video game and therefore, highly recommended.
Dragon Quest Builders 2 is the perfect sequel. The kind that improves on every aspect of the original, adding more meaningful content to the mix, quality of life fixes and throwing some interesting new aspects at players, whilst maintaining that core that made the first game so enjoyable in the first place.
Looks and sounds great, with an excellent translation
An excellent blend of focused building and free-form creation
Improved in almost every conceivable way over the original
Switch version appears to be pushing the machine extremely hard
5 / 5
Version tested
Nintendo Switch
Related Products
Other Products
Some external links on this page are affiliate links, if you click on our affiliate links and make a purchase we might receive a commission.