Review: Doom Eternal is one Hell of a stress buster
Id delivers another relentlessly entertaining single-player campaign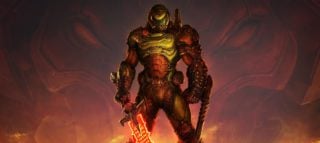 For some time now the internet meme factory has taken great pleasure in the fact that the extremely violent Doom Eternal is launching on the same day as Animal Crossing: New Horizons, a game which is so laid-back it's completely horizontal.
In recent days, though, the comparison has taken on a whole new meaning. If Animal Crossing is the ideal game to take your mind off current events, then Doom Eternal – with its literal 'Hell on Earth' theme – is perfectly suited to let you take them head-on and relieve your stress in a way that involves significantly more chainsaws than Nintendo's title.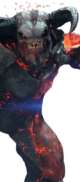 Set a couple of years after the events of the 2016 Doom reboot, players once again take on the role of the Doom Slayer as he arrives on Earth to find it taken over by a slew of demons. There's only one way to sort the situation out, and naturally that involves slaying said slew.
For the most part, the action in Doom Eternal is similar to that in the previous Doom, once again focusing on what id Software's team describes as 'push forward combat'. What this essentially means is that instead of regularly taking cover, the game almost forces players to keep running at enemies head-on.
This is mainly done by strictly limiting the amount of health and ammo you can find lying around. Health doesn't recharge over time and, other than the odd medikit, the main way to recover it is by stunning enemies and performing 'glory kill' executions on them, which in turn causes their bloody corpses to drop health pick-ups.
Ammo is similarly scarce, but can be earned more frequently by chainsawing through enemies, causing them to drop a rainbow of ammo pick-ups. Chainsaw fuel is hard to come by too, but you always have at least one tank refuelling and if you run out of ammo entirely you'll be given one right away, meaning you'll never be completely helpless.
The consequence of this is a combat system in which even if you're facing a group of enemies, the best course of action is to run at them, because as long as you're proficient at glory kills you'll be able to keep your health topped up more effectively. It's a brilliant way of ensuring non-stop action, even if it can be a bit overwhelming for those not familiar with the previous game.
A bunch of new abilities have been added to ensure Eternal doesn't feel too similar to its predecessor. A new shoulder-mounted 'Equipment Launcher' lets you acquire a series of extra guns and gizmos as you progress: these include bombs, a grenade launcher and a short-burst flamethrower (which causes enemies to drop armour pick-ups, adding further to the 'which way to kill them' dilemma).
Although the game's essentially a series of epic battles against hordes of demons, there's still some downtime as you travel between each of them. As well as generally faster movement speed, you now have the ability to perform a dash move: this not only lets you evade enemy attacks at the last minute, it can also be used in mid-air for a little burst forwards or to the side.
"All the above combine for a fantastic, pleasingly lengthy single-player campaign packed with action, varied environments and a bewildering array of hidden bonuses and secret areas."
This enhanced agility opens up the game's environments a little, and combined with some other new skills – including wall climbing and horizontal bars to swing from – makes for larger stages with a renewed focus on exploration to break up the battles.
These additions are all welcome, as are the new monsters included to keep things interesting (though spoiling these seems rather cruel). The new 'battle damage' system is also particularly satisfying: as you pump bullets into enemies you'll see them lose chunks of flesh. It's gory, but impressive.
This isn't just an aesthetic change: when you're constantly moving and dodging while taking on a horde of enemies it can be hard to keep track of which ones you've damaged most. Now you can see at a glance which Cacodemon is relatively fresh and which one you've already emptied numerous rounds into (although there's a refreshingly new strategy for these: pump a grenade into their mouth and they'll be instantly stunned).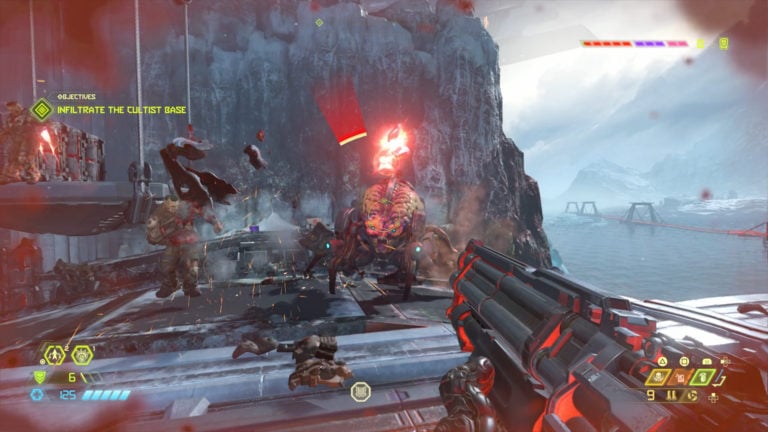 All the above combine for a fantastic, pleasingly lengthy single-player campaign packed with action, varied environments and a bewildering array of hidden bonuses and secret areas. It can get a little complicated for its own good – it has three or four completely different upgrade systems and the hub area can be a bit overwhelming – but that aside, there's plenty of fun to be had here.
With no basic Deathmatches or other straight-up PvP modes to speak of, Doom Eternal launches with a solitary multiplayer option called Battlemode, which is sort of part PvP, part PvE.
It's strictly limited to 2v1 matches, and has one player taking control of the Doom Slayer while two others choose from a selection of the game's demons. As well as taking each other on directly, the demons also have the ability to spawn AI-controlled enemies, meaning if they can find a high enough vantage point things can almost turn into tower defence at times.
"If you're primarily a solo player, this is an exceptional FPS with more action than you'll find in most other games' campaigns – and an incredible metal soundtrack to boot."
Based on our pre-release experience with Battlemode, while we appreciate its unique approach it ultimately doesn't offer the same level of excitement as the main campaign – and it's woefully barebones at launch in terms of content. There's every likelihood it may be a grower once the community is fully populated and more content added, but right now it's definitely not going to distract from the campaign (we'll add additional thoughts once Doom Eternal has released).
Time is something Bethesda clearly hopes you'll spend on it, too, because Doom Eternal is the latest in a long line of live service games, with a series of time-limited seasons offering various extras and unlockables for collecting XP.
These are fairly arbitrary – we're talking character skins, weapon skins and player icons – and we'd imagine most players won't be too desperate to get the final reward: a player title that says 'Soul Taker'. This makes us wonder why it's even there at all, then, other than the fact that it's seemingly law for all big-budget games to have live seasons now.
Given the limited scope of the multiplayer mode it's probably no surprise that most of the weekly challenges that grant XP for these season-based rewards revolve around performing certain tasks in the campaign, meaning Bethesda expects you to dip into it numerous times. In this respect we're perfectly happy: this is very much a single-player experience that needs very little persuasion to take on over and over again.
If you're primarily a solo player, this is an exceptional FPS with more action than you'll find in most other games' campaigns (and an incredible metal soundtrack to boot). As long as you don't mind getting your hands dirty, leaping into the fray and expecting to die a number of times along the way, you'll have an absolute blast with it.
Id delivers another relentlessly entertaining single-player campaign that's one hell of a stress buster.
A near-constant onslaught of action right from the start
Every new weapon, ability and enemy is a welcome addition
An absolutely thumping soundtrack
Multiplayer is barebones at launch
4 / 5
Version tested
PlayStation 4
Related Products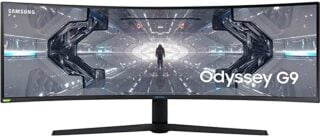 SAMSUNG 49-inch Odyssey G9 Gaming Monitor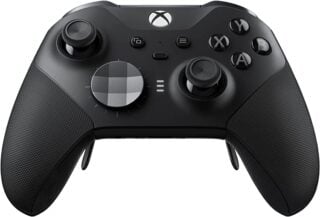 Xbox Elite Series 2 Wireless Controller
Other Products
Some external links on this page are affiliate links, if you click on our affiliate links and make a purchase we might receive a commission.