Detective Pikachu Returns is an enjoyable, if very simple, mystery adventure
It's basic but well-written and should appeal to younger players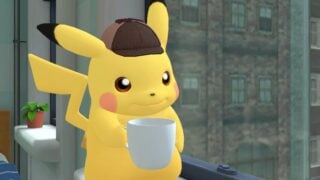 Detective Pikachu Returns is a great argument for more Pokémon spin-offs.
Despite the absolute ubiquity of the world's most popular media property, it still feels like there's more that could be done in the video game space with Pokémon outside of the mainline RPGs, and the likes of Go!, Unite and EX Masters.
Because despite Detective Pikachu Returns' incredibly simple plotting and mechanics, there are plenty of moments of joy, and they're largely derived from simply wandering around the world of Pokémon.
Detective Pikachu Returns is a sequel to the 3DS mystery game which saw players take on the role of the morally unambiguous Tim Goodman and his father's partner Pokémon, Detective Pikachu. What makes this Pikachu special is not only can he speak to other Pokémon, Tim is able to understand him, making the pair a formidable team on the streets of Ryme City.
Tim's father Harry is still missing, and despite the pair receiving plaudits for their adventures in the first game, they're quickly thrust into the middle of a mystery involving that most iconic of legendary Pokémon, Mewtwo.
The game largely revolves around talking to the human population of Ryme City with Tim, and the Pokémon population with Pikachu. By finding clues and receiving testimony from the people around the city, you'll put together basic clues to solve crimes. For example, an early crime sees a special jewel stolen from a secure building, with some blue feathers and white cotton left behind at the scene.
Now, if you're an older player, you'll likely work out almost instantly where this case goes based on the Pokémon you've seen on your way into the building, but for younger players, the logic of working out these puzzles feels like it would be a great introduction to the genre. Later in the game you're joined by certain Pokémon that can help you on your journey, for example, a Growlithe that can sniff out lingering scents.
If you're a Pokémon fan, you'll get a huge kick out of wandering around Ryme City. There are a huge number of Pokémon represented, almost all of which actually say their name (something still missing from the main games), and they're often in funny situations. Early you'll be blocked from walking down a path because a Poliwrath and a Hariyama are having a scrap. There's a Milcery that works in the coffee house, it's all very charming.
Our favourite part of the game by far was reaching new areas and seeing what Pokémon were living amongst the humans. The mainline Pokémon games have never been great at depicting a city that it seems like people could actually live in, and how Pokémon themselves would factor into that, but Detective Pikachu Returns does a great job, and we'd love to see such a vibrant busy city make it into the RPG series.
The game's dialogue is often entertaining, with it earning several belly laughs from us on our journey, in what we can only assume is some potential appeasement for older players playing alongside younger ones. This kind of thing is greatly needed, as dialogue outside of this can be rather dull.
On the one hand, the evidence that the game is giving the player has to be obvious enough that anyone could figure out what the solution is, but on the other, there were so many times that we found ourselves clicking through dialogue rapidly as we'd come to the conclusion ahead of the great detective. The game seems conscious of this, as there's a fast-forward option on most of the dialogue sequences.
Cutscenes are fully voiced, which is almost unique across the whole Pokémon series, however, the quality of performances is uneven. Detective Pikachu himself is enjoyable, even if the performance will eternally be dogged by both the spectre of Danny DeVito and Ryan Reynolds, but outside of that, the human voices aren't anywhere near as strong.
As we mentioned, every Pokémon says their own name, which is something that has been a staple of the anime since 1997, but has never fully made it to the RPG series. This is a great touch and made us make sure to speak to every single Pokemon we came across.
"Every Pokémon says their own name, which is something that has been a staple of the anime since 1997, but has never fully made it to the RPG series. This is a great touch and made us make sure to speak to every single Pokemon we came across."
Unfortunately, Detective Pikachu Returns doesn't look or particularly great. While the Pokémon are also nicely rendered, outside of Pikachu's strangely smooth appearance, the humans of Ryme City are distracting. When compared to the excellent character design of the main series, there's a strange off-branded feeling to the way that all of the major players look. We encountered performance issues in docked mode, largely when transitioning between areas, however, these seemed to be less severe when playing handheld.
Detective Pikachu Returns is an enjoyable, if incredibly simple introduction into the mystery genre for young players. Older fans of Pokémon will get a kick out of interacting with the dozens of Pocket Monsters littered around the city, but mechanically, there's not much here for them. If anything, the game is a testament to how rock-solid the world of Pokémon is and how fertile the ground if for The Pokémon Company to explore more spin-offs. Pokémon cosy farming game, anyone?
Detective Pikachu is full of simple puzzes, witty dialogue and Pokemon to discover. It won't thrill older fans from a gameplay perspective, and it's visually inconsistent, but it will likely introduce throusands of young fans to a whole new genre of video games.
Great introduction to the genre for young players
Ryme City is fun to explore
Snappy, witty dialogue
The Pokemon say their names!
Extremely simple
Visually dated
Uneven voice-acting
Repetitive interogations
3 / 5
Related Products
Other Products
Some external links on this page are affiliate links, if you click on our affiliate links and make a purchase we might receive a commission.