Destruction Allstars Review: The PS Plus racer is a clumsy and hollow ride
PlayStation's car combat game has great characters and some fun moments – but they speed by in a blur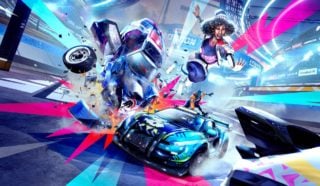 After playing Destruction Allstars for only a few hours, you'll feel like you've seen all of its tricks.
Beginning with a strong tutorial going over the basics, the game then throws you to a main menu that while bright and colourful, feels bereft of substance. This is an incredible portentous opening.
The game sees players pick from one of 16 characters and enter a destruction derby arena. While offering a few modes with tweaked rulesets, the general goal is to launch your car into your opponents and avoid the vehicles hurtling towards you. When your car is damaged beyond repair, you can jump out and run around the arena looking for another.
While doing this, you'll charge two meters, one of which will spawn the character's unique car, each of which have their own ability, and another which will give your character an ability to use outside of the car, which typically makes traversal easier or allows you to lay traps.
Driving handles well, as you'd expect from a studio that's made up of ex-Bizarre Creations staff, but for some unfathomable reason, there's no direct camera control: it's all done automatically. The right stick, which you'd typically assume would serve the camera function, is instead used to determine which direction you'd like to shunt your opponents.
The automatic camera works fine if you're only concerned with what's directly in front of you, but with no way to keep track of your pursuers, other than a lacklustre map, you'll often be swept from behind while trying to set up another shot. It's like being on the dodgems in a neck brace.
Cars handle well and turn on satisfying angles, so much so that a straightforward racing mode with some light destruction elements would be a welcome addition to what is a very dull suite of game types.
Mayhem is the solo free-for-all in which players are dropped into the arena with the goal to gain the most points by crashing, smashing and otherwise ruining the second-hand value of your opponents' vehicles. This is fun, but points are scored so inconsistently that it's easy enough to launch yourself into a five-car pileup and receive a shower of points like you rounded up all those takedowns yourself.
Gridfall sees players try to survive on a map as pieces of the ground fall away. Much like Hex-A-Gon from fellow PlayStation Plus title Fall Guys, it's often frustrating, but probably the most fun to be found in the current suite of modes. There's a strategy to baiting your opponent into speeding towards your car with reckless abandon only for you to jump out at the last second, sending them off the side.
However, this mode is also where your muscle memory for driving games will cost you, several times we tried to adjust the map to see where the last remaining enemies were only to topple backwards over the precipice.
"The automatic camera works fine if you're only concerned with what's directly in front of you, but with no way to keep track of your pursuers, you'll often be swept from behind… It's like being on the dodgems in a neck brace."
In Carnado, players collect gears by wrecking opponents, then deliver said gears to a point in the middle of the map in order to score points. If your car blows up, you lose your gears. We found this fairly enjoyable as you're actually encouraged not to just jump out of your car the second it takes one knock, but as it's 8vs8, many games we played saw players on the losing team leave early, causing a snowballing effect which made scorelines comically huge and impossible to overturn.
In Stockpile, KO'ing your opponent drops gears which can only be collected on foot. These can be stored in banks around the map to control them. The team that owns the most at the end of the game wins. Similar to Carnado, players were leaving frequently so the games never felt competitive. Even in an ideal situation, it's not a very fun mode.
The arenas themselves feel incredibly empty. It feels like games should have double the players in order to avoid the current reality spent looking around for someone to actually hit. Readability also isn't brilliant in team games, making it hard to establish who you should be going after and in turn, crashing into your teammates.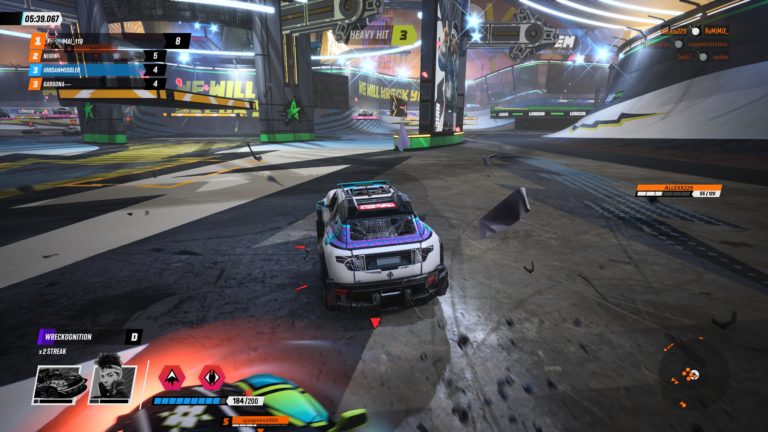 A bright spot is the characters themselves, each of which are very well designed and cover a wide spectrum of body types and ethnicities. I wish their personality had more time to shine through, because some of them are so strong from a visual design perspective that they'd fit right in with a hero shooter like Overwatch. As is to be expected, each character comes with a host of skins, emotes and other cosmetics that players can buy with in-game currency or microtransactions.
The microtransactions also gate the game's only real single player content, a series of challenges based on one character. These are usually matched with three objectives, completing each of which will give you a star. Getting all the stars will unlock a special cosmetic for the character the challenge was based on. While the first one is unlocked from the start, the only other challenge series available at launch costs 200 Destruction Points, roughly £2.
For a game with so little going for it, it's unsurprising that plans for a full-price release were cancelled. While the game is currently free for PlayStation Plus members for some time, it'll be very interesting to see how much it costs when it finally leaves the services. For what's currently there in terms of modes, progression and overall content, it's difficult to imagine this game ever not being free to play.
While simply driving around the arenas is fun, and there's always satisfaction in crushing your opponent against the wall, the reasons to come back to Destruction Allstars are painfully few. The game's characters are wonderfully designed and feel trapped in a game that never comes close to utilising their potential.
Out of the 4 modes available at launch, 2 of them feel redundant and unbalanced. The single-player content is slim and if you want even a crumb more, you'll have to pay, which leaves Destruction Allstars feeling like a clumsy, hollow product whose fun moments go by in a blur.
Great character design
Cars handle well
Dull game modes
Lifeless progression
Clumsy controls
2 / 5
Version tested
PlayStation 5
Related Products
Other Products
Some external links on this page are affiliate links, if you click on our affiliate links and make a purchase we might receive a commission.