Review: Deathloop is one of the smartest games of the year
Arkane's latest is an endless cycle of hedonistic action that you'll be playing again, and again, and again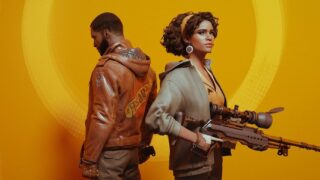 2021 has been some year for time loop games, with the likes of Returnal and Twelve Minutes exploring the psychological horrors of being trapped in an endlessly repeating cycle.
Deathloop isn't concerned with that stuff. It's the other kind of time loop game. The one that wonders how much fun you could have if nothing was permanent and you were free of consequences. A lot, it turns out.
If you've played Arkane's previous action RPGs, especially Dishonored, Deathloop's mix of first-person stealth and combat will be instantly familiar. Squat down and sneak up on enemies for a silent takedown. Get spotted and prepare for mayhem as nearby guards home in on your position. Or teleport away and hide until they forget anything happened.
There's a very different tone to Deathloop, however, and that changes everything. Leaning into the time loop concept, it almost becomes a parody of Arkane's own formula, which usually burdens your every move with moral implications. Where Dishonored blighted its world with a plague of rats if you got too trigger happy, Deathloop throws in some groovy music and a high-five.
It helps that, unlike most time loop stories, all the game's characters know they're in a repeating cycle, and most are there for an eternal party. On Blackreef Isle, an anomaly causes a single day to reset again and again, and a syndicate of elite 'Visionaries' have set up a kind of utopian research outpost, joined by a flock of wealthy 'Eternalist' followers seeking a kind of immortality. The whole place is part scientific base, part hedonistic paradise – a 60s chic resort of purples, oranges, zany art and hallucinogens, where anything goes.
Everyone on the island forgets their experiences each time the cycle resets, except for protagonist Colt, who only sometimes loses his memory, and the mysterious Julianna, who seems to know all. When the game starts Colt has forgotten again, but quickly recalls that he needs to break the loop, and for some reason Julianna is fixed on stopping him.
The scenario means Colt can quickly shrug off his confusion and start enjoying himself. He's a cocky action man who relishes the contest with the equally feisty Julianna, as the two bicker over radio chatter like bitter ex-lovers. It's enough to give you that little extra impetus to make a mess as you begin each mission.
To break the loop, Colt has to assassinate the eight Visionaries within the same cycle, which is more complex than it sounds. There are four distinct sectors on the island, linked by a safe zone of underground tunnels. Each time you return to the tunnels to move between sectors, the day moves through one of its four phases, limiting how much you can achieve before it restarts.
At first, there doesn't seem to be that much to get your teeth into – only four areas that you'll have to visit over and over. And it's not too tricky to take out a few leaders in isolation by breaking into their hideouts and gunning them down. But you're still scratching the surface. You can't kill them all in one day like that.
Those first successes, in fact, are merely a means to steal your targets' special powers and snoop around their offices for useful info. To complete the game you need to explore more deeply, looking for clues that reveal the routines and desires of your targets, and how the island's systems might be exploited to influence their movements, so you can dispose of them more efficiently. The discoveries you make then trigger new mission objectives for subsequent days.
As you return to areas to advance your plan, they reveal themselves to be bigger than they initially appeared. These are broad and vertically stacked structures, housing multiple complexes with layers that gradually unveil. As always, with Arkane, there's more than one way of getting in and out of places. But also, each area changes depending on the time of day, as certain paths become more dangerous, or doors close off and alternatives open in their place.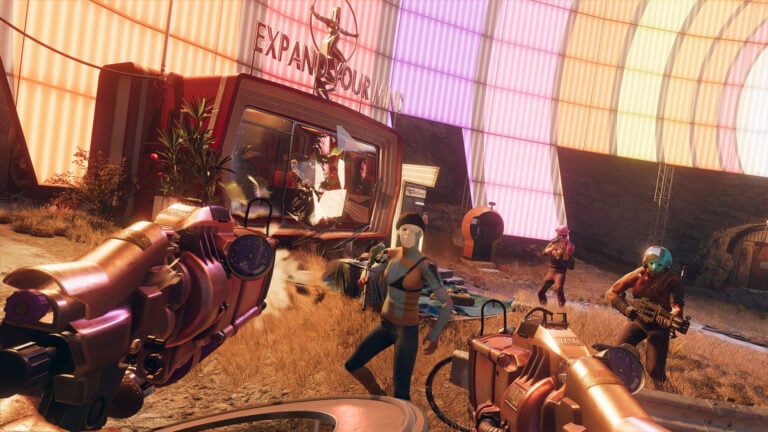 There's no single location in Deathloop that's quite as inspired as some of Dishonored 2's set piece levels, like the clockwork mansion. But the lairs of your targets are distinctive challenges – the Visionaries' geeky tech expert has turned his mansion into a sci-fi themed live role-playing game, for instance, while their wealthiest member has arranged a party where he and the guests all wear the same mask – and the whole island functions as a great interconnected machine, where actions you take in one area potentially affect another later in the day.
Perhaps Deathloop won't be as replayable as the Dishonored games in the sense of starting afresh with new builds, but replayability is embedded in a single campaign. And that's exactly how a time loop fantasy should work.
As you acquire meatier firearms and magic powers – including that Dishonored-style short-range teleport, temporary invisibility and telekinesis – you carve new opportunities out of familiar spaces. You begin to anticipate chokepoints and traps, know where find deposits of ammo and hackable gun turrets, and learn door codes that shorten your escape routes.
"Perhaps Deathloop won't be as replayable as the Dishonored games in the sense of starting afresh with new builds, but replayability is embedded in a single campaign. And that's exactly how a time loop fantasy should work."
With that knowledge, Deathloop encourages you to be cheeky, confident and daring, to stop worrying and learn to love the loop. To that end it can be quite forgiving. For example, while dying resets the loop, Colt's 'reprise' ability saves him from death up to twice in each excursion. Sneaking also feels quicker than in Dishonored, and since enemies vanish once killed, you don't have the fuss of hiding bodies.
Plus, while by default you lose all your equipment and powers when you restart, you can use a currency called 'residuum' to infuse select items and make them travel back with you. The abilities you steal from targets are especially valuable, and there's always a little extra tension when you've grabbed one, and have to get back to your hideout to infuse it, and a great sense of reward when you do.
The rank and file Eternalists can also be slow to punish you at times. They aren't trained soldiers, you see, they're rich idiots who spend most of their time mucking about. As you creep around the island, you might see a couple preparing to fire a friend from a huge cannon, or a lone individual standing on a cliff edge rocking out with his guitar. And like everything else, they're fun to play with.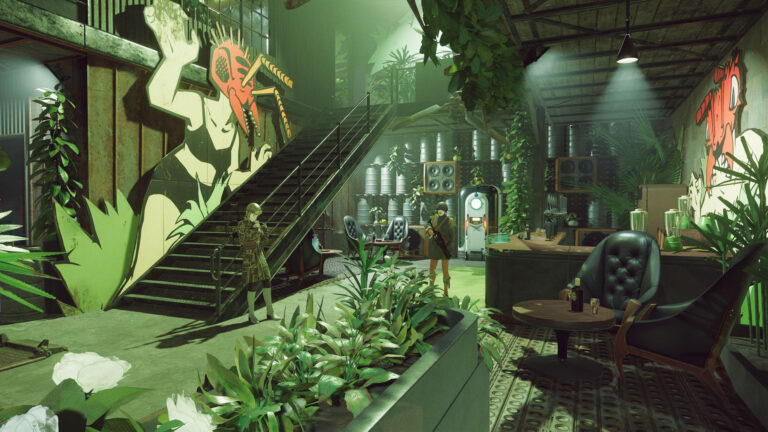 Getting spotted when sneaking rarely feels like a major setback, more an invitation for an slapstick rampage. Sure, some foes call reinforcements, and any can be deadly, but you might just as easily demolish smaller groups while they're still in shock at witnessing you machete one of their colleagues. If you're the sort of player who likes to spend hours ducked in the shadows mapping patrol routes, Deathloop thinks you're a square and tells you to get stuck in.
Just don't let confidence boil over into arrogance. Once you're into the business end of the game, hoping to take down heavily guarded targets back to back, you often need to temper your bravado, and the challenge is considerable.
There's also Julianna to consider. She's the game's all-important wildcard, turning up nearby from time to time like a Dark Souls invader to hunt you down, and disabling your escape route until you hack an antenna. If you're playing in online mode, there's a good chance Julianna is controlled by another player, which makes the prospect of facing her far more nervy, and a lot more satisfying if you beat them.
Playing as Julianna can be highly enjoyable too if you want to ruin other Colts' days, of course. This is a separate game mode, where you level up to unlock better weapons and perks, and have a list of specific objectives to meet (e.g. kill Colt with particular weapon types) if you want to reach the top. The only issue here is that levels can suddenly feel very large if you've lost your prey and they're keeping a low profile. It might mean a lot of searching for a shootout that's over in seconds.
If there's any substantial question mark over Deathloop it's still whether it has enough variety. The Eternalists could have used a wider variety of armaments, for instance, and late challenge mostly comes from larger numbers. But there's a lot more here than meets the eye, with plenty to discover before you can genuinely attempt to break the loop, and surprise events triggering even towards the end.
Besides, so what if it repeats? It's a time loop. The fun is in the repetition. Say it again.
Deathloop is slick and inventive, with a delicious sense of style and humour. It distils Arkane's hefty systems into something more explicitly playful, then leaves its sparkling cast to run riot in its huge interlocking puzzle of an island. One of the smartest and most outright entertaining games of the year.
Complex levels full of hidden layers to uncover
Brilliantly written characters
Great weapons and powers to play around with
Unfussy stealth
Imaginative visual design and soundtrack
5 / 5
Version tested
PlayStation 5
Related Products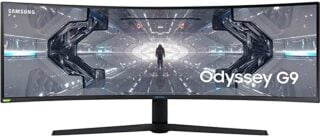 SAMSUNG 49-inch Odyssey G9 Gaming Monitor
Other Products
Some external links on this page are affiliate links, if you click on our affiliate links and make a purchase we might receive a commission.